In the past, I've written extensively about the oil market, both regarding the U.S. and the international stage. One area that I haven't dedicated any great deal of time to, however, has been the Gulf of Mexico, a major source of oil output that rivals the seven significant oil-producing regions covered by the EIA (Energy Information Administration) in its monthly Drilling Productivity Report. In fact, if it were coupled with these regions, it would be second only to the Permian Basin in size.
In what follows, I will dig into some data provided by the EIA and figure out what the trend looks like for the Gulf of Mexico and how that will impact the market moving forward, including its impact on the United States Oil ETF (NYSEARCA:USO), other oil-related ETFs and companies like Legacy Reserves (NASDAQ:LGCY), Approach Resources(NASDAQ:AREX), and Memorial Production Partners (NASDAQ:MEMP).
A look at the big picture
In the image below, you can see what the trend should look like under the EIA's view of the future for the Lower 48. This category represents domestic oil production in all states other than Hawaii and Alaska and makes up the bulk of onshore oil output. According to the EIA, the significant falloff in the rig count is taking effect and, if their projections are accurate, will result in major declines in output across the seven major regions they cover, as well as those they don't cover in material detail.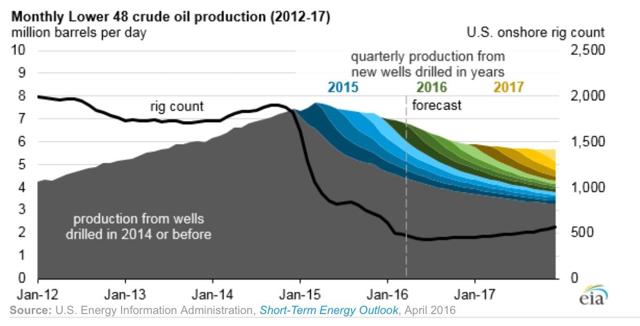 Using the numbers provided in the EIA's Short-Term Energy Outlook, onshore output in the Lower 48 should have averaged about 7.41 million barrels per day but this will fall by 940 thousand barrels per day throughout 2016. This is higher than the mid-point of nearly 677 thousand barrels per day I previously forecasted for the seven major regions the EIA provides data for so it's likely that the decline in production outside of these regions will be significant in their own right. Next year, however, the trend won't recover. If the EIA's data is correct, we should see an additional decline of 580 thousand barrels per day in the Lower 48, with output falling from 6.47 million barrels per day in 2016 to 5.89 million barrels per day in 2017.
Overall, this represents a massive decline of 1.52 million barrels per day spread out over two years, but it is based on one significant assumption: low prices. Given the current oil glut, the EIA believes Brent prices will average around $35 per barrel this year, followed by just $41 per barrel in 2017.
This is a possibility. But prices can probably go higher. This is because of the move higher we've already seen has happened on the back of improved industry data, combined with the fact that IEA (International Energy Agency) Chief Fatih Birol believes shale would need to see oil between $60 and $65 per barrel and, perhaps, have a year to really show signs of rising production again. As an important side note, Alaskan oil production over these three years should be about 480 thousand barrels per day, 470 thousand, and 450 thousand, respectively.
But the Gulf may get in the way
If you look solely at the Lower 48 plus production from Alaska, output is slated to fall by 1.55 million barrels per day in the U.S. alone between 2015 and 2017. While this is very bullish for long-term oil investors, the picture isn't quite as rosy in the Gulf of Mexico. In thegraph below, you can see exactly what I mean by this.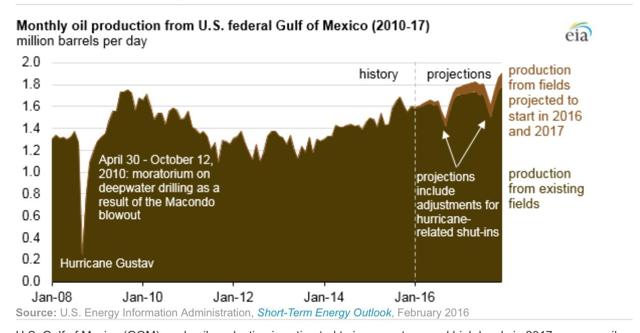 Based on the data provided by the EIA, output in the Gulf of Mexico came out to 1.54 million barrels per day last year. Due to a series of projects coming online between now and 2017, however, which can be seen in the table below, output in the region is slated to rise to 1.66 million barrels per day this year. Should everything go according to plan, this number could increase by 1.85 million barrels per day in 2017, bringing total growth between 2015 and 2017 to 310 thousand barrels per day.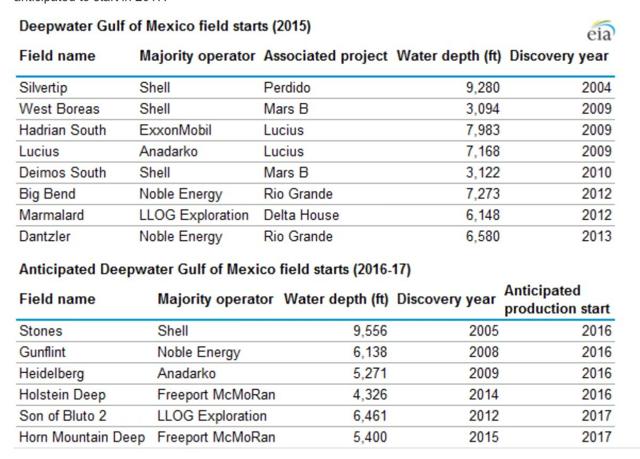 It should be mentioned that a number of factors could impact this growth. Previously, the EIA had noted that the terrible energy market has led to some projects being canceled or delayed in the region and there's always the risk of another Macondo well-style event transpiring. But, for the sake of safety, we should assume that these forecasts are accurate unless we hear otherwise. Obviously, and most unfortunately, this does have a material impact on domestic output but the upside is that it's not so drastic that investors should be scared away by this and this alone.
After incorporating the Gulf of Mexico (which you can see added in the image below), we can see that domestic production this year should be about 8.60 million barrels per day, a drop of 830 thousand barrels per day this year compared to last year, when production averaged 9.43 million barrels per day. Should the EIA's numbers continue to be accurate, total production will fall by another 410 thousand barrels per day in 2017, hitting an average of 8.19 million barrels per day. Collectively, this brings domestic output during this timeframe down by 1.24 million barrels per day.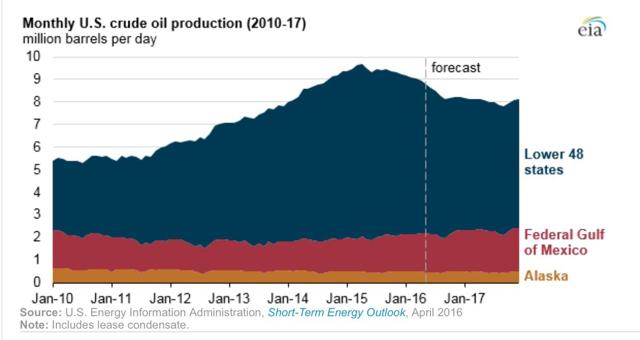 Takeaway
Without looking at the Gulf of Mexico, the picture in the U.S. looks extremely bullish but the Gulf of Mexico data does dim the outlook a tad bit. While it is possible that something could change these numbers, investors should be prepared for the EIA to be correct. They also need to put into perspective that a 1.24 million barrel-per-day drop over two years, combined with whatever happens on the global stage, and with the assumption that oil demand will grow (according to the EIA) by 1.43 million barrels per day this year and 1.54 million barrels per day next year, is material in nature. Overall, this shows a clear trend of rebalancing taking place and, while it may take a while to work our way through the glut, the future is looking bright.
Disclosure: I am/we are long AREX, MEMP.
I wrote this article myself, and it expresses my own opinions. I am not receiving compensation for it (other than from Seeking Alpha). I have no business relationship with any company whose stock is mentioned in this article.
Additional disclosure: I may buy into shares of LGCY or its preferred units at any point in time