Four weeks ago, I laid out the bear case for ACCO Brands (NYSE:ACCO) citing numerous industry headwinds and issues. Since then, ACCO released their Q1 2016 results that seem to conflict with the bear case. Specifically, the thesis for downside is founded on four tenets:
ACCO's end-markets are in secular decline, causing its revenue to decrease accordingly.
ACCO's clients are consolidating and will squeeze the company for lower pricing and additional discounts.
With its high operating leverage, a small loss in pricing power for ACCO will lead to a disproportionate effect on its bottom line.
ACCO is at best a value trap, and at worst a compelling short.
In light of ACCO's strong Q1 results and the break up of the Staples (NASDAQ:SPLS)-Office Depot (NYSE:ODP) merger, I review the tenets of the bearish case to determine if ACCO's prospects have improved meaningfully.
Strong Q1 Results? It Depends On Your Perspective.
The market certainly awarded ACCO favorably for their Q1 results: shares were up almost 10% on strong volume following the release and has since hovered at these levels.
Digging into the details, ACCO reported fairly robust results excluding currency: Sales for their largest North America segment actually increased by 1% (in the context of falling sales in recent years), and International Brands saw a 2% growth in sales. Furthermore, margin expansion (albeit a slight one) was observed, with gross and operating margins up 190 basis points.
Bulls would argue these data points fly in the face of the bearish thesis because growing sales and margin expansion might suggest the decline of end-markets is not hitting ACCO with an adverse effect and the margin expansion suggests a favorable pricing environment (cited by management in the conference call). Indeed, the margin improvement in particular was unexpected, and that prompted the Street to react very positively.
However, let's put these results in context.
Revenue Stabilization
I think ACCO's performance in Q1 2015 is more likely an anomaly than the start of a trend of stabilizing revenues in the North America market. It's no surprise that ACCO's business experiences wide seasonal fluctuations as there is more volume during the "back-to-school" season, and orders typically start coming in the second half of the year.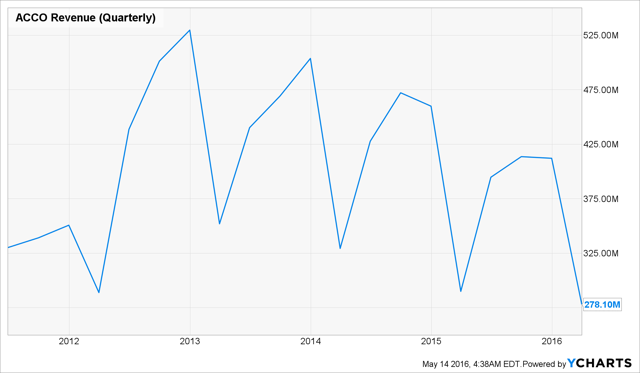 (Source: Ycharts)
The above chart shows clear seasonality in terms of quarterly sales. Admittedly, ACCO did perform well for the top line, but one must remember the 1st quarter in 2015 was particularly poor due to more than 300 retail store closures by Staples and Office Depot as they aggressively consolidated their bricks-and-mortar locations. Hence, the rate of top-line decline is mainly driven by customer activity given the concentration in ACCO's client base. In 2016Q1, Office Depot slowed the rate of store closures, shuttering only 9 of the planned 50 for the year. Also, Staples also only plans to close 50 stores this year, which is far below the combined closure of 300 stores in the same period last year. Hence, ACCO's respite may only be temporary as their clients in end-markets continue to reduce volume.
In the study of any supplier to a declining end-market, there is always the point where sales seemingly stabilize because clients have reduced and removed whatever they can to save costs and maximize returns, and consumer spending on end-market products have stabilized. The question is whether ACCO has now reached this inflection point in its North America market. This is unlikely for a variety of reasons.
In the bigger picture, sales for the industry are still decreasing rapidly: this year alone, Staples and Office Depot are projected to see sales decline 2.9% and 1.6%, respectively (note Staples' sales are 1.5x of Office Depot's). Given the strong relationship between the revenue trajectory of ACCO and its clients, ACCO is poised for further declines this year and the strong performance in the first quarter is more likely an anomaly than the start of a new trend.
However, we do not discount the theory that as large suppliers like Office Depot and Staples scale down order volumes from ACCO, this difference might be compensated by more activity from e-commerce. Indeed, management cited that the slight sales increase in North America this quarter was mainly driven by "growth in e-commerce and mass merchant customers." If this theory is indeed valid, we should see sales for the rest of the year firm up despite revenue declines in large customers like SPLS and ODP.
The key test for these competing theories would be sales figures in the back-to-school season later this year. If ACCO's sales trajectory is firm while Staples' and Office Depot's revenue decline continues, we may be witnessing the effects of a new trend that allows ACCO to compensate for declining sales in large customers with growth from e-commerce retailers.
Margin Expansion
Admittedly, perhaps we were too pessimistic regarding ACCO's margins in the previous write-up. Evidence from Q1 has partially discredited that theory given the strong margin performance due to higher pricing. However, similar to our analysis of ACCO's revenue trajectory, the real test will be how margins hold up during the back-to-school season later this year. If margins hold on to these improvements, we would have to revise our model significantly and ACCO may no longer be a potential short candidate.
Broken Up Merger
Just last week, SPLS and ODP announced they would not proceed with their merger due to the injunction issued by the court overseeing the FTC's case against them. We previously mentioned the possible dismissal of the FTC's case as a major catalyst for an accelerated decline of ACCO's pricing power and revenues as we've observed the same effects from the Office Depot-OfficeMax merger.
Now that hopes of a merger have completely evaporated, we expect a stabilization of ACCO's revenues in the near term. Furthermore, both companies do not expect to accelerate their downsizing efforts: In their May 16 conference call, Office Depot's management did not unveil any new or increased downsizing efforts, and we expect the same trajectory for Staples. In essence, there is no reason to believe ACCO would face an imminent revenue or pricing power decline.
While we continue to believe consolidation over the long-term will hurt ACCO's bargaining power in terms of the prices they are able to charge large customers, the merger between Office Depot and Staples being struck down has significantly reduced risks for ACCO's business.
Conclusion
While ACCO's business continues to be a fragile one with high operating leverage, the strong Q1 results are indicating margin expansion instead of the predicted contraction, which signals a lower than expected risk from decreasing revenues. Also, given that the Staples-Office Depot merger has been struck down, there is less reason for an accelerated revenue decline. Furthermore, management cited favorable pricing and robust sales to mass market and e-retail merchants as a key reason for the improved margins, which indicates the loss of pricing power is less probable in the short to medium term.
Although ACCO's business model is fundamentally fragile, there is a distinct lack of catalysts to cause an accelerated decline. In evaluating short candidates, the burden of proof is always higher than potential longs because of the cost of borrowing and potential for larger losses. Therefore, in light of recent evidence and events, we believe the bear thesis has been significantly weakened and is no longer a reasonable case.
Disclosure: I/we have no positions in any stocks mentioned, and no plans to initiate any positions within the next 72 hours.
I wrote this article myself, and it expresses my own opinions. I am not receiving compensation for it (other than from Seeking Alpha). I have no business relationship with any company whose stock is mentioned in this article.