There is nothing we like more than a bargain and a great dividend. One stock that we feel might just fit the bill is Kohl's (NYSE:KSS). Much like its department store rivals Kohl's has been struggling immensely recently with consumers seemingly just not directing their spending in its direction. Food appears to have been taking precedence over apparel. But taking a punt on Kohl's at this price and with a dividend yield of 5.68% is a high risk, but higher reward play in our opinion.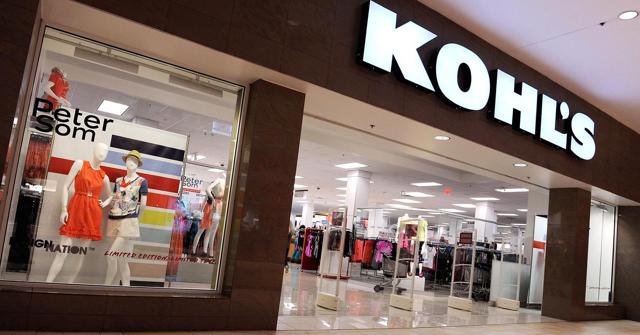 Source: Jennifer Graylock/Getty Images for Kohl's
Department stores may be from a time gone by, but we still believe they have a place in the modern retail industry. Improvements in US retail sales have shown that consumers are spending, but the question that must be going through Kohl's shareholders' minds is "where are they spending their money?" Food and experiences appear to be the most popular destinations for disposable income, with department stores being cast aside.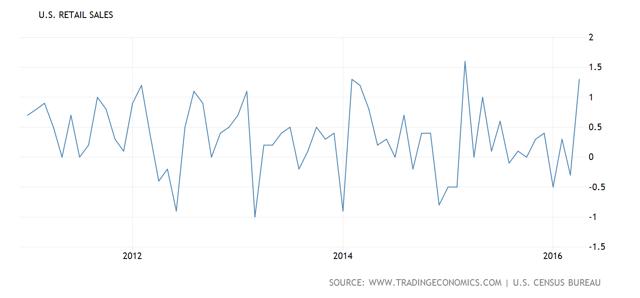 The last quarter for Kohl's was nothing short of a disaster, to put it nicely. Wherever you look there was disappointing data, with little to get excited about. Lower levels of traffic were blamed for transactions dropping by 4.8% and comps dropping by 3.9%. In light of lower traffic levels, the company has been faced with every retailer's worst nightmare - excess inventory. This meant markdowns and a lot of pressure on margins.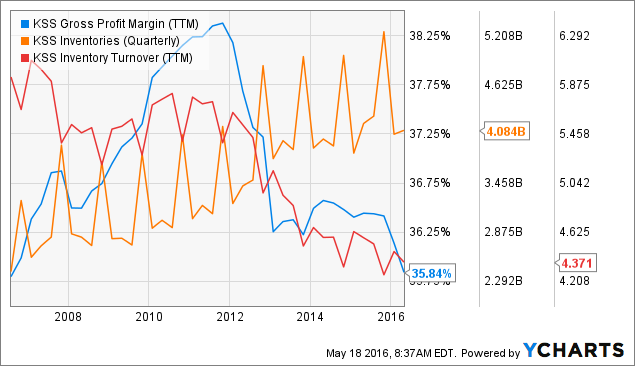 As you can see above, everything is going the wrong way. Inventories are increasing, inventory turnover is decreasing, and finally gross margin is also decreasing. All this has led to the stock getting cut almost by half, as you can see below, in the last year. Which of course is what brought us to its door today.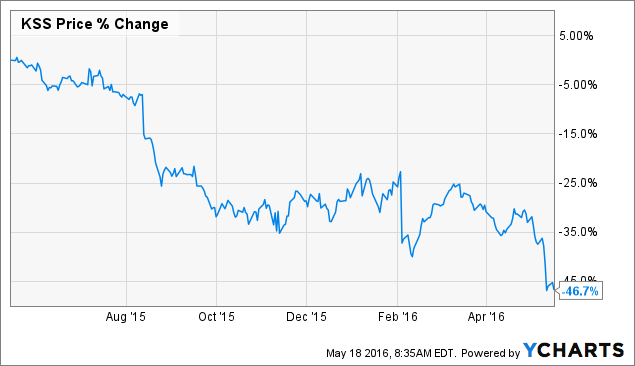 We love a bargain, and we feel Kohl's is definitely a bargain if it can turnaround its fortunes. If it cannot turnaround its fortunes then it is the classic value trap, but we have a feeling that improvements are on the way. Which makes both the potential share price gains and dividend a delightful prospect.
Margins should improve in the second quarter. Although inventory has been spiraling higher, in the last quarter management managed to reduce inventory by 2% on a per store basis. This should reduce the level of markdowns in the next quarter all being well.
But in order to increase its sales it needs to give the consumer what it wants. In our opinion department stores appear to have been very slow to adapt to changing consumer habits, but perhaps they are finally picking up what the consumer is putting down. Online retail continues to be the real growth driver. According to a recent Markit (NASDAQ:MRKT) report on behalf of Visa Europe (NYSE:V), its data suggests that online spending grew at the fastest rate in 16 months with e-commerce growth of 8.4% year-on-year.
We feel drops in traffic can be attributed to this. If we need shoes and we buy them online, we are simply not going to go to the mall now. That's one less mall trip that Kohl's and similar retailers are missing out on. In addition to this, we feel retailers like Kohl's are more susceptible to the weather than ever before. In the past poor weather would have delayed a consumer's shopping trip, whereas now it just pushes them online to make the purchase elsewhere.
To combat this the company has been investing heavily in its omni-channel strategy. Investments in technology and training now allows it to ship-from-store and provide buy online and pick up in store capabilities. This provides faster shipping times and a lot more convenience for its customers. We really like the pick up in store side of things. It is only contributing a fraction towards total sales currently, but in time we expect it will contribute substantially more. It also potentially gives the company an edge over online retailers such as Amazon (NASDAQ:AMZN) as the customer could in theory be able to get their item faster.
All this is great in our eyes, but management may have made one fatal move. It doesn't appear to have been a balanced strategy. Yes, online retail is the way forward, but you cannot neglect your core business. By focusing a lot of attention on its online marketing, it has ended up neglecting its traditional advertising methods which have served it well for decades. But we expect that management has learnt from this and will look to balance its marketing efforts now. We expect this could help drive traffic and boost sales.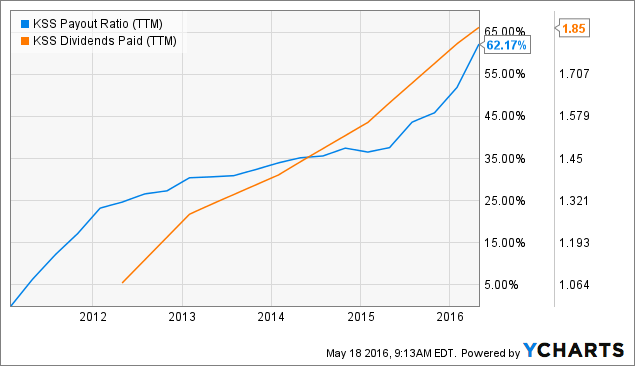 Finally, the dividend. With a yield of 5.68% this is a dividend we just can't say no to. Especially with the company's strong cash balance and free cash flow generation. We feel this is a dividend that will continue to grow in the future should Kohl's start to increase profitability again.
We have a target price of $40.92 on Kohl's stock based on full year earnings per share of $3.72 and a price-to-earnings ratio of 11. Should it achieve this it will mean a return of around 17%. Quite frankly, the risk/reward with this investment is just too good to turn down. The share price could well go lower before it goes higher, but we do believe that consumers will return in their droves in due course, and Kohl's will be ready to win their business.
Disclosure: I am/we are long KSS.
I wrote this article myself, and it expresses my own opinions. I am not receiving compensation for it (other than from Seeking Alpha). I have no business relationship with any company whose stock is mentioned in this article.