Last week, I had focused on how a possible improvement in silver prices will prove to be a tailwind for Silver Wheaton (NYSE:SLW) going forward. My thesis was built around a decline in silver output and an improvement in demand, along with patches of softness in economic growth that will keep interest rates low. But, there is another factor about Silver Wheaton that investors should not miss going forward, and that is the company's robust operational profile that will allow it to tap increasing demand and better pricing better than any other silver mining company. Let's see why.
Production will increase significantly and costs will remain low
Silver Wheaton is a streaming company. This means that the company does not own any mining assets, but it enters into agreements with miners and buys silver streams from them that come out as by-products. In such an arrangement, Silver Wheaton pays an upfront amount at first, and then pays out a small fee for each ounce of silver or gold that it takes from the primary miner.
For instance, according to Silver Wheaton's last streaming agreement that was penned at the end of March with Panoro Minerals, the company will pay cash of $140 million across nine years. Additionally, it will get an ounce of silver at a cost of just $5.90 per ounce and an ounce of gold at $450 until it gets 90 million silver equivalent ounces of production. In comparison, the current market price of silver and gold are $17.21 and $1,275 per ounce, respectively.
This means that Silver Wheaton will enjoy huge margins on its streams of gold and silver going forward due to the low cost of acquisition of the metals. More importantly, Silver Wheaton will be able to sustain its margin growth over the long run since the company forecasts robust production increases at low costs.
For instance, as compared to total cash costs of $4.17 per ounce last year, Silver Wheaton's cost will increase to just $4.68 per ounce in 2020, an increase of just 12% over five years. In comparison, the company's production is slated to go up from 47.7 million ounces last year to at least 52 million ounces annually in 2020, with an additional 19 million that is expected from ongoing development projects.
Thus, assuming that the completion tests of Silver Wheaton's development projects are successful, the company will see its production increase at a far faster pace than the rise in costs. This is because Silver Wheaton is selecting its streaming partners in a strategic manner by striking agreements with those miners who have low production costs and high grade assets.
In fact, this year, Silver Wheaton expects 65% of its production to be in the first quartile as far as costs are concerned, with another 29% in the second quarter. Over the next five years, Silver Wheaton expects further improvements in the cost base with 68% of its production moving into the lowest cost quartile, as shown below: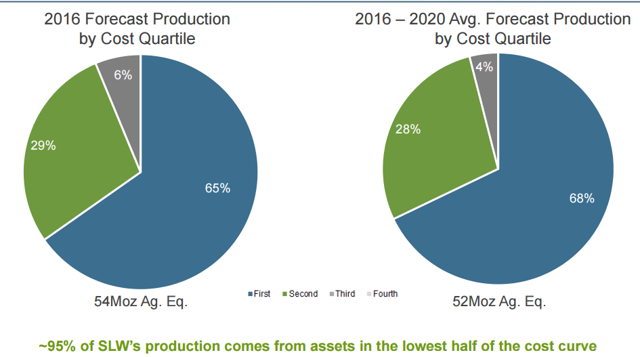 Source: Silver Wheaton
Thus, as Silver Wheaton gets more of its production from lower cost assets, the company will be able to increase its production at a good pace and keep costs low at the same time. These lower costs are a result of Silver Wheaton's streaming partners implementing more efficient production techniques. For instance, at the San Dimas mine, Wheaton's mining partner is exploring new vein extensions in a bid to improve its throughput and increase output.
On the other hand, Goldcorp (NYSE:GG) is contemplating an investment decision at Pyrite Leach in a couple of months, which will further increase low-cost output. As a result of such moves, Silver Wheaton will continue to enjoy low costs and also find new silver streams.
Why Silver Wheaton can dominate the end market
Production of silver from primary producing mines is declining. In fact, as compared to primary silver mines, most of the silver production across the globe comes from other base metal mines or gold mines. This is shown below: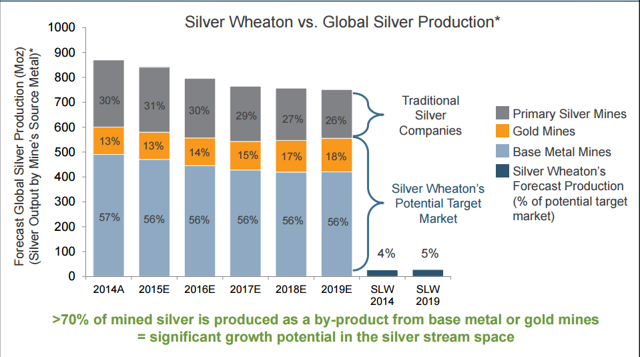 Source: Silver Wheaton
As seen above, primary silver mines accounted for just 30% of silver production last year. In comparison, other base metal mines and gold mines together accounted for the remaining 70%. By 2019, the momentum will shift further into Wheaton's favor, with 74% production coming from base metal mines and gold mines.
As such, Silver Wheaton will have a better opportunity to increase its production since it does not rely on traditional silver mines for production. Therefore, it is not surprising to see that Silver Wheaton's overall production share of the global silver market is expected to increase going forward. This will allow Wheaton to improve its cash flow and margins further over other silver companies.
In fact, Silver Wheaton accounts for 56% of the net earnings generated by streaming companies globally, while its cash flow generation is close to half. This is seen below: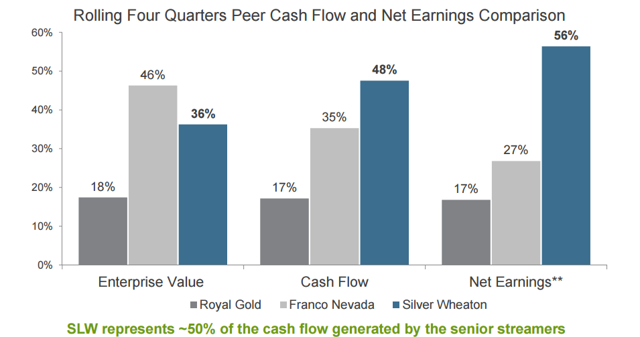 Source: Silver Wheaton
Conclusion
Silver Wheaton's business model is geared toward making the most of the growth in silver prices. As I had discussed in the previous article, prices of silver are set to improve in the long run on the back of growth in demand and lower mine production. Since Silver Wheaton is advantageously positioned to increase its earnings, cash flow, and production in the long run, it should be able to deliver more upside as prices get better.
Disclosure: I/we have no positions in any stocks mentioned, and no plans to initiate any positions within the next 72 hours.
I wrote this article myself, and it expresses my own opinions. I am not receiving compensation for it (other than from Seeking Alpha). I have no business relationship with any company whose stock is mentioned in this article.