I bought my last Apple (NASDAQ:AAPL) shares on January 28 2014. On that day the stock tumbled 8% after lower than expected Q1 results.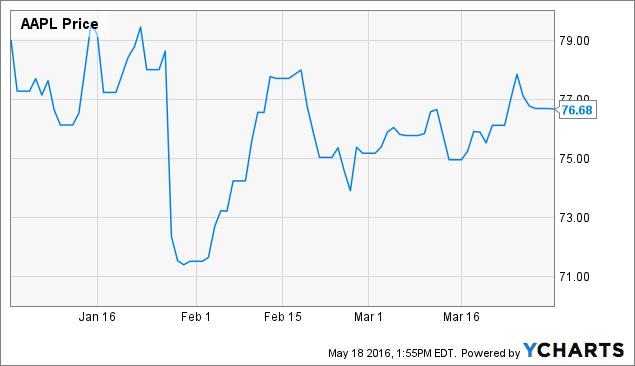 Fast forward to 2016: Apple reported weak Q2 figures, gave a disappointing guidance, and again shares dropped by 8%. I believe that the sell-off is an overreaction like it was two years ago. Consequently I bought more shares on April 28.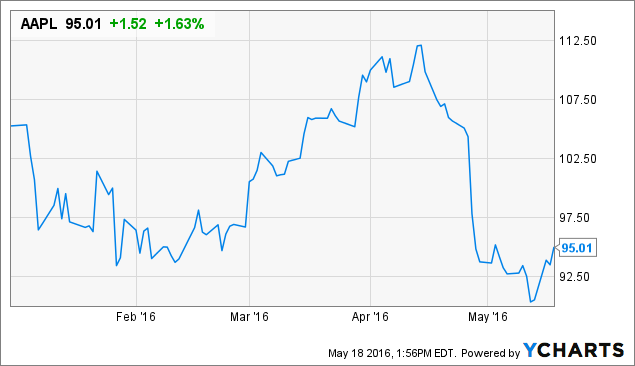 In my opinion, Apple's situation today remarkably resembles the year 2014. Most of us know what happened, but here is a short recap: Apple reached an all-time high in 2012 at $90 (split-adjusted). October 2012 then turned out to be the end of a rally which had started in 2009 and brought a 450% gain. In the years before 2012, Apple was an unquestioned success story, a unique company which launched one successful product after the other (first the iPod, then the iPhone, and finally the iPad). Then Steve Jobs passed away, and in 2013, when it became obvious that Apple was more and more relying on the iPhone, the stock fell to $60. Competitive threats (primarily from Samsung (OTC:SSNLF) at that time) became a major issue. In spring of 2014 a fulminant recovery started which culminated in shares rising to an all-time high of $130 in early 2015. The trigger for the rally was the extremely successful iPhone 6 which lifted sales and profit to levels that were not seen before. Suddenly, Apple was invulnerable again.
2016 vs. 2014
Although the situation now and two years ago is indeed different, the underlying reason for today's sell-off is the same: Apple fell short of expectations and the market is worried about the prospects of the iPhone. Suddenly, there are again concerns about the future of what used to be the greatest company of the world only months ago.
The major difference between 2014 and today is that Apple was still growing two years ago and had just reported new record figures, while in 2016 it had to face the first iPhone sales decline ever. Even worse, the outlook for the next quarter is dim, and the market is concerned about the success of the next iPhone generation.
The most worrisome news in Apple's Q1 report is the following:
Weak outlook for Q3
Gross margin decline due to the iPhone SE
Increased competitive threats, particularly in China
Sales in Greater China down by 26%
Surely, this is not what investors want to hear, but "buy on bad news" is one of the oldest market rules. I don't see Q2 and Q3 as the beginning of a downwards spiral but as a cyclic low. It is mainly a question of sentiment. Consequently, for Apple shares to rise again, the mood of the market needs to change. This could very well happen after the release of the iPhone 7 and a stronger than expected fourth quarter, beating the lowered expectations.
I assume that pessimism will grow further and that expectations will continuously be lowered until the release of the iPhone 7. There will be more rumors how the next model will look like, and fears that the iPhone 7 will not bring a new design but will only be an advancement of the current model. This could easily lead to a situation in which Apple can only surprise positively and beat expectations.
Apple Sentiment Changes
Market sentiment is the key word for Apple shares at the moment, and it appears that the mood changes every second year when the old iPhone generation enters the last stage of its product life cycle. When the sentiment has changed again and optimism returns, it will be too late to buy shares for a reasonable price. The time is now when everybody is concerned about Apple's future.
My impression is that articles on SA and the comments on them reflect changes in sentiment quite well and can serve as an indicator when to buy or sell Apple. If I remember what I read in 2013 and 2014, there were a lot of concerns, primarily about Samsung becoming a major threat for Apple. Then in 2015 after the extremely successful introduction of the iPhone 6, all fears vaporized, and Apple was king again. It took only a few months for the pendulum to swing from pessimism to euphoria, and suddenly any critical voice was only smiled at. A share price of $150 or even $200 only seemed a question of time.
Today, the pendulum swung again, and it has moved into the overly pessimistic territory. The iPhone 7 is feared to become a flop. To make things worse, Carl Icahn no longer thinks that Apple is worth at least $200 and sold its Apple shares with the excuse of sudden protectionist threats in China.
I don't expect Apple to rebound quickly, and I would not be surprised if the stock fell below $90 in the next weeks and months. In case of a decline to the lower $80s, I will definitively add even more shares.
Critical dates will be the release of the Q3 and Q4 figures. Q3 will include guidance for Q4 (the quarter ending September 30), the likely month for the launch of the iPhone 7. Depending on the actual launch date, the Q4 results will include the first iPhone 7 sales and give a first indication about the performance of the next-generation product.
Looking at the Facts
Apple posted quarterly revenue of $50.6B, down from $58B in the year-ago quarter. Net income fell by $3.1B to $10.5B and EPS of $1.90 were $0.43 lower. The gross margin contracted by 1.4 percent to 39.4 percent. The guidance for Q3 sees revenue coming in between $41B and $43B and a further gross margin contraction to 37.5 to 38 percent.
To reiterate that Apple shares are moderately valued with an expected 2016 PE of 10, even when considering the shrinking profits, and that the company sits on a tremendous cash pile does not attract new buyers at the moment. Apple is unlikely to be considered a value stock and to suddenly attract a horde of value investors (although Warren Buffett obviously has a different opinion).
Another angle to look at Apple is that its attractiveness as an income stock has increased after the sell-off. The company just raised the dividend by 10 percent, and similar increases over the next years are a very likely option. At an annualized rate of $2.28, Apple's yield has climbed to 2.4% and in case of a further decline to the lower 80s, it would approach 3%.
These are some facts to consider, particularly for investors with a long-term horizon, but in the next quarters, other drivers will push Apple shares.
The weak guidance reflects lower iPhone 6 sales, an impact of the lower margin iPhone SE, and a shrinking market share in China. This can be attributed to the iPhone product life cycle, and with the release of the iPhone 7 later in the year, the trend will very likely reverse. Samsung's new Galaxy S7 has been very successful, and it gives Samsung an edge over the iPhone 6S.
The new iPhone generation will trigger a strong upgrade cycle, although most likely not as successful as the iPhone 6 launch in 2014. Nevertheless, gross margins should rise again, and I also believe that the product will be another success in China. The good thing about the lowered expectations is that the bar is set lower and it will be easier for Apple to beat expectations.
One important aspect which is often overseen in the discussions is that Apple is extremely profitable. There might be smartphones from Samsung or Chinese competitors which offer equal or even superior performance, but all of them barely earn money. Apple dominates the premium market segment and it can sell its products for an almost unreasonable price.
This brings me to China, a very important market for Apple where new competitors are emerging rapidly. The big difference between Apple and companies like Huawei or Xiaomi (BATS:XI) is its brand. An iPhone is not only a smartphone, it is an affordable status symbol for the emerging middle class, particularly in China. Although Chinese competitors may offer similar or even better products at a much lower price, there is no other product which has a similar prestige. The more new names appear, the lesser the chances that one of them stands out and can actually become a threat for the iPhone.
Smartphones are short-lived goods, hence the status wears off quickly, and after one or two years, the iPhone 6 or 6S has lost part of its appeal. In anticipation of the next generation product, sales decrease but will appreciate again when the iPhone 7 is released.
Other Potential Catalysts
India is one of the first things that comes into mind. Although the country does not have the potential to become the second China, it can contribute to sales growth in the next quarters and help to move the needle so that Apple can beat expectations.
iPhone sales are what everybody is looking at, and Apple's guidance and forecasts will determine the direction of the stock in the next few months. Nevertheless, it might be worth to spend a few thoughts about other potential catalysts. At some point in time, Apple's car will surely come into play. This will likely have no impact on the share price in 2016 and also not in 2017, but probably from 2018 on speculation will start what this could mean for Apple. The car is the only visible product, potentially big enough to make a difference and to reduce Apple's dependency on the iPhone.
While Apple's car is probably too far-fetched for most investors, and the question about if and when needs to be answered first, acquisitions are a more realistic and tangible possible catalyst. Apple has indicated that larger acquisitions could be an option. Of course, in order to be meaningful, takeovers had to have a certain size and contribute to the company's top and bottom line.
Conclusion
I believe that Apple's sell-off is a chance in fact it could become a text book example of "buy on bad news." Weaker business performance and a change in sentiment over the past months have generated an opportunity to buy the stock at a very reasonable price. Investors are overly pessimistic about the iPhone 7, and I assume that skepticism will prevail over the next months, possibly leading to even better entry points. The most obvious catalyst for a recovery would be a beat of the lowered expectations after the release of the new iPhone. Since the bar is getting constantly lowered, the chances for Apple to surprise positively are not bad.
Disclaimer: Opinions expressed herein by the author are not an investment recommendation, any material in this article should be considered general information, and not relied on as a formal investment recommendation. Before making any investment decisions, investors should also use other sources of information, draw their own conclusions, and consider seeking advice from a broker or financial advisor.
Disclosure: I am/we are long AAPL.
I wrote this article myself, and it expresses my own opinions. I am not receiving compensation for it (other than from Seeking Alpha). I have no business relationship with any company whose stock is mentioned in this article.