Earlier this month I decided that I wanted a portfolio which had a lot of growth without owning an index fund to do it. From the inception of the portfolio it is down 0.6% compared to the 2% drop in the S&P 500. The portfolio is down right now because of the significant underperformance of Fortinet (NASDAQ:FTNT). The intention of this portfolio is for holding high growth names with quite a bit of volatility. The portfolio is small right now but I'll be adding names to it as time progresses.
I try to maintain a diversified portfolio in every one of my portfolios and this one will be no exception. I have different search criteria for every sector because each sector has different requirements for growth. For example, you can't expect a utility company to grow earnings in the double digit range year after year. So the search for growth there will definitely be different from the search for growth in say the technology sector.
Earlier this week I bought shares in Fortinet . I'd like to give a quick synopsis on this stock right now and provide an update for the entire portfolio. Please keep in mind that I do individual homework on these stocks through articles here on SA and you can look up the tickers with their corresponding articles, but you should always do your own homework too.
Fortinet
Fortinet provides threat management and network security solutions that are designed to address the fundamental problems of an increasingly bandwidth-intensive network environment and a more sophisticated information technology threat landscape. The stock appears to be fairly valued on next year's earnings estimates and expensive on earnings growth potential while having great near- and long-term earnings growth estimates. The company pays no dividend but has decent financial efficiency ratios. From a chartist perspective the stock appears to be approaching overbought territory with a negative sentiment. I believe the stock offers great value as long as it remains below the $36 level. I opened my position in the name this week because I felt that it is offering great value at these levels. It is quickly approaching its 200-day simple moving average and if it breaks out above that then it could be off to the races.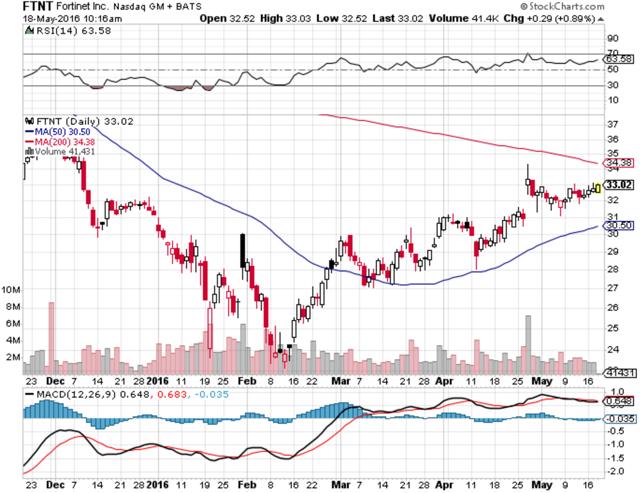 Now it's time for an update on the entire portfolio from inception.
| | | | |
| --- | --- | --- | --- |
| Company | Ticker | incl. DIV | Portfolio |
| NXP Semiconductors NV | (NASDAQ:NXPI) | -0.47% | 33.38% |
| Buffalo Wild Wings Inc. | (NASDAQ:BWLD) | -0.65% | 33.32% |
| Fortinet Inc. | | -0.72% | 33.30% |
| Cash | $ | | 0.00% |
First and foremost, my portfolio is aggressive. An asset mix such as mine normally generates high long-term returns but can be very volatile. Financial planners typically recommend these types of mixes for investors who have investment horizons longer than 10 years, need high returns, and are comfortable with a high level of risk. So far this portfolio is beating the overall market but the key is to keep tabs on all your stocks regularly as well.
I have a fairly healthy stake in foreign stocks. I have a lot of exposure to the developed European region. Take special note of my large exposure to Europe Developed. Overweighting it to the extent that I am means that I am neglecting other regions for a reason, I don't believe the rest of the world is doing so hot right now. I have very little exposure to the UK and Japan right now because I think those countries are not up to snuff.
I have a small cap growth portfolio. I have a lot of exposure to the technology and consumer cyclical sectors. Please take special note of my extremely high exposure to Technology. Most financial planners would advise to better diversify a portfolio among a variety of stock sectors. I have very little exposure to industrials, consumer defensive, healthcare, financial services, and real estate. Take special note of my low exposure to healthcare. While these stocks can be volatile, they are still an important component of the market and offer superior growth prospects. Also, take special note of my relatively low stake in financial services stocks. This sector represents a fairly large segment of the market, and shouldn't neglect it without reason. Right now I have good reason for not owning financials, because the Fed is still on hold with respect to interest rate hikes. I need an interest rate hike to buy into the thesis of owning a bank otherwise they won't be making money off their net interest margins.
Compared with the broader market, my portfolio's stock exposure is biased toward small- and mid-cap growth companies. I will further diversify my portfolio by increasing my exposure to other areas of the market going forward.
As I mentioned before, I have a small cap growth portfolio. I have a lot of exposure to speculative growth stocks. Take special note of my large position in speculative-growth stocks. While these issues can generate very high returns, bear in mind that many of them have spotty earnings records and carry high price multiples. They are always volatile, and when they fall out of favor, they can get hit hard. But that is the point of this growth portfolio. I have very little exposure to hard assets, slow growth, classic growth, and aggressive growth. Be aware that my portfolio has relatively little exposure to both slow-growth and classic-growth stock types. While individual stocks in these parts of the market rarely turn in the extravagant returns seen in hotter areas, these issues have historically generated strong returns over the long haul. And you should think twice before shunning both.
Disclaimer: This article is in no way a recommendation to buy or sell any stock mentioned. This article is meant to serve as a journal for myself as to the rationale of why I bought/sold this stock when I look back on it in the future. These are only my personal opinions and you should do your own homework. Only you are responsible for what you trade and happy investing!
Disclosure: I am/we are long FTNT, BWLD, NXPI.
I wrote this article myself, and it expresses my own opinions. I am not receiving compensation for it (other than from Seeking Alpha). I have no business relationship with any company whose stock is mentioned in this article.