Courtesy of EnergyBasis on Twitter, here's a simplified version of last week's EIA inventory report: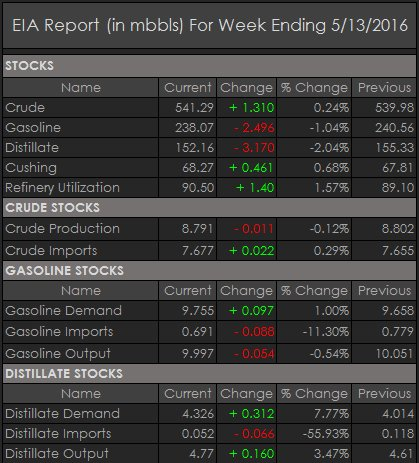 Adjustments this week hit a record high of 855k b/d. EIA makes estimates every week, and sometimes has "plug" numbers to balance out its inventory numbers. For some reason, despite U.S. production continuing to decline and refinery utilization picking back up, crude storage somehow built this week thanks to record adjustment numbers.
Anyone who ran a simple crude output + input model would've noted that this week should've been a draw of ~2.1 million bbl. Nonetheless, the market isn't stupid, and oil (NYSEARCA:USO) prices remain mostly unchanged today.
Refinery Throughput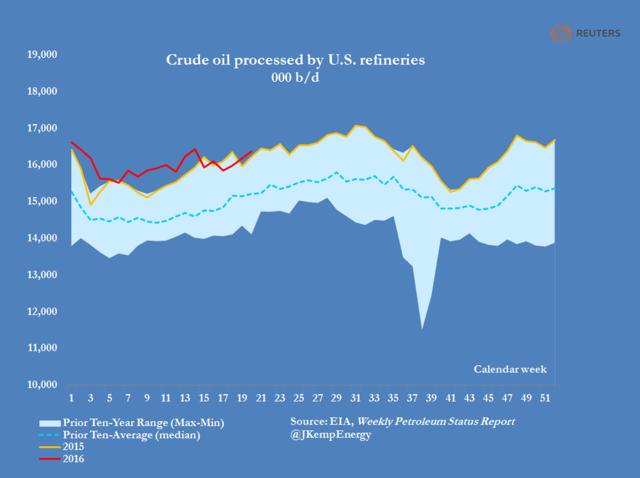 Refinery throughput rebounded nicely last week, as some of the maintenance issues that plagued utilization figures were resolved. Going forward, we expect refinery utilization to remain strong as gasoline and diesel demand seems to be picking up the pace.
Gasoline and Distillate Demand
The demand numbers are quite staggering: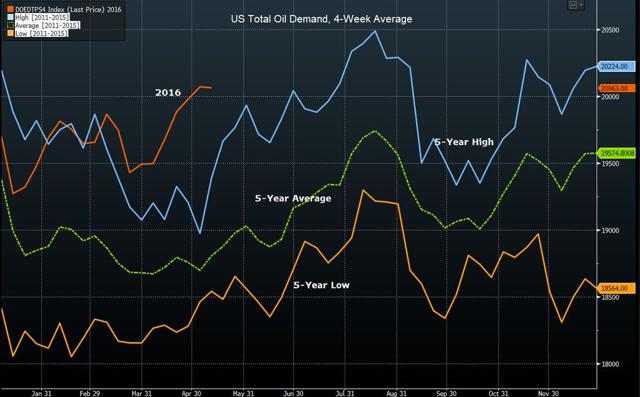 So far, U.S. oil demand has shattered previous averages. We suppose that low oil prices do result in higher demand. We expect U.S. total oil demand to exceed the five-year high, and inventory levels will draw in response to the all-time high demand.
Looking at gasoline stock and distillate stock adjusted for consumption, the inventory levels are right in line with historical averages -- despite higher overall stock levels.

U.S. Imports and Production
U.S. import levels remained relatively flat week over week. The oil production outage in Canada has likely been buffered temporarily by the inventory levels up north. We suspect that the outage could last an additional two to eight weeks, and inventory levels will likely be drawn down rapidly soon. This could impact overall import figures for the next six weeks, depending on how fast oil sands production can return.
U.S. production continues to fall: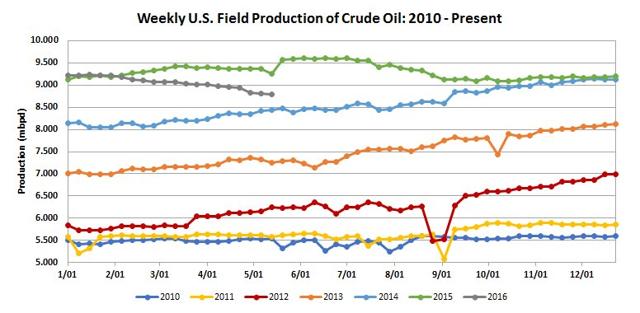 Relative to last year, production is materially lower, and will continue to decline to the 8-8.2 million b/d we alluded to in our previous reports. So far, the trajectory remains on track -- albeit a bit slower than we had originally anticipated.
Concluding Thoughts
Overall, it was another bullish inventory report. Demand remains strong and supply continues to fall. Adjustments resulted in a build this week, and we think next week's figures will reflect a more severe draw than what most participants estimate. We continue to expect inventory levels to draw substantially in the second half of 2016, and WTI will likely recover to $60 by year-end in the face of more bullish fundamentals. If supply outages continue, it could escalate the price increase sooner than we anticipated. We remain very bullish on oil going forward.
We hope you enjoy our weekly oil inventory reports. Be sure to check out some of our old ones, and click on the follow button above if you would like to receive our "Oil Markets Daily" articles. In addition, we also have a premium subscription platform that's tailored to long-term value-oriented investors. We provide recommendations of stock ideas and portfolio composition. Our HFI portfolio has now outperformed the SPY by 8% since inception. We look forward to you joining the HFI platform.
Disclosure: I/we have no positions in any stocks mentioned, and no plans to initiate any positions within the next 72 hours.
I wrote this article myself, and it expresses my own opinions. I am not receiving compensation for it (other than from Seeking Alpha). I have no business relationship with any company whose stock is mentioned in this article.