On May 9, 2016, Silver Wheaton Corp. (USA) (NYSE: SLW) reported its Q1 2016 financial results. The silver streamer reported Q1 EPS of $0.10 and missed analysts' expectations on EPS by $0.02. Analysts expected EPS being between $0.16 (high) and $0.08 (low) or between +23% ($0.03) and -38.5%% (-$0.05), from last year's $0.13 per share.

Yahoo Finance
The streamer reported revenue of $187.51M, an increase of 44% when compared to $131M in Q1 2015, beating analysts' expectations by $1.28M.
Despite a 24% increase in attributable silver equivalent production and a 65% increase in attributable silver equivalent sales volume in the first quarter of 2016, the average realized sale price of each silver equivalent ounce sold in the first quarter was down 13% to $14.70 in Q1 2016 from $16.90 in Q1 2015. But average cash costs on a silver equivalent basis decreased to $4.44 compared to $4.46 in Q1 2015.
Because of lower pricing on a year-over-year basis, the cash operating margin per silver equivalent ounce also decreased 18% to $10.26 in Q1 2016 from $12.44 in Q1 2015.
On May 18, 2016, Silver Wheaton's share price closed at $18.68 on the New York Stock Exchange and has gained 62.56% YTD on a strong start to 2016 that precious metals are enjoying:

According to analysts, the upward trend could continue because reduced expectations for interest rate hikes in the U.S. and a shift to a negative rate environment made by many countries is making gold and silver an appealing alternative to holding cash.
Recently, SLW was upgraded by BMO Capital and, according to the company, the 20% YTD rise in gold and silver prices should continue over the medium term, leading to price targets of $1,400/oz. for gold and $22.50/oz. for silver by the end of Q1 2017.
Out of 11 analysts, eight recommend to buy Silver Wheaton:

Analysts' expectations on SLW's target prices: analysts forecast a mean target price of $23.31 per share, high price is $30.00 per share and low price is $17.00 per share.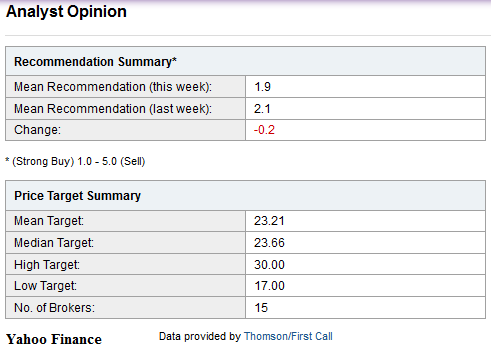 How much may SLW be worth?
You can consider the price from the bought-deal common share financing just as an indication of the stock's value:
On April 14, 2016, the company completed a bought-deal common share financing, whereby a total of 38,105,250 common shares of Silver Wheaton were sold at a price of $16.60 per share, for aggregate gross proceeds of approx. $633 million. The total net proceeds of approx. $607 million were used to repay debt that was outstanding under the company's $2 billion revolving credit facility.
Let's see when this price might become reality. Look at the graphic below: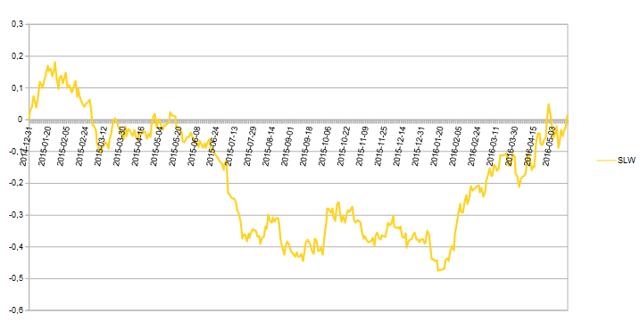 Consider that it is a cyclical stock. Following a drop in prices that often leads to a yearly low being made some time late July, this particular period of the year may offer a more convenient entry point into this stock.
Disclosure: I/we have no positions in any stocks mentioned, and no plans to initiate any positions within the next 72 hours.
I wrote this article myself, and it expresses my own opinions. I am not receiving compensation for it (other than from Seeking Alpha). I have no business relationship with any company whose stock is mentioned in this article.