Under Armour (NYSE:UA) currently presents an ideal opportunity for a dollar-cost averaging investment approach; with a high forward P/E and revenues growing at 20%+ levels quarter over quarter, the stock is naturally subject to top-line shocks come quarterly earnings calls - and this is where the opportunity for a patient investor lies.
At this rapid pace of growth, it is understandable that forward P/E keeps increasing since it reflects the market's expectations. But the pressure of high performance is starting to show - if only in terms of market sentiment rather than the performance itself.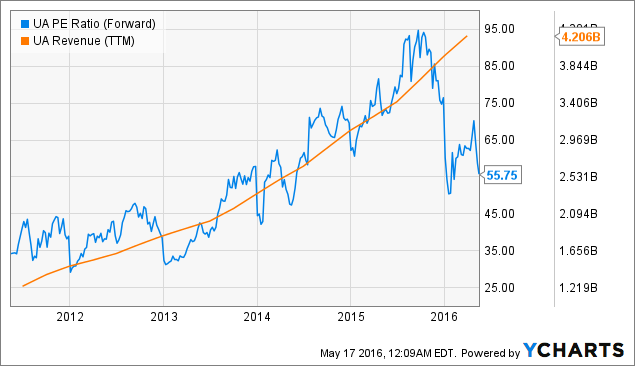 To put things in perspective, UA has grown its top line at over 20% for 24 consecutive quarters, and beaten revenue estimates for 14 of the past 15 quarters. So it's not the performance that is in question, but how closely the company aligns with (or doesn't align with) market expectations on a quarter-to-quarter basis.
But the problem - and the investment opportunity - is exactly that. The high current valuation means that as UA grows bigger in terms of revenue and a wider market, its stock will be more prone to shocks. And this is the opportunity that I'm going to talk about today.
Footwear and International Sales - Key Revenue Drivers
I see these two segments driving UA sales forward into the next three years as it aims to hit $7.5 billion in revenues by 2018. A quick look at its YoY growth and quarterly revenues will show us how close it is to achieving that target. At a shade under $4 billion in revenues for 2015, a CAGR of 30% or so over the next three years will be able to get them there.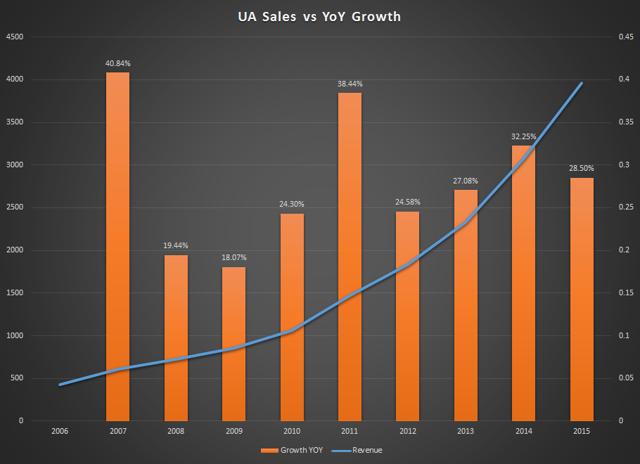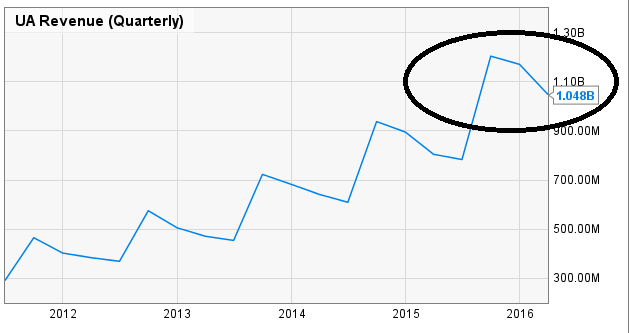 At this point, even though it's consistently hitting billion-dollar quarters, the company still needs to step up from its current revenue CAGR of 28.5% to the 30%+ level in order to achieve that significant goal of nearly doubling its revenues in the next three years. Where's that growth going to come from?
Significant Shifts in Revenue Model
I believe that the company is betting on several things to get it to where it wants to be.
The First Shift - Location, Location, Location
The first major shift is going from domestic-heavy to international-heavy. Its current store distribution is 62% in North America versus 38% in international markets. In three years, the company expects North America to only account for 20% of its global presence. That major shift will come from its expansion strategy in key emerging markets that include countries in the EMEA, Latin America and Asia Pacific regions, where it expects to see a combined door count CAGR of around 75% for the next three years.
The implications of that are significant in that it will not only allow UA to expand faster because of partnerships (discussed below), but it also will help increase its penetration in markets where it has a much weaker presence than companies like Nike (NYSE:NKE).
Let's take China as a perfect example of this shift. It all started with Steph Curry's visit to China last year, which was a major boost to the popularity of the company's basketball line. The result was an increased demand for that product line, which UA is now supporting with 120 door openings this year.
But it's the macro view that really tells of China's potential. With the world's most populous nation becoming more fitness aware, and 75% of the country's population expected to earn between $9,000 and $34,000 per annum by 2022, this is a growing market. It's no wonder, then, that Nike saw a 23% sales increase in the region as of 3Q-2016, adidas (OTCQX:ADDYY) saw a 28% jump and Lululemon Athletica (NASDAQ:LULU) reported that its new store in Hong Kong has been "one of the most productive in the company's store fleet."
China is just one example of this shift, and economically growing nations such as India are still at very low penetration levels as far as Under Armour products are concerned.
The Second Shift - Footwear is Still a Few Steps Behind
The second shift is a stronger push on footwear revenues versus apparel revenues. As of 2014, its revenue mix comprised 14% footwear, which the company intended to increase to 22% in the following three years. But it's already beaten that estimate, and footwear currently contributes 25% of the revenue mix.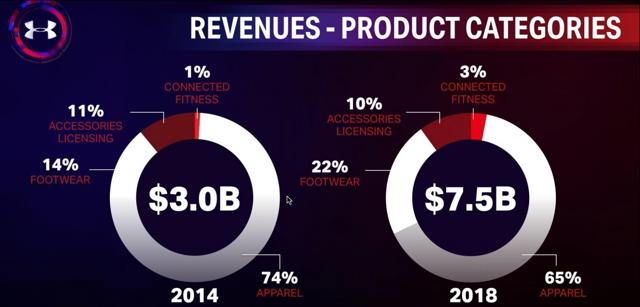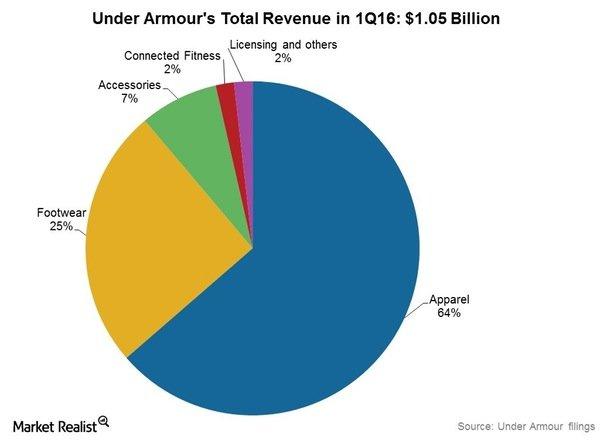 Source: Yahoo Finance
I believe this is a major shift because this is where the biggest opportunity is. With Nike sitting squarely at the top of that segment, this is also going to be UA's biggest challenge. But with several new models seeing the light of day in 2016, sales are expected to top the 95% growth it saw in footwear sales as of Q4 2015. For 2018, UA has projected footwear sales of $1.7 billion - a CAGR of 40% for the next three years, which is realistic considering several factors - not the least of which are the recent success of its basketball ambassador Steph Curry, and the young crop of stars in its portfolio.
Several other innovations and new introductions point to the fact that footwear sales will continue to contribute in greater measure to UA's overall revenues - and this includes the introduction of its golf line, the Curry Two and the unveiling of its first shoes made using 3D printing technology - UA Architect - which "sold out in 19 minutes on our e-commerce site at a suggested retail of $300," according to CEO Kevin Plank.
Consider these factors: the $264 million that footwear brought in this past quarter is 64% YoY, which means UA has a huge growth runway ahead of it; the Curry Two has emerged as the main driver of footwear sales online, with Kevin Plank referring to the star as "the footwear MVP for Under Armour"; China's footwear sales are a third of overall revenues against a 20% contribution for the rest of the world; and golf has only just entered the fray with Jordan Spieth backing the brand.
All of these growth factors together underpin the tectonic shift that UA is undergoing from being a sports apparel company that "also makes shoes" to a serious contender for Nike to deal with over the next few years.
The Third Shift - Partnerships Mean Faster Penetration
The third major shift comes from its store ownership mix. In 2014, UA owned and operated 65% of its stores across the globe. In 2018, that is expected to drop to 30%, with 70% being run by partner entities. With the kind of growth UA is looking at over the next three years - 800 new stores by 2018 - it's identified the right approach to get there in the least amount of time possible.
Its partnerships with Foot Locker (NYSE:FL), Dick's Sporting Goods (NYSE:DKS) and Sports Authority (which has, unfortunately, recently filed for bankruptcy protection) already bring in a significant portion of its revenues - estimates put it at around 67%. This kind of partnership growth allows for a leaner expansion model while maintaining the integrity of the UA brand with the "shop-within-a-shop" experience that the model provides.
The Fourth Shift - Digital Growth
The fourth major shift will be its rapid expansion of and focus on its digital presence around the world. According to company projections, it expects to launch more than 30 local websites to general four times the amount of traffic its digital assets currently receive. The move is expected to increase its revenues from digital channels to over five times.
UA does not break out its online sales, but 30% of its revenue currently comes from direct-to-consumer and e-commerce, and CEO Plank has already hinted at e-commerce growth outpacing overall growth. While this isn't an accurate indication of actual numbers, the current global e-commerce CAGR of 10.7%, UA's current 20%+ revenue growth rate and a 5X growth estimate in online revenues by 2018 point to a CAGR very close to 40% between now and then.
Investor-speak: The Best Investment Approach for Under Armour
So, while growth is guaranteed over the next three years, its projected growth rate may fall short during a particular quarter, and this presents the perfect investment opportunity.
In my earlier articles on Nike, I recommended a DRIP approach, where dividends are automatically reinvested, thereby building your portfolio over time without the need to actively monitor your investment.
In the case of Under Armour, since it doesn't pay dividends yet, I would suggest that a dollar-cost averaging (DCA) approach would be one of the best ways to invest. Essentially, you'll be investing the same amount of money each month, but during earnings shocks, you'll be buying more shares at a lower price point. That way, your cost basis is kept as low as possible while your portfolio continues to grow.
I would also like to draw your attention to another possible investment strategy - value averaging (VA). Proposed by Harvard professor Michael Edleson, this approach allows you to invest more when the market is down. Of course, this only works well in a rising market, so UA would be the perfect candidate for a VA approach.
Either way, your objective should be to follow a disciplined plan in order to maximize the value of your investment over time. Whether it's Under Armour or any other high-growth company accompanied by high valuation, this should be your end goal - and the result of doing this for the next three years is that it will give you a strong position with a relatively low average cost base.
Disclosure: I/we have no positions in any stocks mentioned, and no plans to initiate any positions within the next 72 hours. I wrote this article myself, and it expresses my own opinions. I am not receiving compensation for it (other than from Seeking Alpha). I have no business relationship with any company whose stock is mentioned in this article.