The building materials company USG Corp. (NYSE:USG) has been through a remarkable 15 years that probably and hopefully won't be repeated in the next 15. It was marked by a bankruptcy related to asbestos and rode a sharp housing cycle that led it to the first operating loss in the company's history. USG is currently in the early to mid-innings of a housing recovery, but one still lifted by record low interest rates. In spite of these interest rate tailwinds that will likely fizzle out, the company is still attractively priced at just under 11x pre-tax earnings (TTM), as the net operating loss accumulated during the downturn will provide a tax shelter for many years.
The Good
There are a number of attributes that are attractive for USG, primarily its lion's share hold of the wallboard market. It is the largest, with some 25% market share, in a wallboard market that is consolidated and safe from foreign competition due to the relatively low value and high weight of the product. China briefly made an incursion into the US and managed to capture just 1% of the market during the housing boom, before the horrendous quality of the product brought health issues to light and forced out the Chinese operators.
USG's Sheetrock brand makes it one of the more recognizable companies in an otherwise commoditized market. The company has been in business for over 100 years, giving builders a certain level of confidence this isn't a fly-by-night materials operation (in contrast with the Chinese wallboard incursion).
Few of USG's competitors are publicly held, but one of the largest is Eagle Materials (NYSE:EXP). Eagle made the untimely decision of buying into a fracking sand business right before the US shale industry crumbled. Moreover, the company generates a sizable portion of revenue from its concrete aggregates business, which is much less consolidated than the wallboard business.
On the plus side, Eagle Materials doesn't have an international operation in East Asia as USG does; I'll elaborate on that later. Lastly, Eagle does sell at a much dearer premium without the net operating loss benefit USG carries.
USG and other wallboard producers sell primarily to regional distributors rather than big-box retailers. Only 20% of wallboard volume goes though the likes of Home Depot (NYSE:HD) and Lowe's (NYSE:LOW). The balance goes through materials distributors, including USG's L&W subsidiary. This fragmented distribution channel is understandably a good thing for USG, as it limits the bargaining power of the buyers. But it may have been too much of a good thing, as the company settled a lawsuit with a distributor last year over abuse of pricing power.
This is a thoroughly cyclical company, as looking through its past financials will show. Adjusted operating margins have swung as high as 19% in 1998 and 1999 and up to 17% in 2006 if you strike out asbestos bankruptcy-related charges. Those charges are certainly a unique, one-time event that won't be revisited on the company.
USG is now well below a high-double digit operating margin, but given lackluster capacity utilization in wallboard, those margins are something we could see again in the next 10 years. With the company's intent to reduce debt and large net operating losses, a boost to profit margins shouldn't be far behind.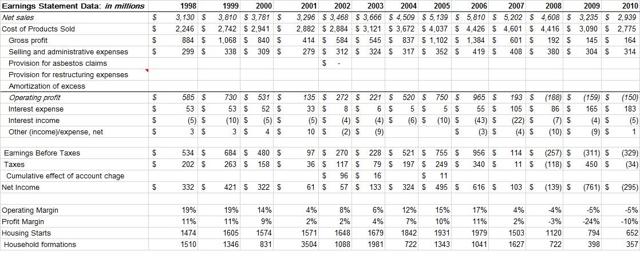 And the Bad
The one decision that could haunt USG is its move to diversify into Asia. While the US market was in the doldrums, the company decided to jump into more robust East Asian and Australian markets by forming a joint venture with Boral (OTCPK:BOALF). (Peter Lynch might call this "diworsification.") While profits have certainly been delivered, I question where that region is in its housing cycle and what the next 5 years will bring.
Even in the worst-case scenario, should the whole $500 million committed to the joint venture go up in smoke, it should not bring the company cap-in-hand to investors like it did after the US housing crisis. The cash flows gaining steam in North America should offset any potential losses from abroad.
But in 100 years, there will have been no need for the company to venture beyond North America, because as cyclical as the business was, it is also awfully profitable. If there's any pessimism about USG compared with its North American rivals, it's probably this venture abroad that makes investors cautious.
Macro Considerations
The tailwinds have certainly been with the housebuilding industry as household formations firm up and the lackluster housing construction over the last several years catches up to an expanding economy. There has been a trend toward city living as opposed to suburban living, and that certainly weighs on USG and other wallboard producers, as less wallboard is used per housing unit. Moreover, housing units are smaller, and fewer are constructed than would otherwise have been the case in a suburban environment that has ample land. But these are just trends, not secular trends. As employment and the balance sheets of blue collar Americans improve, we may see a trend towards single-family construction.
As Timothy Geithner noted in his interview with the Financial Crisis Inquiry Commission, employment has a much bigger impact on housing demand than interest rates. Robert Shiller said the same thing, and it should be very obvious. Interest rates make it costlier or cheaper to borrow, but being unemployed or underemployed will prevent one from owning a home, no matter the interest rate.
On a more speculative and distant note, self-driving cars and ride-sharing apps should also improve the value of single-family housing and the suburban lifestyle. Just as the automobile paved the way for a sprawling Los Angeles, self-driving cars may revolutionize the industry by making commuting much more efficient and pleasant. If the cars produce a lower collision rate, as their manufacturers claim, it will provide for less congestion on the freeways. In addition, even more commuters can be packed onto the road as ride-sharing technology offers its benefits. If your car can take you to work in the city while you sleep or focus your mind elsewhere, the burden of the commute is diminished dramatically.
Lastly, wallboard manufacturers aren't in the crosshairs of the tech sector, so they're less likely to be disrupted. USG continues to innovate on its own and develop useful products that its contractors ask for - such as its wallboard that's lighter, but pound-for-pound just as strong.
If there was a more efficient, cost-effective way of building a house (note that pre-fabricated homes also use wallboard), you might have reason to worry about the wallboard industry. But for now, we can project that there will still be strong demand for the product at least a decade in the future.
Disclosure: I am/we are long USG.
I wrote this article myself, and it expresses my own opinions. I am not receiving compensation for it (other than from Seeking Alpha). I have no business relationship with any company whose stock is mentioned in this article.