I often like to take a fund or ETF and set it next to a counterpart to see which one wins when examining their risk/reward profiles. Sometimes, two funds deliver similar returns or offer similar dividend yields or operate within the same sector or strategy but deliver their results in very different ways.
Today, I wanted to take a look at the SPDR Barclays High Yield Bond ETF (NYSEARCA:JNK) and its shorter-term counterpart, the SPDR Barclays Short Term High Yield Bond ETF (NYSEARCA:SJNK). Specifically, I wanted to pay special attention to the yields offered by the funds and the risks taken in order to achieve them. The High Yield Bond ETF should be paying the higher yield but is the additional risk taken to get that yield really worth it?
Overview
According to the ETF Database, the High Yield Bond ETF is the second largest in the space behind only the iShares iBoxx $ High Yield Corporate Bond ETF (NYSEARCA:HYG). The Short Term High Yield Bond ETF is the fourth largest.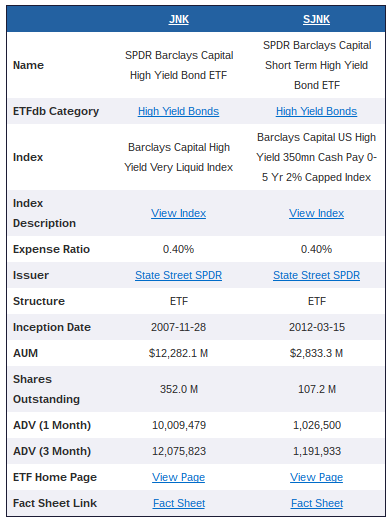 The main thing to note in this graphic is the expense ratio. Both are identical at 0.40%, a pretty reasonable level for this type of product. The High Yield Bond ETF trades about 10 times as many shares daily as the Short Term High Yield Bond ETF, which is to be expected given their relative sizes, but liquidity is an issue for neither of these funds.
Dividend Yield
The High Yield Bond ETF has pretty consistently yielded around 70 basis points higher than the Short Term High Yield Bond ETF over the past two to three years.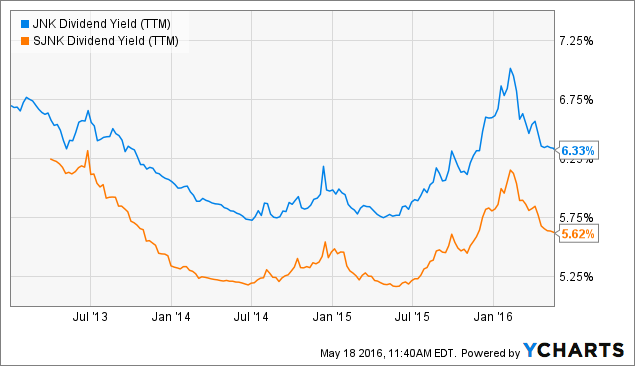 JNK Dividend Yield (TTM) data by YCharts
The difference in yields currently is consistent with this historical spread and can reasonably be expected to continue going forward.
Portfolio Composition
While there is little overlap between the specific fixed income issues held within the funds, the fund's managers do like to target the same issuers for both funds. Bonds from Sprint (NYSE:S), Numericable Group (OTCPK:NUMCF), Reynolds (NYSE:RAI) and HCA Holdings (NYSE:HCA) appear in both portfolios.
Asset Allocation
The primary difference in the allocations of the two funds is the level of cash.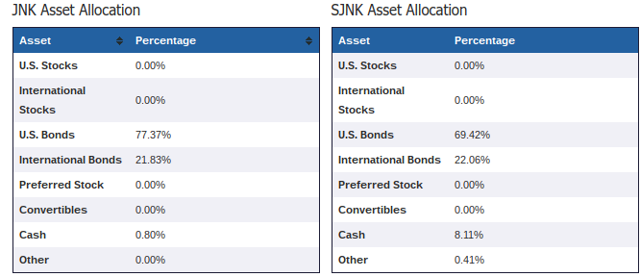 While overall portfolio risk won't be greatly impacted by the presence of cash in the portfolio, the risk level of the Short Term High Yield Bond ETF will be lower due in part to the fund's 8% cash position compared to the less than 1% allocation of the High Yield Bond ETF.
Coupon & Maturity
It might be slightly surprising to see that the Short Term High Yield Bond ETF has a greater percentage of its assets invested in securities with coupons of 6% or greater (56.3% vs. 47.5%), the fund's focus on much shorter maturities tempers the portfolio's overall risk significantly.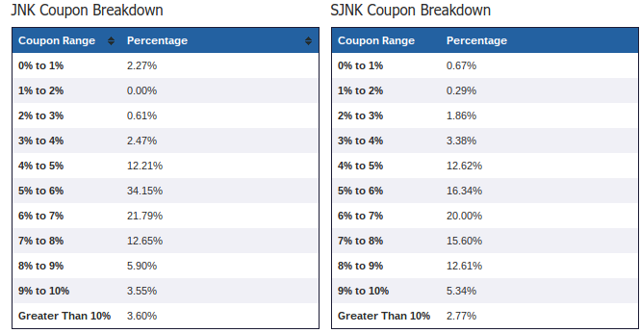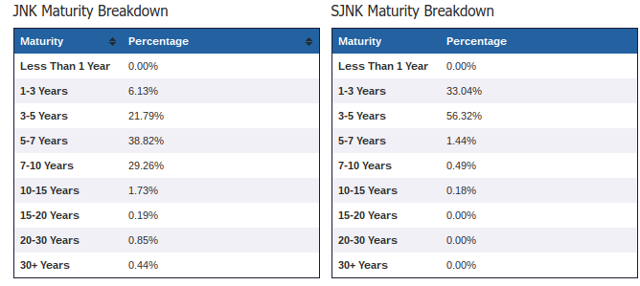 The fund's average maturity of 3.2 years is less than half that of the High Yield Bond ETF's 6.5 years. This contributes to a modified adjusted portfolio duration that is 45% lower than the High Yield Bond ETF (2.36 years vs. 4.33 years). The difference in credit quality of the two portfolios is substantially similar.
Performance
The two funds have performed about as would be expected since the Short Term High Yield Bond ETF's inception on March 14, 2012.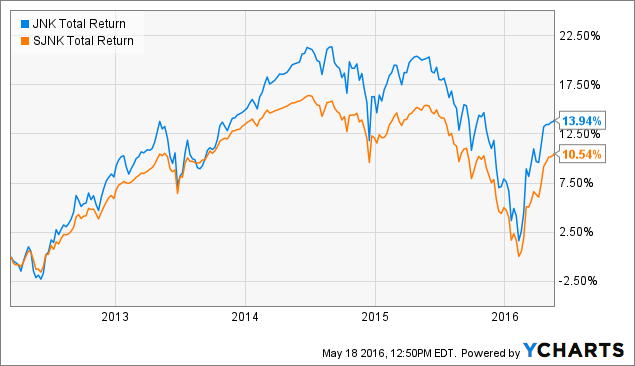 JNK Total Return Price data by YCharts
The High Yield Bond ETF has performed better overall during the four-year time frame. It outperformed during much of 2014, underperformed during the second half of 2015 as junk bond spreads started rising rapidly and subsequently outperformed again in 2016 during the market rebound.
Portfolio Risk Measures
Using two commonly used risk measures, we can examine both the beta and standard deviation of returns to determine how risky the two funds are relative to each other.
The beta measure during its infancy can be discounted a bit and where it stands right now is probably more of an accurate measure. Currently, the portfolio risk of the Short Term High Yield Bond ETF as measured by the beta is 44% lower than the High Yield Bond ETF.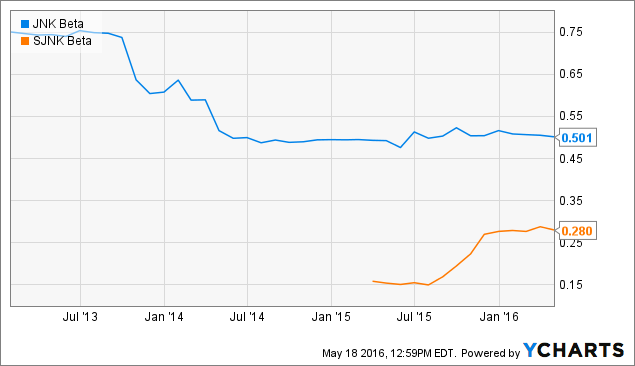 JNK Beta data by YCharts
Standard deviation tells a similar story. Risk levels in the junk bond market have been rising using the past three years of data. As it stands right now, the Short Term High Yield Bond ETF standard deviation is roughly 25% lower than its counterpart.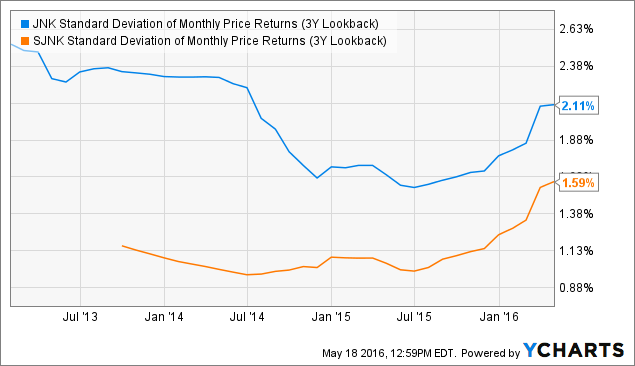 JNK Standard Deviation of Monthly Price Returns (3Y Lookback) data by YCharts
Conclusion
As would be expected, risk levels of the Short Term High Yield Bond ETF are lower using every measure. Modified adjusted duration is 45% lower. Beta is 44% lower. 3-year standard deviation of returns is 25% lower. While none of these is a perfect measure in and of itself, it shows that one fund is clearly less risky than the other.
Comparing the dividend yields of the two funds (5.62% vs. 6.32%), I'm looking at roughly a 12% dividend premium with the High Yield Bond ETF.
Would I give up roughly 12% in dividend income in exchange for 35%-ish less risk? I think so. I'd choose the Short Term High Yield Bond ETF in this comparison.
If you're interested in more dividend income strategies and ETF analysis, please consider following me by clicking on the "Follow" button at the top of this article next to my name. Even if you don't, thanks for taking the time to read!
Disclosure: I/we have no positions in any stocks mentioned, and no plans to initiate any positions within the next 72 hours.
I wrote this article myself, and it expresses my own opinions. I am not receiving compensation for it (other than from Seeking Alpha). I have no business relationship with any company whose stock is mentioned in this article.