IAMGOLD (NYSE:IAG)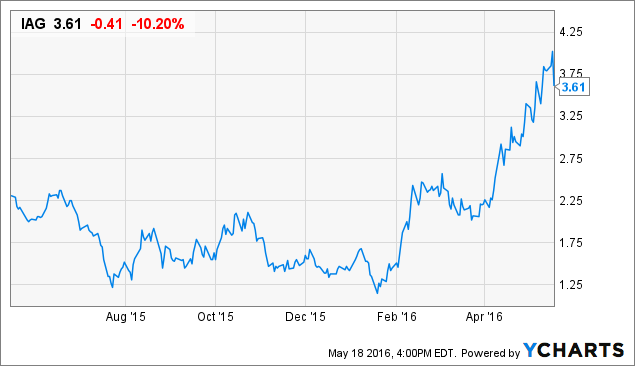 Recent Stock Price: $3.61
Shares Outstanding: 405.90 million
Market Cap: $1.47 billion
52-Week Range: $1.15 - $4.05
IAMGOLD has been a top performing gold stock over the past 3 months, outperforming the benchmark gold miners index (NYSEARCA:GDX) by 25% and the junior gold miners index (NYSEARCA:GDXJ) by 21%. While I've recommended the stock in the past (and at much lower prices), I'm a bit more cautious here and I'm recommending investors avoid the stock.
I think the stock's outperformance has a lot more to do with rising gold prices than it has to do with the company's operational performance, and I see this as a major red flag. The poor operational performance has put a strain on the company's balance sheet, as I'll point out below.

(Credit: IAG Q1 Financial Results)
Readers may remember that IAMGOLD ended up with a huge cash position after selling its Niobec mine for $530 million. This left the company a massive cash, cash equivalents and gold bullion position; compared to $641 million in long-term debt, its net cash position stood at $188 million.
After looking at IAMGOLD's first quarter 2016 results, you may think it was a great quarter and the company improved its financial situation. You'd be wrong in my view. The balance sheet is actually getting worse - not stronger. You'll see in the recent earnings release the company boasting its $660 million cash position after monetizing its gold bullion position and raising $30 million in equity.
Yes, this is a large sum of money. However, IAMGOLD's net cash position actually declined over the past quarter by a great amount and has been declining for quite some time. You'll see in the above photo from the Q1 financials that IAMGOLD actually had $691.3 million worth of cash, equivalents, restricted cash, and gold bullion on Dec. 31, 2015; this declined to $658.1 million as of March 31.
It's much worse looking further out. At the end of Q3 2015, IAMGOLD had $783.4 million in cash, cash equivalents and gold bullion at market value, as I pointed out in this article; at the end of Q2 2015, that position stood at $836.4 million; at the end of Q1 2015, it was $889.1 million. Below is the company's cash, equivalents and gold bullion position by quarter:
| | | | | |
| --- | --- | --- | --- | --- |
| Q1 2015 | Q2 2015 | Q3 2015 | Q4 2015 | Q1 2016 |
| $889.1 million | $836.4 | $783.4 | $691.3 | $658.1 |
Meanwhile, IAMGOLD ended the latest quarter with $628.5 million in long-term debt, which has almost been unchanged over the past year.
With $250 million in CAPEX spending scheduled for 2016 - $155 million on sustaining capital and $95 million on development and expansion capital ($345 million total)- I expect the cash position to decline even further in the coming quarters, despite higher gold price, as net cash from operations probably won't exceed $210-$220 million this year if gold prices remain the same.
Poor Operational Performance
While some of the decline in the net cash position can be blamed on lower gold prices, which lowered the value of IAMGOLD's gold holdings, it's mainly due to poor performance. I expected the company to reduce its all-in sustaining costs to below $1,000 per ounce for quite some time now, but it has failed.
For example, in Q1 2016, IAMGOLD's AISC came in at $1,084 per ounce; with 191,000 ounces of gold produced at average realized gold prices of $1,188, the company reported $51.4 million in net cash from operations. However, this was more than offset by the $69.4 million spent on property, plant and equipment, and exploration and evaluation assets.
So, when you don't factor in the $30.3 million gained from the equity issuance and the $170.3 million in proceed from the sale of gold bullion, it was a poor quarter as capital expenses exceeded cash from operations by $18 million.
The Bottom Line
IAMGOLD has not been managing its costs well in my view and continues to burn through its cash at an alarming rate. Following the sale of its Niobec mine in 2014, I would have liked to see the company buy out a low-cost gold mine, repay debt, or buyback some of its shares.
Instead, IAMGOLD has been investing heavily in exploration projects and its existing mines, but does not have much to show for it. I'm not convinced the company can get its costs lower in the near-term, which puts shares at risk if gold prices remain stagnant or fall from here. I think there are better opportunities in the gold market, and here are 10 picks I expect will outperform IAG and its gold mining peers.
Disclosure: I/we have no positions in any stocks mentioned, and no plans to initiate any positions within the next 72 hours.
I wrote this article myself, and it expresses my own opinions. I am not receiving compensation for it (other than from Seeking Alpha). I have no business relationship with any company whose stock is mentioned in this article.