Here is a great trivia question for you: What is the #1 biggest fear for those in their late 40s? If you said dying early, you would be wrong. And you would be wrong by a long shot, as the graphic below shows: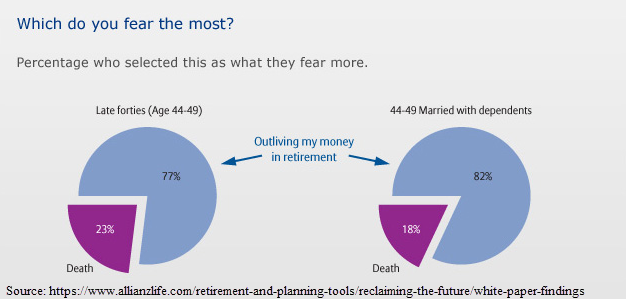 Why All The Fear?
Something has definitely shifted in this country and it accelerated during the downturn in 2008. Fewer people trust the government more than ever. In the same survey used in the graphic above, 39% of the people surveyed said they are more likely to be struck by lightning than to get their promised social security benefits. For those in the middle-class, 56% said they are more likely to be struck by lightning.
In addition to the lack of trust in basic government functions, people do not trust the financial markets. The crash in 2008-2009 showed people that they can indeed lose nearly everything very quickly. Many people bailed out of stocks and into low-yielding bonds, which has led to their retirement situation becoming very dire indeed.
Too Many People Are Unprepared For Retirement
It shouldn't be too surprising that most people feel like they are not prepared for retirement. From the same study cited above, we find the following: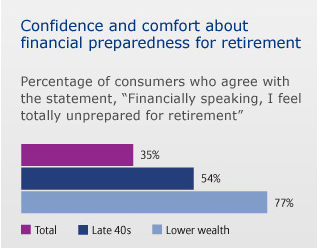 More than half of those in their late 40s feel like they are not prepared at all for retirement. This is a dangerous place for us to be as a country. Most people will either have to a) work for the rest of their lives or b) get on the government dole, if there is any money left to give by that point.
It's Time To Take Control
For most people who feel unprepared for retirement I say this, "Get your head out of the sand!" Figure out if you will outlive your money first, then come up with a game plan to rectify the situation. At the very least, you should know what your situation looks like rather than guessing.
So how does one take control? At the very least, we should have a rudimentary idea of how our retirement situation is shaping up. You can use a quick and easy retirement calculator to get a simple estimate. But to really get your arms around your financial situation, you should plug all of your numbers into legitimate software.
A Real Life Case Study
I deal with many people who are very concerned that they cannot retire by age 65. This was their goal, but now they feel they cannot do it. I recently talked to a couple that was prepared to continue working into their 70s because they assumed they had no chance of truly retiring. Here is what their situation looked like:
| | |
| --- | --- |
| Current Age of Both People | 55 |
| Social Security at age 67 (combined) | $32,000 per year |
| Average Savings Rate | 7% on Income of $100,000 |
| Total Investment Balance Today (all in IRAs) | $400,000 |
| Expected Annual Expenses In Retirement | $50,000 |
| Investment Mix | 50% Stocks/50% Treasury Bonds |
The first thing I did for them was plug their numbers into our WealthTrace Financial Planner, which is available to the public as well. Some of the assumptions I used for them is below:
| | |
| --- | --- |
| Inflation (CPI) | 3% |
| Life Expectancy | 90 |
| Annual Return Stocks | 6% |
| Annual Return Treasury Bonds | 2% |
I ran their numbers and they do indeed have cause to be worried. They are projected to run out of money by the time they are 83 years old. Take a look at how their investments dwindle away.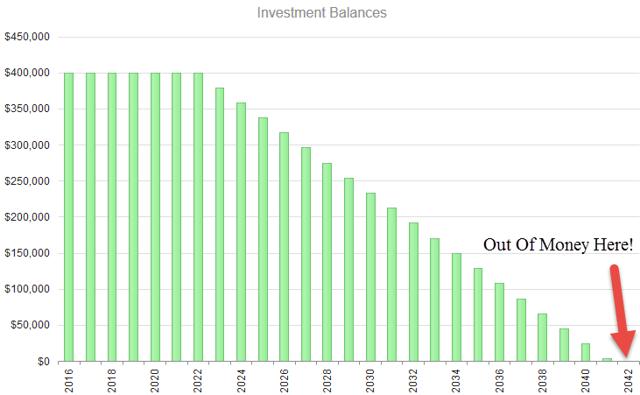 It is no surprise that the investment balances decline so fast, given that their retirement income is not keeping up with their expenses: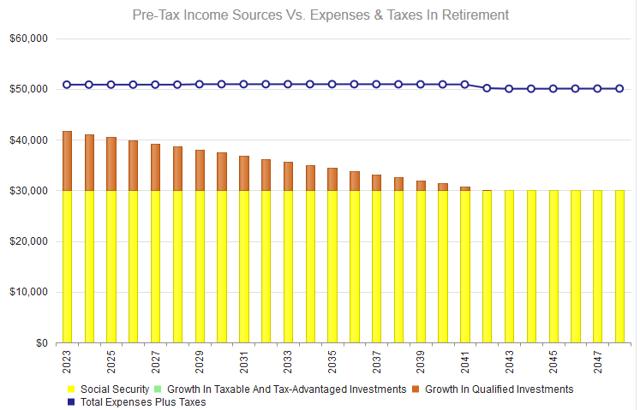 How Do They Change Their Situation?
I found that the only way this couple can have a relatively stress-free retirement is if they work until they're at least 73 years old. But even then, their income will not cover expenses in retirement and they are still in danger of outliving their money.
The first problem I notice is that half of their money is in low-yielding treasuries. In the scenario I ran, their income from the treasuries won't even keep up with inflation.
These are very tough times for generating enough income in retirement. Tough times call for tough decisions. In this case, I believe they need to move most, if not all, of their treasury money into dividend-growth stocks.
How Dividend-Growth Stocks Can Save A Retirement Plan
We saw that their retirement income cannot cover their expenses. But if we move half of their money into some of the best dividend payers out there, we can change this. I've written before about how strong dividend-growth stocks can help people retire earlier and weather market downturns. In this specific case, I recommended that this couple move to my selected basket of dividend-growth stocks. I will list a few of them here: Johnson & Johnson (NYSE:JNJ), Sysco (NYSE:SYY), AT&T (NYSE:T), Wal-Mart (NYSE:WMT), and Exxon (NYSE:XOM).
Company
Div. Yield
5-Yr Div. Growth
(Annual Rate)
JNJ
2.90%
6.90%
SYY
2.70%
3.70%
T
4.90%
2.30%
WMT
3.00%
10.10%
XOM
3.40%
10.60%
Once we move them into the dividend payers, they are projected to never run out of money even if they retire at age 65. Here is what their investment balances now look like through time: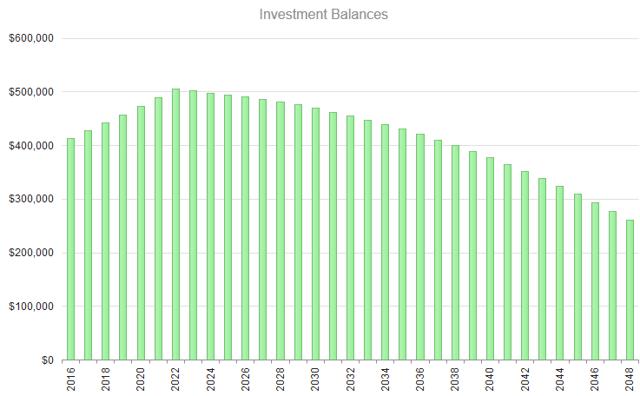 And here is their income vs. their expenses in retirement: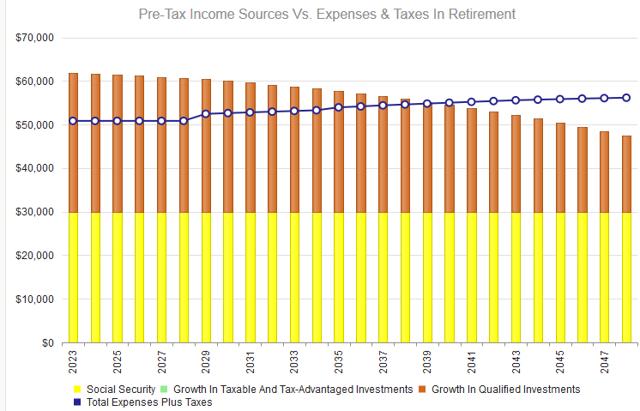 Compare this to their previous results. Because of the dividend payments they will receive, their retirement income covers their expenses in most years. Once it doesn't, they have to dip into principal. But they have enough principal to cover their expenses and still have almost a $300,000 buffer at the end of their life expectancy.
In Conclusion
The couple I advised is typical of so many people out there. They a) have no idea where they stand in terms of retirement, b) they're very afraid of outliving their money, and c) they won't have enough income in retirement to support them.
We took care of all three of these issues for them. They now know where they stand, they're no longer stressing every day about their retirement, and they are invested in some of the best dividend paying companies around, which will give them the income they need.
So no more heads in the sand! It's time for everybody to get their arms around their own retirement situation.