Windy, dry, and unseasonably hot conditions all set the stage for the wildfire in Alberta (see Addendum at the end of this article for a summary). These conditions were largely attributed to the El Niño weather pattern this winter. And the fire has disrupted Canada's oil industry.
Separately, El Niño also contributed to the drought in Venezuela. Low water levels in that country are disrupting electricity production and having an impact on the petroleum sector. While El Niño reduced oil demand in North America this winter, weakening oil and natural gas markets, it is now responsible for disrupting oil supplies in two major oil-exporting countries, propping up prices.
El Niño is expected to give way to La Niña this summer, the cold phase of the El Niño-Southern Oscillation (ENSO) cycle. According to Bill Kirk, CEO of Weather Trends International, that means a hot summer, heightened Atlantic Ocean hurricane season, followed by a brutally cold winter. Weather conditions seem destined to play a leading role in oil and natural gas market conditions over the months ahead.
Canadian Oil Disruption
As of this writing, shutdowns at many oil sands sites have reduced Canadian production by at least one million barrels of oil a day, or about 40% of the country's total oil sands output.
Syncrude on Wednesday said its facilities are "intact" near the wildfire, while the power plant serving Suncor's (NYSE:SU) Firebag facility was restarted earlier in the day. Canadian National Resources Ltd. (NYSE:CNQ) said the wildfire remained a safe distance from its Horizon Oil Sands project.
Suncor has closed down production of 300,000 barrels of oil a day at two mines and a pair of oil sands well sites, and its Syncrude unit has shut its 350,000-barrel-a-day-capacity mines. Pipeline operator Enbridge Inc. (NYSE:ENB) has reduced its oil sands crude shipments by about 900,000 barrels a day, down from a capacity of 1.5 million barrels a day. U.S. crude oil imports from Canada were estimated by the Energy Information Administration at 2.587 million barrels per day last week - that's 366,000 b/d (12%) lower than the week before.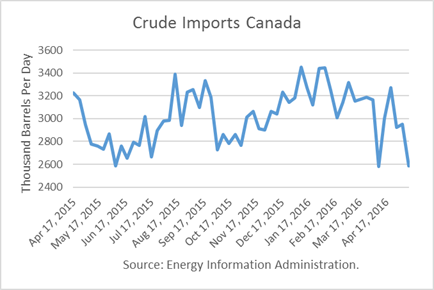 Except for one week in April, when a leak on TransCanada Corp.'s (NYSE:TRP) Keystone pipeline in South Dakota disrupted deliveries, this is the lowest level of imports from Canada since last July.
Officials said on Tuesday that the fire is moving east and encroaching the border with Saskatchewan and continuing to "burn out of control."
Alberta premier Rachel Notley said, "We're not going to have people going back until we know it's safe." She also said it is unclear when oil production can resume.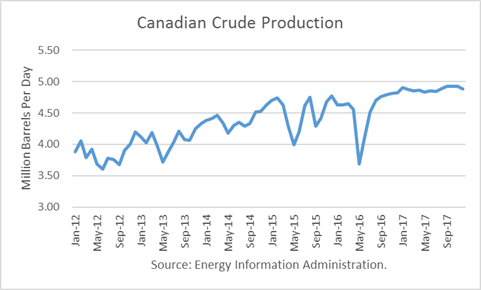 In the EIA's latest Short-Term Energy Outlook (STEO), which was published 10 days after the start of the blaze, it estimated that crude production in Canada would drop by 860,000 b/d in May from April. It expects production to recover in June and July and be back to normal by August. With the fire still out of control, I find these forecasts to be highly uncertain.
The EIA expects world oil production to be unchanged in May from April, due largely to rise in OPEC production of 700,000 b/d. But the EIA did not specify the gains by country. With losses in output in Nigeria and Venezuela totally around 1 million barrels per day, it is difficult to believe world output has not dropped in May.
In the short term, Canada can draw down its crude oil inventories to supply its customers - the largest, of course, being the U.S. oil companies. Unfortunately, the latest statistics from the Canadian government are for February. At that time, total crude stored in tanks (not including lines) was about 54 million barrels.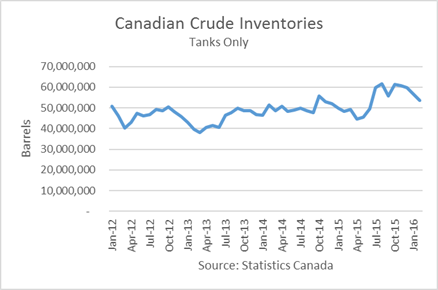 If Canadian production is shut in for an extended period of time, it will likely affect U.S. imports, Canada being the largest supplier to the U.S. The EIA latest estimate of crude stocks is 541.3 million barrels, about 180-190 million above the normal range.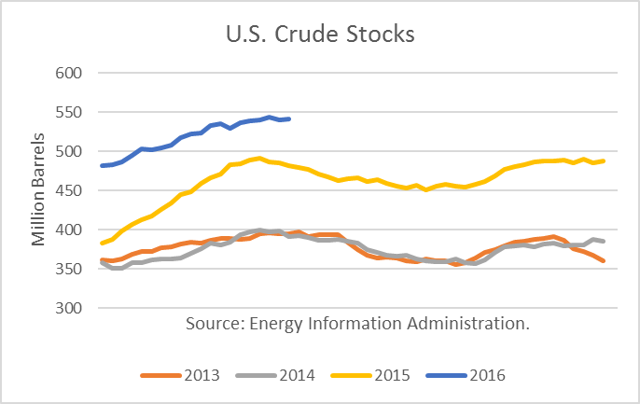 In other words, if the U.S. reduced its imports by 1 million barrels per day, it would take six months just to get back down to normal crude inventories. The U.S. also has excess petroleum product stocks of another 150 million. That adds another 5 months of supply to replace a 1 million barrel per day disruption.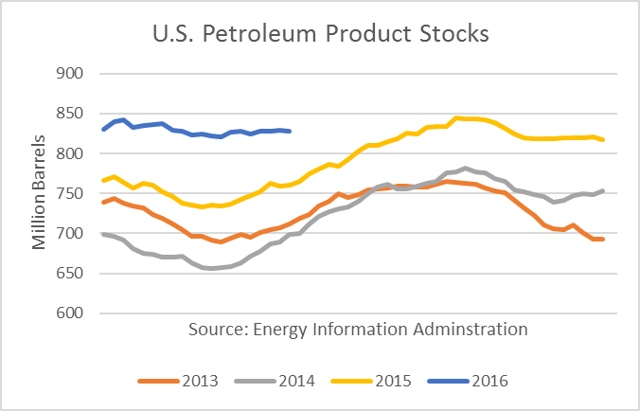 In addition, the U.S. can tap its Strategic Petroleum Reserve (SPR), which currently stores 695 million barrels. Drawing them down could meet replace a 1 million barrel per day disruption for almost another two years.
Finally, if oil prices were to spike much as a result of an extended disruption, U.S. oil producers can lock in futures prices and ramp up production once again.
U.S. Import Dependency
Assessing U.S. vulnerability to an extended supply disruption from a combination of sources, such as Canada, Nigeria and Venezuela, requires calculating net imports as a function of demand. There are two less-obvious factors that need to be taken into account: "Other Supply" (which I discussed in this article), and both crude and petroleum product exports.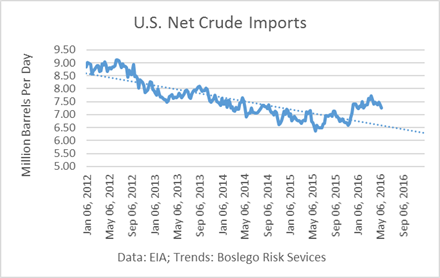 Although the U.S. is importing around 7.8 million barrels per day crude per day, net of exports, the country is a large exporter of petroleum products. In the year to date, total product exports are estimated to be almost 4 million barrels per day (mmbd). As a result, net oil imports have averaged about 5.5 mmbd.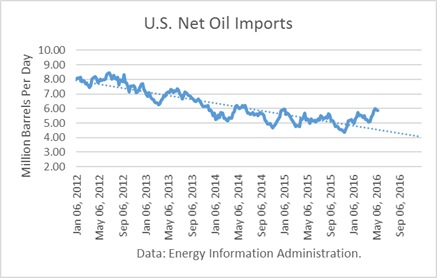 Even with the drop in U.S. crude oil production projected by the EIA in 2016 and 2017...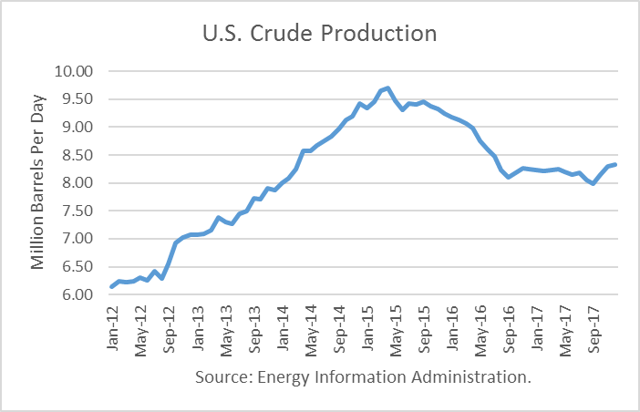 ... the U.S. net import dependency (imports/consumption) hardly budges. In 2014 it was 27%, and in 2015 it was 24%. In 2016 and 2017, it is projected to be 25%.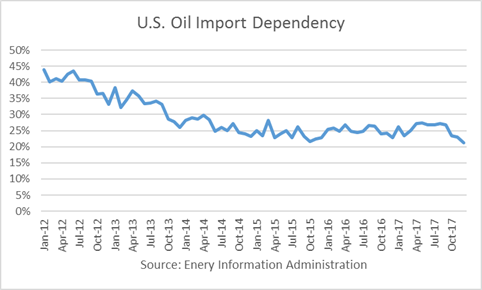 Conclusions
El Niño was responsible for a very warm winter in North America, which reduced energy demand and prices. Now, it is having its revenge in oil supplies in Canada and Venezuela. It will be followed by La Niña starting this summer, which may disrupt supplies in the Gulf Coast and demand in Florida, while causing summer cooling demands to spike.
But the glut many commentators swear never existed has provided ample inventories to take care of an extended 1 million barrel per day import disruption for a year. Then, we have our SPR. And if prices spike, producers hedge and oil shale production ramps back up.
Addendum: Summary of the Blaze
According to NASA, windy, dry, and unseasonably hot conditions all set the stage for the wildfire in Alberta. The map below shows land surface temperature anomalies from April 26 to May 3, 2016, as compared to the 2001-2010 average for the same one-week period. Red areas were hotter than the long-term average, and blue areas were below average. White pixels had normal temperatures, and gray pixels did not have enough data, most likely due to cloud cover.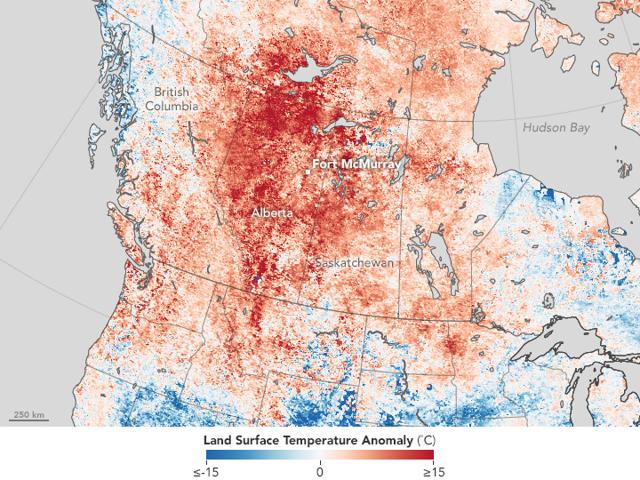 The intense heat coincided with a weather pattern called an omega block - a large area of high pressure, which stalled the usual progression of storms from west to east. In Alberta, that left sinking, hot air parked over the region while the block was in place, which brought record-setting temperatures to Fort McMurray.
Scientists believe that weather patterns connected to El Niño have likely played a role, because the area has received less rainfall than average, leaving an insignificant snowpack, which melted quickly. According to Robert Field, a Columbia University scientist based at NASA's Goddard Institute for Space Studies, El Niño likely played a role in the warmth. The Virginia Hills fire in central Alberta (May 1998) burned under a similar El Niño phase. "That fire occurred under comparable fire danger conditions, part of which you can trace to El Niño," Field said.
On May 3rd, the temperature climbed to 91 °F. Winds gusted over 20 miles per hour, blowing the flames in an area where rainfall totals have been well below normal in 2016. The situation intensified on May 4th, when winds gusted to 45 mph. This significantly contributed to the fire's rapid growth.
Visible in the Landsat image is the fire's complex pattern, with many active fronts. This was due to substantial "spotting," where flaming embers are lofted ahead of a main fire, creating new fires, and making it really hard to fight." Officials are saying it could take months to get the situation under control.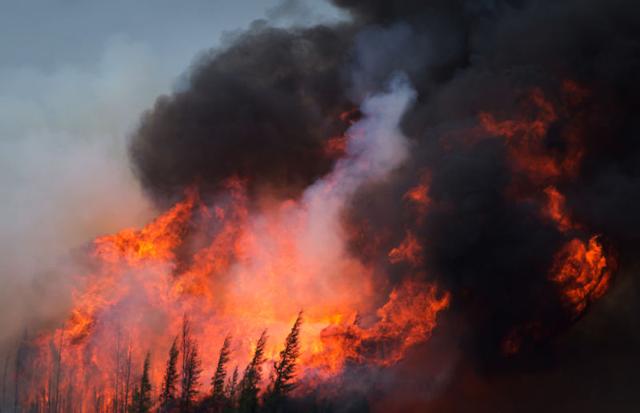 Image Credit: Getty Images
"We're facing increasingly intense fires," says Peter Murphy, a retired professor of forest fire management at the University of Alberta. "They burn hotter, move faster and take more space."
"You'd be impressed with the sophistication of the (fire) departments," says Murphy, "but it's just astonishing how [fires] can burn. We're chasing a moving target... we're ready for fires of the past, but we don't seem to be ready for the fires of the future."
Disclosure: I/we have no positions in any stocks mentioned, and no plans to initiate any positions within the next 72 hours.
I wrote this article myself, and it expresses my own opinions. I am not receiving compensation for it (other than from Seeking Alpha). I have no business relationship with any company whose stock is mentioned in this article.