Introduction
Strayer Education, Inc. (NASDAQ:STRA) consistently appears on different value screeners, including Joel Greenblatt's magic formula. The company's general story reflects a dynamic that often plays a role in determining the quality of value stocks: the ability to respond to a change. I believe Strayer Education is one of the better players in the field. The problem is that the field is shrinking. Further analysis reveals a poor outlook for an already declining business. Investors would be wise to keep their distance, or at the very least wait for a hint of recovery before stepping into this one.
Typical Value Stock Tale
Many of these value stocks are in businesses that are in a large transformation. Quite often it is exactly the fear of these transformations that drives prices down to reflect lower valuation. A prudent value investor must repeatedly assess whether he (or she) is dealing with an oversold company or a value trap. In the case of an oversold company, the business has experienced setbacks, and the short-term (maybe even midterm) outlook might not be as bright as it used to be. However, these headwinds are temporary, and the company is likely to overcome adversity by adjusting its strategy, a recovering business climate, or both.
Strayer Education
Strayer Education provides education services, primarily aimed at working adults. This comprises two large parts. Strayer University is the academic branch, providing undergraduate and graduate degrees in various disciplines. As of end 2015, the branch had 76 physical campus locations as well as an online platform. While some programs can be followed exclusively online, most combine online work with required physical presence. The New York Code and Design Academy is the non-academic branch, providing non-degree courses. Its focus is on software development.

Figure 1 shows Strayer's share price for the last five years. In this timeframe, prices have dropped under $50, under 12 times earnings and less than 25% of what they were. This seems like a steep decline, until you compare it to the year-on-year change in enrollment. Figure 2 shows the year-on-year change in both new and total student enrollment.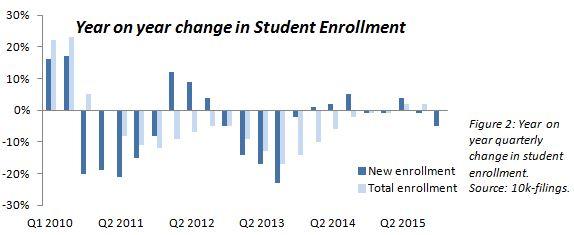 Setback is Not That Temporary
After a disastrous 2013, Strayer came up with a restructuring plan late that year, trying to simultaneously lower costs and prices. Over the course of 2014, the year-on-year performance in fact turned out a lot better. Unfortunately, this was largely due to the inflating effect of comparison to the terrible numbers a year before. Indeed, the absolute number of enrolled students still declined. In 2015, the total number of students remained constant.
While the overall trend seems to improve over the years, Strayer is still not able to get back to growth. The latest quarter illustrates this struggle painfully. The company has recognized that high prices are a big part of lower enrollment, especially in economically challenging times. This led to the creation of a Graduation fund that rewards loyal students by giving away final year tuition credits. On top of that, Strayer lowered its fees for undergraduate courses by 20%. One year later, the results of these measures: an increase in undergraduate enrollment of 4%, partially set off by a decline in revenue per student of 2%. That was better than graduate student enrollment though, dropping 7%. If even a 20% drop in tuition fees is not enough to increase enrollment numbers, it is clear that the company has yet to find a solution for declining revenues.
Adverse Forces
There are three main difficulties that have caused fading away of both enrollment and revenues. The first one is competition for the non-credited education services. The last couple of years, there has been a strong rise in free content. Moreover, the quality of that content has increased as well. Sources such as Apple's iTunes University and Coursera provide free lectures from top universities. In order to successfully compete with these platforms, the quality and support of expensive content must be a lot better. The second issue is related to this competition, as many of these institutions are increasingly offering credit opportunities.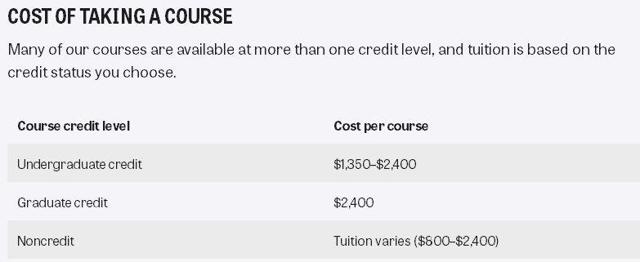 The image above gives two screenshots for obtaining a credit online. The image above shows the cost for a course at Strayer, the one below gives you a similar course... at Harvard. And Harvard is not alone in offering these prices for accredited education. Many other top universities offer similar programs. Such competition seems simply too much for Strayer's product offering.
These two types of competition have put heavy pressure on the entire for-profit sector. In earlier days, the latter was able to compete on flexibility in its offerings, enabling customers to combine work and education. Nowadays, both traditional Universities and other online platforms offer this same quality, erasing what was once a strong selling point.
Finally, there is the issue of legislative pressure that forces the industry in an increasingly narrow space. The for-profit sector has a relatively bad reputation of steering students into government-backed loans. As a result, regulations for financial aid are tightening. With the government essentially being Strayer's biggest customer, this is a development that can put strong additional pressure on future earnings.
Conclusion
Strayer Education seems like a decent company. Even after five years of decline, it still brings in positive net income and cash flows, and it has no long-term debt, making it one of the healthier companies in the industry. Unfortunately, that industry is shrinking every year. Strayer is doing all it can, but has been struggling to turn things around for more than five years now. The flexibility argument is no longer exclusive, creating competition from free content providers on one hand, and prestigious universities on the other. Adding legislative uncertainty to that mix results in poor industry prospects. This is one of those cases where a low valuation is justified by a highly uncertain outlook. Investors should therefore be cautious with Strayer moving forward, waiting for signs of recovery before considering an investment.
Disclosure: I/we have no positions in any stocks mentioned, and no plans to initiate any positions within the next 72 hours.
I wrote this article myself, and it expresses my own opinions. I am not receiving compensation for it (other than from Seeking Alpha). I have no business relationship with any company whose stock is mentioned in this article.