The retail industry has been absolutely demolished as of late. Blood is still flowing through the streets as these crushing declines keep coming day after day. But given the staggering magnitude of the recent retail drop, it is reasonable to consider when it might be the time to consider stepping in to buy.
A Broken Chart
The overall stock price trends for retail have been troubling for some time now. The industry as measured by the SPDR S&P Retail ETF (NYSEARCA:XRT) peaked more than a year ago at the end of March 2015. After treading water for a few months through July 2015, the industry began breaking decisively lower. Over the next several months through early 2016, retail stocks in aggregate lost roughly one-quarter of their value. It's worth noting that the XRT is an index that includes Internet retail stocks such as Amazon.com (NASDAQ:AMZN), Expedia (NASDAQ:EXPE), Priceline (NASDAQ:PCLN) and Netflix (NASDAQ:NFLX). Separate out some of these high flyers, and the performance of our more traditional retailers has been notably worse.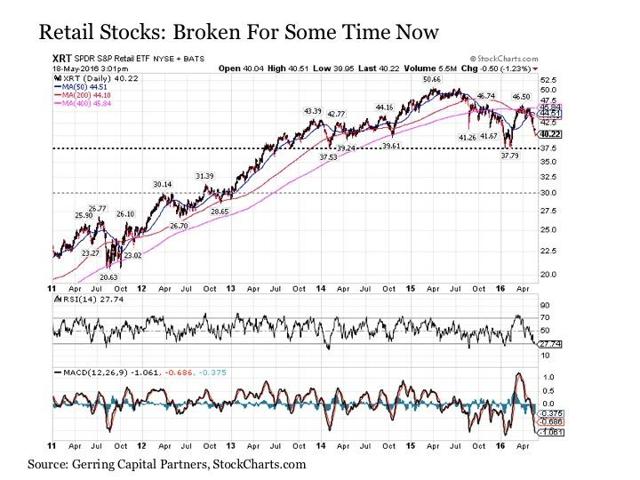 The situation started to brighten for retail stocks for a time earlier this year. They eventually found their footing along with the broader market in mid-February and subsequently bounced sharply higher. The retail industry as a whole gained in 19 out of 25 trading days through mid-March, recovering nearly two-thirds of their lost value in the process. But as seen at the beginning of most prolonged bear markets, the retail industry hit a brick wall at its 400-day moving average resistance. And after struggling for nearly two months to clear this key level, retail stocks finally capitulated to the downside in a major way.
Where Do We Stand Today With The Retail Industry?
Retail stocks in aggregate are currently deeply oversold following their recent cascade decline, with relative strength, momentum and money flow indicators all running at oversold extremes. As a result, the sector is now due for a bounce higher.
But just as we have seen during sharp market advances over the bull market period dating back to 2009, stocks, industries, sectors and the entire broader market for that matter can remain at technical extremes for an extended period of time. Put more simply, just because a market is overbought doesn't mean it can't become more overbought if the power behind the advance is sufficiently strong. Conversely, just because a market is oversold doesn't mean it can't become even more oversold if the pace of the decline is powerful enough.
With this in mind, a key level to watch in the retail space both now and in the near-term future is the $37.50 level on the XRT. For this has been reliable support for bounces on three separate occasions dating back to 2013. However, if the XRT were to break below this key $37.50, look out below, as the next level of support does not come into play until around $30.00.
Wading Through The Blood In The Streets
At this stage of the discussion, it is important to revisit a point raised earlier in the article. The XRT, which is setting up to be an increasingly broken chart that is potentially falling into a prolonged bear market, includes stocks like Amazon, which has skyrocketed over this same time period to fresh all time highs. The key takeaway -- just because blood is flowing through the streets of an entire industry does not mean that attractive opportunities do not exist within the bleeding industry itself.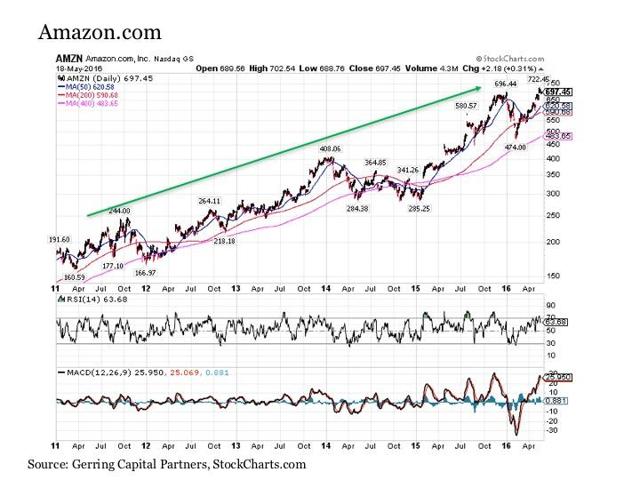 Now in the case of Amazon, this is a stock that is simply too rich for my blood as a value-oriented investor. I respect the company for the fact that they are literally eating the lunch of so many other of their retailer competitors. I also get that they can supposedly shift operational gears and turn on the profit machine whenever they deem the time to be right. But at 287 times trailing 12-month earnings, 57 times forward earnings, 30 times cash flow, 22 times book value and 3 times sales, this is a stock that I find difficult to digest from a valuation perspective no matter how one cuts the numbers. Thus, I leave this stock for my more momentum-oriented peers.
Instead, my interest lies in value. And with so many stocks in the retail industry absolutely obliterated over the past year, it is likely that some attractive values are starting to present themselves in the space. But in the current market environment that includes the fact that we are either in the seventh year of the second longest bull market in history OR finishing the first year of a new bear market phase (only time will tell), I want more than just value as defined by stocks that are trading at low absolute valuations and discounted relative valuations to their history and/or peers. I also want quality and a solid level of long-term downside protection. And I want sustainable income if not a proven track record of outright dividend growth. In addition, I need to be able to rationalize a qualitative and behavioral thesis for why the company is more likely to recover than disappear. Lastly, I have no interest in trying to catch falling knives, as I need to have seen some sort of bottoming process including recent technical levels to the downside that can provide some degree of support if needed. In summary, I am interested in carefully managing my risk along with finding good value.
Narrowing The Field
Scores of publicly traded firms make up the retail space, so there is no shortage of stocks to pick from. But the screening process to satisfy as many of the above requirements as possible quickly whittles the universe down to a select handful of names worth further consideration in this regard. These include the following:
Wal-Mart (NYSE:WMT)
P/E Ratio: 13.7 vs. 14.6 (5-year historical average)
Dividend Yield: 3.1%
Years of consecutive dividend increases: 43
Credit quality: AA/Aa2/A++ (S&P/Moody's/Value Line)
The stock fell by -37% from the start of last year through November before finally bottoming. It has since rallied but has fallen on hard times along with the broader retail industry over the past seven trading days and is now once again oversold.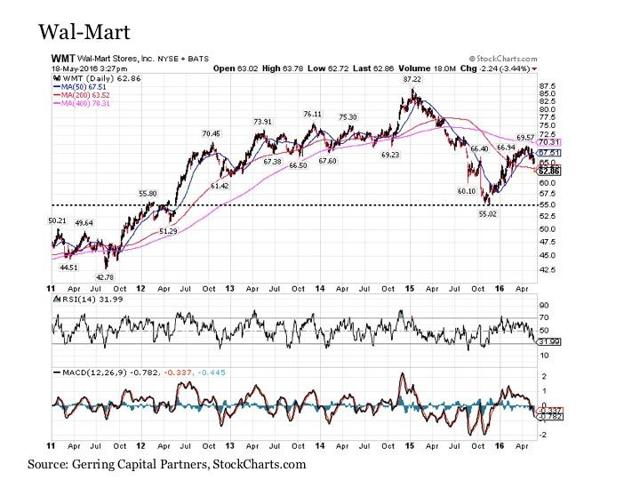 Target (NYSE:TGT)
P/E Ratio: 12.8 vs. 17.0
Dividend Yield: 3.0%
Years of consecutive dividend increases: 48
Credit quality: A/A2/A
What a difference a month makes. In late April, the stock was hitting new all-time highs. Just 21 trading days later and the stock is threatening to completely break down after a huge gap lower on Wednesday. It is now deeply oversold and responded well on Wednesday to support at its intraday lows from February, but only time will tell if TGT can hold these levels or a push into the low $60s is instead in order. If anything, the dramatic price reversal in Target highlights the risks facing all stocks that have soared so high during the post-crisis period.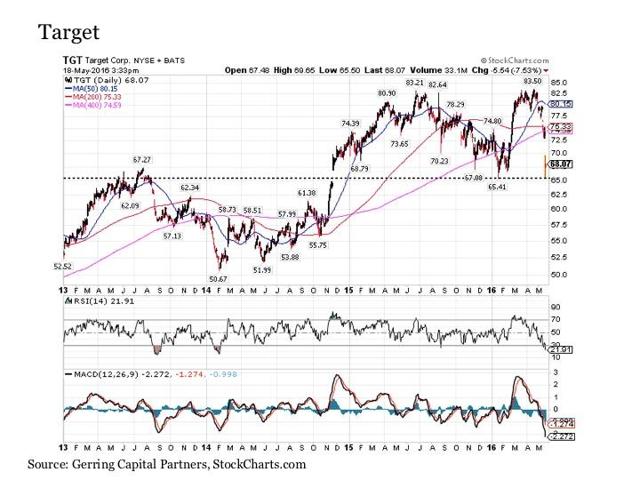 Kohl's (NYSE:KSS)
P/E Ratio: 11.6 vs. 13.0
Dividend Yield: 5.6%
Years of consecutive dividend increases: 6
Credit quality: BBB/Baa2/A+
This one is for the most intrepid only, as it has clear falling knife characteristics. The stock is down -56% from its highs from early last year. And over the past week, it has smashed through multi-year support levels dating back to the early days of the post financial crisis period. As a result, one has to go back to the pre-crisis days of early 2008 to find its next support level in the low $30s. And while the yield is plump and the payout ratio still not yet excessive, as sliding earnings has played a part in leaving the stock with a valuation that is still a bit high given the magnitude of the price drop over the past year.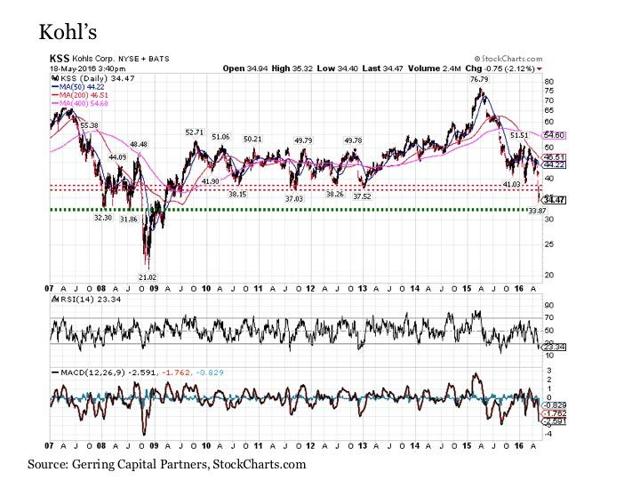 Macy's (NYSE:M)
P/E Ratio: 9.8 vs. 13.5
Dividend Yield: 4.8%
Years of consecutive dividend increases: 5
Credit quality: BBB/Baa2/B++
Despite being deeply oversold, this is a stock that was a one-time post crisis high flier that remains absolutely relentless to the downside, highlighting once again the risk confronting investors in so many other sectors that continue to trade at premium valuations. The stock has now fallen -58% from its highs from less than a year ago and despite a modest bounce at the start of the year continues to show no signs of stopping to the downside. Support at late December lows has been definitively broken over the past week and the stock is already testing its next support level dating back to the summer of 2012.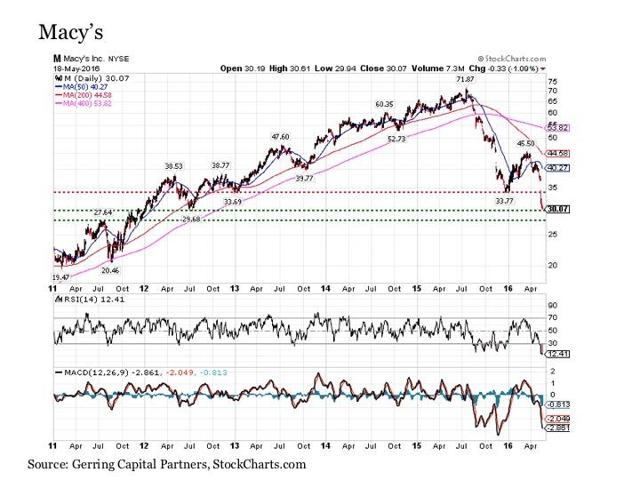 Nordstrom (NYSE:JWN)
P/E Ratio: 13.1 vs. 17.3
Dividend Yield: 3.8%
Years of consecutive dividend increases: 6
Credit quality: BBB+/Baa1/B++
Another stock that falls into the completely broken down category. Much like Macy's, Nordstrom shares have fallen by -58% since last summer and the selling pressure is showing no signs of relenting. Despite already being massively oversold, the stock gapped lower over the past four trading days, demolishing its early January support in the process and leaving the stock effectively in freefall with some soft support levels between its current price and the high $20s. And despite the price slide, valuations are not as inexpensive as one might hope due in part to the recent earnings slide. This stock in particular highlights how a stock that is already oversold can become much more oversold before it finally finds some sort of a bottom.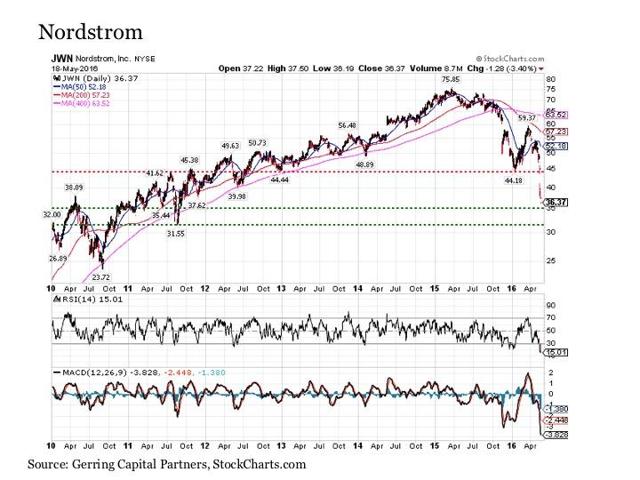 The Bottom Line
Just as we saw with the energy sector in recent months (and may continue to see before it is all said and done), blood is currently flowing in the streets of the retail industry. These episodes provide a painful reminder to investors of the perils of relentless stimulus fueled gains and increasingly premium valuations regardless of how low bond yields may be, for once stocks finally break to the downside, they do so with crushing consequences for those whom are left holding these shares along the way. But with such massive declines eventually comes attractive opportunities. The key for any of these higher-quality, high dividend income value names listed above is identifying the right entry point to finally step in and buy. For those with the patience and courage to do so to enter at the right time, the eventual upside can prove most rewarding.
Disclosure: This article is for information purposes only. There are risks involved with investing including loss of principal. Gerring Capital Partners makes no explicit or implicit guarantee with respect to performance or the outcome of any investment or projections made. There is no guarantee that the goals of the strategies discussed by Gerring Capital Partners will be met.
Disclosure: I am/we are long WMT.
I wrote this article myself, and it expresses my own opinions. I am not receiving compensation for it (other than from Seeking Alpha). I have no business relationship with any company whose stock is mentioned in this article.