As an entrepreneurial millennial with a newborn, I feel I represent the demographic that Tesla (NASDAQ:TSLA) is reaching out for. Being in the northeast, seeing a Tesla vehicle is now nothing out of the ordinary, and today represents just another vehicle to add to the shopping list.
My interest in Tesla is twofold; first, as a company whose products I am interested in, and secondly, as an investment you would buy for the long term such as in a retirement account or for a child in a custodial account. During my tenure at UBS, that investment was Disney (NYSE:DIS), but can Tesla be the Disney of my generation?
For equities, my personal investment philosophy is to invest only in companies, products and services that I know, like and understand. As such, the first place for me was to look at the cars coming out of Tesla's factories.
The Products
For most Americans, Tesla's vehicles represent a reach goal considering the hefty price tags for the Model S sedan and the Model X sports activity vehicle, starting at $71,500 and $85,500 respectively. Fortunately, the federal tax credits and the estimated gas savings make the purchase decision a little bit more justifiable, especially in states such as CA, CO and PA where you are eligible for additional state tax credits.
Over the years, I have visited a number of Tesla boutiques in NYC and Houston, TX. In both of those locations, the employees I met were quite knowledgeable and the cars had mobs of people surrounding them, typical of what you would see in an Apple (NASDAQ:AAPL) store during a product launch.
A few months ago, I received an email from Tesla to take a personal look during an hour-long test drive. Terrific.
I met the local Tesla representative, call him Bob, who was working out of a local Hyatt for the day. We walked outside to the silver Tesla Model S parked in the lot and that is when the magic happened.
With the press of a button on the key fob, the Tesla pulled out of the parking spot towards us. Bob explained that feature was a way Tesla was making it easier to park the car in tight spaces without being concerned about dents and scratches.
Tesla... +1.
When you get in, you instantly notice the huge monitor sized iPad looking thing in the middle of the dashboard. It is certainly the center of attention.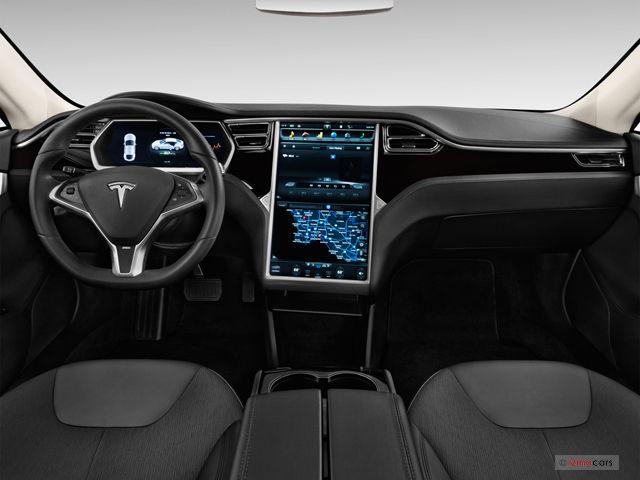 Source: US News Rankins and Reviews
Over the next few minutes, Bob went over all of the information on the display, from how to adjust the HVAC, to how to tune the radio to how to go online and browse the web. After the brief demo, we were off to drive.
... the power and torque.
Tesla... +2
The power certainly has that get up and go... neck breaking get up and go to be exact.
On the road, Bob then showed me the autopilot feature of the Model S.
With the autopilot on, the Model S made minor adjustments to stay in lane, and set a following distance between us and the truck in front. It was certainly an interesting feature, and I can understand how people can fall in love with, particularly on long road trips. For me, it actually made me nervous. Even in the least aggressive mode, the Tesla followed a wee bit too close to the truck in front of us for my comfort, and was braking fairly aggressively. We did get manage to get flipped off a few times while on autopilot for the way the car drove.
The other issue with the autopilot is that the car was lost on a few on-ramps and on roads that had poorly plowed snow or roads with poor lines and potholes.
The last magic trick up Tesla's sleeve was the self-park feature.
We pulled into a local parking lot, drove down the aisle and let the Model S identify a spot. Press a button on the screen and let it do its thing.
While the feature worked, it took a few extra maneuvers versus what it would take me to do the "old fashioned way," but most of all, the small bank of snow in the next parking spot made the Tesla park fairly crooked in the spot.
I spent the next few minutes looking over the rest of the interior features of the car as well as the "frunk" and trunk spaces.
"So what do you think?" Bob asked.
That's a great question.
The Model S is certainly a great piece of technology. It is a great vision in the future of automotive features that we should expect on many other vehicles.
As a car? It's time to pull the curtain back.
Quite simply, to me, it was an insult.
Now I am not someone who needs the fastest performance vehicle that also happens to haul 5 people fairly comfortably, nor am I someone who believes fossil fuels are the greatest threat to humanity and I must first and foremost drive an electric vehicle.
My wife and I are typical professional millennials who just became parents. I drive a BMW coupe, and my spouse has a Volvo S60. Both of our vehicles look great on the outside, feel amazing and luxurious on the inside, are safe, and the Volvo just happens to have both the horsepower and the fuel efficiency, thanks to the newest twin charged inline 4 T6 Drive - E Engines.
We care about safety, fit and finish, and value... and hey, if it happens to be "green" that is pretty cool.
The Tesla is supposed to fit that... right?
The Model S is certainly a safe car, it is a green car... but the fit and finish of a luxury car? Not even close.
When you go car shopping, you assume the car will have basic features..., when you go shopping for an $80,000 vehicle... your questions tend to be based around luxury features such as ventilated and cooled seats, safety features such as inflatable seat belts and whiplash protection seats. You ask questions about LED headlights and whether they turn with the direction of the steering wheel. You ask about power folding seats and mirrors. You ask about the heated steering wheel.
Unfortunately with the Tesla, I found myself asking questions such as...
"Why are there no lights around the vanity mirrors?"
"Why are there no grab handles to help the elderly enter and exit the vehicle?"
"Where is the coat hanger? You mean I can't hang my suit jacket and have to throw it on the seat?"
"Where are the cup holders anywhere in the back?"
"There is no center armrest in the back seat?"
"There is no ski pass through? So you either fold the seat or not?"
"Why is there this huge gap in between seats? There is no storage compartment underneath the armrest? So the only place to put your phone, wallet or keys is on the floor where it all rolls around? Out in the open?"
"There is no CD/DVD player? Well, at least there is an aux-in, right? No? Okay, at least it will play through my phone or iPod if I plug it in to the USB, right? Wait... what? Bluetooth only?"
Most of all, at least for me, it just did not feel like a luxury car. If it was not for the Alcantara headliner, there would be zero signs that this was a luxury car.
Simply put... you are spending $80,000 for a vehicle that is missing the very basic essentials you would find on a $15,000 Hyundai or Kia.
Yes... it is an amazing piece of technology that just happens to be in the form of a car... but it is a terrible, grossly overpriced car.
I get it... I am paying $80,000 for the privilege of owning a vehicle that can go over 200 miles before having to recharge, without spending a penny on gasoline. Yes... Tesla is a brand new manufacturer and will have issues... but we are not even going into the quality control issues... we are talking about a car that does not feel or seem nicer inside than a $30,000 Volvo, and missing BASIC features found on an entry level vehicle.
Most of all... why is that my problem?
That right there will be the issue for Tesla when it comes to the Model 3. If the Model S that costs $80,000 is lacking the basics... what will be the end product of the $35,000 mass market Model 3?
Most unfortunately for Tesla, its mainstream model will be going head to head against strong competition from the many car companies who KNOW how to build a car.
I have looked at the BMW i3 & i8, and have just recently looked at the VW e-Golf. Both of those are in the $35k range, half of the Tesla Model S, and neither feels like a beta test full of bugs.
The BMW i3 interior is exactly what you would expect of BMW, and the VW Golf certainly did not feel like an econocar. Both of them, at less than half the price, felt more complete and more luxurious than the Model S I drove.
... and all of them had the basics like door handles, vanity mirror lights, coat hanger hooks, and cup holders.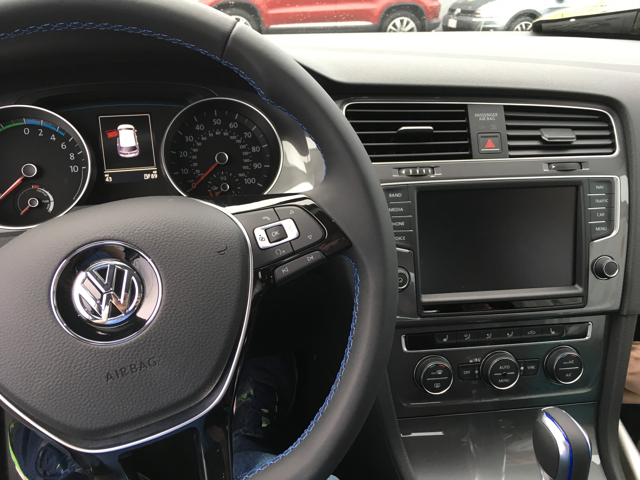 Source: My iPhone, Thank you Tarissa @ Princeton VW
Two features not found on an $80,000 Tesla Model S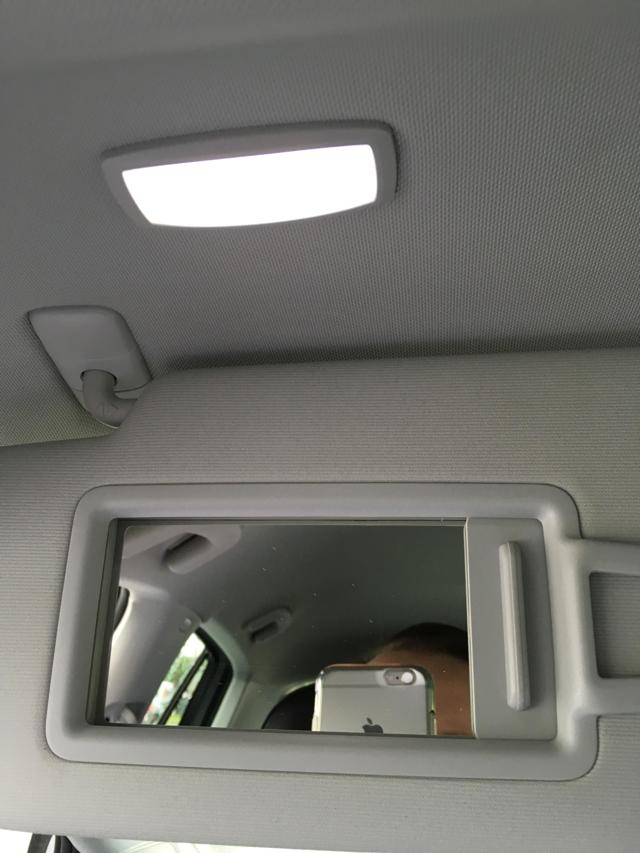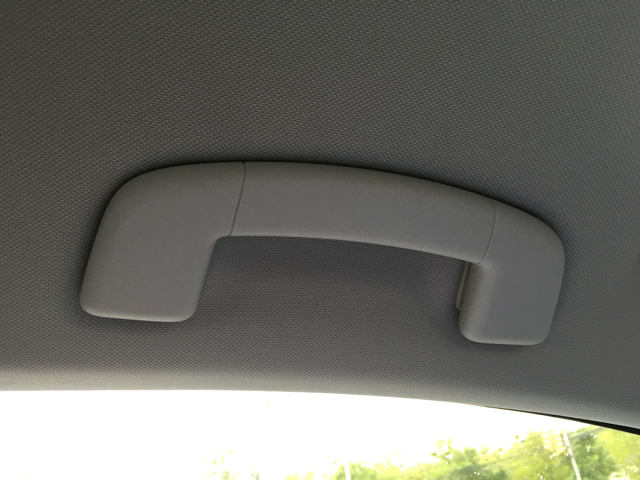 When going after the mainstream, it will not be as simple as looking at just the electric vehicle competition. Potential customers such as myself will also consider the myriad of hybrid vehicles, plug in hybrids, and diesel vehicles. On top of that, you have more and more models that are inching closer to the 40 mpg mark on regular gasoline.
For Tesla, every product has been over-hyped, over-promised, and under-delivered... way way way way past deadlines. Features that were promised at the reveal, somehow never made it into production, and silly features took priority over reliability and basic function.
So what is Tesla?
Tesla is a company that is all about reducing the use of fossil fuels.
The electric vehicles are just HOW Tesla does it.
Getting into the automotive business is not an easy task if you want to go mainstream. While Tesla might have a future as a niche manufacturer such as Ferrari (NYSE:RACE), going mainstream will present new challenge.
Yes, if you bought the stock years ago, your shares would be worth significantly more today, not because the company is healthy, but because of how widespread the hype has become, last seen during the .com bubble of the late 1990s.
Throughout Tesla's history, even though revenues have risen, there have not been any signs of potential profits to come.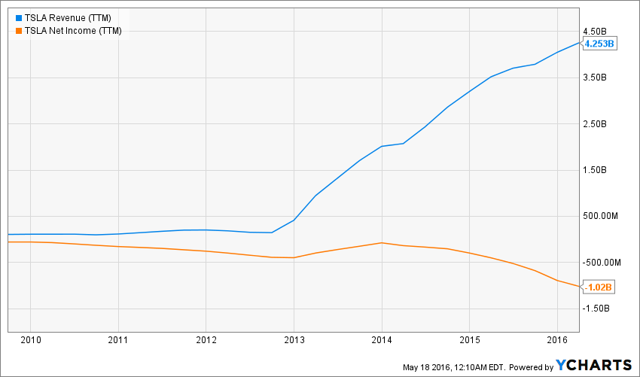 Looking deeper into the numbers, you can see that as the Model S ramped up, Tesla's gross profit margins have not broken 30%, and have actually been coming down over the last few quarters to the current 22%.
Overall profit margins for the company have never been realized and have only been getting worse with the expansion of production.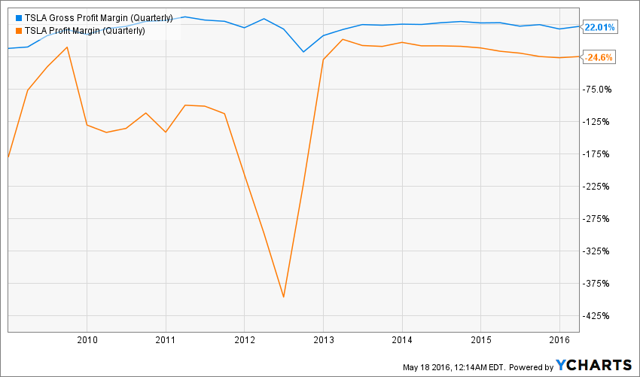 Simply put, unless Tesla can significantly cut costs on the Model 3, expect to see more pressures on gross margins.
Looking at the chart below, you can see the future of where Tesla may go.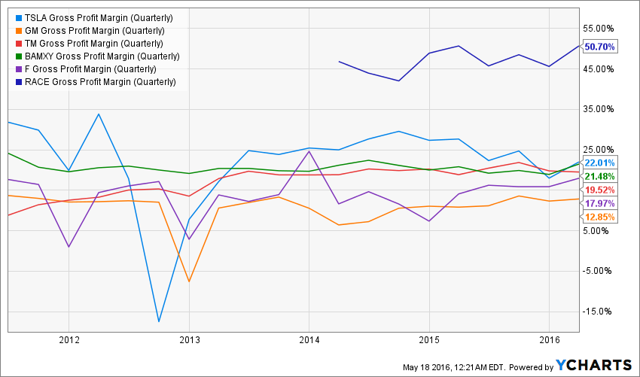 Ferrari as a niche player has a great gross margin of 50%. You then have the rest of the pack including Tesla, GM (NYSE:GM), Ford (NYSE:F), Toyota (NYSE:TM) and BMW (OTCPK:BAMXY).
It is already a bit surprising that Tesla is enjoying a mere 22% profit margin selling quite expensive cars. By moving downmarket, and by rolling out a $35,000 vehicle, how low will that go?
Net margins show the rest of the story.
You have everyone else... and then Tesla.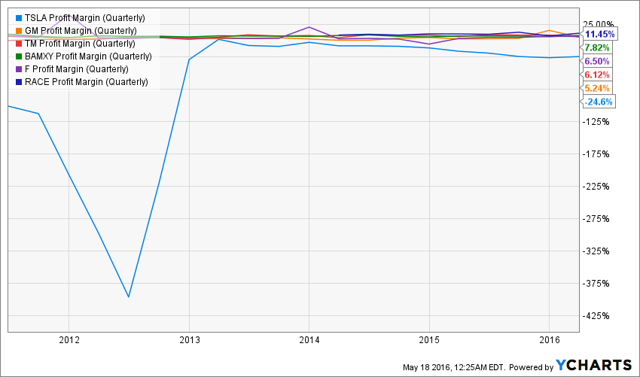 Unfortunately in this case, it is everyone else who is making money, and Tesla is losing billions.
There are pipe dreams that Tesla will be profitable on a non-GAAP basis, but the reality is, even with more and more deliveries, the hole is only getting deeper.
The Model 3 will present far bigger challenges and will require more money.
With the current debt at about $5.03 billion, up from the last quarter's $4.187, how much more will be required to bring a mainstream model online?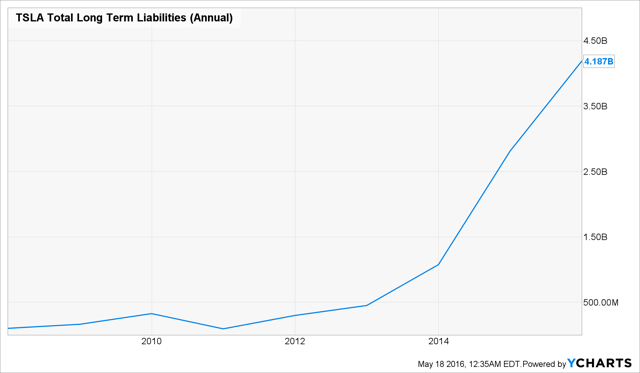 So far, what Tesla has done is sucked up investor capital.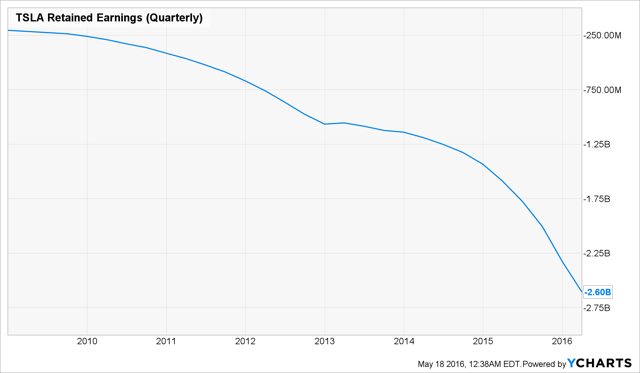 Conclusion
During my due diligence process, I ran across a comment on a discussion forum that compared Tesla to BlackBerry (NASDAQ:BBRY).
Ok... hear me out. Really....
First and foremost, I am a big fan and customer of BlackBerry devices and services; however, I am not oblivious to the fact that it has been a horrible investment.
Much like Tesla, BlackBerry was the first mover into a space. BlackBerry was a grassroots effort. BlackBerry came out with a device that gave us instant communication and notifications of messages. You had terrific battery life and a device that made it a joy to communicate via the physical keyboard. They were all about security and productivity.
Over time, BlackBerry created a loyal fan base of professionals reliant on their CrackBerries. This grew into the consumer market where BlackBerry enjoyed massive success with the BlackBerry Curve and Bold devices. It was the rage with teens chatting with friends on BBM.
Unfortunately that success... also brought out competitors with far better industrial experience. Even though BlackBerry was the first mover, they stuck to what worked for them in the past, and ignored their shortcomings.
The challenge with that is, people were willing to forgive the issues when they were the only game in town.
As a frequent flyer, I can complain about not getting upgraded to a first class seat or the lack of variety in the in-flight entertainment onboard; however, if I need to fly out before the storm and the only seat is in the last row, in the middle seat, next to an overweight, err passenger of size, I am willing to deal with it.
BlackBerry even today produces arguably the most productive and secure communications device, heck, that is why I have 3 of them. Unfortunately, nobody cares.
When competitors came in with products that were better all around, it was game over. When Apple came out with devices that were "secure enough" but more importantly let you play more games.... people moved on from BlackBerry.
Tesla with the Roadster and specifically the Model S, came out with the BlackBerry Bold of electric vehicles. Yes it is expensive, but it is the best dang electric vehicle you can get right now, the best performing, the most tech features and the longest range.
If you want an electric vehicle that you don't have to charge every day after your commute, the Tesla is it... today.
Tomorrow (or relatively soon), we will have more electric vehicles come to market that will give most of the range of the Tesla... but in a far better, less expensive package, (with basics such as cup holders, driver's console to store your wallet and glasses, lights around the vanity mirrors, grab handles and coat hooks).
We have the Chevy Bolt with the promised 200 mile range. BMW has announced a 50% increase in battery capacity for the BMW i3 for 2017 which will get 125 miles on a charge. VW has followed suit and announced a 30% increase in range for the e-Golf to over 100 miles, and stated that we can expect 370 miles of electric range for battery only vehicles by 2020.
Volvo is challenging the Model X with an actual "SUV" that can seat 7 comfortably with all of the luxury features with the dual motor T8 XC90 and promises more hybrid, plug in hybrid and BEV in the future.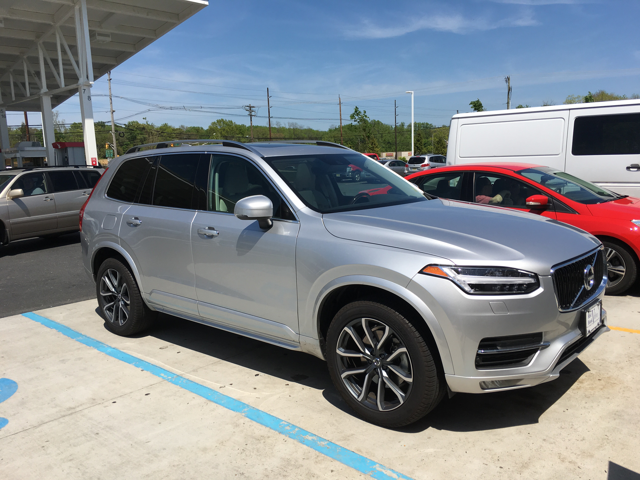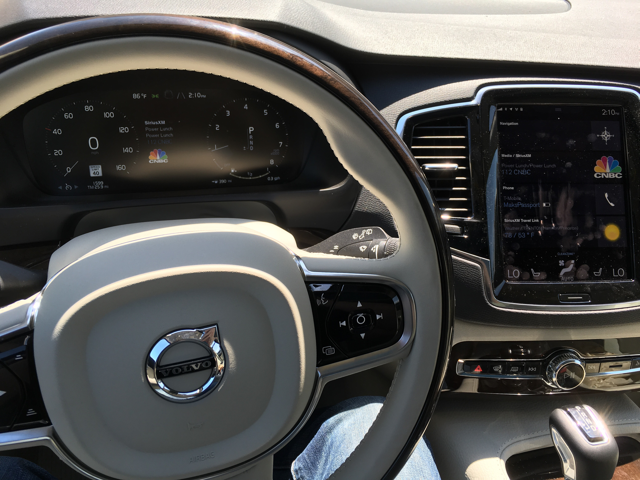 Source: My iPhone. Extended test drive of the 2016 Volvo XC90. Thank you Duane @ Red Bank Volvo.
Simply put, the single advantage Tesla is currently enjoying will soon be gone.
Tesla does indeed produce technologically advanced vehicles, wrapped and completed in mediocre packaging. The current "crackberries" are the first adopters who are willing to deal with the faults and short comings; however, are the mainstream consumers going to be as forgiving? I think not.
Tesla has woken up the beasts... the question is can they survive?
Can Tesla produce a higher quality, more reliable, and better value vehicle than VW (OTCPK:VLKAY)? BMW? GM? Volvo (OTCPK:VOLVY)? Nissan (OTCPK:NSANY)? Honda (NYSE:HMC)?.... or dare I say Toyota?
The reality is, in my opinion... Tesla is not an investment... it is a donation to a cause, for a cleaner planet, less reliant on fossil fuels. The true investments remain in the component manufacturers and automotive companies that will keep on producing long after Tesla is gone.
Investor Beware.
Update : After I completed writing the article but before submitting, Tesla has just filed that they will be raising an additional $1.9 billion by offering new shares in conjunction with shares sold by Elon Musk. More than likely, more debt and equity will have to be raised before any Model 3 rolls off of the production line.
Disclosure: I am/we are long BBRY.
I wrote this article myself, and it expresses my own opinions. I am not receiving compensation for it (other than from Seeking Alpha). I have no business relationship with any company whose stock is mentioned in this article.
Additional disclosure: Nothing in this article should be construed as investment advice. Please consult your financial professional to see how anything discussed here applies to you. This is not a solicitation to buy or sell any securities. This is not Tax Advice. Please consult your tax professional.
Editor's Note: This article discusses one or more securities that do not trade on a major U.S. exchange. Please be aware of the risks associated with these stocks.