On Wednesday afternoon, Halcón Resources (NYSE:HK) issued a press release announcing that it had reached a tentative deal with its creditors that would force the embattled oil & gas firm into chapter 11 bankruptcy. The company reported its Q1 earnings last week which showed a diminished liquidity position that made it clear that the company would need some sort of major overhaul in order to make it through this industry downturn. While Halcón Resources has not actually filed for chapter 11 bankruptcy as of yet, the company's agreement with its creditors to proceed with a prepackaged bankruptcy and Halcón Resources noted in the associated press release that it "expects the RSA to be executed in the near term, but there is no assurance this will occur". There are a number of separate parties through the various obligations that Halcón Resources has, however the company reported that a majority of the interests of the affected parties have expressed their support of the prepackaged bankruptcy plan. It is unclear when Halcón Resources will enter bankruptcy, but signs points towards it filing for chapter 11 bankruptcy imminently. If the prepackaged bankruptcy plan proceeds in its current form through the bankruptcy process, the applicable court will need to approve the agreement, however with the majority of the support of the company's creditors in each of the affected classes, it would stand a good chance of being approved barring major operational or economic fluctuations.
Unlike a number of similar bankruptcy and pre-bankruptcy situations, Halcón Resources appears unique in that its preferred shareholders and common shareholders will both see distributions under this plan. The specific details of the prepackaged bankruptcy plan are outlined in the below chart from the company's press release: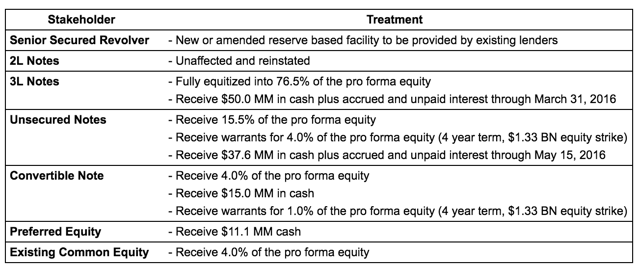 Source: Halcón Resources Press Release
While it is hard to place a value on the post bankruptcy equity distributions that a number of the classes will receive, the cash component in the preferred equity planned distribution represents a very interesting opportunity. As of March 31st, Halcón Resources had 222,454 outstanding 5.75% Series A Convertible Perpetual Preferred Stock (HKRCP) shares, each having a par value of $1,000. This preferred stock class closed at just $21 on Wednesday. Under the recently announced restructuring agreement, this class of preferred stock will be entitled to receive a cash distribution of $11.1mm which amounts to just under $49.90 per preferred share. There are risks to this including a material amendment to the restructuring agreement or a potential rejection by the bankruptcy court, however given the major prices discrepancy, this could represent a sizable opportunity especially if hedged with a short on the common stock. Since the agreement was announced after the close on Wednesday, there is a high likelihood that this preferred stock will traded higher in Thursday's trading session. Investors considering the preferred stock here need to consider the specific rules of the preferred stock as well as recent examples of similar situations in which preferred stockholders have been wiped out in bankruptcy restructuring. Despite this, the current plan provides for a sizable jump in the preferred stock price from current levels, even though it is still at a fraction of par value.
Halcón Resources is certainly in a tough position as weak oil & gas prices combined with strict capital markets for the sector have created a harsh environment. Wednesday's agreement with the company's creditors signals Halcón Resources' intention to commence bankruptcy proceedings in the near future. There has been a string of notable bankruptcies in the oil & gas space in recent weeks and a bankruptcy filing by Halcón Resources would add to this growing list. Investors should avoid the common stock of Halcón Resources, however with a reasonable price discount to the anticipated restructuring distribution, preferred shareholders could find value at current prices despite the risk that the plan is amended and preferred stockholders receive a smaller or no ultimate distribution.
Jordan Flannery has been a contributor to Seeking Alpha since 2012 and has covered a wide range of companies. To stay up to date with his latest Seeking Alpha articles, please click on the "Follow" button at the top of this article and consider subscribing to real-time alerts. Thanks
Disclosure: I/we have no positions in any stocks mentioned, and no plans to initiate any positions within the next 72 hours.
I wrote this article myself, and it expresses my own opinions. I am not receiving compensation for it (other than from Seeking Alpha). I have no business relationship with any company whose stock is mentioned in this article.
Editor's Note: This article covers one or more stocks trading at less than $1 per share and/or with less than a $100 million market cap. Please be aware of the risks associated with these stocks.