Investors learned the details of Tesla's (NASDAQ:TSLA) hotly debated equity raise today. In a filing with the SEC, Tesla notes that it will be selling shares to Morgan Stanley, Deutsche Bank Securities, Citigroup, Goldman Sachs, and BofA Merril Lynch. These are the same underwriters from its 2015 equity raise with the addition of BofA Merril Lynch this year.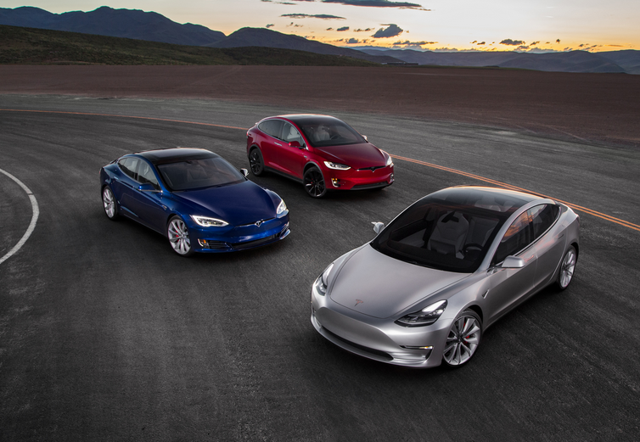 Source: Motor Trend
Looking at the particular details of this offering raises several questions about Tesla's overall financial strategy. The most salient question that comes to mind is the size and scope of the raise. In the prospectus, Tesla notes:
6,800,000 shares will be offered at an assumed public offering of $204.66 per share. Underwriters will have the option to purchase an additional 1,436,685 shares.
Assuming the underwriters exercise the option to purchase additional shares, this means Tesla will sell 8,236,685 shares. But the assumed public offering price of $204.66 per share is roughly $37 less than Tesla's $242/share offering from last August. Last August, Tesla issued a little more than 3 million shares, and net proceeds from the offering were around $738.3 million. In hindsight it appears clear that Tesla should have raised more capital last August, especially since its current offering would have brought in an extra $300 million then as compared to now.
In spite of the fact that Tesla should have raised more money last year, the bigger question remains: Is this equity raise enough? Since Tesla now projects capex for 2016 of over $2 billion, this makes the current offering seem just about right. Last year Tesla had $1.6 billion in capex and negative operating cash flow of $524 million. Even with its 2015 equity raise, Tesla saw its cash balance decline by $700 million last year. This is why Tesla should have raised more capital in its equity raise last year. However, Tesla is learning from its mistakes and assuming $1.7 billion is raised from this offering, this should be enough to cover ramped up expenditures. Raising $1 billion more than last year makes a lot of sense and will help secure Tesla's future financial stability as it prepares to ramp up production for the Model 3.
The other part of the equity raise relates to CEO Elon Musk. The particular details of his portion of the sale are:
Musk will exercise vested options of 5,503,972 shares.
Musk will sell 2,777,901 shares to satisfy taxes in connection to the options exercise.
Musk will donate 1.2 million shares to charity.
Based on these details, it appears Musk's total overall share count will increase by 1.5 million shares in spite of selling and donating a portion of his shares. This falls neatly in line with Musk's goal of keeping as much control over Tesla as possible and his overall reluctance to part with his own shares. Since Musk is essentially entirely compensated through stock options, it makes sense that he will exercise these and future options at opportune times. After all, he wants to make sure he is able to both control his company and profit from it in the long run as much as possible.
In terms of dilution, assuming underwriters exercise the option to purchase additional shares, this means the total shares outstanding will jump from 133,857,684 to 147,598,341, or an increase of about 10.3%. This is a significant amount of dilution for current shareholders, but is necessary if Tesla wants to be able to move forward with its aggressive goal of selling 500,000 cars by 2018.
Looking at this equity raise from a holistic perspective, it appears Tesla is doing everything it can to move forward with its plans for the Model 3. Although this does mean a significant amount of dilution for current shareholders, this will ease Tesla's near-term financial concerns. At the same time, this will allow Tesla to increase capex without causing significant financial difficulties.
This is likely the last time Tesla will be able to tap the equity markets before the launch of the Model 3. By raising between $1.4 and $1.7 billion, this will help Tesla secure its future and potentially achieve its lofty goals. Now the ball is squarely in Tesla and Elon Musk's court. Upon completion of this equity raise, investors and consumers are hoping they can deliver a slam-dunk.
Note: Investors who find value in this type of analysis and are interested in seeing more can do so by clicking the orange "Follow Short/Long Trader" button below.
Disclosure: I/we have no positions in any stocks mentioned, and no plans to initiate any positions within the next 72 hours.
I wrote this article myself, and it expresses my own opinions. I am not receiving compensation for it (other than from Seeking Alpha). I have no business relationship with any company whose stock is mentioned in this article.