Oasis Petroleum (NYSE:OAS) is a name I've tracked for quite some time, but one I've never written about. To be clear, and to be fair to readers, in private consultations and risk-management sessions, I've been wrong regarding the ability of Oasis' equity price to "bounce back" from commodity pricing-driven lows; to this end, OAS has been quite impressive. But, in hindsight, it wasn't the equity that I should have been tracking for a risk-management thesis, it was the Oasis bonds. I believe bonds are the initial weak link in the company's capital structure, and that they offer definitively asymmetric downside risk. I believe, especially in light of broader, spatial opportunities (but also regardless of ancillary opportunity), that Oasis bond exposure should be sold down. Here's why.
Commodity Pricing Matters
First things first: commodity pricing matters. Sure, this isn't breaking news or ground-breaking analysis, but that said, it doesn't appear that the market is pricing in this presumably community knowledge. Oasis, at least in my opinion, will not be "free cash flow" breakeven on the full year (on a standard, GAAP basis) despite being what company management and investor relations like to call "free cash flow" breakeven. Why won't it be free cash flow breakeven on a GAAP basis?
In an effort to be brief, a severe downturn in commodity pricing (inclusive of Oasis' production realizations on a hedging-inclusive basis), coupled with ambitious CAPEX will not allow the defined calculation to balance. Put simply, I don't believe Oasis can create the revenues (all in, again inclusive of its hedging, its tightened resource play differentials, its operating into historical lows for vendor/service provide pricing, its operating out of 100% high-graded locations, etc.) to balance its cash-level outflows. I'll defend this in other forums, and potentially in a follow-on note, but I think the assumption is reliable and "generally accepted" at this point. Again, in an effort to be brief and to move quickly to my bond risk thesis, I'll move on.

That Oasis won't be GAAP cash flow-breakeven/positive matters. To explain this, and why it matters, we have to address one very important, very natural question: What's the difference between the two definitions (that of GAAP and that of Oasis)?
Standard GAAP-accounting defined free cash flow calculation is derived by subtracting CAPEX (capital expenditures) from operating cash flow. That's all. It's a pretty simple calculation and was drawn up that way in an effort to simplify execution of the calculation. Oasis' definition of free cash flow, which it throws around in its presentations and on its conference calls with little reiteration of the "Oasis difference", is Adjusted EBITDAX (a non-GAAP accounting measure that backs out ten different line items) less capex AND cash interest. CAPEX and cash interest are two of the single-largest cash outflows for oil & gas companies.
It's important to commit to memory that the company backs these out of its "free cash flow" calculations. With commodity pricing being so low, taking into account actual, real cash flow and how much of this actual, real cash flow is or is not heading out the door becomes important. It becomes paramount when trying to risk-manage, especially when trying to risk-manage capital structure vehicle risk (bond owners, I'm talking to you).
The key takeaway from the introduction of this note is that if Oasis isn't going to be free cash flow-breakeven/positive on the full year this means it's going to take on additional debt to fund operations (being that it doesn't have the cash balance to fund its operations and/or ancillary needs, and assuming that it can't/isn't willing to fund its cash needs entirely via equity issuance; I think this latter assumption is an extremely reliable one). If Oasis takes on additional debt, it can do so from two places - its undrawn, massive borrowing base, $1.1 billion revolver, or by issuing additional Notes. Both of these, to be perfectly clear, will hurt the company's entire debt-based cap structure.

Downside Pressure on the Junior Cap Structure
Oasis' revolver isn't pari passu (or side by side in access to recovery value in any eventual restructuring) with the rest of the debt/additional debt to be issued. Forever and always, the revolver will be what's known as the "First Lien" - or what has first access to recovery value in any eventual restructuring. If Oasis adds a balance on the revolver, this puts the rest of the cap structure further "out of the money" in any eventual restructuring. Now, nobody is calling for a restructuring at the company (as of the writing of this note), but that fact alone makes all the non-First Lien cap structure (Read: all the existing bonds) "riskier" from an implied risk standpoint. The capital markets are usually pretty efficient in pricing this in.
I should also note that the revolver at Oasis is user-friendly - its only financial covenant (or legal restriction in place - these are generally put in place to keep oil & gas companies from getting punch drunk on debt) is an interest coverage covenant of 2.5X. In my extensive study of First Lien revolvers across the oil & gas space, Oasis' revolver is one of the most relaxed I've seen. It should be noted that even with all its existing debt on the books already, the company printed a 4.7X trailing twelve months' interest coverage multiple at Q1/2016 reporting. Oasis can get superbly levered (assuming current market cost of capital norms) prior to tripping anything that would restrict it. Keep this in mind when owning the company's bonds.
Its other option is to issue new Notes. With Oasis having an existing ~$2.2 billion in outstanding debt, having substantial plans for immediate-term spending, and having (again) a $1.1 billion revolver sitting above the existing cap structure, you can expect any additional Note issuance to be expensive. Currently, the company's blended cost of capital is 688 bps (or 6.88%). Again, in my extensive review of bond issues across the oil & gas space, this is among the lowest.
Oasis hasn't even begun to know the pain that is borrowing with existing leverage on the books. It will if it has to issue new Notes. Likely - and this matters as well - this increased borrowing cost will come with substantially tighter covenant scheduling than existing Notes. New Notes will come with "new normal"-structuring of covenants. The additional debt and/or the likely tighter covenant scheduling will also put downside pricing pressure on the existing cap structure. I reiterate, the market is usually pretty good at identifying "risk-on" of existing vehicles and pricing it in.
I also think, despite the data not agreeing with me (just yet), that if Oasis issues more debt via Notes or takes on substantially more debt via its revolver, the E&P's bonds will be subject to a ratings downgrade on the increased risk. A downgrade would be immediately reflected in the pricing of the company's bonds. Again, admittedly the data currently is against me in this prognostication, but I think this is realistic enough to be presented here today:

Ancillary Downside Pressure
In addition to the structural downside pressure providers, Oasis has two very realistic ancillary downside pressure providers: a potential collapse of PV-10 valuation, and a massive volume commitment contract turning punitive.


Oasis' PV-10, a valuation measure for oil & gas firms, is already at a risk, as stated in its 10-Q (assuming pricing deck fluctuations at or around Q1/2016 pricing levels), of an ~28% reduction. Now, as made up as I believe this measure to be (the inputs for a PV-10, in my opinion, are highly subjective), if Oasis' PV-10 is marked down 28%, this will throw valuation multiple calculations all out of whack. Usually when that happens, bond pricing (and equity pricing as well) gets "risk-adjusted" for the new, PV-10 adjusted value of the oil & gas firm. Not good. It should be noted that commodity pricing has improved a bit since the conclusion of Q1/2016, but we've seen commodity pricing improve before and prove out to be short-lived; know the risk of the PV-10 collapse here.
Secondarily, there's risk that Oasis' volume commitment agreements become punitive. The simple fact that the company has these in place is restrictive of overall optionality, which is bad enough, in my opinion. As a result, Oasis has less ability to dial down cash outflows (via CAPEX) in that it has to make these commitments whole or face penalty. I don't like that, and I don't like the overall size of the commitments across the long term. In fairness to the company, these types of agreements aren't uniform across E&Ps, but they are common. We'll see if this ever "turns punitive", but it should be noted as a risk; it should also be noted that these contractual obligations are not considered balance sheet debt/leverage - they can slip by most investors not familiar with how to account for them. If they were noted as such, Oasis' balance sheet would reflect ~$2.6 billion in debt.
Caveat emptor.
Is the Implied Bond Risk Quantifiable?
I think it is.
In mid-January 2016, commodity pricing capitulated (at least for this current cycle up to the writing of this note), really for both oil and gas, and we got to see how the market would react to the assumption that Oasis would be "living" on its revolver. To refresh the memory of those reading this note, at the mid-January 2016 pricing deck - if assumed into any meaningful amount of time - it would have been a certainty that the company couldn't avoid drawing down on its revolver to some degree or issuing additional Notes. As expected, and perfectly confirming of my thesis presented today, the entire junior cap structure (what would then be junior, assuming the revolver had a balance drawn down on it) capitulated as well.
Below I've provided data visuals for each issue comprising Oasis' current cap structure - these are presented from most senior to most junior: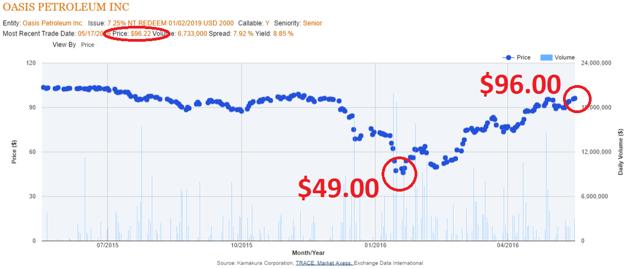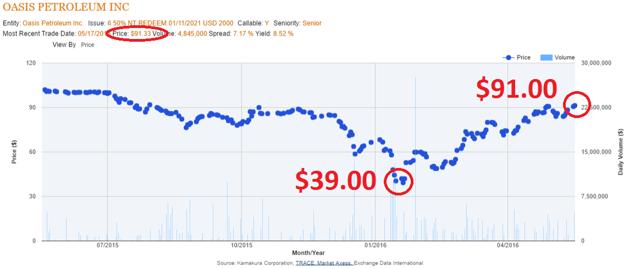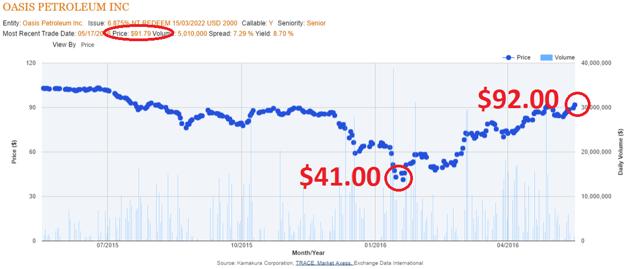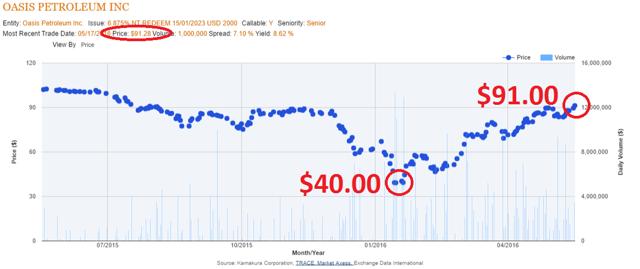 Now, I'll be first to point out that the most senior issue of the current cap structure - the 7.25% 2019 issue - did hold a nine-point pricing premium to all junior issues. This is important to note. But please note that even it priced as low as 49 cents on the dollar (or 49 points). With all issues, regardless of seniority, pricing into the 40s (or the 40 cents on the dollar pricing range), it's clear that the market is valuing roughly half the value of each existing issue simply on its ultimate recovery value. If that is diluted or evaporates entirely for some of the most junior issues - please view the 6.875% 2023 issue currently pricing at 91 cents on the dollar - the pricing of these bonds should revert to 40 cent range or worse. If you believe that Oasis won't be cash flow-breakeven on the full year, you believe that this "value" will at the very least be diluted. With each issue currently pricing into the 90-cent range, the upside exposure, inclusive of interest capture, is minimal, and the downside exposure is substantial.
Again, the 6.875% 2023 issue would be most exposed to additional pari passu debt diluting its value, as well as most exposed to any revolver balance pushing out/down its seniority. I reiterate, this bond is currently pricing into the 90s. I would also point out that this particular issue is 4th in line "to the money" in any restructuring, and sits behind a current ~$1.8 billion in debt (with nothing currently drawn on the $1.1 billion revolver). Certainly, any holding of this particular bond must be being done with "other people's money", right?
Three other quantifiable measures of the overall risk at Oasis, debt-led, debt-driven, are its overall implied CDS pricing (in the context of the space and in the context of other E&P peers) and its technical trading prowess shown over peers on a trailing twelve-month basis; its technical prowess despite what hopefully at this point is clear debt-led, debt-driven risk: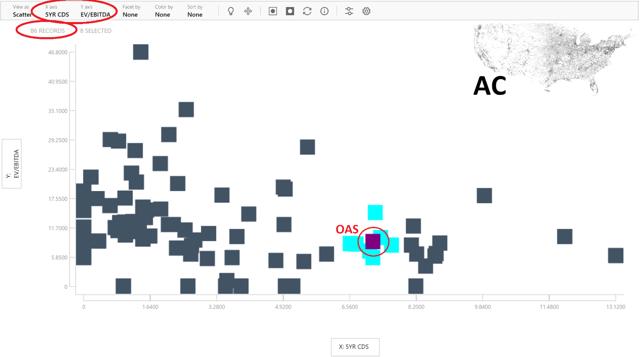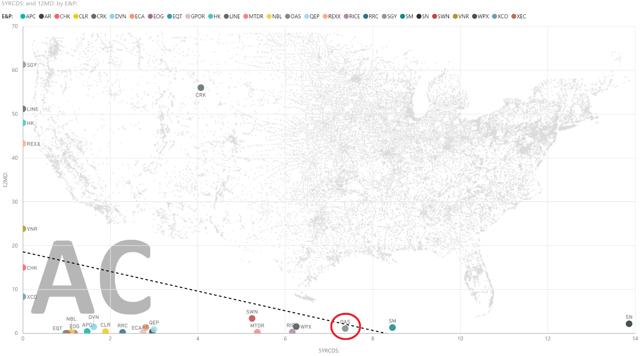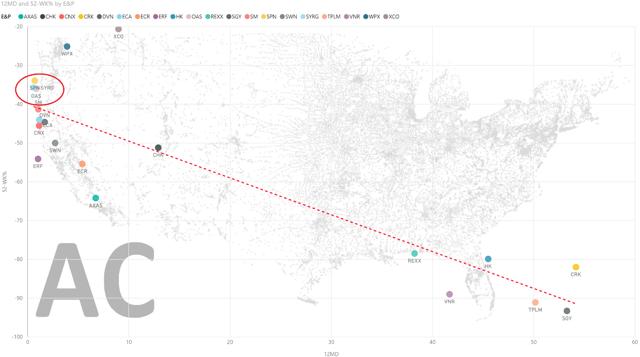 An Oasis? Or a Mirage?
At the risk of being too long-winded, I did want to present the full "bond risk" thesis for those that might be holding exposure. I believe the data-based, but not data-blind, case presented is irrefutable. My recommendation would be to assess total Oasis bond risk exposure and to hedge appropriately or to sell down exposure. I believe Oasis bonds to have asymmetric downside risk.
Good luck, everybody.
Disclosure: I/we have no positions in any stocks mentioned, and no plans to initiate any positions within the next 72 hours.
I wrote this article myself, and it expresses my own opinions. I am not receiving compensation for it (other than from Seeking Alpha). I have no business relationship with any company whose stock is mentioned in this article.