The last few years has been hard on bears; the market slowly moved higher without a break and after six years they got some hope during the start of the year as the market tanked but again market had a spectacular rally that silenced them completely. Now, most of them are gun-shy, and they are completely unsure of themselves.
The end of the last two bull markets had quite a bit of crowd participation first in the dot-coms and second in the housing market which led to the collapse. This time, there is no such frenzy and also dividend yields are decent, quite unlike roaring bull markets.
Something serious is brewing. The chart below plots the 12 months forward EPS guidance along with S&P price and for the first time the EPS line is flat but S&P is far ahead, and if you carefully notice this move is not without problems, it is volatile compared to the previous steady rise due to multiple tops.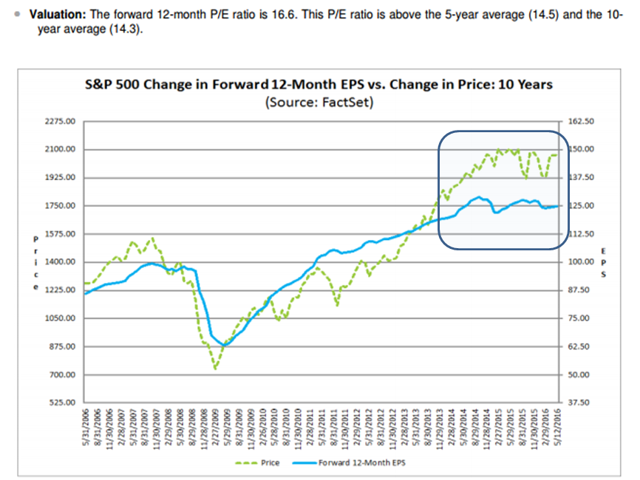 Inflation data is not rosy either; Inflation has been stubborn for most of the year and inching up. If inflation inches up the Federal Reserve will be forced to act fast.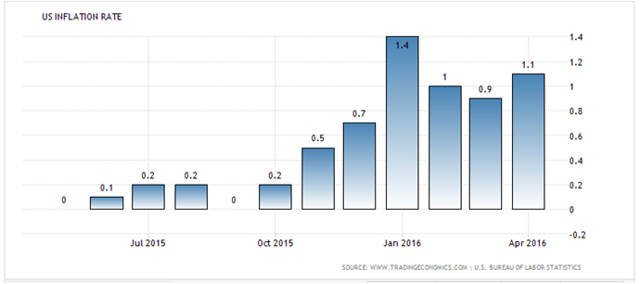 I plotted the oil price with inflation, and for the most part, they are correlated. Oil price rise should have some bearing on inflation in the near term.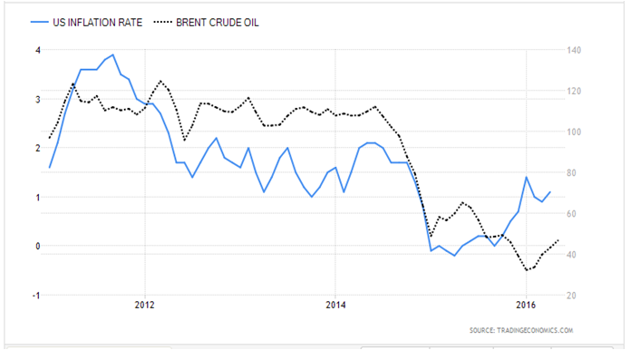 Rest of the world is not a bed of roses either; there are events lined up that can have an enormous impact on the markets in the coming months. Brexit referendum is happening in June, and a negative result can roil the markets. Greece has debt payments scheduled for July, and one can expect fireworks again.
The prospect of Donald Trump being president will sure increase the uncertainty in the coming months as he has lots of radical ideas for the economy.
Corrections happen in markets when one least expects it. The market crowd right now is very complacent, and volatility is very low.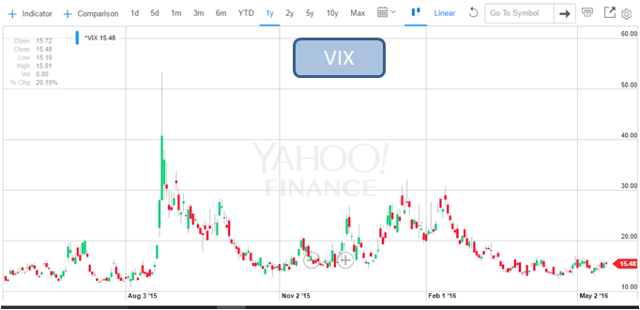 I do expect some correction in the markets in the short to medium term. Alternatively, one can go long on VIX as fear is slowly emerging. There is a good chance that it can go up 50% in the next six months.
Disclosure: I/we have no positions in any stocks mentioned, and no plans to initiate any positions within the next 72 hours.
I wrote this article myself, and it expresses my own opinions. I am not receiving compensation for it (other than from Seeking Alpha). I have no business relationship with any company whose stock is mentioned in this article.