Top 10 Gold Junior Takeover Targets For 2016, Part II
Merger and acquisition activity in the gold and silver sector in on the rise. In part I of this two-part article, I gave my #10-#6 picks on what I feel are the top gold junior (NYSEARCA:GDXJ) takeover targets for 2016. Here, I give my top 5 picks.
To sum up my thoughts from the first article, more major gold miners are becoming buyers as gold prices (NYSEARCA:GLD) have rallied to prices north of $1,250 per ounce. I expect M&A activity to gain even more steam in Q2.
Gold projects that were once uneconomical at $1,100 gold now carry attractive economics; majors are seeking projects and mines that carry low initial capital requirements, low projected cash costs, and excellent exploration upside. Majors that were once on the sidelines are starting to get a little more aggressive with acquisitions, which is great news for juniors.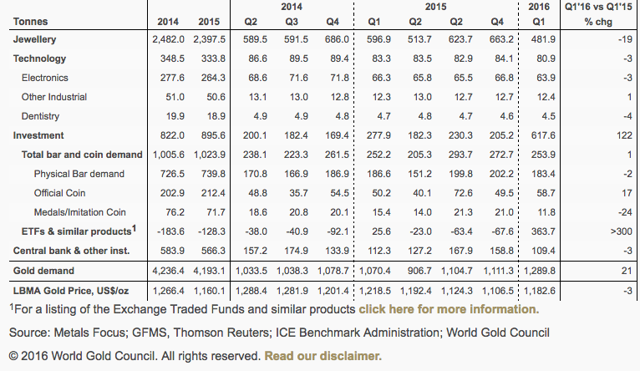 (Credit: World Gold Council)
And here's more good news: gold prices are up 20.1% to start 2016 as demand for the yellow metal just had its strongest quarter in quite some time. Gold demand skyrocketed 21% year-over-year to 1,290 tons in Q1 2016, with demand driven by large inflows (364 tons!) into gold ETFs, according to the World Gold Council. Oh, and legendary investor George Soros recently invested $387 million in gold ETFs.
Here are my top 5 gold juniors to own in 2016; I expect these picks to outperform the benchmark gold miner index (NYSEARCA:GDX) and junior gold miners index going forward.
#5 Alacer Gold Corp. (OTCPK:ALIAF)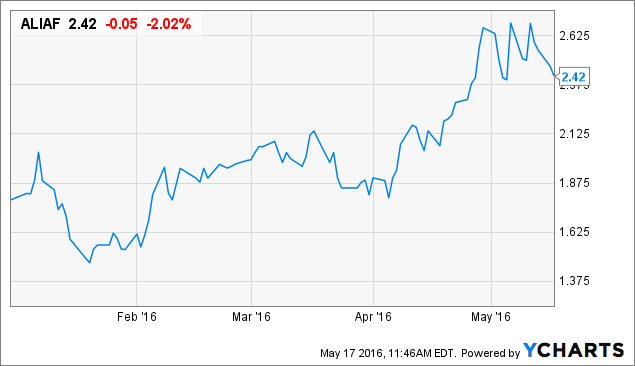 Alacer Gold was my #2 overall gold stock to own in 2015 and that pick certainly did not disappoint as the stock greatly outperformed its gold mining peers. For those unfamiliar with Alacer, the company owns an 80% interest in the low-cost Copler gold mine in Turkey.
Based on the company's gold reserves and its updated mine plan that will include sulfide gold reserves, Copler will produce close to 4 million gold ounces at $637 AISC per ounce over the remaining 20+ year mine life. The company was awaiting the final approval for this sulfide expansion and received it on May 12.
This sulfide expansion is absolutely crucial to Alacer as it adds significant value to the Copler gold mine - the project carries a net present value (after-tax, 5% discount) of $728 million, with a projected $1.6 billion in free cash flow to be generated over its 20+ year mine life. First gold pour is expected in Q3 2018.
With $335 million in cash on hand and $350 million available in bank debt, and $140 million in free cash flow expected between now and 2018 at $1,250 gold prices, Alacer has enough funds to advance the sulfide project, which carries pre-production capital requirements of $697 million.
However, I think the company is a strong takeover target here following final approval of the sulfide expansion. This project carries very attractive economics and should draw a lot of interest from major gold miners that are looking to add a low-AISC gold mine to its portfolio. I'd expect any takeover to come at a pretty nice premium to Alacer's current stock price. While I didn't select Alacer on my top gold stocks to own in 2016, I may come to regret that decision.
#4 Kirkland Lake Gold (OTCPK:KGILF)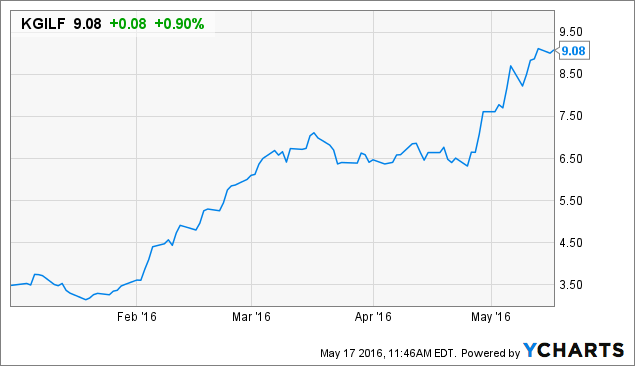 For those unfamiliar with Kirkland Lake Gold, the company is a Canadian gold miner which owns and operates the Macassa Mine Complex in Ontario, Canada. With reserves of 1.5 million ounces of gold at 19.2 g/t, this is one of the highest grade gold mines in the entire world. I first recommended this stock back in September of 2014, as I said that the company's mine expansion at Macassa should lead to increased production and lower cash costs, and thus, higher cash flow and profits.
That story has played out very nicely. In the most recent quarter, Kirkland Lake reported some pretty outstanding results: production of nearly 70,000 gold ounces with all-in sustaining costs of just $907 per ounce (a 10% decline from last year) led to operating cash flow of $43.7 million and free cash flow of $23.6 million (compared to $7.8 million last year).
Earlier this year, the company also made an acquisition of its own, buying out St. Andrew Goldfields for C$178 million. As I pointed out in an article, I felt it was a very smart move by Kirkland Lake as the deal transformed Kirkland Lake into a multi-mine Canadian gold producer, improved the company's balance sheet, increases gold reserves by 50%, and gives the company more exploration upside.
Kirkland Lake is on track to produce close to 300,000 ounces of gold this year and sub-$1,000 AISC; the company has $130.5 million in cash and very little debt, and should produce around $20-$30 million in free cash flow quarterly at $1,250 gold prices. For these reasons, I see Kirkland Lake as a strong takeover candidate.
#3 Gold Standard Ventures (NYSEMKT:GSV)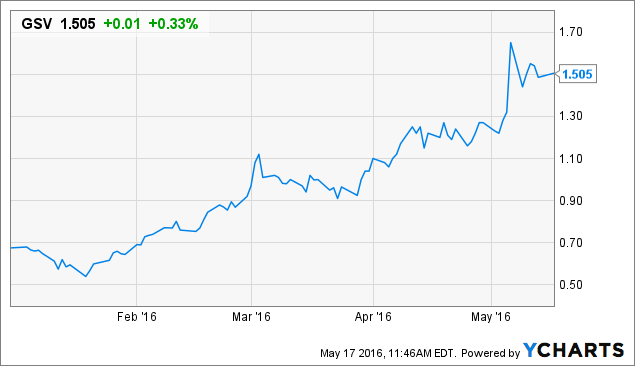 Gold Standard Ventures is a advanced-stage gold explorer I've had my eyes on for quite a while. It's actively exploring a large, but undeveloped land package on the Carlin trend in Nevada (its actually the second-largest land package on the Carlin trend).
The company's properties literally could not be located in a better place. This world-class mining jurisdiction contains numerous 20+ million ounce gold deposits and produced over 5 million ounces of gold in 2012, which accounted for over 75% of the entire U.S. gold production, according to a corporate presentation. Major gold deposits nearby include Barrick Gold's (NYSE:ABX) massive Goldstrike mine (35+ million ounces of gold) and Newmont Mining's (NYSE:NEM) Rain and Emigrant Springs mine. It's a very pro-mining jurisdiction and is close to processing facilities and infrastructure.
In my view, the potential of Gold Standard's Railroad-Pinion Project is just enormous based on past drilling results and its proximity and similarities to major gold deposits; Pinion already contains 630K ounces of gold in indicated resource and 1.08 million ounces in inferred resources, while the nearby Dark Star deposits adds another 375,000 ounces; drill highlights at the North Bullion deposit include 164m @ 3.38 g/t and 98.1m @ 3.26 g/t; all deposits are open for expansion.
A $13.4 million drill program at Pinion and the nearby North Bullion deposit is underway and includes up to 43,000 meters of drilling. The company has $42 million in cash (as of April 18) following a strategic investment by OceanaGold and the $7.4 million excerise of warrants. Successful drill results could increase interest in Gold Standard's projects and lead to a takeover bid in my view.
Finally, major investors in Gold Standard include Goldcorp (NYSE:GG), which owns a 9% equity stake, and OceanaGold Corp. (OTCPK:OCANF), which owns 19.9%. It's obviously a strong takeover target for either one of these gold miners, as well as numerous other major gold miners looking to add a high-potential exploration project to its portfolio; another potential suitor includes Newmont Mining (which operates the nearby Emigrant Springs mine).
#2 Guyana Goldfields (OTCPK:GUYFF)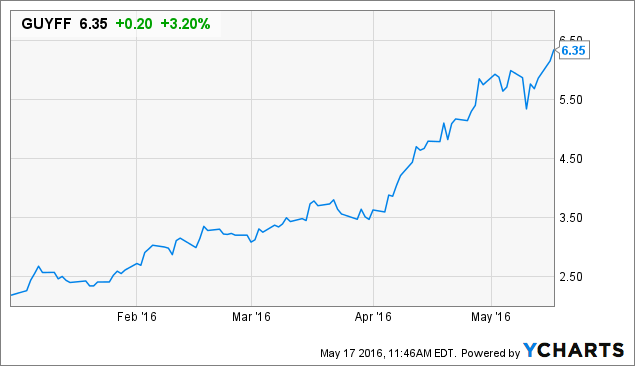 Guyana Goldfields has successfully brought its Aurora gold mine into production after a long exploration and development period. This mine is expected to produce 200,000 ounces of gold annual over at least 16 years, with very good potential for expansion; Peak production is estimated at 231,000 ounces in 2023.
For 2016, the company has guided for 130K-150K of gold production at $637 to $687 AISC. Q1 was Guyana Goldfields first-ever quarter of commercial production and it was a smashing success, as the company produced 41,281 ounces of gold at $778 AISC; free cash flow came in at $18.3 million, or $.12 per share, with gold prices averaging $1,196 per ounce.
It's important to note that the company's feasibility study for Aurora is based only on reserves, but there's plenty of gold resources which could be added to the mine plan, including 2.9 million ounces located below the Rory's Knoll deposit and 1.1 million ounces located below the Walcott Hill and Mad Kiss deposits. In total, Guyana Goldfields has 3.04 million ounces in gold reserves, but an additional 6.53 million ounces in measured and indicated resources and 1.8 million ounces in inferred resources.
To summarize, Guyana is a new gold producer that is profitable, but the company also owns a large exploration package with considerable upside; the current mine plan could be extended several years, and production levels could be increased, if just some of the resources are included. This company is a strong takeover target in my view.
#1 Integra Gold (OTCQX:ICGQF)
I last covered this Canadian gold explorer back in December of 2015, and I stated that "Integra's outstanding performance and resource expansion should continue" as Integra had just increased its total resource base by 100% in just over a year. The stock has more than doubled in value since then, but I think the best is yet to come.
Integra Gold just continues to amaze me. For those unfamiliar, Integra's high-grade Lamaque South project is located in "The Valley of Gold" in Val d'Or, Quebec, which is another world-class mining district, containing multi-million ounce gold deposits such as the Malartic mine (14 million gold ounces).
Lamaque South contains 872,850 ounces of gold at 9.04 g/t indicated and 800,620 ounces of gold at 9.08 g/t inferred; the resource base just continues to grow, with inferred resources jumping 344% on just 27,815 meters of drilling; the company also owns a fully-permitted 2,200 ton per day mill and tailings facility, which lowers its initial capital requirements (less than $100 million expected); permitting is in advanced stages, with mining permits expected in the near future.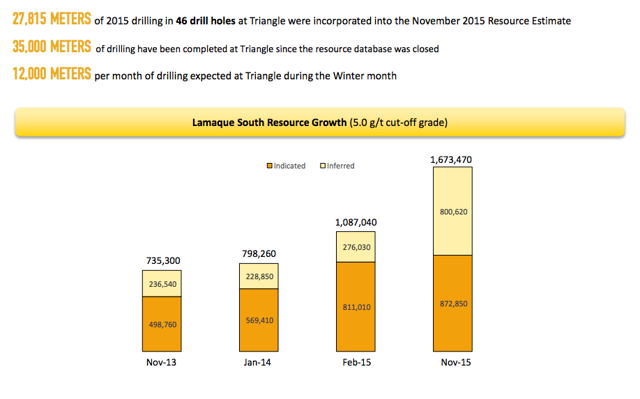 (Credit: Integra Gold Corporate Presentation)
Based on a preliminary economic assessment study, Lamaque South already carries attractive economics: At $1,175 gold, the project carries a pre-tax NPV of C$184.3 million with a 77% pre-tax internal rate of return.
Integra's market cap is well above the project's NPV, but a ton of exploration upside remains, with 90,000 meters of drilling planned for 2016. This PEA study also does not incorporate favorable moves in currency exchange rates (C$/US$) since its release, and Integra's resource and PEA does not include some pretty impressive drill results released this year, including 209.28 g/t gold over 1 meter, 437.06 g/t gold over 1 meter and 16.08 g/t gold over 12.79 meters (this is just a few notable drill results, as there are plenty more).
The company is also well-funded and has had no issue raising money. On May 13, the company announced a $20 million bought deal financing at a price of $.87 per share, which represents a 22% premium over its closing price on May 12; it was later increased by an additional $5 million due to strong demand. This funding will allow the company to complete its underground exploration program at the Triangle deposit, which will likely lead to a larger resource base and more favorable mine economics.
Finally, last year Integra completed a C$14.6 million private placement with large-cap gold miner El Dorado Gold (NYSE:EGO) last year, giving the company 15% ownership of Integra. El Dorado also gets the right to participate in future equity offerings, and if El Dorado has ownership of 19% or more, the company can appoint one director to Integra's Board of Directors. I felt this was a major third-party validation of the company's Lamaque property, and it obviously means El Dorado is interested in buying out Integra one day.
In summary, Integra Gold owns a high-grade gold deposit with substantial exploration upside in one of the best mining jurisdictions in the world. I see this company as a strong takeover target as a result.
Disclosure: I am/we are long ALIAF, ICGQF, GDXJ.
I wrote this article myself, and it expresses my own opinions. I am not receiving compensation for it (other than from Seeking Alpha). I have no business relationship with any company whose stock is mentioned in this article.
Editor's Note: This article covers one or more stocks trading at less than $1 per share and/or with less than a $100 million market cap. Please be aware of the risks associated with these stocks.