Welcome to the May 19 edition of Seeking Alpha's Eye on Tech newsletter.
Google shows off messaging apps, assistant service, home device, VR platform, and Android N at I/O conference - Android took the spotlight on the first day of Google's (GOOG, GOOGL) I/O developer conference. The biggest reveals included: 1) Google Assistant, a service that builds upon the Google Now assistant by adding a "conversational" UI. 2) Allo, a mobile messaging app differentiated by support for Google Assistant (to go with third-party chatbot services) and automated "smart replies," and Duo, a video calling app focused on speed and simplicity. 3) Android N, a pending Android release (you get to decide the official name) that provides several nuts-and-bolts performance improvements and adds new multitasking options.
Google also unveiled: 1) Its rumored Google Home voice assistant. The device is promised to have unmatched far-field voice recognition performance, work in multiple rooms, and integrate with many Google and third-party devices/services. No word yet on pricing or the exact ship date. 2) Daydream, a reference platform for VR headsets powered by Android phones that represents a big improvement from Google's appropriately-named Cardboard platform. Daydream features a handheld controller sporting a trackpad and is backed by many OEMs. 3) Instant Apps, a service that lets Android users quickly begin using an app without downloading it in full or accessing Google Play, and then decide whether they want a full download. 4) A new UI for the Android Wear smartwatch platform, as well as support for locally-installed Wear apps. 5) Plans (rumored for a while) to support Android apps and Google Play on Chrome OS PCs.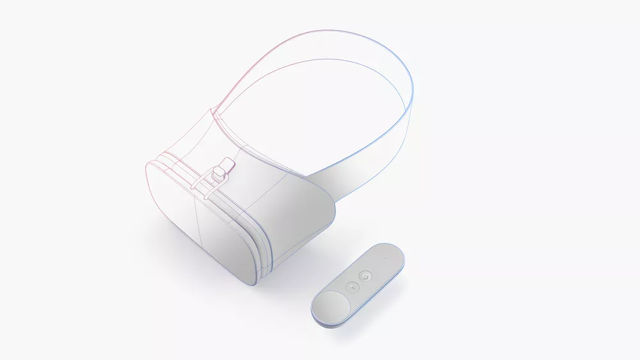 A sketch for Google's Android-powered Daydream VR headset reference platform
Quite the announcement-filled day. It's hard to ignore, though, that many of the new products/services have much in common with existing offerings from rivals. Google Assistant competes with Apple's (NASDAQ:AAPL) Siri and Amazon's (NASDAQ:AMZN) Alexa, Google Home with Amazon's Echo, Daydream with Samsung/Oculus' Gear VR headsets, Allo and Duo with plenty of mobile messaging apps (including Google's own Hangouts, which isn't being discontinued), and Allo's chatbot services with Facebook Messenger's chatbots. The success of the new offerings will depend much on how well Google brings its strengths to bear. For example, Google Assistant and Home's ability to leverage existing Google services (Google Search and Now especially) and the company's arguably unmatched machine-learning investments, and Daydream's ability to leverage Android's reach to create a large app and content ecosystem.
Microsoft sells feature phone business for $350M; Nokia licenses brand - Ten months after taking a $7.6B write-down on its purchase of Nokia's (NYSE:NOK) phone unit and announcing fresh job cuts for the business, Microsoft (NASDAQ:MSFT) is unloading its feature phone ops to a Foxconn unit and Finland-based HMD Global (a new Finnish company) for $350M. Microsoft will still support its Windows 10-based Lumia phone line, as well as Windows phones from OEMs, but even this business increasingly feels like an afterthought, as Microsoft's mobile focus shifts towards providing apps, developer tools and cloud services for multiple platforms.
Nokia, meanwhile, is giving HMD an exclusive 10-year license to use its brand and IP within feature phones, smartphones and tablets. Microsoft will transfer its current license to use the Nokia brand (still found on Microsoft-sold feature phones). For obvious reasons, the Nokia-branded HMD smartphones and tablets will run on Android rather than Windows.
Cisco gains on FQ3 beat and solid FQ4 guidance; margin and services growth provide a boost - Though not flawless, Cisco's (NASDAQ:CSCO) numbers point to growing traction for the company's strategy to grow its software/services exposure (and thus lower its switch/router dependence) in the Chuck Robbins era. Product revenue rose just 1% Y/Y to $8.9B, but services revenue (boosted some by M&A, but also by organic growth) rose 11% to $3.1B. Moreover, software and services growth helped the deferred revenue balance rise 8% Y/Y to $15.3B, and (along with productivity gains) led gross margin (65.2%) to comfortably top guidance of 62.5-63.5%.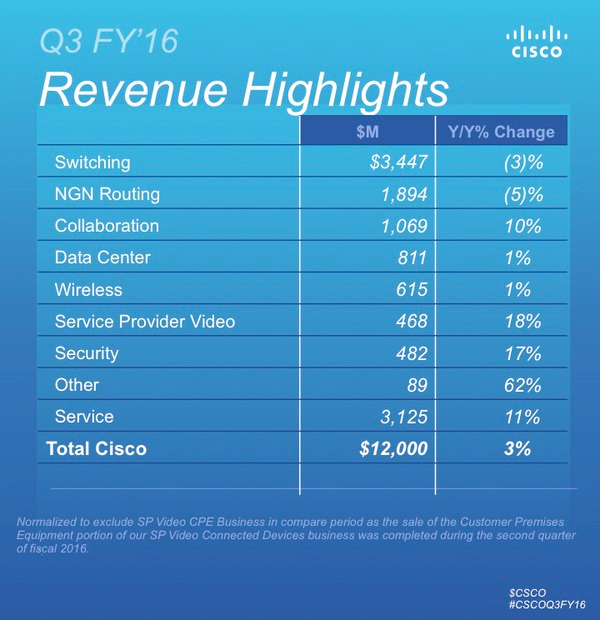 Product order growth of 3% was a little better than FQ2's 2%, with commercial/SMB and government strength offsetting enterprise and service provider weakness. Among the negatives: Switching and routing revenue respectively fell 3% and 5%, and data center/server and wireless revenue (were growing rapidly until recently) each rising just 1%. A weak enterprise IT spending environment (affected by cloud infrastructure adoption) is clearly weighing, as is (for router sales) a soft telecom capex environment. Cisco notes the switching weakness was centered around campus (rather than data center) switches. Security and service provider video were healthier, as Cisco's sizable investments in those areas bear fruit.
Salesforce jumps following FQ1 beat and strong FQ2/FY17 sales guidance - Shares finished after-hours trading just $0.30 below an all-time high of $82.90. Salesforce's (NYSE:CRM) top line numbers were quite solid, as the company's core Sales Cloud business (salesforce automation software, revenue +15% Y/Y) continues taking share from on-premise alternatives and other product lines continue seeing strong growth. Service Cloud (customer support software) revenue rose 32%, Marketing Cloud (marketing automation software) rose 29%, and App Cloud and Other (driven by the Heroku and Force.com cloud app platforms) rose 45%.
A 27% increase in revenue and a 31% increase in the deferred revenue balance (to $4.01B) helped free cash flow rise 46% to $968M, as did (by Salesforce's standards) relatively subdued operating expense growth of 20%. On its earnings call, Salesforce mentioned it signed a "significant and strategic" deal with Amazon during FQ1.
Amazon plans more physical stores, launches high-performance cloud computing instance - "We're definitely going to open additional stores, how many we don't know yet. In these early days it's all about learning, rather than trying to earn a lot of revenue." said Jeff Bezos at Amazon's annual meeting. The company has a bookstore in Seattle, and is building one in San Diego. Building stores could give Amazon more distribution and pick-up locations, and also provide showrooms for selling Prime subscriptions and Amazon's consumer electronics gear. Still, it's a counterintuitive move given the efficiencies Amazon has reaped from its online retail ops (just ask Best Buy and Barnes & Noble).
Separately, Amazon Web Services has announced a new cloud computing virtual machine instance that supports a massive 2TB of RAM and four of Intel's (NASDAQ:INTC) high-end Xeon E7 8880 server CPUs. Use cases include in-memory databases, big data/analytics apps and high-performance computing ("HPC") deployments. The move comes a day after Microsoft unveiled an instance for its Azure cloud platform that supports 3TB of RAM and can run SAP's (NYSE:SAP) Hana in-memory database (also supported by AWS).
Fitbit buys wearable payments assets, brings Blaze/Alta to China - Looking for a way to differentiate its hardware (and perhaps also match the Apple Watch's payment abilities), Fitbit (NYSE:FIT) is buying assets from startup Coin that will help it "develop an active NFC payment solution that could be embedded into future Fitbit devices." It's also bringing its $200 Blaze smartwatch and $130 "fashion-forward" Alta fitness band to China, where Xiaomi (BATS:XI) has dominated the fitness tracker market with the help of its cheap Mi Band.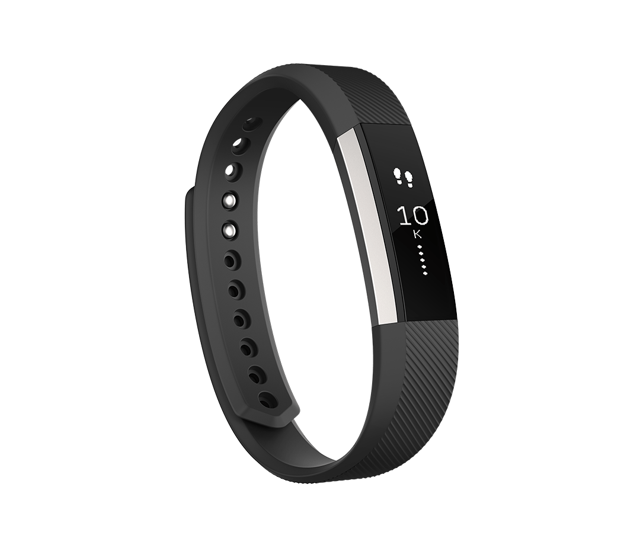 The $130 Fitbit Alta. Now available in China.
SAP updates Hana Cloud Platform, announces partnerships with UPS and healthcare tech firms - Shortly after announcing a partnership with Microsoft and new features for its Hana in-memory database at its annual Sapphire Now conference, SAP announced new services and app extensions for the Hana Cloud Platform, which lets developers build cloud apps on top of Hana. It also announced a partnership with UPS to enable (with the help of SAP's supply chain software and UPS' logistics services) on-demand manufacturing and delivery of 3D-printed parts.
Software partnerships were also announced with cancer data analytics provider CancerLinQ, medical field data analytics firm Dharma Platform and enterprise healthcare management software firm Castlight (NYSE:CSLT). Castlight's shares jumped on the news.
Tencent reports strong Q1 sales/earnings, but warns of ad growth slowdown - The Chinese messaging/gaming giant's revenue rose 43% Y/Y to $4.95B and its net income 33% to $1.4B. But it also warned its brand ad sales "could face near-term challenges" due to macro pressures.
Tencent's (OTCPK:TCEHY) ad business was firing on all cylinders in Q1, with revenue rising 73% Y/Y thanks to improved monetization for several services. The mainstay online gaming business (still responsible for over half of all revenue) saw revenue rise 28%, and social networking revenue rose 48%. Monthly active users for the WeChat/Weixin mobile messaging platform grew 39% Y/Y to 762M. MAUs for the older QQ (PC/mobile messaging) and Qzone (social networking) platforms, respectively, totaled 877M and 648M.
Nice Systems is buying cloud contact center software firm InContact for $940M - NICE-Systems (NASDAQ:NICE), a provider of analytics software for contact center, security and financial fraud-detection, says buying inContact (NASDAQ:SAAS) will let it provide the first end-to-end cloud contact center solution, one that combines workforce optimization, analytics and contact center infrastructure apps.
The deal will also help NICE (more focused on enterprises) better penetrate the SMB market. inContact peer Five9 (NASDAQ:FIVN) surged following the news amid hopes that it too might be acquired.
Disclosure: I/we have no positions in any stocks mentioned, and no plans to initiate any positions within the next 72 hours.
I wrote this article myself, and it expresses my own opinions. I am not receiving compensation for it. I have no business relationship with any company whose stock is mentioned in this article.
Editor's Note: This article discusses one or more securities that do not trade on a major U.S. exchange. Please be aware of the risks associated with these stocks.