By S. Hasan Abid
Ever since reaching a relative bottom in January this year, shares of Texas Instruments (TXN) have climbed up by ~19%. Currently, the stock price is sitting slightly above its 50-day EMA and 200-day EMA. Note that the 200-day EMA is languishing below both TXN's current price and the 50-day EMA, confirming that the stock is in an uptrend.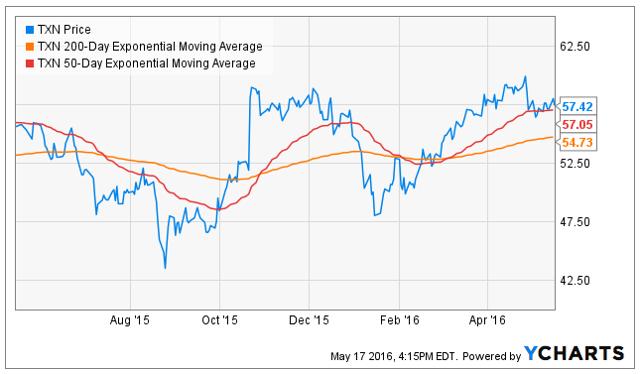 This recent rally, which can be largely attributed to the spike in TXN's institutional ownership, has made shares relatively expensive. Institutional investors, as it stands, have a roughly 90.5% stake in the company and as the chart below demonstrates, TXN's price tends to move in tandem with institutional ownership percentage. But why are mutual funds and large organizations taking this much interest in TXN?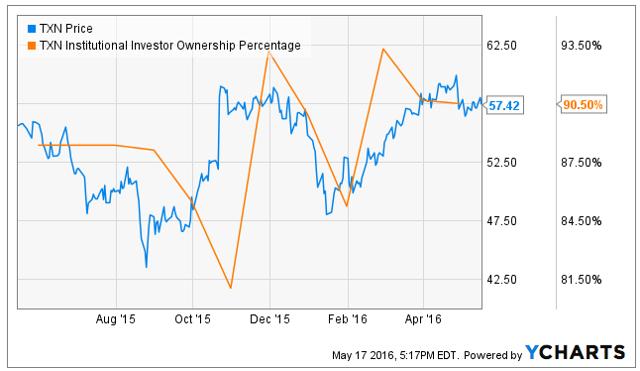 The reasons are pretty simple and I discussed quite a few of them in my previous article. TXN is a leader in the semiconductor industry with a major market share in both analog and embedded processing markets. The company has a solid balance sheet and its net and operating margins are well above that of its industry peers. In addition to this, TXN is very attractive from a dividend yield perspective and that's one of the biggest reasons why today it represents a compelling investment opportunity. Currently, TXN is yielding ~2.6%.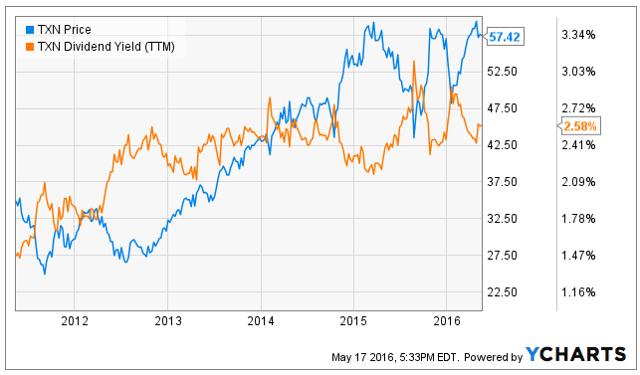 I generally don't like to see yields rising wildly from year to year because that is usually a repercussion of falling stock price and doesn't mean that dividends are increasing in proportion to the gains in price. In the last 5 years, barring the spikes in 2012 and in the latter half of 2015, TXN's yield has more or less been stable - implying that the dividend growth rate has matched the growth in stock price. So this isn't, so to say, an 'artificial' yield. But are TXN's dividends sustainable? Should investors expect dividends to keep increasing? And if so, at what rate?
First off, TXN has a very impressive history of dividend growth. The company has been consistently expanding its dividend since 2004 and in the period 2011-15, dividends have grown at a CAGR of 24%. In spite of this, what I find most remarkable is that TXN's FCF coverage (the ratio of dividends to FCF) has not exceeded 42% in recent years.

(Source: Investor Relations)
At present, FCF coverage is hovering around 41%, which I consider very reasonable. From 2016 onwards, even if TXN's dividends grow annually by, say 20%, and FCF remains unchanged, it will take three years for the coverage to reach 70%. So this tells you a lot about the sustainability of TXN's dividends. By the way, TXN's FCF, on average, has grown by ~12.5% per annum since 2011. Now in another less pessimistic and more realistic scenario, which is shown in the third figure below, if TXN's FCF grows by 5% and dividends grow by 20% annually, FCF coverage will reach 70% by 2019. Hence, I believe a year-over-year dividend growth rate of at least 20% can be sustained for many years.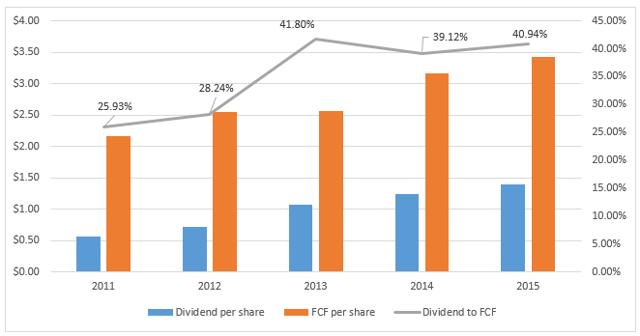 (Source: Morningstar, calculations by author)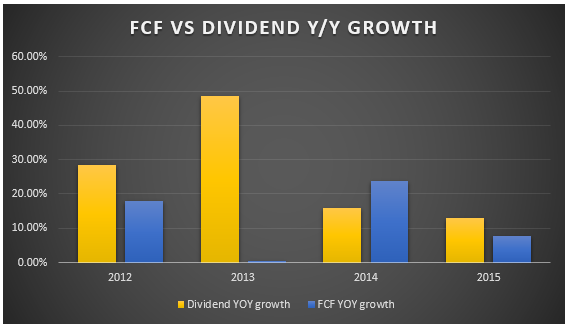 (Source: Morningstar, calculations by author)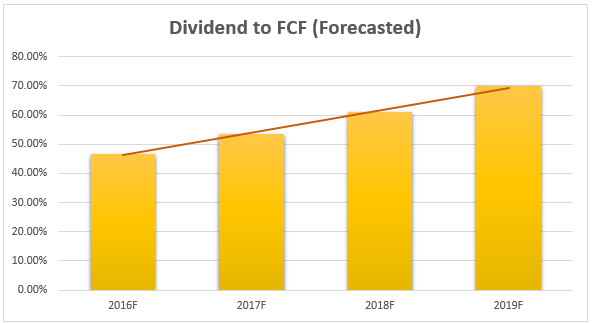 (Source: Author's calculations)
Despite increasing dividends consecutively for the past 12 years, TXN still has enough room to deliver additional increases in its dividend. TXN's payout ratio is currently below 50%, implying a healthy retention rate of 50%. I consider a payout ratio above 60% to be unsustainable because it implies that the company is not reinvesting enough money. Anything between 40% and 50% is pretty much ideal.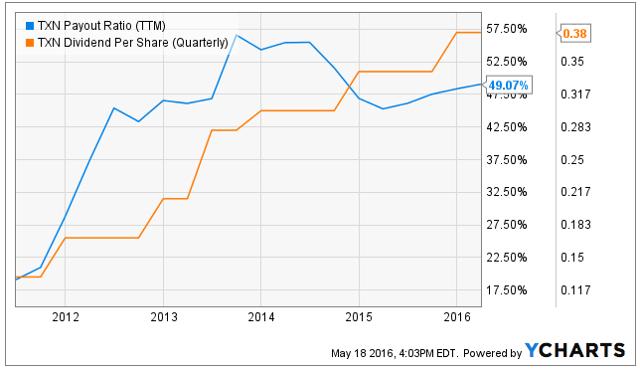 All this discussion shows that TXN is generating enough cash from operations to fully cover its dividends. Looking ahead, TXN's outlook makes me reasonably confident about the company's dividend capabilities. Analog and embedded processing are rapidly growing markets, as the following two charts depict. Although TXN's analog segment hasn't performed admirably lately, this shouldn't be taken as a sign of things to come. Once the majority of TXN's analog revenue is generated on 300-millimeter wafers, I expect to see significant improvements in the company's top line as well as its gross margins. Apart from this, TXN, being a leader in the analog chip market, has at its disposal some of the best analog engineers. This isn't something that should be underestimated because even many reputable firms find it difficult to attract good engineering talent.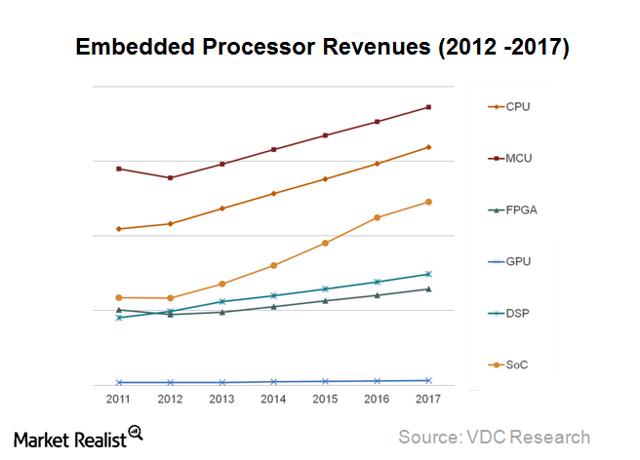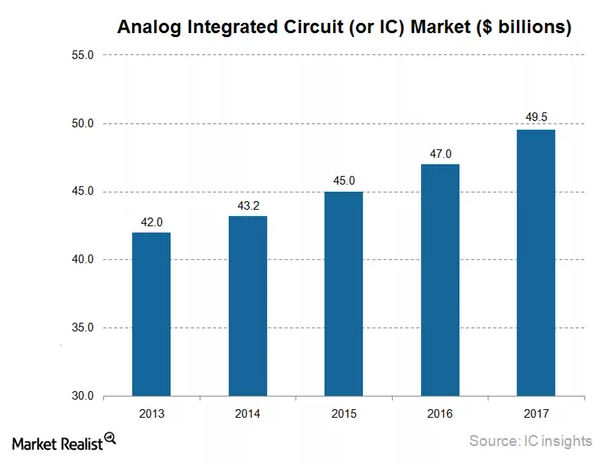 Nevertheless, to maintain its competitive edge, TXN will need sufficient investments in research and development. As a shareholder, I certainly want to see the company devoting more of its revenue to R&D because right now STMicroelectronics (NYSE:STM) and Qualcomm (NASDAQ:QCOM), two of TXN's direct rivals, are putting considerably more of their earnings into R&D.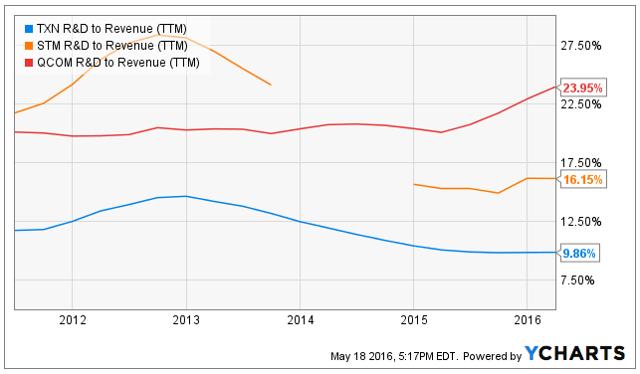 Conclusion
In short, TXN is a great dividend paying stock. Going forward, analysts are expecting its earnings to grow by 10% per annum, which will continue to support the company's +20% dividend growth rate with a payout of nearly 50% of earnings.
The low R&D-to-revenue ratio is something that TXN needs to improve, but I am not overly concerned at this point because the company is in a very strong financial position and can afford to ramp up R&D spending meaningfully in the future.
Disclosure: I am/we are long TXN.
I wrote this article myself, and it expresses my own opinions. I am not receiving compensation for it (other than from Seeking Alpha). I have no business relationship with any company whose stock is mentioned in this article.