Retail stocks have been hit hard lately with earnings numbers being reported from a lot of the giants. Frankly, it's been ugly and it's probably going to get uglier.
Picking retail stocks to invest in right now is a bit of a crap shoot. Amazon (NASDAQ:AMZN) looks to be taking over the world and the regular brick and mortar stores are in their crosshairs. It's been reported that Amazon will own $1 out of every $5 spent in the apparel market by 2020. That has to be sending shivers down the spines of everyone, including the big boys WalMart (NYSE:WMT) and Target (NYSE:TGT).
Gap, Inc (NYSE:GPS) reports after the market closes on May 19 and at the time of this writing, the stock is at $17.09. The big question is; will it be an ongoing victim of an overall sinking retail apparel market? It does appear that general retail spending will rise over 2015 levels but the spending is growing online instead of the retail storefront.
Does this mean that the retailers need to focus all of their attention to online sales? No, there will always be a need for stores. People like to try on things before buying them and it's hard to do that with Amazon. Plus, as my wife can tell you, there's nothing quite like a day of "retail therapy" to ease the stress.
As a dividend investor, I look for stocks that have a great chance to appreciate in value over time, provide a solid dividend yield and pay consistent and growing dividends every year. I wanted to take a look at GPS and see if it meets my criteria for an investment stake.
As I look at GPS, I do see some bright spots and enough that it warrants research.
1) Dividend yield at 5.38%. The yield is at a long time high. It had been sitting in the 1.5% - 2.5% range before the price freefall.
2) Dividend payout at about 48% showing that even with shrinking sales, they are still more than able to keep paying dividends.
3) Six straight years of dividend growth. To me, this is one of the key things I look at because it shows a commitment by the company to make consistent and growing payments (one of my criteria). Also, the dividend growth rate is around 20%/year - another big winning point.
4) Trailing P/E is 7.8 and forward P/E is 8.9. The dramatic share price fall is the main reason for this.
5) Using Peter Lynch's Fair Value formula, GPS is fairly valued at $25.79, a 51% increase from the current value of $17.09. Ben Graham's Fair Value Formula puts it at $17.96, an increase of only 5.1%. However you look at it, it is within range of the current value and shows that there may be some growth based on this point. The consensus price target sits at $21.07 from 30 analyst's.
6) Short interest remains stable at around 13.5%. Actually, this is a decline from December of 2015. Perhaps, the shorts have done their damage and are out.
7) The share buybacks are at a +6.2% pace over the past 3 years so that's a positive sign. This is better than most of the rest of the retailers average of -.60%.
8) Earnings have been met in 4 of the past 4 quarters. Not a negative but no beats is a little worrisome. They are expected to report earnings on May 19th of $.32 which is down from $.56 a year ago. Top line and bottom line are expected down this reporting period YOY.
There has been some insider selling this year. Four sell transactions occurred in March with two of them selling out completely. They were by Andi Owens (Global president, Banana Republic) and Sabrina Simmons (Exec VP and CFO). This is a danger sign that if management wants to sell, there could be problems. Of course, they could have sold for other reasons but the absence of buying also worries me. The last insider buy was back in November of 2015. The good news is that there's no one else selling.
There is an (at least) one ugly beast that I can't overlook. The share price has dropped from about $40 a year ago to it's current level. It's very near it's 52 week low of $17.00. If there's a bad earnings report, look out below. The sellers are just waiting to bail on retail stocks right now.
The 50, 100 and 200 day moving average is way above the current price and is no danger of being breached in the near-term.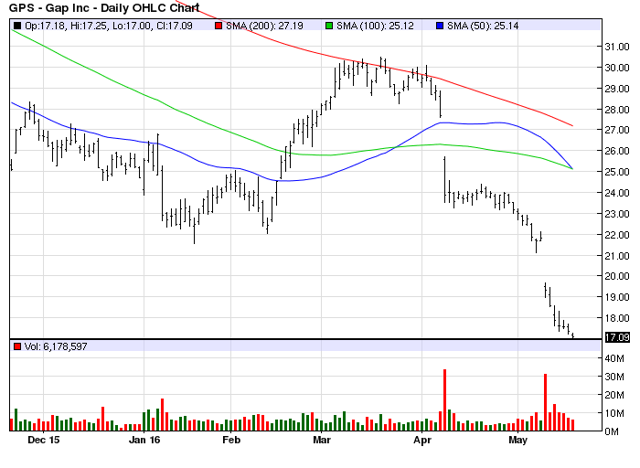 Source: BarCharts.com
The good news is that perhaps the sellers have oversold and it might be a good time to come in a pick up a bargain. If this weren't the retail space, I might take that chance on GPS to get an "accidental" high dividend.
If I were currently holding GPS, I would be nervously waiting on the earnings call on Thursday. Depending on the price I paid, it could be a very bad day for GPS if the report is below estimates. However, if there is a beat, it could be ok. The forward look is key, IMHO, as the future for so many retailers is not looking good. The earnings call should prove both interesting and informative.
As an investment opportunity, I'm waiting on the earnings news to assess the situation. GPS appears to be a pretty solid company paying consistent and growing dividends but the 500 pound gorilla in the room (Amazon, if you didn't know) is wanting to eat every one of the retailers, including Gap.
For now, I think I'll let the (retailers) field clear and see who's left standing.
For anyone who would like to follow my future articles, just click the "Follow" button below this article or at the top of this page next to my name. I appreciate your feedback and thanks for taking the time to read my articles!
Disclosure: I/we have no positions in any stocks mentioned, and no plans to initiate any positions within the next 72 hours.
I wrote this article myself, and it expresses my own opinions. I am not receiving compensation for it (other than from Seeking Alpha). I have no business relationship with any company whose stock is mentioned in this article.