The phrase "inflection point" is often overused by financial writers. Most so-called turning points don't end up actually, causing a drastic change in trajectory. But the term still does have value on occasion.
I'm willing to venture that Wednesday will go down as an actual bonafide inflection point for the market; while the indices showed small changes on the day, under the surface the Fed's surprising sentiment should provoke big changes in market positioning.
Both the Dow (NYSEARCA:DIA) and S&P 500 (NYSEARCA:SPY) closed basically unchanged, but that disguises the volatility during the day. Markets were higher throughout the morning. At 2 pm, they tumbled following the release of the Fed minutes. Then they clawed back the losses to end flat: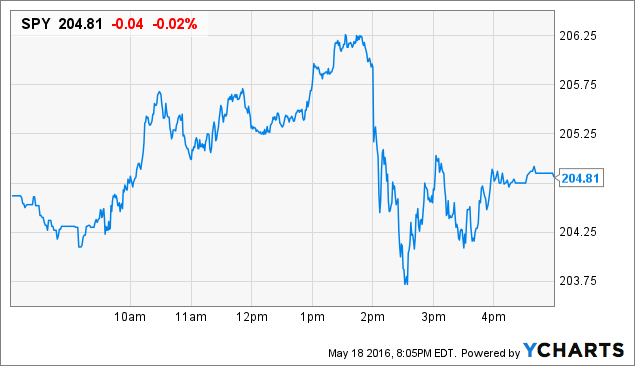 SPY Price data by YCharts
Don't take that to mean the reaction was neutral for the market, however. In fact, it's very good for some areas of the market and very bad for others. Let's take a tour.
Not So Precious
Gold and its orbit of products got slammed on the Fed decision. As I discussed in detail in Why The Gold Miners Are Heading South, the sector has been driven into a state of speculative frenzy by the price of gold - as denominated in US dollars - and little else.
There's not been any great change to either the supply or demand ends of the gold picture, geopolitical developments don't warrant a risk premium and so on. To some extent gold has tagged along with oil on its large rebound, but it gets progressively more difficult to justify gold miners being up 100% in a quarter due to oil rising, when energy is in fact one of the largest costs of gold mining.
If you remember the run in gold from 2003 to 2011, one of the recurring themes was that gold miners never became hugely profitable, like expected, because their costs inflated almost as quickly as the price of gold. The price of gold moving up 20% when your diesel doubles in cost isn't nearly as good for margins as you'd hope.
Regardless, if you base a rally primarily around the dollar being weak, you're at risk of seeing a quick change in sentiment if the dollar starts to recover. With the Fed now speaking hawkishly again, the dollar must go higher and euro (NYSEARCA:FXE) lower: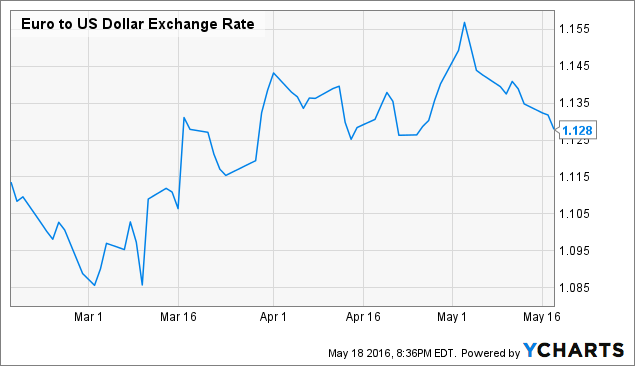 Euro to US Dollar Exchange Rate data by YCharts
The ship has sailed on the weaker dollar theme; the euro tried and failed to get over 1.15 and is now back to its usual trading range. If you're long gold miners, even after Wednesday's plunge, you should still sell to avoid the coming correction: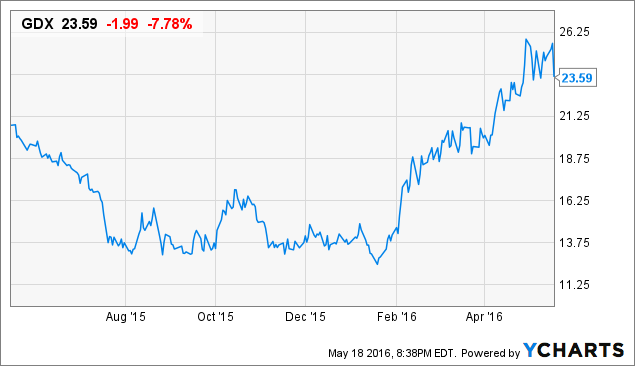 GDX data by YCharts
The Fed just took the main argument for gold - a falling dollar - out of play. It wouldn't be shocking to see GDX fall back to that support level around 19, another 20% down from here.
Emerging Markets In Danger
A stronger dollar is also bad news for emerging markets (NYSEARCA:EEM). The emerging markets ETF, in fact, is heading back toward February levels: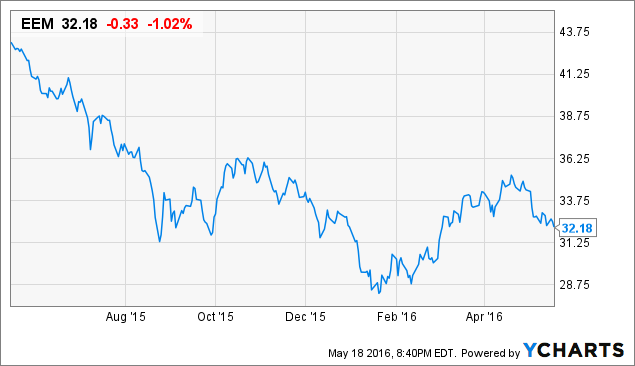 EEM data by YCharts
The resource-focused emerging markets, such as Russia (NYSEARCA:RSX), rely on commodity exports to pay the bills. A stronger dollar hurts their bottom line strongly.
Even non-commodity focused emerging markets, such as China (NYSEARCA:ASHR) get hit. China will likely be forced to devalue further as the dollar recovers and moves higher; we all remember the market impact of the August Chinese devaluation on global equity markets.
As for Brazil (NYSEARCA:EWZ), the combined reality that the impeachment didn't change anything, along with falling metals prices, appears to have shaken the market back to reality, the country's shares are starting to slide: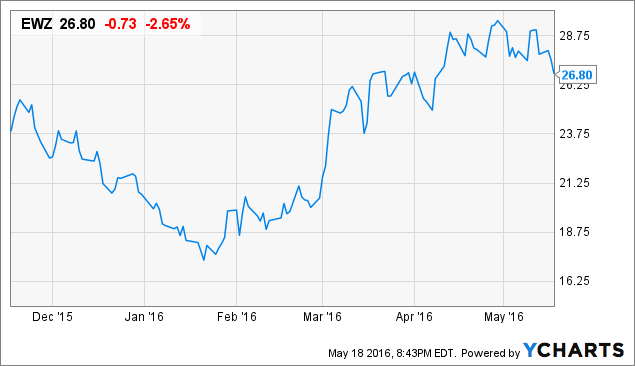 EWZ data by YCharts
Even the emerging markets I really like, such as Colombia (NYSEARCA:GXG) and Peru (NYSEARCA:EPU), have a good deal of downside ahead of them in the revived strong dollar environment. Don't be a hero and start buying emerging markets yet.
Financials: The Big Winners
We've all been waiting for rate hikes for years now. The positioning for higher rates trade has been one of the most discussed opportunities in the market over the past few years. You can never trust the Fed to do what they say, but at this point, the balance of evidence suggests taking them seriously.
It's time to get into financials that benefit from higher interest rates. A classic example would be the brokerages who profit from higher interest rates on customer deposits. One of the holdings in my IMF index fund, Charles Schwab (NYSE:SCHW), is an excellent example: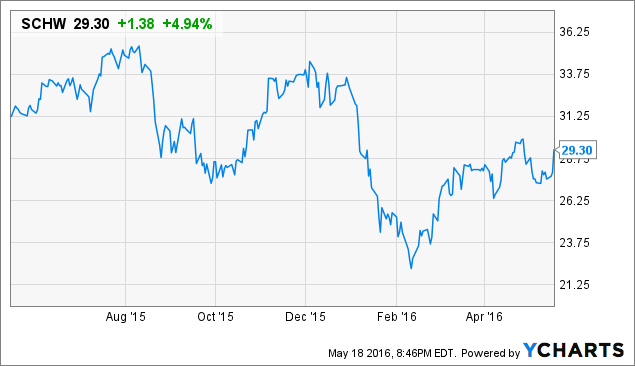 SCHW data by YCharts
That's a 5% one-day move on the prospect of higher rates. And Schwab isn't a crazy high-beta stock either. The possibility of multiple rate hikes is rocket fuel for the company's earnings prospects.
The banks are also winners from the rise in rates. Their Net Interest Margins (NIM) should rise as they can lend at higher rates. Yes, they might have to pay a bit more on deposits as well, but on the whole, the spread should rise.
Your author has been buying community banks to position for this. If you compare a community bank yielding 4% to a REIT yielding 4%, there's very clear reason to prefer the former. Do know that you don't have to buy the questionable big banks to profit from the upcoming move; the local banks that avoid off-balance sheet transactions and weird financial derivatives will still see their profits soar in a rising rates situation.
Yield-Chase Stocks: Be Careful
On the opposite end of the banks, which are generally hated and out of favor, the "bond alternative" blue chip equities are at great risk here. If you're buying utilities (NYSEARCA:XLU) or consumer staples stocks such as PepsiCo (NYSE:PEP), know these could go lower in a hurry.
PepsiCo, for example, is being treated as a 3%-yielding bond by a good deal of investors. Compared to buying 10-year government bonds that yield even less, that dividend seems nice in a vacuum.
Unfortunately, PepsiCo is trading at a mid-20s P/E, aggressive for a soft drink company, and there's not a lot of other reason to support the optimistic valuation. In an environment where yields shift up 1% point, PepsiCo could easily move to a 4% dividend yield.
To reach that 4% yield, based on the current dividend rate, PepsiCo shares would have to fall to $75/share. Trust me, based on an earnings-based valuation, there'd be nothing wrong with shares hitting that level either.
I'm not necessarily calling for PepsiCo to go to $75; just know that many of the investors that own it would rather own risk-free bonds that pay 3% than PEP stock and will rotate into bonds if they get the chance. PepsiCo stock has quickly started pricing in the new interest rate outlook: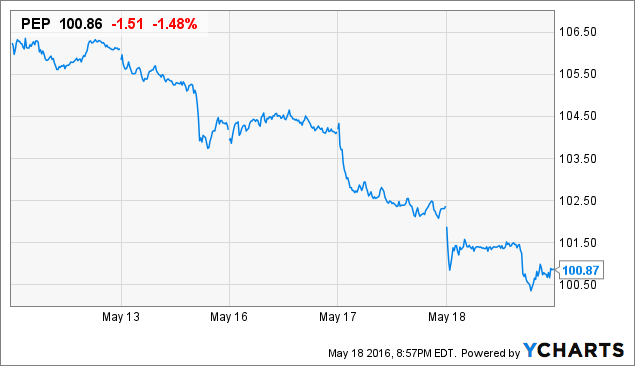 PEP Price data by YCharts
And if you're overweight REITs (NYSEARCA:IYR), be especially careful. REITs are forced to pay out 90% of earnings as dividends; there's not a lot of upside to them - in terms of total return - beyond your dividend check.
REITs frequently yielded 8-10% in more normal interest rate environments. Buying REITs, even quality ones, at 4% yields, is to tempt fate.
But Ian, Is The Fed Really Serious?
You may be asking yourself: Is all this really necessary? The Fed always talks about hiking rates, so why should we take them seriously now? It's a valid question.
I'd respond that while we still shouldn't trust the Fed to actually act, odds are growing that they want policy normalization, and are willing to hurt the economy in the short run to get it.
The December rate hike was extremely destabilizing - look at the global panic it set off in January-February. The economy also took a hit; retail sales have been awful to start 2016 and GDP growth took a sizable dip immediately after the hike.
And yet the Fed was already close to making another hike in April and appear undeterred toward further action in the near future. On top of that, inflation is finally starting to pick up, giving the Fed more evidence in favor of further hikes.
I think we've seen a change at the Fed; one that will cause a lasting shift in the market. The rally in commodities is ending, while financials are about to experience a big boost in sentiment. As for the overall stock market, things are probably heading lower. The December hike was followed by a massive sell-off.
As for whether the Fed will hike in June, I'm still inclined toward no. It's hard to imagine them pulling the trigger with the Brexit vote just days later. But a rate hike during the summer, if not in June, now seems like the default option. Plan accordingly.
Disclosure: I am/we are long SCHW.
I wrote this article myself, and it expresses my own opinions. I am not receiving compensation for it (other than from Seeking Alpha). I have no business relationship with any company whose stock is mentioned in this article.
Additional disclosure: I am short EWZ.