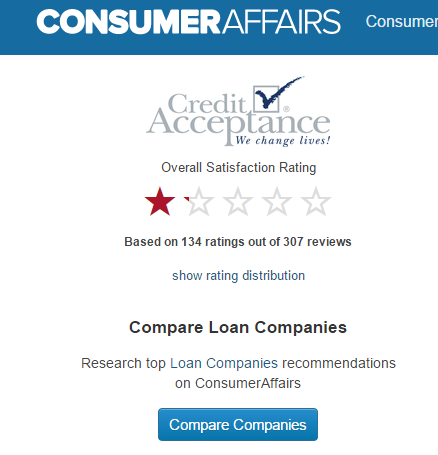 Disclaimer
This submission represents solely the author's ideas, is not investment advice, and is not meant to represent the views of the author's employer.
Credit Acceptance Corporation (NASDAQ:CACC) is an overvalued company operating in a highly competitive and inflated asset class; sub-prime automotive. It has very lax underwriting standards, and management is not transparent about its loan quality or characteristics. CACC has large potential downside that is not a matter of if but when.
CACC provides dealer financing programs and related products that enable it to sell vehicles to consumers in the deep subprime space (650 FICO and less including No FICO) regardless of credit history.
Its business is comprised of two programs: the portfolio program and the purchase program.

Purchase Program:
Under the purchase program, CACC buys the consumer loans from dealers (known as "Purchased Loan") and keeps all amounts collected from the consumer. The focus of the investment thesis will be on its other segment, the portfolio program which comprises the majority of revenues. Note however, a shift from portfolio to purchase as % of its business, which I believe is due to the increased competition for the portfolio program that will be described later on.
Portfolio Program:
Under the portfolio program, CACC advances money to dealers (known as a "Dealer Loan") in exchange for the right to service the consumer loan. A dealer loan example is illustrated in Exhibit 2 below.
Exhibit 2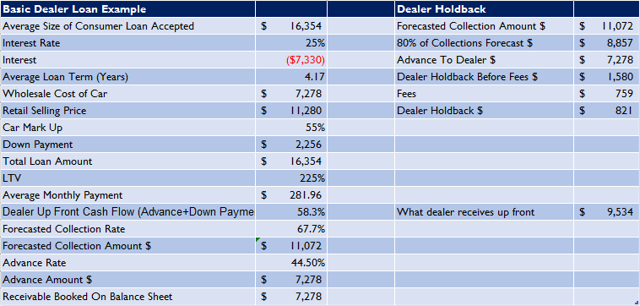 The forecasted collection rate is management's estimate of what they expect to collect on a dealer loan. This is based on their "proprietary models."
The advance rate is what CACC advances to the dealer upfront. This is typically 85-115% of the wholesale cost of the vehicle (management guidance), effectively covering wholesale vehicle cost.
Dealer Holdback is cash payment made to the dealer after CACC recovers the payments made on the consumer loan and the advance, minus fees. It starts at 8 0% of the forecasted collection amount. CACC has an accelerated dealer holdback program which accelerates the holdback to a dealer once they reach 100 loans.
To sum up the process, first the dealer collects the down payment from the consumer, then an advance from CACC. This is equal to about 58.3% of the total loan. CACC forecasts a collection rate currently at 67.7% of the total loan amount, which they expect to collect during the life of the loan. The difference between the expected collection and the advance rate is the spread which CACC books on their balance sheet as the loan receivables.
Harmful Loan Portfolio Characteristics
CACC has been extremely aggressive in growing its balance sheet receivables and adding new dealers to its platform. Since it will take any loan and approve anyone, we have seen two major shifts in its portfolio take place in the past 12 years. Refer to Exhibit 3.
1. The average size of a consumer loan has grown about 30%.
2. The average initial loan term has grown 35%.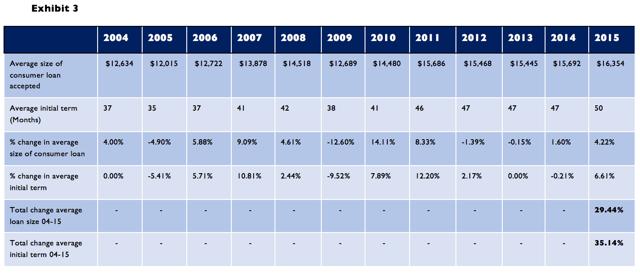 Dealers are taking advantage of the sub-primers during the financing process. The dealer asks the borrower what monthly payments he/she can afford- then the only way to get to the monthly payment amount is to extend the loan term by several months.
Adding to the larger loan balance phenomenon... dealers get greedy… and they mark up the car above wholesale price. They can still meet the requested monthly payment by extending the loan term; hence average loan sizes increase. This increase in older car values through recent markups is illustrated in exhibit 4 below provided by Edmunds Data. Vehicles ages 7 and up have shown much higher average transaction price increases than younger vehicles. I highly doubt that all cars older than 6 years are suddenly gaining vintage value! Also note the dramatic increase in price for the 11-year-old vehicles, a coincidence with when a typical CACC loan matures?

These shifts in CACC's portfolio leave their loans dangerously exposed because the equitable point in which they recover their advance and receivables amount back is extended further out (refer to Exhibit 5 below). A typical advance and receivables payback (forecasted collection point) for a 2015 dealer loan stands at 39 months vs. a 2006 loan payback at 31 months; a 26% increase!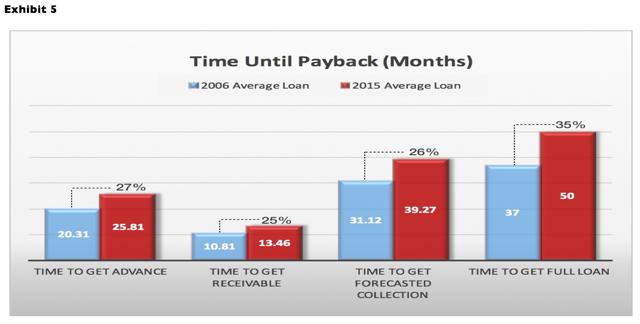 This leaves the loan portfolio more fragile and risky as there is even more time for the borrower to have something wrong happen to them or to the VEHICLE. The average vehicle in CACC's portfolio is around 7-8 years of age. As the vehicle gets older, it is more susceptible to major breakdowns and higher cost repairs. Having the longer loan term propagates those issues.
Misaligned Incentives & Questionable Underwriting
Dealers have little aligned incentive to make sure they properly underwrite, verify credit scores, or income for borrowers. Borrowers fudge incomes and dealers surely incentivize it. Dealer's mark up the vehicle's wholesale cost by 50-60%, receive the down payment and advance from CACC and wipe their hands clean by transferring the loan to CACC. CACC states that dealer holdback is supposed to incentivize dealers to have "skin in the game" because they share some of the losses in the event that the consumer cannot make payments. In order for a dealer to enroll in CACC's dealer program, they must forfeit the first 50% of accelerated dealer holdback. In a hypothetical example of an average 2015 loan - the dealer gets an upfront cash payment of 58.3% or $9,278 of the total loan. The average dealer holdback comes out to about $821 for a 2015 loan which shows the marginal gains that the average dealer could receive if the consumer makes payments throughout the loan life. Multiply the $821 dealer payback per loan by the average amount of loans per dealer for 2015 (32.9) and it comes to about $27,000 per year…. marginal vs. what the dealer gets upfront which is around $305,330 per year. The incentive is to sell as many cars off the lot ASAP to whomever or whatever!
When speaking with a dealership in Miami that used the CACC platform, they did not even know what dealer holdback was……. they couldn't care less!
Major Loan Underperformance & Credit Quality Deterioration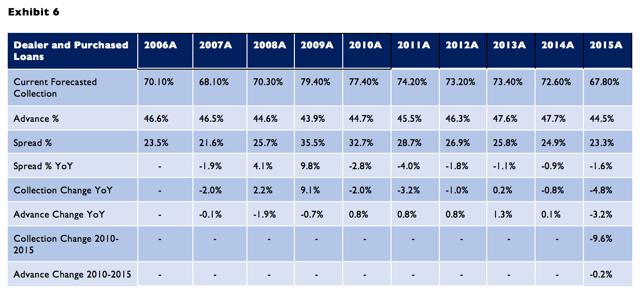 Management continues to try and guide investors to believe that they are making their business easy to understand by using the forecasted collection rate as the single metric everyone should be focusing on to understand the credit quality of their portfolio. Looking at the spreads between the forecasted collection rate and advance throughout time, (Exhibits 7 and 8 below), they have decreased every year since 2010. Let's take a deeper look at what has caused the spread reduction. Note the collection and advance changes from 2010-2015. Collection estimates have reduced by 9.6% but advances have only been reduced by .2%. They continue to keep advance rates high until they absolutely have to reduce them to entice dealers to stay or join their platform. Only in 2015, did they reduce the advance amount by 3.2% most likely to try and offset the massive -4.8% reduction in collection estimates from the previous 2014 year. The most logical conclusion to the reduction in collection estimates and spreads is due to the lax underwriting process, the structural shifts in loan term and average balance stated earlier. The forecasted collection amount is the lowest it has ever been and the spreads are at its lowest level since 2007. If our economy has recovered tremendously since the recession, how could forecasted collections be at these levels? It's because the borrower could not afford these cars in the first place!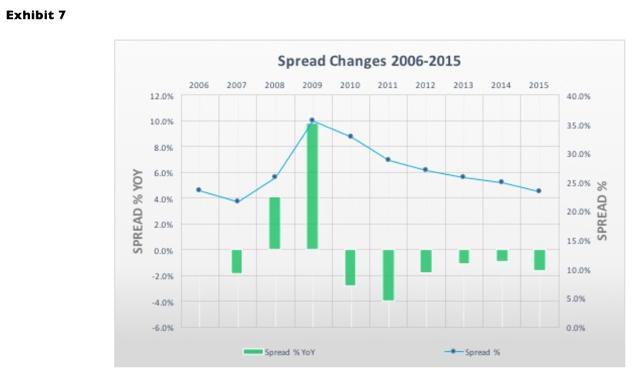 The impacts of the spread reductions have been mitigated in the income statement or balance sheet due to the massive increases in the amount of dealers and receivables added every year. They recognize finance charges under the interest method so that revenue is recognized on a level yield basis based upon forecasted cash flows. Under this method, they can continue to grow the top line aggressively as long as they can continue to add loans to their portfolio.

We have seen a drastic increase in the provision for loan losses from 2014 to 2015 of 224% suggesting somewhere in the portfolio, there is massive loan underperformance. When I ask management or when a sell side analyst (read Q415 earnings call transcript) asks management where the underperformance is coming from, they continue to say that the provision should not be focused on and never answers the question.
Recovery rates are important as management has stated that about 40% of their cars go into repossession. The recovery rates in the used vehicle market are very critical for the company. The issue is that CACC does not disclose recovery rates, but they should be baked into the forecasted collections rate. When discussing with management, they state they have not seen the recovery rates change for their vehicles. Thus coming to the conclusion that they have not changed their forecasted future cash flows to reflect the expected or occurring shift in recovery rates that have/will occur.
Due to its shift to longer loan terms, its average vehicle in repossession should be naturally older unless the borrower is defaulting at the beginning of the loan. This itself should reduce recovery rates alone. The major issue here is, recovery rates are also susceptible to changes in used car values and vehicle supply. Unrightfully so, used vehicle car values have reached all-time highs for 2015 (Exhibit 9). According to the Manheim Used Vehicle Value Index however, they have since decreased 2.2% for 3 consecutive months. The off lease and wholesale supply market is also near its highest level ever, which will surely put pressure on resale values (Exhibit 11) going into 2016 and 2017. In exhibit 9, note the total wholesale supply of vehicles at 20.51M units. 1.6M units are repossessions and 81% of those repossession enter into auctions to be resold. Repo units constitute the highest proportion of auction shares. What happens when there is a flood of wholesale vehicles and repossession vehicles that enter into the market at once? Resale values will have to decrease!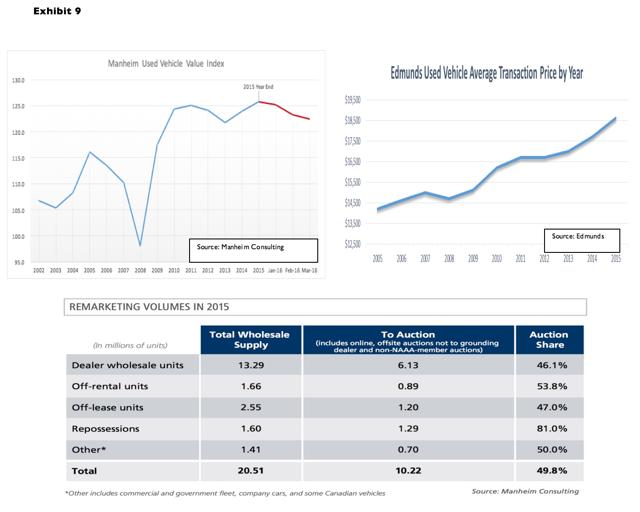 Signs of Competition and Slowing Growth
The key to CACC's success is adding new dealers to its platform and growing the loan portfolio rapidly. There are several signs of increasing competition, however.
Average volume per dealer decreasing since 2011 high. Referring back to exhibit 7, advances had steadily been increasing from 2010 to 2014. 2015 marked a vast decline in advance rates, which will surely hurt dealer growth going forward. Those advances will be reduced again which will make CACC's platform less attractive to dealers in 2016. No competitive advantage: Many other competitors that do the same thing: Westlake Financial, Santander Consumer, Skopos, Ally Financial, etc.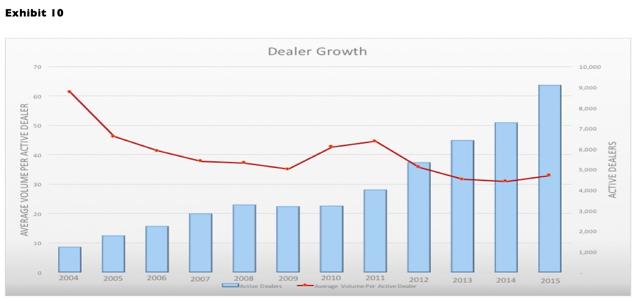 Peer Comp Valuation
CACC has several peers that if you look trade at much larger P/B discounts. I do not believe that CACC's P/B premium of 4.35X is warranted. Why would their book value be worth over 4X? They are in the lowest space of sub prime borrowing and based on the negatives stated in this write up, deserve no more than 1X P/B. If CACC trades at 1X then their stock price should be at $46.10, 77% downside!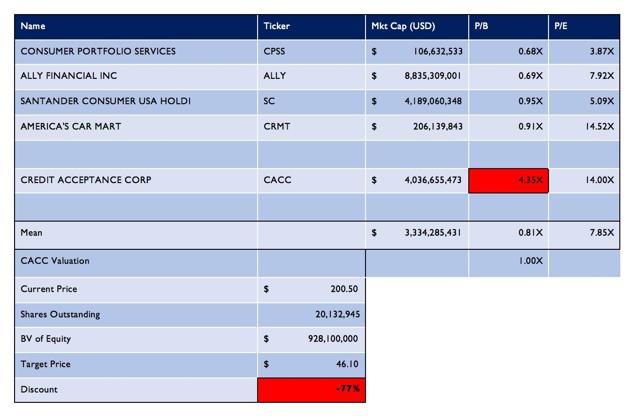 Conclusion:
CACC has many troubling issues that suggest a potential downfall is near. What makes the company more dangerous is the industry concerns that go along with it. If you look across time to the most successful shorts, it typically had some level of industry risk and macro level analysis to go along with it. Example, housing and banking shorts in the Great Recession, WorldCom and the Dot com bubble, etc. CACC may very well be a part of the next one.
Disclaimer
This submission represents solely the author's ideas, is not investment advice, and is not meant to represent the views of the author's employer.
Revenue & Loan Growth Forecast for 2016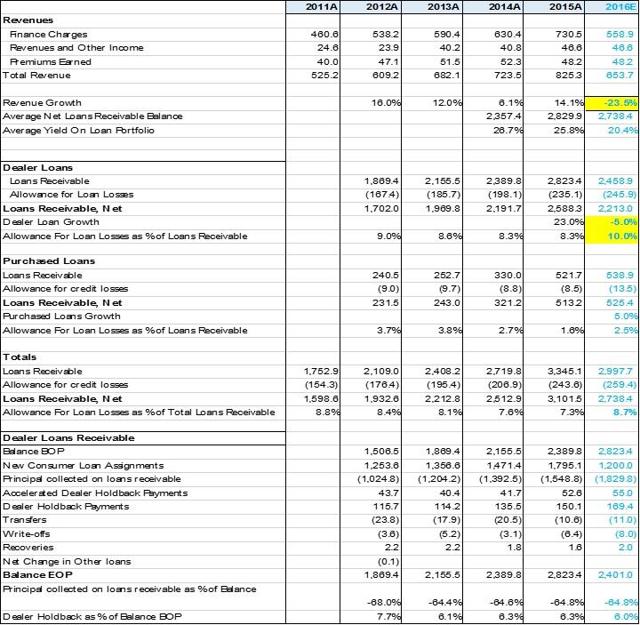 Supplementary to Catalyst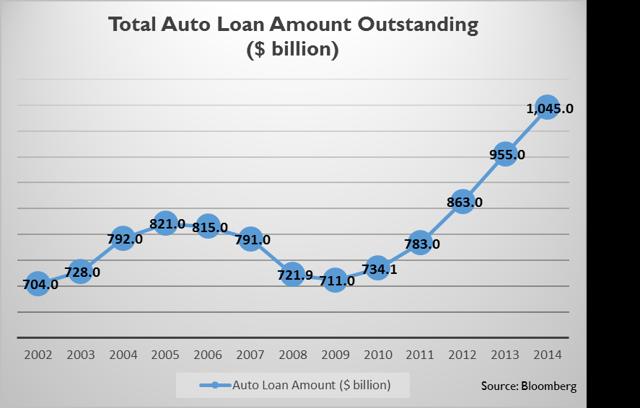 Source: Businesswire
(Editors' Note: This is a republication of an entry in the Sohn Investment Idea Contest. All figures are current as of the entry's submission - the contest deadline was April 22, 2016).
Disclosure: I/we have no positions in any stocks mentioned, and no plans to initiate any positions within the next 72 hours.
I wrote this article myself, and it expresses my own opinions. I am not receiving compensation for it. I have no business relationship with any company whose stock is mentioned in this article.