On May 2, 2016, American International Group (NYSE:AIG) reported poor Q1 2016 operating results, and the insurer missed the consensus EPS estimate by a large margin --AIG reported adjusted EPS of $0.65 versus the consensus EPS estimate of $1.00. Additionally, the Q1 2016 EPS figure is almost 50% lower than the adjusted EPS of $1.22 reported at Q1 2015.
The big earnings miss should not have come as a big surprise, as many pundits were already predicting a significant drop in earnings for most insurers --MetLife (NYSE:MET) being another good example, but overall, the quarterly results were not bad enough to change my thoughts on AIG being a great long-term investment.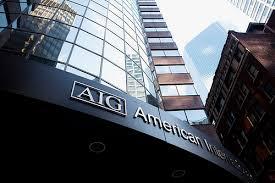 Let's first take a look at the Q1 2016 operating results and then I will explain why I do not plan to sell my stake in AIG.
Poor Operating Results, Something's Got To Give
Take a minute to look at the operating results in the table below, and more specifically, notice the red across the board.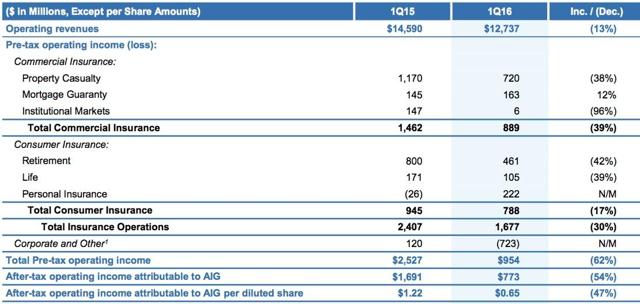 (Source: Q1 2016 Earnings Presentation)
The insurer's operating revenue declined by 13%, but the pre-tax operating income was down by an eye-popping 62%. The Commerical segment's pre-tax OI dropped by slightly under 40% and the Consumer segment's pre-tax OI dropped by close to 20%. Additionally, the Corporate and Other segment swung to a huge loss for the quarter.
The low interest rate environment is indeed negatively impacting operations, but these results are simply hard to swallow. AIG announced that the company was planning to redeem large stakes in hedge funds because of poor investment performance, but, in my opinion, this will only solve a small portion of the problem. Management needs to finally look in the mirror to determine what needs to be done. To materially improve operating results, Mr. Peter Hancock, CEO, and company will have to continue to cut out costs and actually make some progress towards achieving AIG's three 2017 financial targets. This sounds simple, but it is far from that.
Over the last year, this is not the first quarter that AIG reported poor operating results, but instead, AIG has reported unimpressive operating results for the last few quarters. The string of poor quarterly results is a concern, but I do not plan to sell my AIG shares because the long-term growth prospects for the insurer are still in place. In addition, management has been committed to being a shareholder-friendly company over the last two years and this should continue for the foreseeable future.
Nothing New, Returning Capital To Shareholders
Let me start by saying --buybacks, buybacks, and more buybacks. AIG has been laser focused at returning capital to shareholders in the form of share repurchases, and Q1 2016 was no exception. For the quarter, the insurer spent $3.5b on share repurchases and spent another $173m repurchasing TARP warrants (rights to buy AIG shares). Furthermore, AIG spent another $870m on share repurchases through May 2, 2016.
These figures may not seem like much but investors must keep in mind that AIG's market capitalization is only ~60b, so the $3.5b spent during the first quarter accounts for almost 6% of the total market cap. Over the last two years, AIG has significantly reduced its share count.
| | | | |
| --- | --- | --- | --- |
| | Q1'16 | Q1'15 | Q1'14 |
| Shares outstanding (in bil) | 1,119,032 | 1,333,395 | 1,446,649 |
| % Chg | -16% | -8% | |
(Source: Data obtained from AIG's Q1'16 10-Q, Q1'15 10-Q, Q1'14 10-Q; table created by W.G. Investment Research)
Think about it, the share count is down by over 20% since the first quarter of 2014 and not only has AIG been repurchasing a significant amount of shares, but the insurer has also been doing it at the most opportune time --when shares are trading at a discount to book value (and adjusted book value).
At Q1 2016, the insurer had a book value of $78.28/share and an adjusted book value (book value ex. AOCI & DTA) of $58.52/share. AIG is currently trading at ~.72x its book value and ~.97x its adjusted book value, and this discount to book value is nothing new, as shares have been trading below its book value over the last three years. Therefore, a great deal of shareholder value is being created by buying back shares at these levels.
Bottom Line
Before getting a chance to review the Q1 2016 operating results, I considered AIG a core long-term position in the R.I.P. portfolio, and nothing has changed since reviewing the results because my long-term investment thesis is still intact.
AIG is operating in a challenging environment and it is now time for someone to put pressure on management to improve operations, so the new board members are coming onboard at just the right time (earlier would have been nice too). Two activists, Mr. John Paulson and Mr. Samuel Merksamer (an associate of Mr. Carl Icahn), were recently added to the insurer's board. The activists being added to the board may not mean much over the next quarter or two, but over the long-term this is great news. Both individuals, along with other board members, will push hard for management to improve operations so I am excited to see what type of shareholder value will be created over the next few years.
Another important factor to consider is the benefits of a rising rate environment (see "How The Rising Interest Rate Environment Will Impact AIG's Net Investment Income" for more detail on the topic), which now may come sooner than originally thought based on the recently released Fed minutes. Moreover, another upcoming catalyst is the anticipated public offering of AIG's mortgage insurance unit, which is expected to raise around $700m. There is a lot to like about AIG's long-term prospects, so I plan to hold onto my shares through at least 2017 unless the story dramatically changes.
If you found this article to be informative and would like to hear more about this company, or any other company that I analyze, please consider hitting the "Follow" button above.
Disclaimer: This article is not a recommendation to buy or sell any stock mentioned. These are only my personal opinions. Every investor must do his/her own due diligence before making any investment decision.
Disclosure: I am/we are long AIG, MET.
I wrote this article myself, and it expresses my own opinions. I am not receiving compensation for it (other than from Seeking Alpha). I have no business relationship with any company whose stock is mentioned in this article.