In our previous Nvidia (NASDAQ:NVDA) article, we argued that consensus expectations were surprisingly low for both FY17 and FY18 and that earnings upward revisions were likely. Nvidia's recent quarterly report arguably confirmed our thesis as FY17 Q1 revenue and EPS came in 3% and 12% above the Street and as the Q2 guide also surprised on the upside (revenue 5% ahead of expectations).
The core PC gaming segment remained particularly healthy with 17% growth year-on-year (after +25% in the previous quarter) as gamers have no choice but to upgrade their graphics cards to play next-gen games. But the Data Center and Auto segments stood out with 63% and 47% revenue growth, respectively, and the Data Center performance drove most of the revenue beat at group level.
While analysts have raised their forecasts accordingly, we believe that Nvidia is still at an early stage of this earnings upward revision cycle and stick to our bullish stance on the stock.
After 13% revenue growth in Q1 and 17% expected in Q2, Nividia will have to deliver 7% growth in H2 to achieve the Street's 11% growth expectation for FY17 (see chart below). Even if comps will be tougher in the second half of the year (9% growth in FY16 H2 vs. 4.5% in H1), it's hard to imagine such a slowdown given the company's current or expected product launches, including the new PC gaming GPU GTX 1080, the processor for data centers Tesla P100 and the supercomputer for self-driving cars Drive PX2.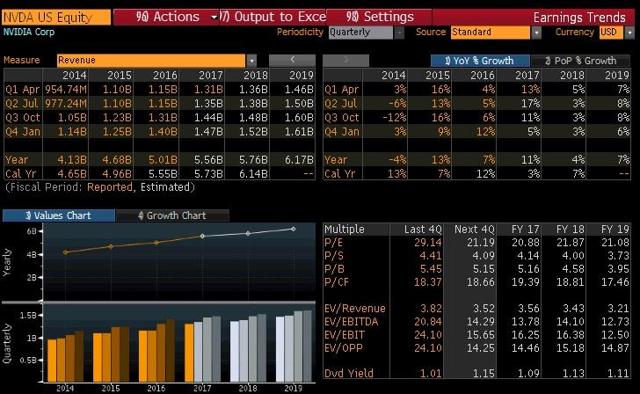 Source: Bloomberg
In light of the current revenue momentum and product lineup, we believe that H2 revenue growth in the low teens would make more sense than the current consensus expectation and would hence expect at least 2-3% upside on Nvidia's FY17 revenue.
FY18 also offers material revenue upside. Indeed, analysts have been quite shy when modeling Nvidia's revenue (they only expect 3.6% growth next year) probably because of the potential expiration of the licensing agreement with Intel (NASDAQ:INTC) ($264m negative impact on the PC OEM segment).
In our view, growth in other segments will overshadow this potential loss of licensing revenues. Nividia's main segment, PC gaming, is currently growing at a ~20% pace and it's highly likely the segment will grow in the low teens (at least) next year driven by virtual reality demand. VR headset shipments are estimated between 3m (Juniper Research) and 5m units (Credit Suisse) this year and between 5m and 10m units on average in coming years. Assuming a conservative $80 ASP for Nvidia's GPUs, we assess the annual revenue opportunity in a $400-800m range from FY18.
Explosive growth in the Data Center and Auto segments is also unlikely to fade soon as both verticals are hungry for chips that boost their performances and enable new functionalities (deep learning applications for the likes of Amazon (NASDAQ:AMZN), Microsoft (NASDAQ:MSFT) and Facebook (NASDAQ:FB), supercomputing needs for autonomous driving…).
By caution, we have assumed in our revenue model (see below) a growth slowdown in Nvidia's each segment and removed the licensing revenues from Intel.
In this conservative scenario, we get to $6.06bn revenue in FY18, 5% above consensus. Should Nvidia sign a new IP licensing deal with Intel, the revenue upside would probably reach 10% and the earnings upside 15-20% as royalties come with strong gross margins.
Disclosure: I am/we are long NVDA, AMZN, FB.
I wrote this article myself, and it expresses my own opinions. I am not receiving compensation for it (other than from Seeking Alpha). I have no business relationship with any company whose stock is mentioned in this article.