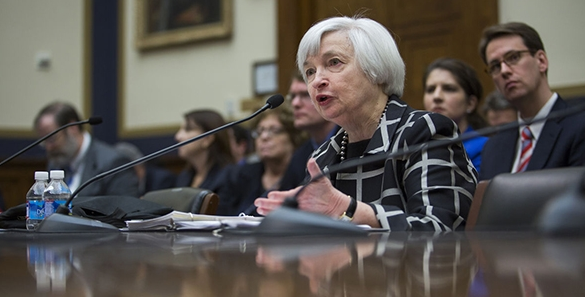 To say the Fed has been dominating headlines of late is a bit of an understatement. The FOMC raised rates for the first time in almost a decade last December and then told us all that four rate hikes were coming this year. The malaise that ensued in the financial markets quickly squashed that idea but I've been saying since then that despite the fact that the evidence may or may not support two hikes this year, the Fed has seemed very determined to do exactly that. Markets have been pricing in one hike this year for a long time as traders are daring the Fed to raise rates. But that is a dangerous game to play and developments from this week prove that daring the Fed to hike is a potentially disastrous move. The Fed already botched its guidance very badly to start the year and it would take a complete disaster for the FOMC to back off of its guidance for this year again. In short, I don't think there's any reasonable scenario where that happens.
I've been bullish on the banks for a long time - sometimes I wish I hadn't been - due to the idea that rate hikes were coming. After the December hike I thought we were on our way but the Fed has waffled a bit since then, reducing its hike forecast for 2016 from four to two. But the Fed does seem very determined to hit two hikes this year and minutes from the FOMC's April meeting suggest that June is indeed the time frame we should be looking for in terms of when the next hike will come. But the reaction of Treasury rates and stock prices to the "news" that the FOMC intends to do exactly what it said it would do proves that market participants are ill-prepared.
The media is portraying the comments of the FOMC members as "shocking" but that couldn't be further from the truth; the FOMC has been telling us all year they're going to raise rates. Why should we be shocked they are actually going to do it? Just because it has been a while? Because we don't want them to take away cheap money? That's not a valid investing strategy but it seems that is exactly what many investors think.
The funny thing is that a week ago, the CME's FedWatch tool had market participants seeing a virtually zero percent chance of a rate hike in a few weeks. But after the minutes from the April meeting were released, odds stand at roughly a third. I'd argue the actual odds are even higher than that because we've heard countless hawkish remarks from Fed officials in the past couple of weeks and the minutes were simply confirmation of what we already knew; the Fed is ready to hike. The market is continuing to assume no hikes will take place until there is clear evidence they should but that is the wrong way to view it. The FOMC has made it clear they want to hike and I believe they will do so unless they can find a compelling reason not to. That's a much different view than the former and that is why people were caught off guard by the minutes. In reality, nothing has changed but perception among market participants; the Fed is just toeing the line in the sand it created earlier this year.
So what do we do with this information? I think this firmly puts two rate hikes on the table for 2016, just as the FOMC told us would be the case. That means the financials are a screaming buy here as seriously depressed valuations and the prospect of higher rates could make some of the more rate-sensitive names rocket ships should the rate hikes materialize soon.
The credit card names like Discover (NYSE:DFS) are unlikely to benefit quite as much as the names like Citi (NYSE:C) or Bank of America (NYSE:BAC) so while I like DFS for different reasons, I like C and BAC more. From the perspective of investing for the prospect of higher rates, you can do worse than just buying the XLF if diversification is your fancy but I prefer owning BAC because it has such high leverage to higher rates.
BAC's high concentration of low-cost deposits, large amounts of lendable capital and its high expenses mean that it has a unique amount of operating leverage when rates rise. As its lending portfolio becomes more valuable, it will see outsized operating leverage power profits higher at a much quicker rate than revenue due to the prodigious expenses it sports. But with rates set to move higher, BAC's operating leverage will become a blessing to shareholders and not a curse - for once.
If you were surprised by the minutes of the April meeting I dare say you weren't paying attention earlier this year. The Fed is preparing us for rate hikes by telling us months in advance so my base case right now is a June hike followed by a late year hike that sneaks in the second bump just in time. The actual timing isn't particularly important - June or September is all the same - but I think the Fed will go with June because it will allow more time in between the first hike of 2016 and the second. All of this means the banks are a buy and for maximum operating leverage, BAC is the pick of the litter.
Disclosure: I am/we are long BAC, DFS, C.
I wrote this article myself, and it expresses my own opinions. I am not receiving compensation for it (other than from Seeking Alpha). I have no business relationship with any company whose stock is mentioned in this article.