Introduction
The market has been volatile to start 2016. In February, we appeared to have the world crumbling beneath us with no sign of life. Now, we recovered from the lows and are near 52-week highs for many companies. During this period, the market has made it abundantly clear that there are select winners and many more losers. This article details the companies that I think will do well for the years to come.
Facebook
What's not to like about Facebook (NASDAQ:FB)? They own social media with their namesake brand, Instagram, and WhatsApp. Let's not forget their kicker with Oculus Rift. Their top and bottom line continue to grow by leaps and bounds. They are scratching the surface with Instagram and have yet to monetize WhatsApp (who also has one billion users on its platform). Oculus Rift should be a driver in later years with virtual reality changing the marketplace.
They have tremendous awareness amongst the most important demographic: the millennials. On Facebook, there are 1.09 billion people who log in every day (up 16% year over year), including over one billion mobile users! Instagram has over 400 million users. They continue to garner user growth despite the law of large numbers. Between their various applications, users spend an average of 50 minutes per day looking at them. This is probably because the content is extremely engaging. In fact, they announced a feature called "live". It is a push into online video and creates "real-time content." This feature has already been adopted by my friends and everyone seems to enjoy it. All in all, their engagement among users is tremendous.
As for their advertiser base, Facebook has over three million businesses advertising every month. Instagram has over 200,000 per month. WhatsApp has yet to be monetized so they do not have any. The main tailwind for Facebook is that businesses are continuing to shift their advertising dollars to where the users are: online. It does not hurt that they have some of the most proprietary user data so advertisers can target specific users. Despite ad prices increasing 5%, advertisers are clamoring to be on Facebook because of Conversion Lift. Conversion Lift measures campaign objectives and this drives value for customers. In addition, 35% of SMBs (small and medium businesses) have no online presence. They often find themselves using Facebook Pages. This represents a big opportunity that Facebook and its suite of applications will capitalize on.
The fundamentals are outstanding as well. Revenue in their latest quarter was up 52% year over year to $5.4 billion. Advertising revenue was $5.2 billion. Mobile revenue accounted for $4.2 billion (up 75% year over year). Mobile revenue continues to increase as a percent of the company revenue, which shows that Facebook has conquered mobile. Earnings beat consensus by 15 cents off a 62 cent basis, up 83% year over year. Not many companies are growing this fast, if any. They provide a secular growth story for years to come. While the company may be expensive on earnings for the next twelve months, they are not based on 2017 and 2018 numbers. Any dip in the stock should be used to buy.
UnitedHealth
UnitedHealth (NYSE:UNH) belongs on the list due to its exposure to the healthcare industry and it reported one of the best and most telling quarters of this earnings season. They find themselves exposed to a growing secular trend, implementing acquisitions successfully, providing great user experiences, limiting exposure to Obamacare, and improving fundamentals.
Everyone knows that healthcare is a growing industry. More patients need to receive care in addition to the baby boom generation demanding ever-increasing services. UnitedHealth positions well in this category because they offer a variety of plans to suit the customers' needs. For example, within their Medicare segment, 65% of all plans will be "4-star plans" by 2017 and 80% by 2018. This demonstrates the value UnitedHealth plays as customers are upgrading their services. It also helps that they added over one million patients in the latest quarter.
In July of 2015, they closed on the Catamaran acquisition, which was folded into their Optum division. This bolstered UnitedHealth's exposure to the pharmacy benefits market. The deal gave them more leverage in negotiating drug prices. For the Optum division, revenue in their latest quarter was up 54% to $19.7 billion. Without acquisitions, revenue was still up a respectable 11%. Earnings for the segment were up 30% year over year to $1.1 billion (representing 42% of company earnings). Continued growth will come from pharmacy care services, care delivery, technology, and governmental services.
User experience is a core focus. They provide users with healthcare science and analytics, which relay vast amounts of data. Real time clinical and financial picture aid the user in assessing their long term plan. As a result of these initiatives, there have been double digit improvements in utilizations. More users are drawn to quality of service and this explains the increase in customers.
Their limited exposure to Obamacare is a major positive. Instead of the 34 states they currently serve, they plan on reducing the number to be under ten, if not less. UNH can do this because they are not attempting to consolidate the industry, whereas their competitors need to be on the good side of the government. They expect to lose $650 million in 2016. Not having this headwind will be extremely additive to earnings in 2017 and beyond,
UNH has extremely strong fundamentals too. For this year, they upped guidance for earnings and revenue. Earnings are expected to be $7.75-$7.95 for the full year. Revenue is expected to be $182 billion (increased from $180-181 billion). This leads me to believe that UNH has a bright future and will continue to grow organically and through acquisitions.
Banc of California
I was originally turned onto the company when Tim Sedabres, Director of Investor Relations, spoke to my finance club in February. He graduated from Bradley University and had a lot of wisdom to offer. He spoke of the culture and amazing atmosphere of the company. Given their small size (under $1 billion), they did not seem to get much exposure from the investment community. However, they are much better than a bigger bank with more growth opportunities. My reasons for picking Banc of California (NYSE:BANC) are due to massive asset growth, the sizeable dividend, impressive deposit growth, and leverage to California.
As referenced in the chart below, BANC has exhibited massive asset growth albeit from a small base. They grew at a 71% compound annual growth rate from 2012 to Q1 2016. During the year, they expect to be above $10 billion in assets, which is the regulatory threshold. This means they will have need to perform stress testing, incur an FDIC surcharge, and much more. According to management, they have in place a robust credit analysis, so regulatory hurdles should not be an issue.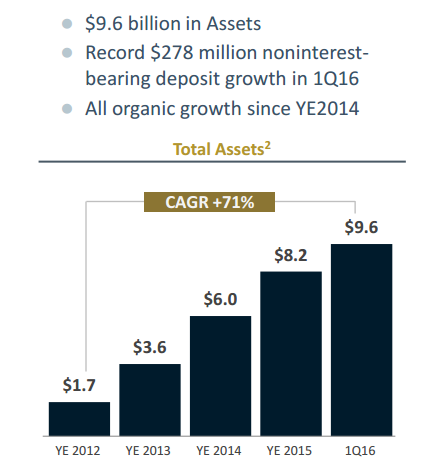 Source: Q1 Presentation
When the company was first introduced to me, it was at around $15.50. The dividend yield was over 3% but due to share price appreciation, it has decreased. However, the dividend is still at a respectable 2.5%. This gives investors the opportunity to invest in growth and obtain income along the way. I also would not be surprised if the dividend continues to increase as earnings per share increases.
Banc of California has done an excellent job of growing deposits as well. They grew deposits by 41% year over year. In addition, noninterest-bearing deposits were up 87%, meaning net interest margin has the opportunity to expand given that these deposits are growing faster than interest bearing deposits. In addition, deposits will continue to rise as they have excellent talent which enhance client relationships and ultimately garner greater pocket share.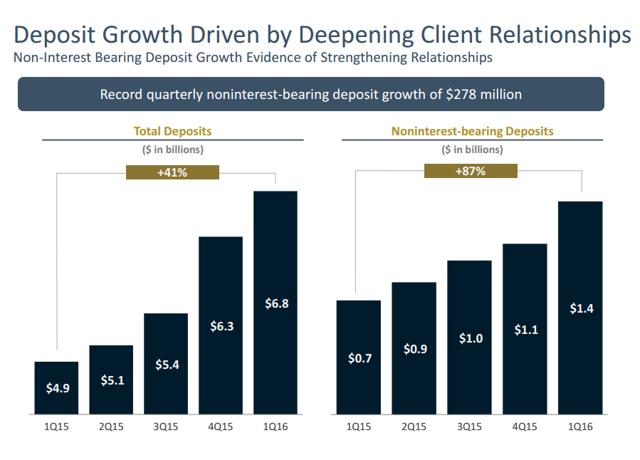 Source: Q1 Presentation
As their name would suggest they not only operate in California, but they strive to be California's bank. Within the state, there is a tremendous amount of innovation and entrepreneurship occurring. Think of Silicon Valley as one example. The state is budding with young people with big dreams and they are there to lend to them. In addition, they truly improve the communities they serve. Whether it be donations to local organizations or improving financial education among residents, they make a difference. This is exactly what corporations should strive to do. All in all, it is a great company with a great story.
Visa
Visa (NYSE:V) is one of the most consistent performers in the market today because they operate like a toll road. Every time their card is used, they receive a percentage of the sale. Given how many cards are out there, they make a pretty good chunk of change doing this. They continue to invest and enhance their product by providing more secure payment methods (EMV chips). I like Visa because of the secular shift from paper to plastic, ties to consumers and businesses around the world, and Visa Europe deal closing.
First, the shift from paper to plastic is not a new phenomenon. Global payments made with cash still account for 43% of all transactions. Given that it is easier to use a card rather than to use currency, it makes sense why the switch is happening so fast. The convenience value proposition will propel this growth story for years to come. Over time, I think the number of cash transactions will be around 25%.
Visa has strong ties to consumers and businesses around the world. In the last quarter, United States transactions increased 11% and international grew 14%, year over year. For the United States, the consumer remains strong, according to management. Given growing middle classes around the developed world, I expect the number of transactions in international to continue to rise. Also, let's not forget about their big deal with Costco. I expect some color on the next conference call.
Finally, the closing of Visa Europe should happen in the current quarter. While they did incur some debt to finance the deal, it seems warranted. In their latest call, management said Visa Europe should have low single digits earnings accretion in the first year. By 2020, their goal is for high single digit earnings accretion. Visa Europe operating margins are significantly below those of Visa. Over time, I believe in Visa's management to make the right moves to bring them up and meet their presumably conservative estimates.
Ventas
If you are looking for a company with a dominant position in a real estate market that is growing and fragmented, look no further than Ventas (NYSE:VTR). They primarily focus on senior housing, which is an extremely strong advantage given that there are expectations for growth for years to come due to the "baby boom" generation retiring. I like Ventas because of its diversification of businesses, the majority of net operating income from private pay sources, and strong management.
First, Ventas is extremely diversified between their three primary business lines: Senior housing operating assets (NYSE:SHOP), triple-net leases, and medical office buildings (MOBs). Their senior housing operating assets represents 55% of revenue and 31% of net operating income (NOI). In their latest quarter, same strong cash NOI was up 2.9%. Without a $1.2 million real estate expense, that number would have been an impressive 3.8%. Their core markets (New York, LA, and Boston) represent 70% of the portfolio and are growing at mid-single digits. Triple-net leases account for 25% of revenues and 44% of NOI. This is a good margin business for them. Same store cash NOI was up 2.9%, in line with SHOP. Kindred represents approximately 12% of NOI in this segment (possible risk factor). In their MOB segment, revenue accounts for 16% of the total and 20% of NOI. Same store cash NOI was up 4.2%, benefiting from an early termination. All in all, their diversified business model is driving continued results in all their segments.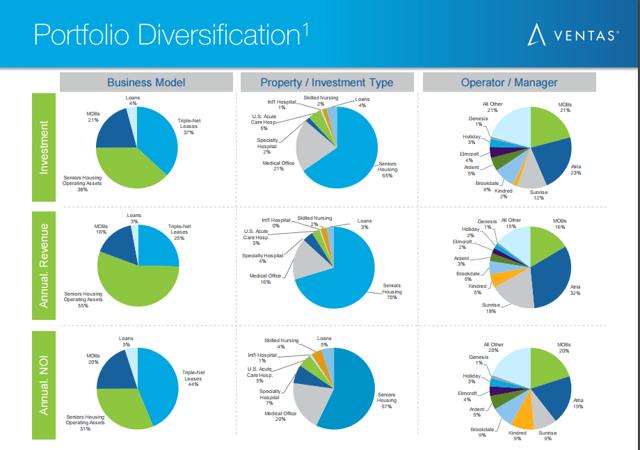 Source: Q1 Supplemental Data
Second, in their latest conference call Ventas management mentioned that 83% of NOI comes from private pay sources. Government exposure is very minimal, which I view as a core advantage. Investing in companies with exposure to the government is a risky proposition. I would much rather rely on private pay individuals. Providing further stability on the tenant side, within their MOB segment, they obtain 88% of NOI from investment grade hospitals.
Third, management is simply outstanding. Debra Cafaro, chairman and CEO, has been with the company for a long time and drives consistent results. One way of showing this has been by growing the distribution. She can do this because she produces significant funds from operation (FFO) growth. FFO are essentially earnings for REITs. As a reference below, Ventas grows the dividend, but nearly twice that of her immediate competition. She is a winner and so is the company.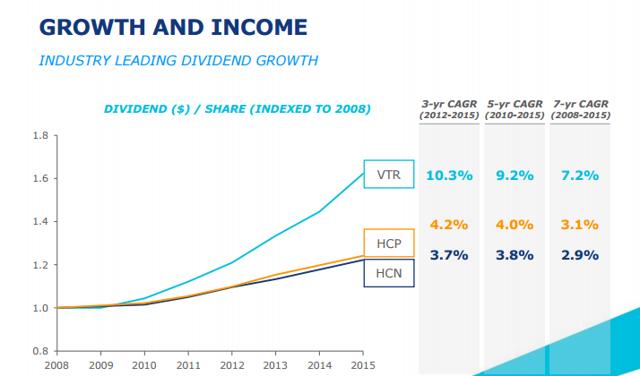 Source: Citi Conference Investor Presentation
McDonald's
After wandering through poor management and changes in upper management in 2013 and 2014, McDonald's (NYSE:MCD) has broken out in a major way (see chart below). We can attribute this big-time move to Steve Easterbrook, the new guy on the block. During his short tenure, he has made a tremendous impact. I like this company for the long term because of all day breakfast, positive comps, and Steve Easterbrook.
The roll out of all day breakfast may have been one of the most genius ideas. It made McDonald's relevant with the younger demographic. I was never a huge fan of the food but their breakfast is extremely tasty. I know many of my friends feel this way, too. Even though it may not fit in with the health conscious theme, they are doing very well. On their last conference call, Easterbrook said, "all day breakfast fills a price gap on the menu. And customers are responding by trading up or adding all day breakfast items to their orders." This means that average ticket is higher and McDonald's is successful in showing their value to customers.
Second, the positive comps are just beginning. In the last quarter, comps were up 5.2% year over year. I would expect to see these numbers out of Starbucks (NASDAQ:SBUX), but McDonald's? I was so shocked that I had to read it again. It is clear that all day breakfast is working. To drive comps further they are focusing on improving quality perceptions of food, sustained focus on operations (primarily in drive-thrus), improve accuracy and speed of service, and simplify the menu. This clear strategy outlines opportunities for comps to increase. Also mentioned on the call, "We experienced a 6% improvement in our overall customer satisfaction scores." If customers are satisfied, they are more likely to come back. If they come back, it will be a recurring revenue stream.
Steve Easterbrook has finally gotten his due. He has been with the company for 18 years and worked in various upper management positions including President of McDonald's Europe, Global Chief Brand Officer and Senior Executive Vice President, and presidents of other divisions. At one time, he was responsible of 7,000 restaurants in 40 countries. He knows the company inside and out, how to make it succeed, and most importantly, give customers what they want. Given that he is in his second year at the helm, I expect his stewardship and steady hand to lead the company to success and crush the competition.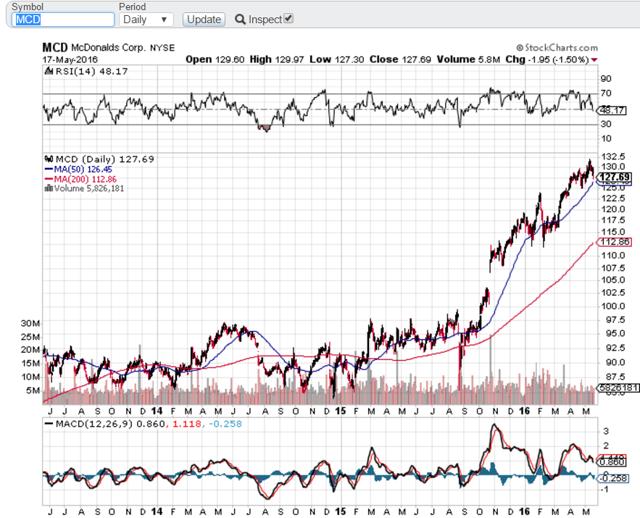 Source: StockCharts
Conclusion
After detailing all of these companies, most of them find their stocks near or at 52-week highs. I caution anyone from buying them now as they have run the most and the market is susceptible to downturns. One key of being an effective long term investor is buying high quality companies at opportune times. Facebook, UnitedHealth, Banc of California, Visa, Ventas, and McDonald's are all worthy of your consideration. In the second part, I will detail six more companies and tell you why I like them. Thank you very much for reading the article!
Disclosure: I am/we are long FB, VTR.
I wrote this article myself, and it expresses my own opinions. I am not receiving compensation for it (other than from Seeking Alpha). I have no business relationship with any company whose stock is mentioned in this article.