Taser International (NASDAQ:TASR) hosted an analyst day on Monday that impressed investors and analysts alike. The maker of non-lethal weapons outlined all things related to its future growth to help analysts determine the company's true revenue and earnings potential. Discussed on at the event were the company's various businesses, addressable markets with plans to penetrate said markets, and future margin forecasts for each business at scale.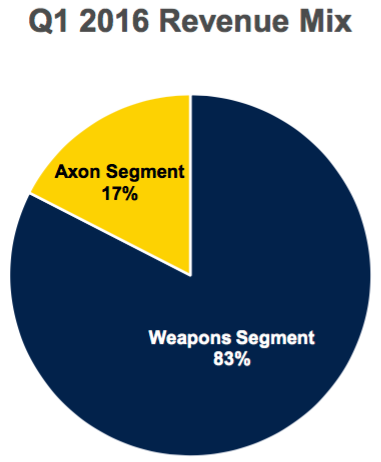 Taser's revenue is generated by two distinct segments: Weapons and Axon. The weapons segment is comprised of the company's CEW business and includes the sale of Tasers, cartridges, warranties, and batteries. As a more established business, it is highly profitable and provides stable cash flows that have been reinvested or used for share repurchases. As shown in the graphic above, this segment accounted for 83% of revenue in the first quarter.
The other 17% of Taser's revenue was generated by the Axon segment, which is comprised of wearable camera, interview room, and in-car video sales; as well as evidence.com subscription revenue. This segment is growing at a much faster rate than the weapons business, but remains unprofitable as management has increased spending to capture market share in an expanding market.
While the Axon segment may provide earnings growth in the out years, the weapons segment will remain the key driver of earnings and cash flows for the next few years until the camera program reaches scale. Therefore, it is important to focus on the growth potential of the legacy business as well as the Axon segment.
Domestic Opportunity
The graphic below display's the steps to annual weapons revenue in the domestic market of $250M.

The domestic market for Taser Weapons is comprised of approximately 800,000 officers, of which 600,000 are patrol officers. At the moment, management estimates that 400,000 CEWs are deployed in the field, leaving room for further penetration. These incremental units are represented as "Full Deployment" in the graphic.
Additionally, Taser is attempting to shorten the upgrade cycle which is currently between 7-9 years. One way it is attempting to do this is through the introduction of two distinct service plans: Taser 60 and the Officer Safety Plan. Taser 60 allows municipalities to lease Taser CEWs for $22 or $26 per month depending on the model. The Officer Safety Plan is a bundled plan for $99 per month that entitles the purchaser to a Taser weapon, one Axon camera upgrade, a 5-year subscription to evidence.com, and a 5-year warranty.
Both of these plans are important for a few reasons. First, they enable departments to avoid large capital expenditures by purchasing or leasing new weapons through a 5-year payment plan, making the cost of said weapons a predictable operating line item. Lower required CAPEX will enable more municipalities to equip their officers with weapons while effectively shortening the upgrade cycle to 5 years. However, this plan will have an impact on Taser's cash flows and revenue recognition, with both being drawn out over the life of the contracts instead of being realized up front. Therefore, short-term cash flows may take a hit, but over the long-term, cash flows will be more stable and predictable.
Continuing, the company has made a conscious effort to upsell through the elimination of distributors. The number of Taser CEW reps has grown approximately seven fold since 2011 while the number of distributors has shrunk almost 90%. The shift to a more internal sales strategy has produced increased sales, margins, and warranty attachment rates. It has also provided Taser with more flexibility to introduce strategic programs such as Taser 60 and the Officer Safety Program.
The remaining $50M in domestic revenue is expected to be generated from the addition of incremental service features over the upcoming years. These steps lead to target annual domestic weapons revenue of $250M, more than double the revenue number posted in 2015.
International Opportunity
Taser's international weapons business is currently a very small fraction of overall weapons sales. However, the potential opportunity abroad is estimated to be 10 times larger than the domestic market.

This estimate is based on three tiers of officers that the company will be targeting. Tier 1 includes countries such as Canada, United Kingdom, and Australia where Taser already has some penetration, albeit small ones. These countries are expected to provide long-term repeatable business for years to come as Taser increases penetration. The total officer count in Tier 1, approximately 350,000, is estimated to be worth $400M.
Tier 2 consists of 815,000 officers spanning five countries with minimal penetration. These countries are expected to receive Taser's full pipeline of offerings in the near future. However, Taser is still in the process of developing its distribution channels and establishing reference accounts. Therefore, the $1B opportunity in Tier 2 is still a ways away.
Moving to Tier 3, their are approximately 1M additional addressable officers, valued at $1.3B. However, the total impact of these opportunities is not expected to be realized any time in the near future. Management is currently estimating just one or two big sales every year from this tier.
With a total addressable market size of 2.165M officers worth $2.7B, the recent increase in spending related to international expansion is justifiable. The company has a solid track record of international weapons growth, producing a historical 19% revenue CAGR. However, management has made it clear that in order to accelerate growth overseas and expand the company's footprint, large concessions will likely be made to early adopters of Taser weapons.
Overall, the company's international footprint remains small, but shows signs of growth. Management has identified a clear path with steps to increase weapons sales and penetration abroad. Yet this remains a long-term project that will take multiple years to be fully reflected in Taser's earnings.
Overall Weapons Outlook
Since 2011, Taser has posted a 17% CAGR in weapons segment revenue as unit sales per year have more than doubled. Often an overlooked part of this growth is the recurring revenue stream generated by the weapons segment. The recurring streams, comprised of cartridge, warranty, and battery sales, combined to make up 30% of Taser's weapons segment revenue in 2015. Cartridges alone contributed $41.7M as officers required an average of 3 cartridges per year at an ASP of $25. This number only stands to increase as more Taser CEWs are deployed across the globe.
Furthermore, Taser's subscription plans are also transforming the weapons segment into a service. With the rollout of the Officer Safety Plan and Taser 60, the segment stands to grow as a service provider rather than a straight seller of CEWs. Based on managements presentation, Taser as a service is projected to comprise 1/3rd of weapons revenue as the company evolves. Based on these factors, management has projected long-term operating margins to increase to 40%.
Conclusion
Investors and analysts alike have been enamored with the growth of Taser's Axon business for some time now, citing its potential to generate recurring revenue and fuel future earning growth. With all of the hype surrounding the somewhat sexier Axon segment, many have began to overlook the growth opportunities that still remain in the weapons segment. These opportunities, both domestic and abroad could fuel tremendous growth for the next decade. And unlike the Axon segment, these incremental increases in sales will be additive to the company's bottom line.
Disclosure: I am/we are long TASR.
I wrote this article myself, and it expresses my own opinions. I am not receiving compensation for it (other than from Seeking Alpha). I have no business relationship with any company whose stock is mentioned in this article.