Duke Energy (NYSE:DUK) is the largest market cap utility company in the U.S. The company has been taking aggressive measures to strengthen its asset base, which will fuel its long-term growth and improve the quality of its earnings; long-term earnings are expected to grow in the range of 4%-6%. Also, Duke expects rate base growth of 5.2% over the next five years, which will be fueled mainly by two projects, the restoration of $1.45 billion of Crystal River 3 assets in Florida and the recently completed NCEMPA acquisition.
Moreover, the company's performance will improve if it decides to sell its international business operations, which are suffering because of drought conditions. The stock stays a good investment prospect for income investors, as it offers a solid yield of 4.2%. Also, the stock is trading at an 8% discount to its peers, on a forward P/E basis. The following chart shows DUK's forward P/E in comparison to peers, over the last five years.



Source: Thomson Reuters
Growth Catalysts
The U.S. utility stocks in recent years have experienced valuation expansion, as income-hunting investors continue to favor high-income stocks in the low-interest rate environment. Moreover, stock valuations for utility stocks got support from utility companies' efforts to increase their regulated business operations and aggressive capital expenditures directed towards strengthening of their asset base.
As forward power prices stay volatile and weak, utility companies are committed to expanding their regulated business operations, which will provide stability to their financial performance. Utility companies favor regulated operations because regulated operations earn a fixed return, which offers stability to revenues, earnings and cash flows. The following chart shows the planned capital expenditures for 25 utility companies.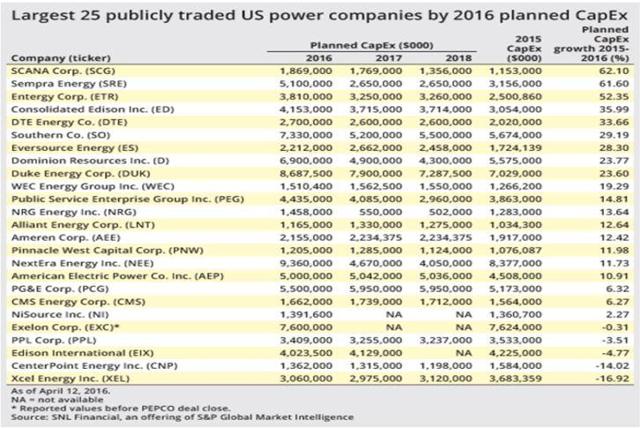 Source: SNL Financials
Duke Energy is working to exit from its merchant power operations, and generate 100% of its earnings from regulated operations, which I believe is a correct strategic decision. Earlier, the company announced to acquire Piedmont Natural Gas and is expected to close the acquisition by the end of 2016. Moreover, as the company has been facing challenges in its international business segment, due to poor hydro (drought) conditions and political situation, it is considering exiting from its international generation business.
During the 1Q16 earnings call, the company's management stated that DUK is working to exit from the Latin American Generation business, and will continue to provide updates as the process progresses. I think the poor hydro conditions and the unfavorable political situation can impede the sale process of the international segment. In the long term, if the company is not successful in selling its international business, it could face balance sheet pressure.
Moreover, the company is expanding and strengthening its renewable electricity generation asset base. The capital expenditure directed towards renewable energy will allow the company to increase its rate base, which will support its long-term earnings growth. DUK has developed almost 2000MW of wind and solar electricity generation capacity, and 400MW of commercial wind generation capacity is expected to come online in 2016.
The company continues to target the long-term earnings growth of 4%-6%. The company's EPS growth will be back-end loaded, and its near-term earnings growth will be slightly weak due to challenging international business operations. In the near term, earnings will be driven by cost management; the company has a target to keep O&M expenditures flat through 2020. And as the company will exit from the international business and complete the Piedmont acquisition, its EPS growth will start improving from 2018. The following chart shows the company's cost saving profile.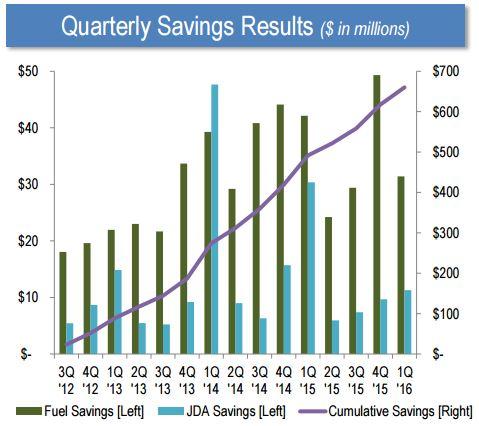 Source: Investors Presentation
The following chart shows the company's expected EPS growth through 2020.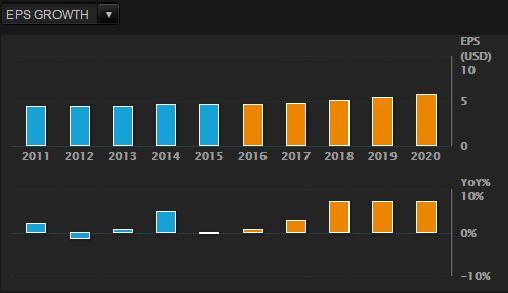 Source: Thomson Reuters
Valuation and Summation
The company has been taking correct strategic measures to strengthen its business operations and fuel growth. As the company is targeting 100% earnings generation from regulated operations, its dividend stability and growth will improve. Despite the largest and high-quality utility, the stock is trading at an 8% discount to its peers; the stock is trading at a forward P/E of 17x, versus peers' average of 18.56x.
I think the valuation discount is justified and reflects the ongoing construction projects risk, and the challenges DUK is facing in the international segment. As the company will complete its planned construction projects, exit from its international generation business, and realize expected cost savings, its stock valuation will expand and the valuation discount in comparison to its peers will narrow.
The company will be able to achieve its long-term earnings growth rate target of 4%-6%, despite slow growth in the near term, but operational execution stays vital. Furthermore, the solid dividend yield of 4.2% makes it a good investment prospect for long-term income investors.
Disclosure: I/we have no positions in any stocks mentioned, and no plans to initiate any positions within the next 72 hours.
I wrote this article myself, and it expresses my own opinions. I am not receiving compensation for it (other than from Seeking Alpha). I have no business relationship with any company whose stock is mentioned in this article.