In Part 1, we explored Deutsche Bank's (NYSE:DB) superficial appearance of being undervalued as well as its history and likely continuance of litigation troubles and regulatory crackdown. In addition to these headwinds, DB has a bloated cost structure that just seems to not come down. In addition to a fat pay structure, DB will face additional costs in trying to bring its technological infrastructure up to par with its competitors across Europe and America including J.P. Morgan (NYSE:JPM), Citigroup (NYSE:C), UBS (NYSE:UBS), and Goldman Sachs (NYSE:GS).
Cryan has been beating with an iron bush to cut down the bloated costs at DB. At a recent social gathering in Frankfurt, he grumbled to investors about the bank's wasteful culture and the fact that he can only do so much. Cryan has eliminated many perks ranging from chauffeured cars to company jets and airport VIP services. He supported the elimination of bonus for the bank's executive board in 2015. Bonuses have even been reduced for all employees across the company to 'share the pain'.
In spite of the above measures, the total compensation increased from€10 bn in 2014 to€10.5 bn in 2015. It is to be noted that in the same year DB reported a loss of€6.8 bn, its cost-to-income ratio (NYSE:CIR) came in at a staggering 115.3%. On questioning, DB gives the same 'death spiral' argument every time: a more significant reduction would have resulted in employee turnover and loss of talent. In Exhibit 3, we can find the bonuses paid vis-a-vis the net income of the bank every year. Although net income has declined from 2012 onwards, bonuses continue to be at the same level. As a result, Deutsche Bank's CIR has always been higher as compared to other European peers like Credit Suisse , UBS , Barclays (NYSE:BCS) and others.

Exhibit 3: Variable Pay and Net Income for Deutsche Bank from 2011 onwards (Source: Bloomberg)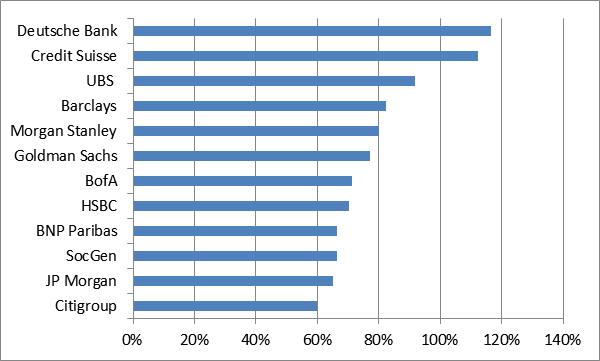 Exhibit 4: Cost to Income Ratio Comparison across Major International Banks July-Dec 2015 (Source: S&P Global Market Intelligence)
In the Strategy 2020 document, Cryan has created a plan to reduce headcount by 35,000 among 100,000 employees. It is meant to look like a significant number, but if you analyze in detail there is only an effective reduction of 9,000 full-time equivalent (FTE) positions. The remaining reductions are from the Postbank sell-off and external contractors. Overall, Deutsche Bank's claims of reduction in CIR to 70% in 2018 and 65% by 2020 look bogus given its track record.
Difficult to Streamline Antiquated and Incoherent IT Systems
The state of Deutsche Bank's IT systems can be judged by the fact that its foreign exchange desk based out of London paid $6 bn to a US hedge fund by mistake. Moreover, the realization of the mistake and recovery of the money happened only the next day. In a recent regulatory stress test, it was discovered that DB has more than 100 different systems for booking trades in London alone with no common client identifier between them. Due to this, it was unable to retrieve the data requested by regulators and failed a stress test.
Kim Hammonds, the chief information officer at DB, compared IT systems in DB to the 'trial and error' approach used by his former employer Boeing. Boeing has this practice of sending an aircraft into the sky, watching it crash and then trying to learn from its mistakes. This practice is OK in the case of complex machinery like aircraft but in the case of IT systems, it creates thousands of separate systems which do not talk to one another. The gravity of the situation can be judged from a popular joke at DB, "If you want to know which bank products at what pricing are offered to a customer, the best source is the customer." John Cryan himself has referred to the IT systems as 'antiquated' and 'incoherent' and has assigned $1 bn for a digital overhaul at Deutsche by 2020.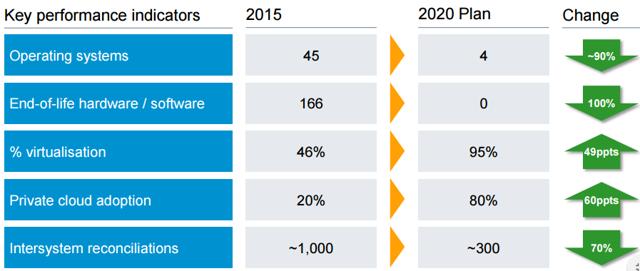 Exhibit 4: IT Systems Complexity Reduction Strategy for 2020 (Source: Deutsche Bank Strategy 2020 Report)
Can DB reduce this complexity of IT systems as per their 2020 strategy? It looks quite difficult. As per Michael Seufert, an analyst at Norddeutsche Landesbank in Hanover, Germany, "The biggest danger is complexity - this is almost like open heart surgery and you don't want the clients to experience any outages." As per a 2012 study report from McKinsey and the University of Oxford, c. 50% of the banks with IT projects exceeding $15 mn end up inflating their budgets and fail to meet their objectives.
A Broken Culture
There is still much pain ahead for DB. John Cryan himself remarked in October 2015 in Strategy 2020 that, " 2016 and 2017 are both likely to be bad for Deutsche. Things will only take a turn for the better in 2018."
Right now Deutsche is in the midst of a perfect storm of sorts - bad macroeconomic environment with negative interest rates, increased capital requirement from regulators, enormous litigation expenses, outdated IT systems and bloated costs. It will be quite difficult to recover from all these headwinds.
In the long term, the macroeconomic environment can improve and DB's supporters argue that similar to American banks after the subprime crisis, DB can also make a comeback. However, it looks highly unlikely. In spite of the improvement in the macroeconomic scenario, DB would have to overcome deep structural issues. The bank has a broken culture, which has led to overcompensation, unscrupulous activities, and regulatory scrutiny. Until now it has been unable to execute an effective strategy to cut down its costs. No company can survive for the long term with a CIR of 90% i.e. when 90% of your hard earned net revenues go toward compensation and IT. Neither has it been able to change the company culture to eliminate unethical behavior and thereby reduce litigation costs.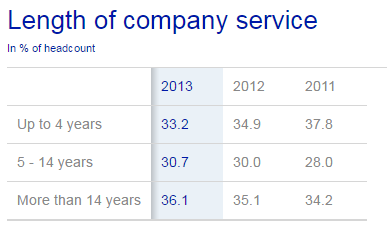 Exhibit 5: Length of Company Service in Deutsche Bank (Source: Deutsche Bank Website)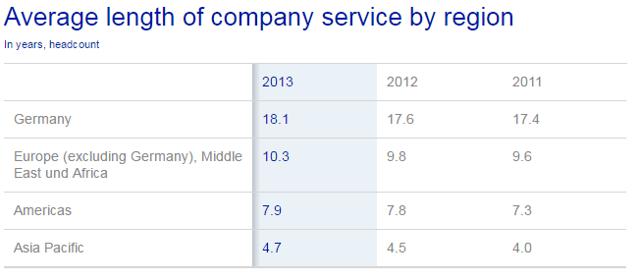 Exhibit 6: Average Length of Company Service by Region (Source: Deutsche Bank Website)
The major reason behind DB's troubles is that majority of the employees in DB have been part of a culture that rewards profitability at all costs. Almost 70% of the employees in DB have been there for more than 5 years. In fact, if we look at Germany, Europe, and Americas, the average length of company service is higher than 8 years. These are the people who have seen the golden period of investment banking and trading from 2000 - 2008. These employees have been attuned to a higher level of compensation, extravagance and a single-minded focus on profitability with no regard to ethics and compliance. And old habits die hard.
Deutsche Bank needs some drastic measure like splitting off investment banking and other businesses into 2 separate companies, reduction in workforce by a significant number, or a focus on one niche business. Going by the Strategy 2020 these measures look highly unlikely. Hence, DB's stock will continue to be a laggard and it is best for investors to stay out of it.
Disclosure: I/we have no positions in any stocks mentioned, and no plans to initiate any positions within the next 72 hours.
I wrote this article myself, and it expresses my own opinions. I am not receiving compensation for it (other than from Seeking Alpha). I have no business relationship with any company whose stock is mentioned in this article.