In my opinion, there's little argument that Tractor Supply (NASDAQ:TSCO) is - at worst - an excellent company and a solid stock. Certainly, the chart looks pretty good: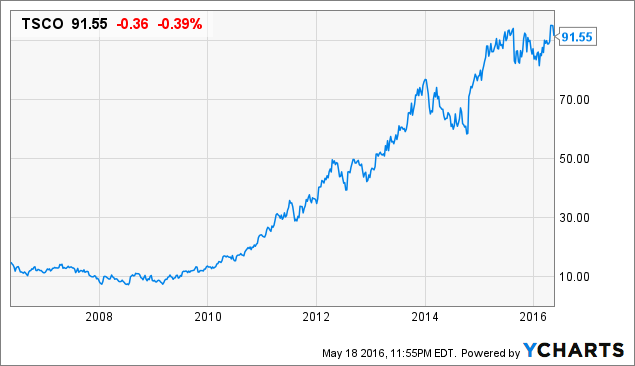 TSCO data by YCharts
Management is solid, the business model is one of the best (and most protected) in retail, and there's still room for both organic growth and an expanded store count. As I've pointed out before, even bears seem to respect the stock, at the least: short interest peaked at just over 5% of the float earlier this year, an incredibly low figure for a retailer trading at a mid-20s forward multiple in this market. (Even that spike appeared to have come from traders betting that the Q4 results would be impacted by weather; they were, but the stock rebounded quickly. The most recent figure is less than 4% as of April 29 - when TSCO was at an all-time high.)
The issue is price and long-term risk, because there's still plenty of reason to expect consistent earnings growth going forward. I think a low-$90s price is decent, but perhaps not compelling; but I also see plenty of reason to expect TSCO to clear $100, even if it takes a little while.
Q1: More Reason For Confidence
From comments and articles on this site and elsewhere, I know I'm not the only investor who's tired of companies blaming disappointing results on the weather. And Tractor Supply did cite a warm and late-arriving winter in reporting a somewhat disappointing fourth quarter in January.
But the Q1 report and conference call showed why TSCO management deserves investor trust. The company actually called out the benefit of an early spring (and an early Easter) on the Q1 call (about $18 million in sales and $0.02 in EPS), figures which accounted for a reasonable chunk of the consensus beat.
Even considering that help, Q1 was solid. Comps were up 4.9%, gross margin improved 30 bps, SG&A deleveraged 10 bps, and net income rose nearly 17% year over year. There was some help from the pull-through of sales, as well as vendor support programs related to a new distribution center in Arizona. But that DC (along with two new mixing centers) also is providing a near-term headwind to gross margin, as Tractor Supply hasn't yet built out the locations the facility is designed to serve.
From my standpoint, the quarter highlighted TSCO's strength. Nothing about the report seemed particularly surprising or out of the ordinary. Comps grew, management continues to work around the margins to drive pricing and item growth (through end-cap optimization, pricing software, and increasing stocking of potential impulse buys, among other initiatives), and the bottom-line posted the mid-teens growth TSCO is targeted going forward. It's just what TSCO has done for years now, one reason why the stock has been such a stellar performer. Even beyond the numbers, there's such a sense of competence on Tractor Supply conference calls. The commentary is clear and honest; the strategies are precise and logical. Management is honest about the weather when it is helpful and when it is hurtful; the company has admitted that new stores in the West have ramped slower than projected (or hoped). Certainly, it's easier to be honest after delivering solid numbers; but TSCO management deserves some credit on that front as well.
The Risks
So I see two potential reasons not to buy Tractor Supply shares: price, and the risk that something is coming in the future that will knock the company (and the stock) off its current trajectory. Relative to the latter consideration, I thought there was a very interesting statement on the Q1 call from President and Chief Merchandising Officer Steve Barbarick:
Our systems are much more science- than art-based price optimization...
It's a bit of an awkward sentence out of context, but it still highlights the inherent advantage to Tractor Supply's model. As management continually points out, Tractor Supply is a needs-based retailer. This isn't an apparel-based model like Gap Inc. (NYSE:GPS) where the company has to gauge customer trends in an effort to create the right assortment, then figure out pricing, manage inventory, and drive advertising. There is a solid base of repeat customers buying generally the same things, the C.U.E. (consumable, usable, and edible) products that are the heart of TSCO's business: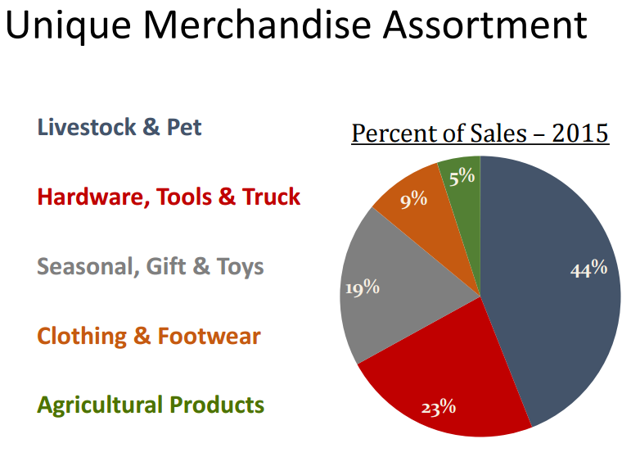 Source: TSCO second quarter presentation
Having such a concentration of sales in livestock & pet is a good thing; Blue Buffalo (NASDAQ:BUFF) has built a $5 billion market cap basically targeting the high end of the dog food industry (though it offers other products). It's why TSCO can support a nearly 27x forward multiple (to the midpoint of guidance, which looks conservative at the moment) in a brutal retail space, one in which a number of stocks have declined sharply in just the past few sessions.
So what breaks this model? It's difficult to see competition making much headway. Tractor Supply's scale provides a huge advantage over the farm and fleet retailers with whom it often competes. There doesn't seem to be any real national competition either existing or on the horizon; it's not as if Wal-Mart (NYSE:WMT) is going to design some sort of rural version of its urban/suburban Neighborhood Market stores to challenge Tractor Supply. The shipping costs required for feed (as well as big-ticket items like trailers) limit any challenge from e-commerce, and the rural locations often preclude big-box competition around the edges (i.e., PetSmart/Petco or apparel/department stores). It's simply a great model - one of the best, if not the best, in all of U.S. brick-and-mortar retail.
The one concern I do have is demographics. Rural population stabilized last year after years of declines, and economic growth has lagged the rest of the country even during the oil boom that boosted economies in Texas, North Dakota, and elsewhere. TSCO does serve higher-end customers within its geographies, and by definition its customers are more likely to stay in rural areas (since they are purchasing items for pastimes that often only are available in rural areas - it's difficult to own a horse in Chicago or Miami). But TSCO sales have grown rather nicely amidst some of the demographic and economic challenges, and while current trends seem to be pointing toward urban life, that preference may change at some point.
The Price
I'm still kicking myself for missing the opportunity presented after Q4 earnings. After I wrote, that a weather-driven Q4 'miss' would present a buying opportunity, shares dove below $80 at the beginning of the session - only I wasn't quick enough, and shares snapped back and actually closed the day up modestly. (The response was another example of investor trust in the company, and the stock.) I'm not real thrilled with being so sanguine at $84, either, which in retrospect looks an attractive entry point.
TSCO isn't cheap; it trades at 26.7x the midpoint of 2016 guidance, though consensus already is above the high end of the $3.40-$3.48 range. Commentary on the Q1 call seemed to imply that a guidance hike post-Q2 is a real possibility, assuming the quarter isn't terribly affected by the weather and Easter shifts. But 2016 also has a 53rd week, which provides a boost this year and a more difficult comparison in 2017.
There's still plenty of room for earnings to increase, however. Tractor Supply is targeting 2,500 stores, up from a current 1,505, along with continued same-store sales improvements. The company is looking for consistent, long-term mid-teen EPS growth - with only a modest component coming from share repurchases - thanks to both expansion and organic growth. 2019 targets of $8.8 billion in sales and a long-term operating margin of 11.5% (which at the current pace could be reached by then) imply EPS over $5 (assuming a 2.5% annual reduction in share count) - a 60%+ increase over 2015 levels. And from there, TSCO still would have the ability to boost its store count another 25-30%, along with (hopefully) comp growth and operating leverage.
But at Wednesday's close of $91.56, that still implies an ~18x multiple to FY19 earnings. Even a 25x multiple by mid-2019 - certainly aggressive - gets shares to ~$128 (assuming $5.14 in 2019 EPS), and implies ~14% annual appreciation including the current ~1% dividend (which likely will see raises over the next few years). A 20x multiple - not terribly out of the ordinary in a more normalized rate environment, and with the end of the company's whitespace in sight - implies something like 5-6% annual gains going forward. Even though I think this remains a relatively low-risk play (particularly as far as growth stocks go), that doesn't seem a terribly attractive return in a rather reasonable scenario where little of significance goes wrong.
The flip side is that TSCO may beat its targets - it's done so the past few years - and that stocks that perform like this tend to get premium valuations - and to keep those valuations. The bull case here reminds me of a very different stock, McCormick (NYSE:MKC), which also looks expensive but has a similar chart (albeit without the same explosive returns TSCO has posted).
There's an argument here to simply pay up for quality, something along the lines of Warren Buffett's famous maxim that "it's far better to buy a wonderful company at a fair price, than a fair company at a wonderful price." And clearly, Tractor Supply is a wonderful company - and I think it's probably worth a buy at the moment. But I can't help but feel that at $92, it's not quite compelling - and I can't help but hope that the current jittery market (and the sentiment toward retail more generally) might provide a bit better entry point sometime soon.
Disclosure: I/we have no positions in any stocks mentioned, and no plans to initiate any positions within the next 72 hours.
I wrote this article myself, and it expresses my own opinions. I am not receiving compensation for it (other than from Seeking Alpha). I have no business relationship with any company whose stock is mentioned in this article.