As of today (May 19), crude oil is down about 25% year-on-year, albeit a recent 33% 3-month surge. With prices still somewhat depressed, countries are still struggling to cope with the below 100-a-barrel era. Venezuela is on the brink of collapse, and this is mostly attributable to low oil prices (and irresponsible leftist policies). Emilio Lozoya (Pemex's CEO) lost his job back in February, after failing to stop production decline despite heavy leverage. We take a quick look at how Latin America's major oil producers are adapting to low oil prices.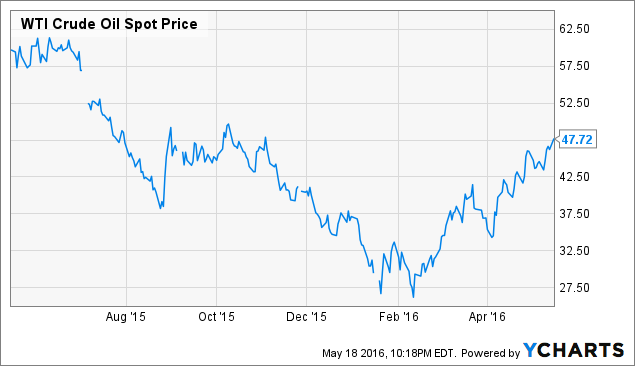 WTI Crude Oil Spot Price data by YCharts
BRAZIL. This country is the 9th largest oil producer in the world. But it is also the 8th largest consumer, according to the U.S. Energy Information Administration ((NYSEMKT:EIA)). The South American giant has boosted oil output in the last two decades, but it is still a net importer and will partially benefit from price declines. According to the EIA's 2014 numbers, Brazil's consumption of oil and related fuels was 3.2 million b/d and output was 3.0 million b/d. However, this does not mean that state-owned Petrobras (NYSE:PBR) navigate through calm waters. Production costs in Latin America's biggest economy are among the highest in the world, estimated at $48.8 per barrel, which is basically the current oil price (as of May 18). The world's largest oil discoveries in recent years are in Brazil's offshore, pre-salt basins.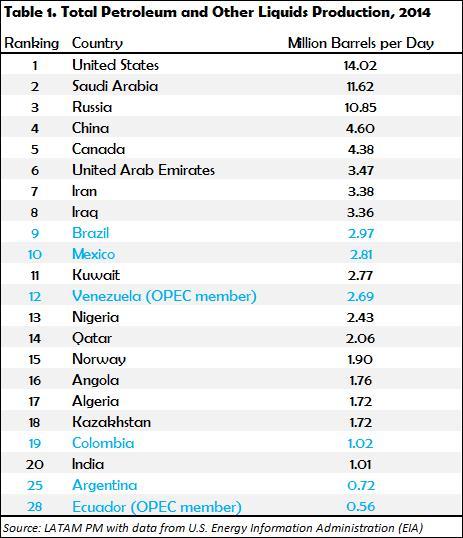 Pre-salt extraction is expensive, as it is situated deep under thick layers of rock and salt, requiring substantial investment. According to Petrobras, from 2010 to 2014, the average annual daily pre-salt production grew almost 12 times, from an average of 42K barrels per day in 2010, to 492K barrels per day in 2014. This figure account for about 20% of total production, and in 2018 it is expected to reach 52% of output, further increasing average extraction costs. Political scandal hurt Petrobras, too, and this plus slow divestment and depressed oil prices has caused shares to plummet. Just this week, Petrobras issued debt for the first time in a while. It issued US$6.75bn in 5- and 10-year bonds at 8.625% (for 5B) and 9.0% (for 1.75B), respectively. Despite bids reaching US$20 billion, the coupon paid will be almost 3 pps higher that the ones obtained in the March 2014 issuance. A recent US$10 billion credit line with China's State Development Bank has partially restored investor confidence. It remains to be seen how Michel Temer will back the company's current plans.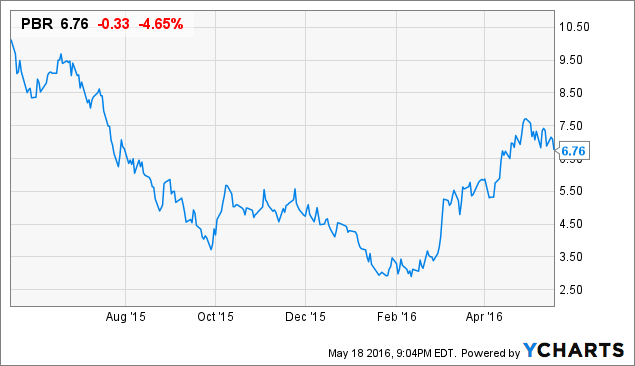 PBR data by YCharts
High costs, corruption scandals, and currency depreciation are severely hurting Petrobras and raising questions on the company's capacity to honor its debt. On November 18, 2015, Bloomberg published a note titled "Petrobras' Dangerous Debt Math: $24 Billion Owed in 24 Months". The title is self-explanatory: Petrobras has massive debt and will struggle to pay it if prices do not rebound soon or its divestment plan accelerates drastically (unlikely). On October 12, Morgan Stanley published a note arguing that without extraordinary measures like asset sales, Petrobras could run out of cash by the end of 2016. And that was back in October, when oil prices were at $45.54 per barrel, not $32.25.
In November, Petrobras had a $128 billion debt-84% of it in foreign denomination, making it the most indebted oil company in the world. Things could get pretty ugly for the oil behemoth. To help Petrobras whether the storm, the government could free the company from a policy of fixed gasoline and diesel prices. But the political cost of doing so abruptly is high-especially with inflation currently (April 2016) running at an annual pace of 9.8%, which is well above the central bank target of 4.5% ± 2%. Ahead, Petrobras intends to reduce its 5Y capex from US$130 billion initially to US$98 billion, and to sell as much as $15 billion of assets by the end of this year.
MEXICO. The country is in the midst of opening the sector to private investment. Probably not the best time to do so. But life happens and the government will stick to its auctions agenda as planned. Reasons: (1) government credibility is at stake; (2) Mexico has low production costs, making it attractive for multinationals to incorporate these reserves to their books; (3) oil prices will likely recover by the time the first deep-water barrel is extracted; (4) domestic output is rapidly declining, so any long-run boost is more than welcome; and (5) additional fiscal revenues are welcome too, of course.
This said, the bidding process will surely be less sexy than expected. But there is life beyond the sector's opening to private capital, and Pemex needs to adapt to a challenging scenario. Its former CEO, Em declared in Davos, at the WEF, that the state-owned company's production costs are among the lowest in the world. Moreover, he declared on January 18 that "for Pemex, the average cost of production at the fields already established is slightly less than $10 per barrel." However, costs at new deposits are estimated at $23 per barrel, which compromises much-needed investment to curb declining production. In February, Pemex announced that it is cutting $5.5 billion from its 2016 budget, which will result in a 100,000 barrel a day production decline. Of that, 64% will be achieved through deferring projects, including deep-water exploration.
For 2016, although half of Mexico's oil output is hedged at around $44 free of fees, production decline hurts real economic activity. Oil used to account for 33% of Mexico's fiscal revenue, but the figure is quickly declining and now about 20%. Although fiscal reform has boosted tax collection, some of the missing revenues have been filled with additional government debt, which has escalated since President Peña Nieto assumed office. A prolonged decline of oil prices (beyond 2016) could deeply hurt government credibility. This topic will heat up later in the year.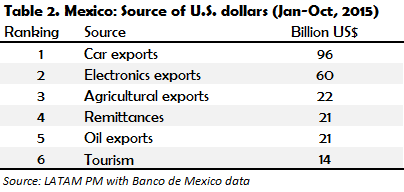 COLOMBIA. The country doubled its crude oil production between 2008 and 2013, result of the 2003 regulatory reform. Output now surpasses 1 million barrels per day, placing Colombia among the world's top 20 producers. This output is not as big as Mexico's or Brazil's, but the share in GDP is higher in Colombia than in those countries-although it is still lower than in Venezuela or Ecuador. Oil is Colombia's No. 1 export and source of U.S. dollars, and it accounts for around 20% of government revenue. Ecopetrol (NYSE:EC) produces most of the oil in Colombia. Last week, Ecopetrol's CFO revealed that it will look to raise at least US$1bn this year as it seeks to meet financing needs of US$1.5bn-US$1.9bn for 2016. Ecopetrol had financing needs of US$4 billion in 2014 and 2015. Needs will be lower this year and seemed covered with two loans for US$500 million. On a separate issue, Ecopetrol halted production on the country's second-biggest oil pipeline following a bombing yesterday attributed to the ELN rebel group. We will keep an eye on how this evolves.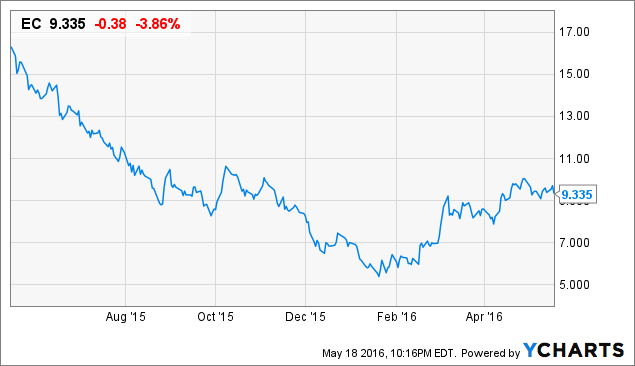 EC data by YCharts
The decline in oil prices is a serious concern for public finances. Colombia relies on a fiscal rule that buffers the adjustment to shifts in oil prices. According to the IMF, "the fiscal deficit will widen with the fall in oil-related revenues." The Fund recommends raising non-oil revenues to reach the legal targets for the structural fiscal balance-a move that Mexico implemented just before the oil rout began, although the imbalance persists. In response to the oil rout, Colombia plans to increase the frequency of oil license auctions to at least two a year and offer bidders more data and fewer rules. The first auction under the new rules is scheduled for March. Much needed to relief fiscal strains.
ARGENTINA. The country recently claimed a billion-barrel shale oil find in the Vaca Muerta formation. Optimistic forecasts point to 6 billion barrels of shale oil. However, the estimated cost to extract this oil is about $84 per barrel, according to Chevron-associated with state-owned YPF in the project. Current prices make shale extraction in Vaca Muerta unprofitable. But aside from this (momentary) unexploitable formation, YPF (NYSE:YPF) has a pretty good deal with the government. Back in the Kirchner days, the domestic oil price sold to refineries was fixed at $67.5 per barrel. That is 1.5x the international price-a breather, under current circumstances. Add to the equation that the country is a net oil importer, like Brazil. On recent news, Petrobras recently sold 67% stake in its Argentine subsidiary to Argentina's Pampa Energia for $892 million. Argentina should be fine.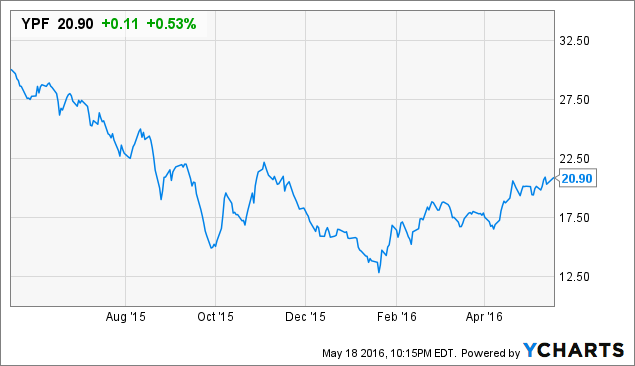 YPF data by YCharts
VENEZUELA. Oh, boy. According to OPEC, Venezuela's oil revenues account for about 95% of export earnings. The oil and gas sector is around 25% of gross GDP. No wonder why the economy is contracting at a 7% rate. This oil romance was destined to fall out of grace sooner rather than later. The commodity cycle is cruel and Venezuela forgot past regional lessons-like Mexico's default in the 1980s. Venezuela's outlook looks grim, as the stickiness of the domestic price of gasoline eliminates the option of boosting domestic sales.
We recently published a note on the challenges that Venezuela faces ahead. The oil rout, which is beginning to slowly revert, has raised concerns that the Venezuelan oil firm PDVSA will be unable to make nearly $4 billion in bond payments between now and the end of the year. Recently, the company's president said that it was in talks with international banks over refinancing debt. While Venezuela apparently secured a $5 billion loan with China this week, it is yet to be confirmed and still seems insufficient to cover principal payments.
The chances of sovereign debt default are closely tied to oil prices. If they remain depressed through mid-2016, Venezuela could stop honoring its debt by year end, as maturities pile up. Venezuela's reserves currently stand at a 12-year low of $14 billion, according to official data. The central bank has sold gold reserves and Special Drawing Rights (SDR) with the International Monetary Fund (IMF). It presumably landed a US$5billion loan with China this week. Yet, Venezuela's 5-year credit default swap (CDS) -debt insurance- spiked to over 5,000 after President Maduro's "economic emergency" announcement, which means that markets are pricing the chances of default at over 50%. UBS is one of the most bearish on Venezuela, predicting that the country has an 82% chance of defaulting within a year. Bad news keep feeding the negative feedback loop the economy is immersed in.
Disclosure: I/we have no positions in any stocks mentioned, and no plans to initiate any positions within the next 72 hours.
I wrote this article myself, and it expresses my own opinions. I am not receiving compensation for it (other than from Seeking Alpha). I have no business relationship with any company whose stock is mentioned in this article.