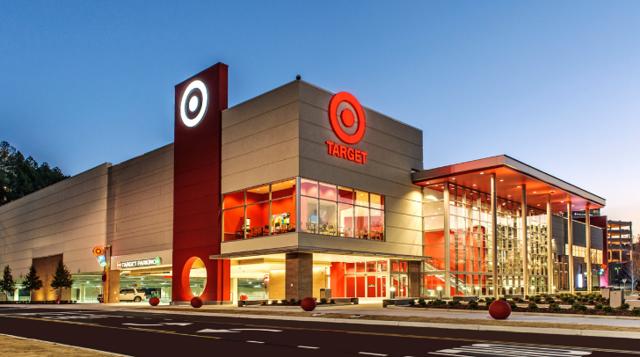 Shares of Target (NYSE:TGT) were absolutely hammered yesterday after the company produced a very weak first quarter. Retail in general has not been a happy place to be for the last couple of quarters and TGT has felt the sting, falling from highs in the $80s to well below $70 after the beat down yesterday. The company's shares have moved around a bunch in the past year or so and we now find the stock right near where it began an enormous rally last time around. Is this time different or could we be on the verge of a buying opportunity in Target?
As a note, I'll be using some charts from Simply Wall St. throughout.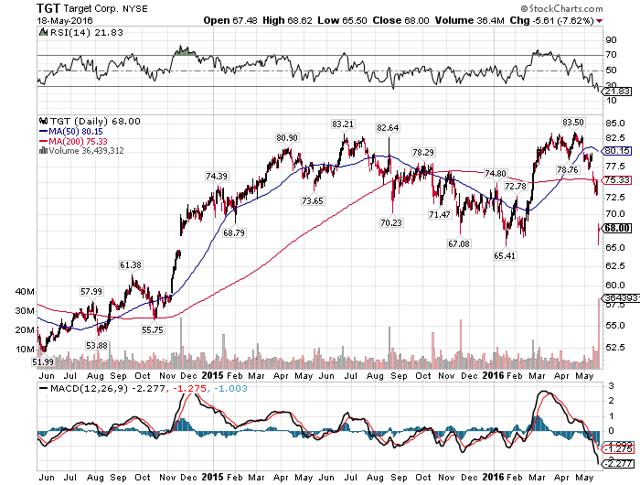 Sentiment on retailers in general right now is about as bad as it can get; pessimism is ruling the day. With US consumers spending less than they have in recent quarters, general retailers like Target are feeling the sting. Management's comments during the Q1 release corroborate as much and that means TGT could potentially be in a substantial amount of trouble if things don't improve.
Total sales fell substantially in Q1 but that was due to the sale of the pharmacy/clinic business. Comp sales did manage to eke out a gain of 1.2% during Q1 but the composition of the gain was troubling. Half of the gain was from the stores and the other half was due to the online business growing as well. But more so than that, the comp gain was driven by just a 30bps increase in traffic and a 90bps increase in average ticket. General retailers like Target have to produce strong, consistent traffic but what it seems like is happening - especially when coupled with weak guidance for Q2 - is that TGT's traffic has plateaued and may eventually be heading south. We saw this a couple of years ago and TGT shares were punished mercilessly; will the same thing happen again? Q1 was certainly not a good start to the year.
Gross margins ticked up 50bps during the quarter and that was complemented by a 50bps gain in SG&A leverage. The company's sale of its pharmacy business means margins will be higher over time and we saw that in action in Q1. In addition, TGT has been working on cost saving programs and they are also bearing fruit; the margin situation in Q1 actually looked quite strong considering the circumstances.
That helped TGT produce adjusted EPS growth of 16.5% in Q1 despite the fact that its sales level was materially lower than last year's Q1. Margins are everything in retail and in Q1, TGT showed it can produce solid profit gains even in the face of a weak traffic environment. But is that enough?
Guidance for Q2 was very weak even if you exclude the 17 cents of EPS degradation that is due to early debt retirement losses. TGT is warning us that consumers are pulling back on spending and that's not good for TGT or a host of other retailers that are dependent upon the same customers. Macy's (NYSE:M), Kohl's (NYSE:KSS) and others have all told us the same thing and it isn't good news.
Given the downbeat mood of the guidance provided by Target, what do analysts think is going to happen? This chart shows us revenue expectations for the next couple of years.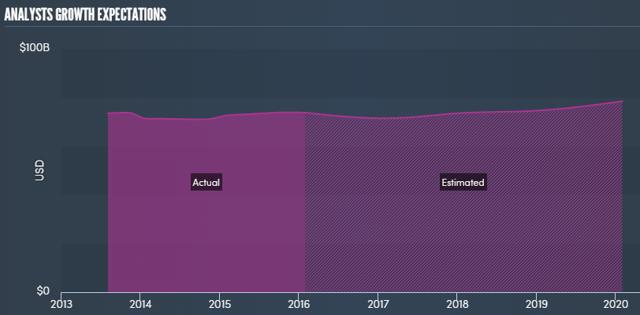 We know Target has to recover the lost revenue from the pharmacy business and that is going to take time. After a dip this year analysts think TGT's total revenue will move moderately higher on an annual basis for the foreseeable future. That sounds reasonable except for the fact that management just told us that the consumer spending environment stinks and that guidance for this year is weak. So while I would have believed this trajectory two days ago, today, I'm not so sure. I love Target as a consumer and I know others do as well but if people aren't spending, TGT is going to feel the pain more so than some other retailers. The fact that Target is seeing weakness is a negative for the entire retail sector and I think, unfortunately, there are some downside revisions that need to be made to the revenue picture. There's simply too much evidence to the contrary to suggest that low single digit comps are going to stick around for years to come.
On the profit curve, TGT has even higher expectations.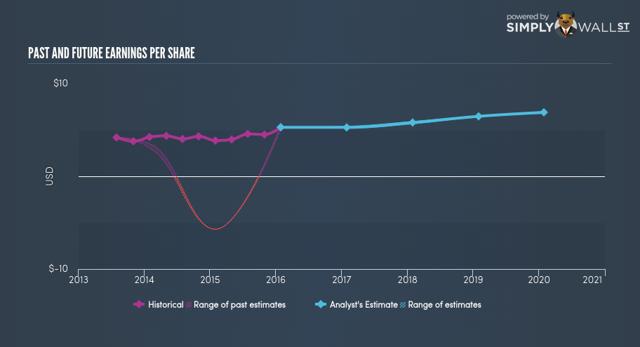 It may not look like much on the chart but analysts think TGT will do double digit EPS expansion every year until at least 2019. That's a very high bar to meet as sales look continuously weaker. TGT has lots of ways to grow EPS apart from simply growing sales - cost savings, margin boosts and buybacks come to mind - but the fact is that if traffic goes negative again, TGT's EPS trajectory will have to come way down. I'm not saying that will necessarily happen, but given that traffic is clearly rolling over, I'm not saying it won't happen either. Target's strength and weakness are both in its broad merchandise assortment; when widespread consumer spending weakness hits, Target has nowhere to hide.
That being said, at 13 times this year's earnings, TGT is hardly expensive. In today's market that amounts to a depressed valuation where mediocre companies routinely trade in the high teens or 20s. And given that TGT has already come so far off of its highs and even made a new 52-week low yesterday before rebounding, it seems much of the bad news is already priced in. Additionally, TGT's yield is approaching 3% again so perhaps income seekers will kick the tires and help the bulls stop the decline in the share price.
While I acknowledge that TGT had a bit of a rough Q1, it had many positives as well and let us not forget that it produced mid-teens adjusted EPS growth as well. The sale of the pharmacy business is a good move for margins over the long term and TGT's spending discipline is working. In concert with the buyback, higher margins should drive EPS higher irrespective of gains made in comp sales. TGT has a traffic problem but until it gets a lot worse, I think the negativity is overdone. I like Target here as it looks to rebound off of the high $60s level that was a springboard in the past for a rally. TGT is for patient shareholders only as this one may take some time. But TGT is too good to pass up for 13 times earnings.
Disclosure: I am/we are long TGT.
I wrote this article myself, and it expresses my own opinions. I am not receiving compensation for it (other than from Seeking Alpha). I have no business relationship with any company whose stock is mentioned in this article.