By Rupert Hargreaves
"Wage growth is on a solidly, albeit slow, upward path" and "a more pronounced acceleration in wage growth will depend importantly on further gains in our diffusion index, as well as evidence that the broadening out of wages is touching more higher paying sectors of the labor market," according to Morgan Stanley's US Economic's research department, which concludes that while US wage growth has trended sideways around 2% per annum since 2010 (growth has risen to 2.5% over the past 12 months), more upside lies ahead for wages over the next year.

The key to this forecast lies in wage diffusion, a trend Morgan Stanley's Wage Growth Diffusion Index is designed to monitor.
The diffusion index tracks the number of industries where wage growth is greater than its longer-term trend - a reading above 50 means wages in more than half of the industries monitored are growing above trend.
In April of this year, the diffusion index printed a high not seen since April 2009 of 54, which reflects the fact that a greater number of industries in the middle of the pay spectrum showed above-trend wage growth.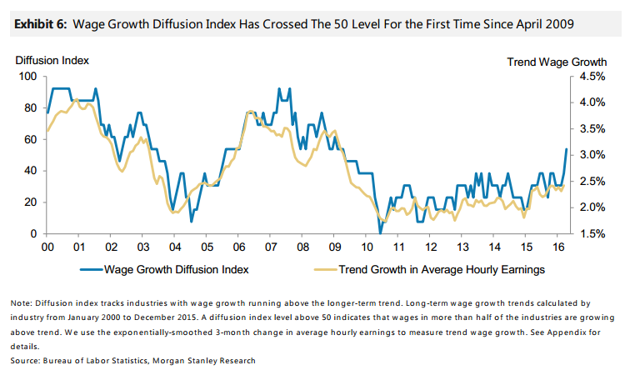 And if you dig into the wage numbers, it becomes clear why Morgan Stanley concludes that further wage growth is ahead.
Analysis conducted by the bank in 2015 showed that the sector of Professional & Business Services alone represented 21.6% of the aggregate US wage bill in 2015 and created a high percentage of new jobs. But the subsector where the most job came from was Temporary Help Services, which pays well below the national average and is only a small share of the overall wage bill. Recently, however, industries near the center of the pay spectrum have been showing signs of wage hikes. As Morgan Stanley explains:
"With wage pressures concentrated in the lower end of the pay scale and beginning to spread into the middle of the pay spectrum, a greater number of workers are experiencing wage gains, even if not in industries with a large enough wage bill to move the needle on average hourly earnings."

"As discussed above, low-wage industries in the first tercile for average hourly earnings represent only 23% of the aggregate wage bill, but account for 34% of total private nonfarm payrolls. Industries in the second tercile (middle-wage) account for 45% of the aggregate wage bill and 39% of total private nonfarm payrolls, while industries in the top tercile (high-wage) account for 37% of the aggregate wage bill and 27% of total nonfarm payrolls. Over the past year, 46% of industries have shown signs of increasing wage pressures, including Retail Trade, Leisure & Hospitality, Wholesale Trade, Manufacturing, Information, and Utilities-these industries represent about 44% of total private nonfarm payrolls, but only account for about 38% of the aggregate wage bill."

"While sluggish wage growth outside of these industries has held down aggregate average hourly earnings, median wage growth has shown a marked pickup."
If this trend continues and Morgan Stanley's diffusion index registers, further gains should be, broadly speaking, good news for the US economy and the Federal Reserve's inflation expectations.
Wage growth: Corporate pressures
At the corporate level, the topic of rising wage pressures was widespread during companies' first-quarter conference calls, where managements were frequently quizzed about tighter employment conditions, higher wages and the potential impact on margins. Morgan Stanley's own research has concluded that the restaurants, gaming, and footwear/specialty retail groups are likely to be the most affected by wage pressures.
And here are some of the comments that the bank has collected from the first-quarter earnings calls on the topic of wage hikes and margin pressures.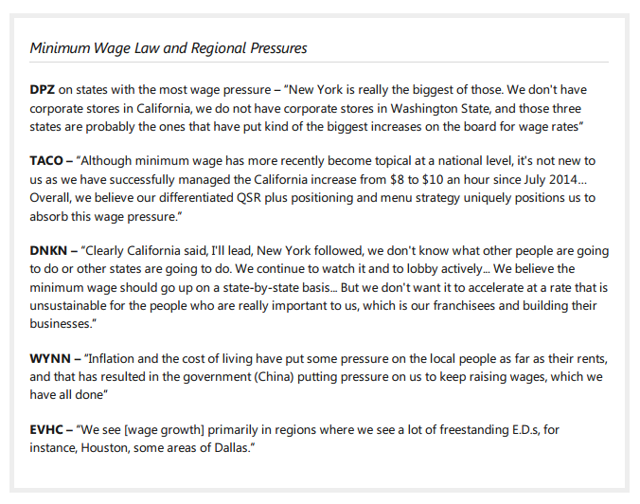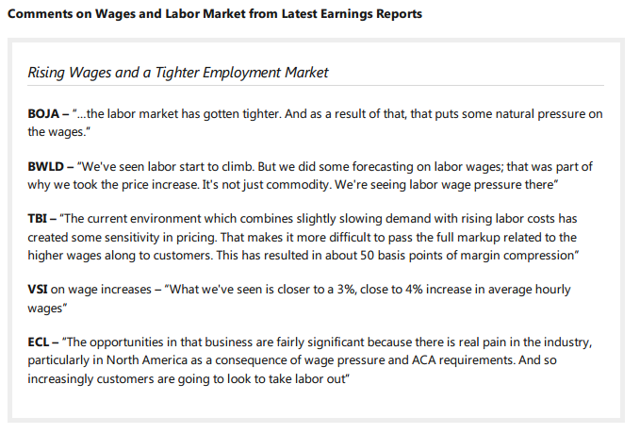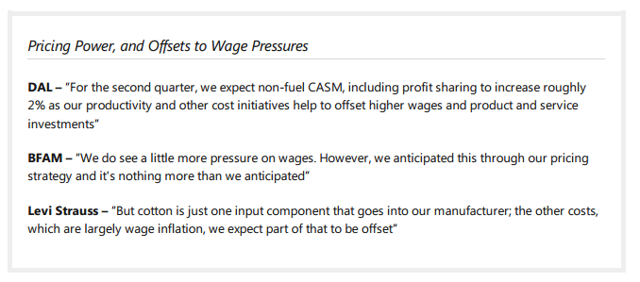 Disclosure: Rupert may hold positions in one or more of the companies mentioned in this article. You can find a full list of Rupert's positions on his blog.
Disclaimer: This should not be interpreted as investment advice, or a recommendation to buy or sell securities. You should make your own decisions and seek independent professional advice before doing so. Past performance is not a guide to future performance.