Target (NYSE:TGT) disappointed investors with its performance in the first quarter, and shares were harshly punished with a decline of about 7.6%. The performance dragged on other chains such as Wal-Mart (NYSE:WMT), which was down 3% on the day. A loss of over 7% on a day when the company reports a beat on earnings with $1.29 in the quarter compared to consensus estimates of $1.20 should be surprising for shareholders. The adjusted EPS figures are shown below:

I would consider adjustments relating to the loss on early retirement of debt to be a high-quality adjustment. That is a cost I genuinely don't expect to see as recurring. Target's GAAP Income Statement is shown below: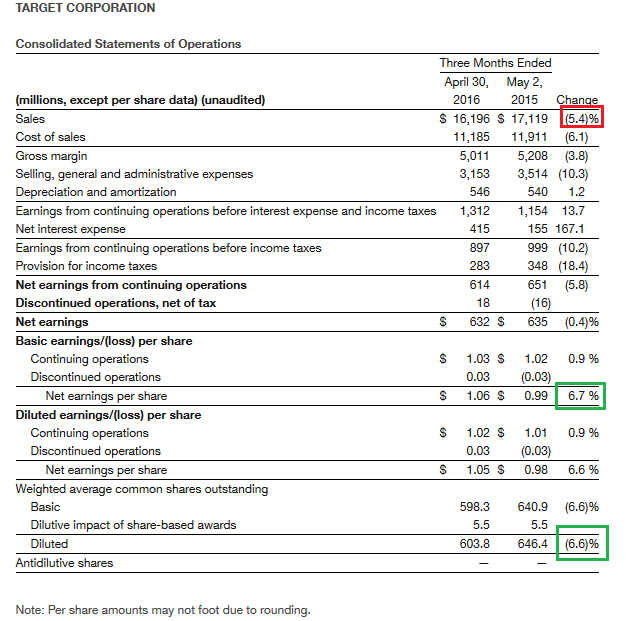 The red box identifies the decrease in sales relative to Q1 of 2015, but the green boxes demonstrate the increase in earnings per share. With earnings per share up by about 6.7%, the primary driver is a decrease of 6.6% in the shares outstanding. This should be a positive trend for the company, because the share price tanking means the buybacks should be dramatically more effective at reducing the number of shares outstanding, and consequently, they should be more powerful in improving earnings per share.
As a shareholder of Wal-Mart, clearly I would prefer to see Target spend its cash on repurchasing shares rather than spend it on aggressively expanding to engage in more battles with Wal-Mart. However, I'm also considering a position in Target. Up until recently, Target was simply too expensive for me to buy into, but the latest sell-off is making shares look dramatically more attractive.
The big weakness for Target may come from providing very weak guidance on Q2 earnings. The company provided guidance for $1.00-1.20 in adjusted EPS, which was far below the consensus estimate of $1.36. Given that Target just beat by $.09 in the first quarter, I would treat weak Q2 numbers as being partially represented by more revenue and earnings being recognized in the first quarter.
Use a F.A.S.T. Graph
There are a few companies for which I find F.A.S.T. Graphs to be a very useful way to visualize the data. Target is one of those.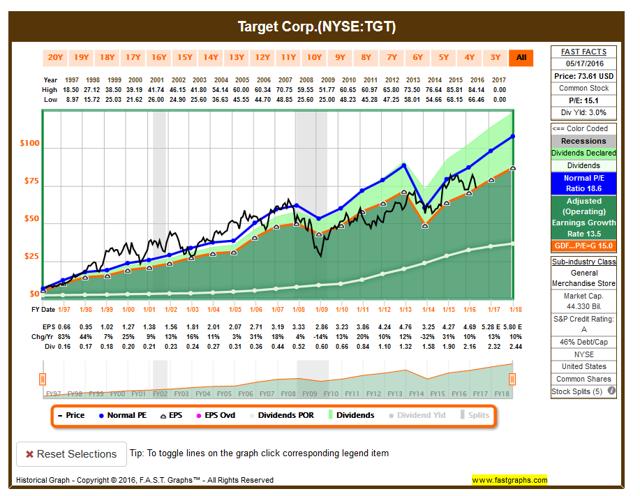 The black line indicates the share price, and the blue line indicates where the share price would be based on the average P/E ratio. In short, we would expect it to be materially higher. However, the chart here hasn't updated for the latest decline and still lists TGT at $73.61 rather than the $68.00 it closed at on Wednesday. This is a pretty huge decline in the share price.
The annual dividend is currently $2.24, though I expect it to be increased. As an analyst, I'd prefer to see a smaller increase so more cash can be plowed into buybacks when shares are this cheap. The trailing dividend yield is a very solid 3.29%, and it is far more than covered by earnings.
Falling Knife
When shares are falling this fast, it may be wise to consider the falling knife theory. A share price falling this rapidly can easily continue to decline, but the fundamentals make the stock very interesting. As an investor, I've been known to grab the falling knife occasionally. With the broader equity market at fairly high levels, it is highly appealing to see a solid company trading at a weak multiple. I may step in and buy some shares of Target in the near future. Due to the way these drops can occur, I would look to initiate a small position and keep a material chunk in cash so that I have the ability to double down if shares continued to decline.
If Wal-Mart falls further, I might increase that position as well. I currently have a substantial portion of my portfolio in cash.
Disclosure: I am/we are long WMT.
I wrote this article myself, and it expresses my own opinions. I am not receiving compensation for it (other than from Seeking Alpha). I have no business relationship with any company whose stock is mentioned in this article.
Additional disclosure: Information in this article represents the opinion of the analyst. All statements are represented as opinions, rather than facts, and should not be construed as advice to buy or sell a security. This article is prepared solely for publication on Seeking Alpha and any reproduction of it on other sites is unauthorized. Ratings of "outperform" and "underperform" reflect the analyst's estimation of a divergence between the market value for a security and the price that would be appropriate given the potential for risks and returns relative to other securities. The analyst does not know your particular objectives for returns or constraints upon investing. All investors are encouraged to do their own research before making any investment decision. Information is regularly obtained from Yahoo Finance, Google Finance, and SEC Database. If Yahoo, Google, or the SEC database contained faulty or old information, it could be incorporated into my analysis.