The 20%-yielding UBS ETRACS Monthly Pay 2xLeveraged Closed-End Fund ETN (NYSEARCA:CEFL) is quietly having a strong 2016 thus far. This 2x leveraged fund-of-CEFs has returned +16.28% year-to-date, while its unleveraged counterpart, the YieldShares High Income ETF (NYSEARCA: YYY), has gained +7.95%. The PowerShares CEF Income Composite ETF (NYSEARCA:PCEF), a basket of CEFs that tracks a different index to CEFL/YYY, returned 5.80%. In comparison, U.S. high-yield bonds (NYSEARCA:JNK) have rallied by +5.40% while the U.S. market (NYSEARCA:SPY) lingers at +1.00%.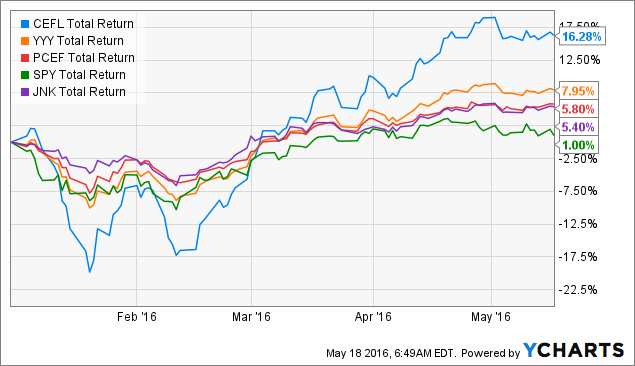 This outperformance could most likely be attributed to a recovery in risk appetite after the market downturns in February and early March of this year. Professor Lance Brofman has recently calculated CEFL's discount to be -9.24% on Apr. 18, 2016, up from -12.43% in Feb. 24, 2016. A combination of narrowing discounts and sustained rallying of high-yield bond funds (coupled with CEFL's 2x leverage) allowed this ETN to put in a strong performance for 2016 thus far.
Portfolio changes
As described in "An Unexpectedly Tame Rebalancing For CEFL And YYY", this year's annual rebalancing in the index upon which CEFL and YYY are based, the ISE High Income Index [YLDA], was surprisingly tame. It appeared to me that the index providers exercised discretion in their choice of the funds to be added and removed rather than follow their published methodology, possibly as a method to prevent the "frontrunning" that caused disastrous losses for CEFL and YYY unitholders the year before. Out of the 30 CEFs, only three funds were added, and three funds removed.
Funds added were:
Royce Value Trust (NYSE:RVT)
PIMCO Corporate & Income Opportunity Fund (NYSE:PTY)
AllianceBernstein Global High Income Fund (NYSE:AWF)
Funds removed were:
MFS Charter Income Trust (NYSE:MCR)
MFS Multimarket Income Trust (NYSE:MMT)
AGIC Convertible&Income Fund II (NYSE:NCZ)
A complete list of current holdings is listed in the table below.
| | | |
| --- | --- | --- |
| Fund | Ticker | Weight |
| GAMCO GLOBAL GOLD NATURAL RES INCOME | (NYSEMKT:GGN) | 4.69% |
| MORGAN STANLEY EMERGING MARKETS DEBT | (NYSE:EDD) | 4.65% |
| ABERDEEN ASIA-PACIFIC INCOME FUND | (NYSEMKT:FAX) | 4.54% |
| WESTERN ASSET EMERGING MARKE | (NYSE:ESD) | 4.38% |
| PRUDENTIAL GLOBAL SH DUR HI YLD | (NYSE:GHY) | 4.36% |
| EATON VANCE LTD DURATION FND | (NYSEMKT:EVV) | 4.33% |
| VOYA GLOBAL EQUITY DIVIDEND | (NYSE:IGD) | 4.27% |
| ROYCE VALUE TRUST | RVT | 4.26% |
| DOUBLELINE INCOME SOLUTIONS | (NYSE:DSL) | 4.23% |
| EATON VANCE TAX-MANAGED GLOBAL | (NYSE:EXG) | 4.21% |
| ALPINE GLOBAL PREMIER PROPERTY | (NYSE:AWP) | 4.09% |
| CALAMOS GLOBAL DYNAMIC INCOME | (NASDAQ:CHW) | 4.09% |
| ALPINE TOTAL DYNAMIC DIVIDEND | (NYSE:AOD) | 4.05% |
| PIMCO DYNAMIC CREDIT INCOME | (NYSE:PCI) | 4.01% |
| ALLIANZGI CONVERTIBLE & INCOME | (NYSE:NCV) | 3.99% |
| CLOUGH GLOBAL OPPORTUNITIES | (NYSEMKT:GLO) | 3.62% |
| PIMCO CORPORATE & INCOME OPP | PTY | 3.62% |
| WESTERN ASSET HIGH INC FUND II | (NYSE:HIX) | 3.49% |
| WELLS FARGO INCOME OPPORTUNITY | (NYSEMKT:EAD) | 3.24% |
| PRUDENTIAL SHORT DURATION HI YLD | (NYSE:ISD) | 3.12% |
| BLACKSTONE/GSO STRATEGIC CREDIT | (NYSE:BGB) | 2.81% |
| WELLS FARGO MULTI-SECTOR INCOME | (NYSEMKT:ERC) | 2.71% |
| BLACKROCK INTERNATIONAL GROWTH INCOME | (NYSE:BGY) | 2.33% |
| BLACKROCK CORPORATE HIGH YIELD | (NYSE:HYT) | 2.20% |
| BLACKROCK MULTI-SECTOR INCOME | (NYSE:BIT) | 1.95% |
| FIRST TRUST INTERMEDIATE DUR | (NYSE:FPF) | 1.83% |
| ALLIANCEBERNSTEIN GLOBAL HI INC | AWF | 1.60% |
| EATON VANCE TAX-MANAGED DIVIDEND | (NYSE:ETY) | 1.30% |
| INVESCO DYNAMIC CREDIT OPP | (NYSE:VTA) | 1.12% |
| NUVEEN PFD INC OPP FD | (NYSE:JPC) | 0.90% |
Portfolio statistics
Given that most of the constituents of the fund are the same as last year's, I did not feel a pressing need to "X-ray" the portfolio of CEFL as I did for 2015. A few summary statistics are available from the index provider's webpage, which are current as for Mar. 31, 2016.
Indicated yield: 10.86%
Average discount: -9.40%
Asset class allocation: 32.83% equity, 67.17% debt.
Index leverage: 21.73%
Fixed income duration: 3.57 years
Index duration: 2.40 years
The index leverage of about 22%, in conjunction with CEFL's 2x leverage, means that each $1 invested in CEFL actually controls about $2.44 in assets.
Unfortunately, average expense ratio data were not available from the fund provider. Last year, CEFL exhibited a total average expense ratio of 4.92% per dollar invested in the fund (or 2.05% per dollar of assets controlled) (see "X-Raying CEFL: Leverage And Expense Ratio Statistics"). These figures included acquired fund expenses, i.e. the expense ratios of the underlying CEFs.
Furthermore, in 2015, CEFL had just over two-thirds of its assets (68.2%) invested in North America, with Europe (14.8%) and Asia Pacific (8.3%) being the next two most represented regions (see "X-Raying CEFL (Part 2): Geographical Distribution").
Given that 90% of CEFL's portfolio is the same as last year, I believe that the above statistics should still be reasonably accurate. Possibly, the addition of the global high-yield bond fund AWF (while only U.S. high-yield bond funds were removed) would slightly increase the international component of CEFL.
Declining distributions
CEFL currently yields about 20%, which is very attractive for income investors. However, investors should be aware that CEFL's distributions have been steadily declining. In the first 5 months of 2014, CEFL paid out $1.98 in distributions; in 2015, $1.71; and in 2016, $1.33.
In similar fashion, the last 12 months of distributions have totaled $3.43, down from $4.47 for the 12 months before that, representing a decrease of 23%. Charting the coupon history of CEFL paints a concerning picture of declining distributions.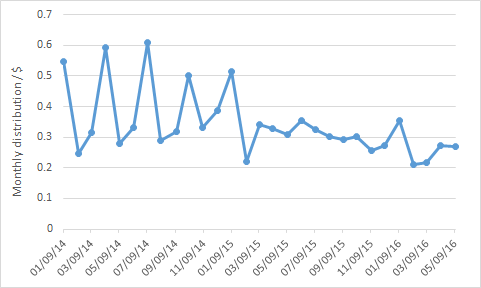 Summary
CEFL's portfolio statistics should be similar to last year, given that 90% of the fund holdings are the same. CEFL has been outperforming in 2016, but investors should be aware that distributions have been in a declining trend. CEFL currently yields about 20%.
What would it take for distributions to increase? Simply, if the fund holdings were to appreciate in price by year end, via a combination of NAV increase and/or narrowing of discount, this would cause them to be sold in favor of higher-yielding, higher-discount constituents upon annual rebalancing. Thus, distributions in the subsequent year should be increased. This "sell high buy low" strategy is a theoretically sound stock picking approach, although one may question whether it has worked successfully for CEFL thus far.
(Addendum: a reader correctly points out that should one of CEFL's components increase their distributions during the year, this could also result in an increased coupon from CEFL).
Investors should also be aware that with CEFL's 2x leverage, yields may increase or decrease simply based on movement in the underlying index. For example, were CEFL to decline significantly in price, assets would have to be sold to maintain leverage at 2x, leading to lowered distributions. This could also explain why CEFL's distributions have been in a continual decline.
Disclosure: I am/we are long CEFL.
I wrote this article myself, and it expresses my own opinions. I am not receiving compensation for it (other than from Seeking Alpha). I have no business relationship with any company whose stock is mentioned in this article.