Compared to the fourth quarter of 2015, Phillips 66 Partners' (NYSE:PSXP) Q1 2016 earnings report looked pretty lackluster as its distributable cash flow (the cash flow available to be distributed to unitholders) fell from $74 million to $64.1 million. However, on a year-over-year basis, Phillips 66 Partners' DCF was up 53%.
Part of the reason for the quarter-over-quarter drop was due to PSXP's strong performance in Q4 2015, refinery maintenance reducing volumes in Q1 2016, and an increase in costs associated with its recent acquisition. When excluding those factors, Phillips 66 Partner's DCF would have fallen by significantly less.
The market wasn't very impressed with its results and its secondary offering left a bad taste in investors mouths, but what really stung was its slightly smaller distribution boost versus its previous increases. Phillips 66 Partners increased its distribution by 5% in April 2016, after a 7% boost in January, which equated to a 30% annual increase. That is on par with guidance, but the market shrugged.
Another huge purchase
On February 17, 2016, Phillips 66 Partners announced that it planned to purchase a 25% stake in Phillips 66 Sweeny Frac LLC from its parent company Phillips 66 (NYSE:PSX). As a side note, Phillips 66 has a material investment in PSXP and is leaning on its midstream developments for growth.
The dropdown was funded by $212 million in notes that Phillips 66 Partners took on, payable to Phillips 66, and through the issuance of PSXP units worth $24 million to Phillips 66. The asset consists of a 100,000 bpd NGL fractionator in Phillips 66's Sweeny Refinery complex down in Texas and the Clemens Cavern storage facilities that, when fully upgraded, will have the capacity to store 7.5 million barrels of Y-grade NGL. The cash flow stream from these assets are very stable and shouldn't experience a significant amount of volatility.
Phillips 66 Partners has room to boost capacity at the Clemens Cavern facility further, generating a source of organic growth as well. Supporting cash flow from the assets are two 10-year minimum volume agreements with Phillips 66 regarding the fractionator and the storage facility. The Clemens Cavern facility is 15 miles away from Phillips 66's Sweeny Refinery complex. At the time of the purchase, PSXP noted that this new operation would add $25 million to the midstream partnership's annual EBITDA generation before factoring in $7 million in remaining growth capital related to its share of the Clemens Cavern upgrade.
Then in early May, Phillips 66 Partners announced that it planned to purchase the remaining 75% stake in Phillips 66 Sweeny Frac and the Standish Pipeline from Phillips 66 for $775 million. On an annual basis, this will bolster Phillips 66 Partners' EBITDA streams by an additional $90 million before factoring in another $13 million in spending related to the Clemens Cavern development project. The Standish Pipeline carries refined products from Phillips 66's refinery complex in Ponca City, Oklahoma, to terminals owned by PSXP up in Wichita, Kansas.
To pay for the massive dropdown, Phillips 66 Partners turned to capital markets. It issued out 11 million units at $52.40 a piece and gave the underwriters the option to purchase an additional 1,650,000 units. Combined, that would raise a gross $663 million. The $775 million included PSXP taking on notes payable to Phillips 66 and issuing out equity to the refinery operator. It isn't clear what the exact split will be, but most likely most if not all of the cash raised from PSXP's secondary offering will be directed towards paying back Phillips 66.
Dropdowns have been a major part of Phillips 66 Partners' growth story. Back in February 2015, the partnership took on $1.1 billion in debt to fund its purchase of a stake in the Sand Hills NGLs Pipeline (33.33%), Southern Hills NGLs Pipeline (33.33%), and the Explorer Refined Products Pipeline (19.46%). That purchase added $115 million to PSXP's annual EBITDA generation and opened up new avenues for growth through capacity expansions, which are currently ongoing. Over time, the venture that owns the Sand Hills Pipeline plans to ramp up capacity to 350,000 bpd from 250,00 bpd through investments in additional lateral lines and pump stations.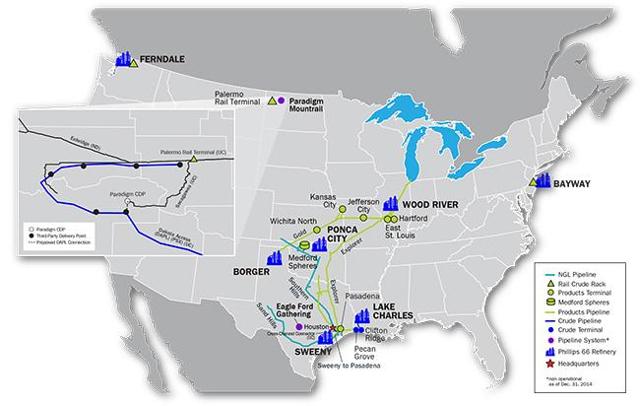 Source: Phillips 66 Partners Website
Organic growth
Up in North Dakota, Phillips 66 Partners has the Palermo Rail Terminal, associated storage facilities, and the Sacagawea Pipeline to bank on. The Palermo Rail Terminal has the capacity to ship 100,000 bpd of crude out of the region and is currently being fed by trucks through the dozen or so truck unloading facilities at the terminal. When the Sacagawea Pipeline comes online in Q3 2016, the terminal will start receiving a material amount of crude from the prolific Dunn and McKenzie counties via pipe.
Phillips 66 Partners owns 70% of the Palermo Rail Terminal, which also has 300,000 barrels of crude oil storage capacity, and half of the JV that owns 88% of the Sacagawea Pipeline. In the future, Phillips 66 Partners can boost the terminal's shipping capacity up to 200,000 bo/d, with the ability to expand storage capacity to 2.4 million barrels. Turning the Sacagawea Pipeline online will not only yield another DCF generating asset for PSXP but there is also a very good chance the utilization rate at its Palermo Rail Terminal will rise. Plus, it opens up the opportunity to begin another phase of expansion.
Down south, the 30-inch Bayou Bridge oil pipeline from Nederland, Texas, to Lake Charles, Lousiana, commenced operations. Phillips 66 Partners owns the system along with Energy Transfer Partners (NYSE:ETP) and Sunoco Logistics Partners (NYSE:SXL) through the Bayou Bridge JV. The Bayou Bridge Pipeline carries crude from Phillips 66 Partners' and Sunoco Logistics' storage facilities in Nederland to refineries in Lousiana.
The second stage of the project includes building a 24-inch pipeline from Lake Charles to St. James, Louisiana, which is slated to be operational by 2H 2017. While widely expected, it's good to see that the open season revealed there was decent demand for its second Bayou Bridge Pipeline and that the project will go ahead as planned.
Financials
All of these growth endeavors will provide a huge boost to Phillips 66 Partners' distributable cash flow streams, enabling it to maintain its trajectory of 30% CAGR distribution growth through 2018. Last quarter, PSXP's distributable coverage ratio (DCF divided by distributions) fell down to 1.15x from 1.44x in Q4 2015 (keep in mind its payout was increased). This was largely due to the seasonality of the refinery business and one-time costs, but is something to monitor closely.
If PSXP's coverage ratio shoots up over the next few quarters as the partnership's previously mentioned growth drivers contribute to its DCF streams, then the income growth story is still ongoing. The company only realized a month of cash flow from its quarter stake in the Sweeny Frac and Clemens Cavern assets, pipeline volumes should keep ramping up, and it now has a larger asset base contributing to its income growth story going forward.
A healthy coverage ratio is what enabled PSXP to keep up this growth rate, which is why the drop from Q4 2015 to Q1 2016 is so worrying. As you can see in the graph below, PSXP's coverage ratio tends to be weakest during the first quarter and gets progressively stronger throughout the year. It's also worth noting that this is on top of a massive downturn in the energy markets and aggressive payout increases, yet its DCF streams stayed relatively stable.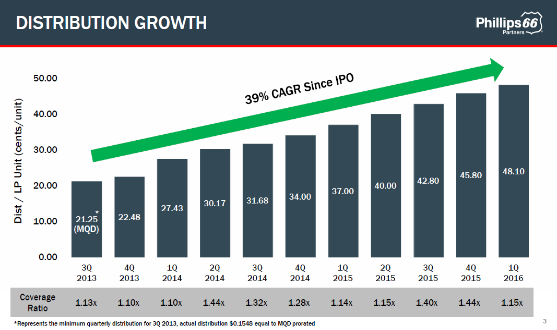 Source: Phillips 66 Partners Presentation
While new DCF streams are added through dropdowns, additional units being issued out means Phillips 66 Partners has to spread the wealth among a larger group of investors. As management has done a good job of taking dropdowns and wringing out larger cash flow streams through expansion projects, its DCF growth should outpace its distribution growth over time.
At the end of Q1 2016, Phillips 66 Partners had $20.1 in cash, $1.3 billion in total debt, and an undrawn revolving credit line with $500 million of capacity. This is before factoring in its recent maneuvers, which may be largely a wash.
Final thoughts
Phillips 66 Partners is backed up by a massive parent company Phillips 66, providing a plethora of dropdown opportunities. That being said, there are drawbacks to the dropdown scheme, which is why organic growth developments are very important. Management noted that as Phillips 66 Partners gets bigger, it will start taking on more and bigger organic growth developments;
"So I think it's a scale question and as we get bigger, that becomes more that would be done at PSXP and frankly, I would want PSXP to continue to do more and more organic projects within PSXP, and as we think about our system to help our sponsor continue to build out their system around the refineries compliance, NGL operations and so some of the smaller shorter cycle type of projects really fit well with them."
Pivoting to a bigger mix of organic projects in its growth portfolio is the right play and one that will reward unitholders immensely over the long haul. The Palermo Rail Terminal and the Bayou Bridge Pipeline are two perfect examples of that, as PSXP is able to easily expand on its expansions.
Recently, I decided to take a stake in Phillips 66 Partners as a way to play an energy rebound in a stable manner. Income oriented investors seeking a 3.6% yield that is more than fully covered (a distributable coverage ratio north of 1.1x is considered healthy) from a midstream MLP that produces stable DCF streams should take a look at this midstream MLP.
Disclosure: I am/we are long PSXP.
I wrote this article myself, and it expresses my own opinions. I am not receiving compensation for it (other than from Seeking Alpha). I have no business relationship with any company whose stock is mentioned in this article.