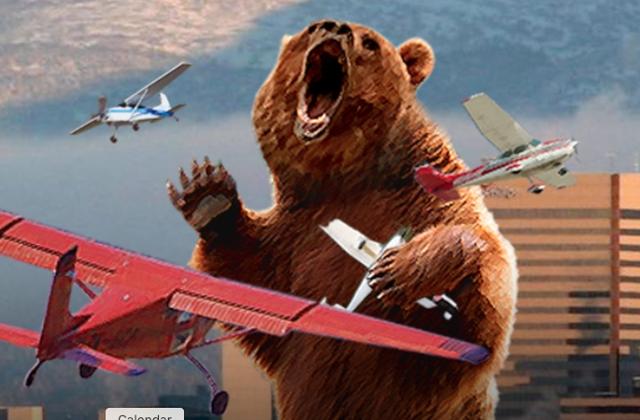 On April 4th, 2016, Alaska Air Group (NYSE:ALK) announced plans to acquire Virgin American (NASDAQ:VA) for about $4.1B (assuming debt obligations), providing a nice premium for VA shareholders and sending ALK's stock into a downward trajectory. Additional factors have had an effect on the entire sector including rising oil prices, industry PRASM concerns, slowing growth, pricing and competition, and as a result the Airline sector cannot seem to get off the ground in 2016.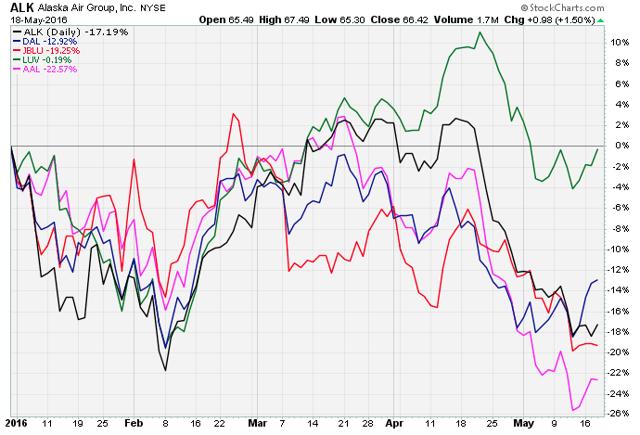 As shown above, the only major U.S. Airline not in or near bear territory is Southwest Airlines (NYSE:LUV), which is down modestly year-to-date but remains 16% off its December 2015 high of $51.
What's the Deal?
Alaska Air Group's deal to buy Virgin America contains many bullish arguments including additional routes, gates, planes, and other valuable assets that will put Alaska Air Group in an advantageous position to grow where they are at their best, domestically. A compelling article from fellow Seeking Alpha contributor Jacob Galligan best describes the bullish thesis for Alaska Air Group acquiring Virgin America. Additionally the deal makes sense for ALK because it instantly creates a foothold in California, and helps fend off the ever-encroaching Delta Air Lines (NYSE:DAL).
Another perspective, however, is uncertainty, and that Alaska Air Group overpaid. The price action in the stock suggests that the market might be having trouble digesting this deal because ALK becomes difficult to value until the merger is completed and successfully integrated. Perhaps the market can smell a whiff of desperation with ALK's audacity to pay such a premium to get the deal done before someone else like Jet Blue (NASDAQ:JBLU) made a move. With another record summer of airline travel on the horizon, who can blame them?
Reasons to like Alaska Air Group.
The best reason to like Alaska Air Group; the numbers, and ALK consistently puts up good numbers. Management performs effectively with a Return on Equity of 37.4% and a Return on Investment of 26.9%. Massive EPS growth of 48.2% for the year, and a projected 5-year rate of 30.9% are also very bullish. Alaska Airline's superb record of stellar customer service should help with the integration of Virgin America's customers, and this will be something to watch moving forward. Brad Tilden, President and CEO of Alaska Airlines, said he sees "challenges" ahead in keeping Virgin America customers after the merger, and he said this about Virgin America: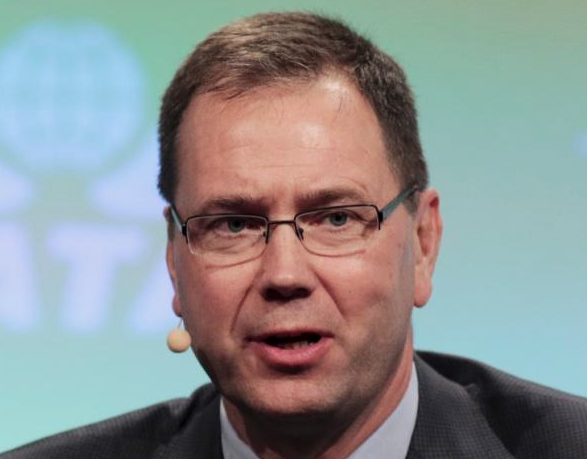 We are aware of the value that the company has brought to its customers. Our goal isn't to lose that. Our goal is to gain that as a foothold in the state of California as something that we grow in the decade or two ahead."
The company also mentioned that it might keep the Virgin America brand as it moves forward with the merger. As far as management is concerned, a couple of points stand out. First, the value of Virgin's brand, loyal customer base, and tremendous track record is something Alaska Air Group is very aware of, and something they don't plan on losing. Second, management speaks of the long run, in decades, meaning that the company knows what they are buying and why.
One thing management is not buying? ALK's management have been net sellers rather than buyers of the stock the past two quarters, but not enough to raise any red or yellow flags.
Earnings & Valuation
As mentioned, because of the merger, it will be difficult for analysts to look to far forward in regards to earnings for ALK. Currently the stock trades at just less than 9x forward earnings, which puts it inline with historic valuation. However, it won't hurt to look at estimates for the next two quarters to see where ALK is going, with or without Virgin America.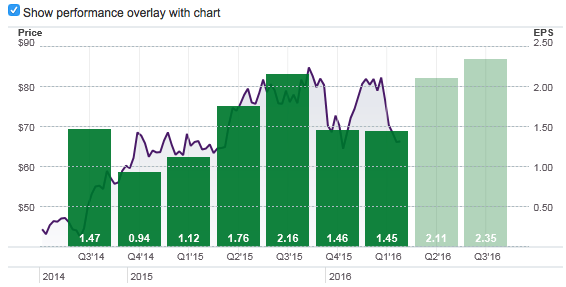 On April 21st, ALK reported a solid quarter, and the stock sold off significantly. Looking forward, ALK will earn another $4.46 per share if the company meets earnings estimates the next two quarters, meaning for the year ALK would earn $7.37 per share, which puts the stock at $66.33 if it trades at 9x trailing earnings which is inline with historic valuation numbers. So what happened?
According to Thomson Reuters: ALK's current quarter consensus estimate has decreased over the past 90 days from $2.22 to $2.11, a loss of -4.6%. Consensus estimates for the Airline industry have moved an average of -9.0% during the same period."
Delta Air Lines move into Seattle, Alaska Air Group's home, created fierce competition for an ever-growing market and lucrative customer base. Despite having the highest net margins (13.7%) in the industry, Alaska Airlines is beginning to feel some pressure on their home turf. The entire industry is beginning to feel the wane of growth and the beginnings of pricing competition as well as acquisition concerns. The quick move up in oil the past few months only added to the bearish condition.
So how low can ALK go? Back in 2009 ALK traded as low as 4x earnings for a share price of $3.41 (split adjusted), and in 2010 the stock traded as low as 5x earnings for a share price of $7.81. Today, the company maintains a much better balance sheet and cash flow compared to back then, and in 2015 the company traded as low as 9x earnings ($57) and as high as 13x earnings ($87). Remember, during these periods ALK experienced record profits and reduced significant amounts of debt.
The Technical Picture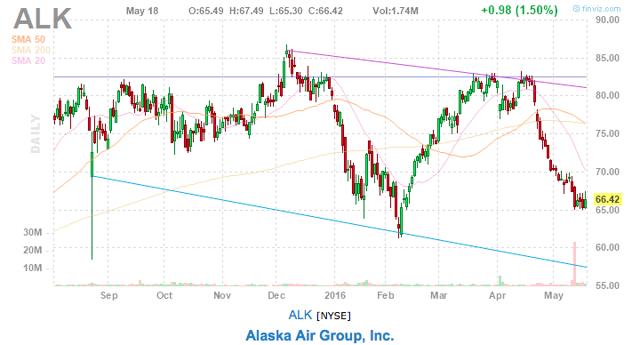 At first glance, there seems to be a lot of things going on this chart. The moving-averages zig and zag as if performing an air show, and that makes just about as much sense as trying to gauge the stock's performance on a technical level. Nonetheless, ALK is flying well below all three relative moving averages with little hope of regaining any new highs in the near to intermediate-term. The broad market (NYSEARCA:SPY) trades shaky, at best, and is near the top, again. If you're a trader or believer, the Relative Strength Index for ALK stands at 26.32, which is oversold and might be worth a shot on the long side for a short to intermediate-term trade.
This week the 50-day dropped below the 200-day, which is a bearish condition. However, it seems this chart might be upside down because this same event happened in late February and the stock rallied 10%+ in a month. In late April the 50-day crossed above the 200-day, a supposed bullish condition, and the stock promptly dropped double-digits from there. Regardless of what the moving averages are trying to say about the stock, the trend looks down, which fits inline with valuation and sentiment.
So if the stock continues down the trend line, then maybe ALK will trade as low as 7x earnings ($51.59) and overshoot to the downside. That would put the stock somewhere near that lower blue trend line (on the chart above) sometime in June. Alaska Air Group trading at or around $51 a share would represent a compelling value, which is the only thing investors should be looking for this time around.
Disclosure: I/we have no positions in any stocks mentioned, but may initiate a long position in ALK over the next 72 hours.
I wrote this article myself, and it expresses my own opinions. I am not receiving compensation for it (other than from Seeking Alpha). I have no business relationship with any company whose stock is mentioned in this article.
Additional disclosure: This article is for information, engagement, and entertainment purposes only and is not meant as financial advice. Investors are strongly encouraged to perform due diligence and/or consult with their financial advisor.