When I began writing this piece, news had hit the wires only a few hours earlier that Goldman Sachs (NYSE:GS) had increased its price target for Tesla (NASDAQ:TSLA) shares to $250.
That was odd. Goldman Sachs actually raised its TSLA target to $250 in a "Company Update" published on May 5. And the May 5 bump was only $5. The larger increase, from $202 to $245, occurred in an April 25 report.
What Goldman actually did on Wednesday was change its "Neutral" to "Buy," without changing its $250 price target.
In switching to "Buy," Goldman's Patrick Archambault explained his firm "feels" (yes, he used that word) that the current share price isn't "fully capturing [Tesla's] disruptive potential."
Oh, yes, there's more:
The company has publicly stated it might look to raise capital, and our detailed capex analysis points to capital needs of $1bn.
As I continued to write, there came news of the imminent capital raise, including word that Goldman Sachs will be one of the lead underwriters.
I would imagine that, at 200 West, the near simultaneity of the "Buy" recommendation and the capital raise announcement is, to say the least, uncomfortable.
However, I'll leave that topic to others.
In this article, I come (with help from Vladimir Lenin) to praise Goldman Sachs, not to bury it.
Let me explain why.
I. Preliminary Matters
But first, a few key points about the capital raise:
Musk Breaks (Yet Another) Promise.
"I will be the last one to sell shares," said Elon Musk in 2013.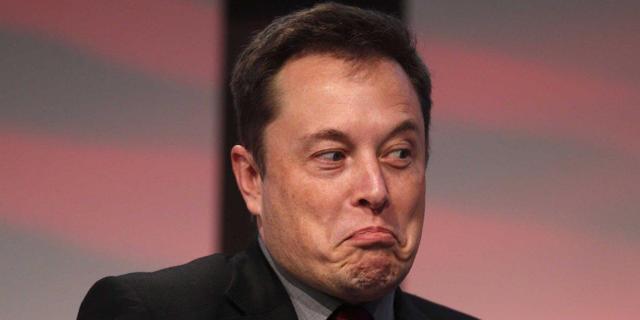 Like so many of Musk's promises, that one came with an expiration date and we're now at that date.
Musk is exercising options at $6.63 per share for 5,503,972 shares. He is selling 2,771,901 of those shares to pay his taxes.
So, let's sum this up: Musk buys 5,503,972 shares for $36 million. Musk sells 2,771,901 shares for (assuming the May 18 closing price) $585 million. None of that money goes to Tesla. It's all for Elon Musk.
Musk pays his taxes and ends up with 2,732,071 additional shares worth $577 million.
(Yes, he's giving 1.2 million shares to an unspecified charity and will get a $250 million or so tax write-off for that, and still end up with an additional 1,532,071 Tesla shares worth $323 million or so.)
Now maybe you think, hey, it's okay, Musk has earned it. After all, just look at Tesla's performance since Musk took the helm: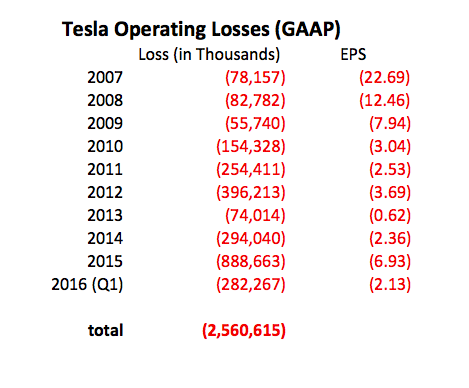 Okay, I get that. But whether he's earned it or not, there's just no way around the fact that Musk is breaking his promise to be the last one to sell Tesla shares.
$1.4B Won't Be Nearly Enough (And Neither Will $1.6B).
Last August, Tesla raised $773 million in net proceeds. It's long gone, just on operating losses.
Tesla lost $282 million in Q1. I am confident in forecasting sizeable losses for the balance of 2016.
The $1.4 billion to $1.6 billion from this offering will fall far short of what's required to reach Model 3 production. Tesla will need another capital raise, and that need will arise before Q1 2017 ends.
By that time, much of the money raised this week will have been vaporized by further operating losses, before ever making it to the "Property, plant and equipment" line.
Archambault's $1 billion capital need calculation is premised on Tesla generating $5.7 billion in EBITDA through 2018. (To me, that is laugh-out-loud ludicrous.)
Tesla is far more guarded in its prospectus, where it includes the following caution:
We may also use a portion of the net proceeds from this offering for working capital and other general corporate purposes.
Anyone who believes this capital raise will go mostly to development of the Model 3 probably also believed Tesla's 2014 promise that the $2.3 billion of convertible debt would build the Gigafactory.
Is the Model 3 Narrative Starting To Crumble?
April 15, 2016: "…approaching 400,000…"
May 18, 2016: 373,000, after 8,000 customer cancellations.
Why No Borrowing?
Bright people have been telling me that Tesla will borrow some of the money it needs.
Reminder: Tesla has a sub-investment grade credit rating, and its debt is still trading at significant discounts.
New development: Tesla and Panasonic (OTCPK:PCRFY) (OTCPK:PCRFF) recently signed the Factory Lease for the Gigafactory. As I expected, Panasonic pays no rent and has the right to remain in possession even if Tesla defaults or becomes insolvent.
Lots of luck borrowing much against that asset.
II. The Patrick Prognostications
Okay, back to Goldman Sachs and its lead auto analyst Patrick Archambault.
It's tough to make predictions, especially about the future...
On September 19, 2014, Archambault wrote:
TSLA believes it could self-fund capex but is keeping funding options open depending on the pace of growth and new products it wants to undertake in the future.
Remind me: did that ever happen?
On May 7, 2015, Archambault wrote:
[Tesla] is investigating expanding the size of the Gigafactory to accommodate more stationary storage given the very positive order response for Powerwall/Powerpack.
There were, of course, no "orders." There were merely web site expressions of interest, some made by a variety of Disney characters. The stationary storage business is, to date, a big fat zero in terms of profits, and the most highly-touted Powerwall product has quietly disappeared.
And the Gigafactory has shrunk, not grown.
The foregoing is, trust me, just the tiniest smidgeon of the many inane statements appearing in Archambault's Tesla research reports. Don't get me started, for example, about Elon Musk as Steve Jobs or Henry Ford.
But at least he has Earnings Per Share nailed, right?
I don't have a full record of Archambault's evolving EPS forecasts, but let me share what I do have:
The Patrick Prognostications (non-GAAP)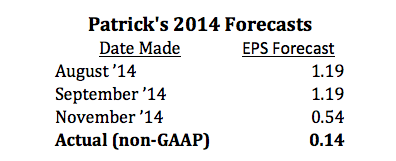 In August 2014, with less than five months remaining in the year, Patrick managed to overestimate (non-GAAP) earnings by a factor of more than 10.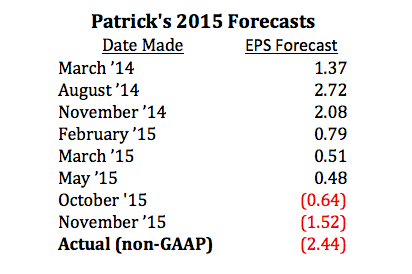 The 2015 Forecasts largely speak for themselves. But do note that the August 2014 estimate proved to be more than $5 too high.
That's hard to do. I don't think you want this guy picking your ponies at the racetrack.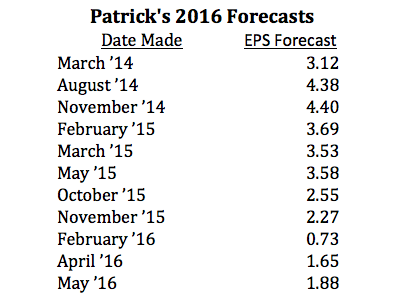 Notice the nice bump up in the May 18, 2016, research report.
What could possibly account for that? Was it:
The $282 million loss in Q1?
The downward Q2 delivery guidance?
The significant downturn in Q1 R&D spending?
The slowdown in Supercharger installations?
The reduction in planned new Service Centers?
The continuing problems with the Model X rollout?
News about construction workers at the Fremont factory?
I'm not coming up with any good ideas here. Anybody else have a guess?
My 2016 forecast, in case you're interested: huge losses, GAAP and non-GAAP.
Ah, yes, I am here to praise, not censure.
So, back to my praise of Goldman Sachs and Mr. Archambault.
First, and I say this with complete sincerity, I am absolutely convinced that Archambault, in issuing his lengthy research piece upgrading TSLA to a "Buy," was unaware of the timing of the capital raise. Period.
What I want to discuss is not any conspiracy theory about the timing of the "Buy" recommendation, but rather the perpetually rosy prospects that Archambault has for Tesla.
I have no doubt that, at some important level, Archambault genuinely believes the things he writes in his research reports. He makes his EPS projections with what he regards to be complete good faith.
I have read too much Daniel Kahneman not to believe that Mr. Archambault is altogether earnest in everything he's written about Tesla. Cognitive biases are extraordinarily powerful things.
The human tendency to rationalize the result we want is overwhelming. Even when we are fully aware of these cognitive biases, it's still almost impossible to overcome them.
And, unfortunately, for someone in Archambault's position, try though he might:
There's just no fighting that Goldman Sachs Bank USA has loaned hundreds of millions of dollars to Elon Musk.
There's just no fighting that Goldman Sachs Bank USA is among the syndicate of lenders under Tesla's 2015 ABL Credit Agreement (maximum borrowing capacity: $1 billion).
There's just no fighting that Goldman Sachs & Co. has earned millions of dollars in fees as lead underwriter for every major offering, from the IPO forward, of Tesla securities.
There's just no fighting that Goldman Sachs & Co. has earned millions more selling hedges (some of truly dubious value) to Tesla.
And there's just no fighting that Goldman Sachs & Co. is the co-lead book running manager for the pending follow-on offering.
III. Patrick, Meet Vlad
So, we've discussed Tesla and Goldman Sachs. But what's Lenin doing in the headline?
Like many hardball operators before and since, Vladimir Lenin insisted politics, defined broadly, was nothing more than a struggle for power, or as he memorably put it, "kto, kogo?" That literally means "who, whom" and it was Lenin's shorthand for "Who does what to whom?"

Arguments and evidence are lovely adornments but what matters is the ceaseless contest to be the kto, not the kogo. It follows that the goal of forecasting is not to see what's coming. It is to advance the interests of the forecaster and the forecaster's tribe.
(Tetlock, Philip E. (2015). Superforecasting: the art and science of prediction. New York, NY: Crown; emphasis added.)
You can tell me all you wish about your Chinese Walls and your Compliance Departments.
But on this one, I'm with Vlad. Goldman Sachs is playing hardball, and you're not.
Patrick Archambault is the forecaster and Goldman Sachs is the forecaster's tribe. No Chinese Wall will ever prevent a tribesman from remaining alive to the interests of his tribe.
And that is why dark indeed will dawn the day when Patrick Archambault determines to downgrade deeply.
Why pick on Goldman Sachs?
Really, we could pick on lots of other analysts at other reputable firms. For instance, Dan Galves, Credit Suisse, November 2015:
2016 is a much cleaner year, which enables operating leverage: The biggest future catalyst we see is Tesla generating significantly higher earnings and reducing the cash burn. From $2.30 annualized loss in 3Q15, we estimate 36k incremental Model X units will drive $7 of incremental EPS.

This, plus better Model S margin, offset by lower-than-consensus SG&A / R&D growth means that $4 EPS (vs consensus $1.86) and a reduction in full-year [free cash flow] burn to ~$500MM is achievable…although we think even hitting consensus numbers in 2016 would be a substantial catalyst.
Dan is no longer with Credit Suisse. Maybe he's doing stand-up comedy.
But I single out Goldman Sachs because it is the most formidable target. It is the most respected name in investment banking. It is a highly capable firm with a proud history and a huge stable of immensely talented people.
That includes Patrick Archambault who, when he writes about an auto company with which Goldman Sachs has no connection, is astute, learned and scrupulous.
The Powers That Be at Goldman are, I'm sure, unhappy about the regrettable proximity of the Archambault report and the capital raise announcement.
(Though perhaps, just to clear the air, the unfortunate timing is something that the Compliance Department might wish to look into. It should especially look into who promoted the Archambault report as a target price upgrade when, in fact, it was not.)
In the meantime, and for all time, the lesson, dear friends, is trust not in the analysts, for their agendas and proclivities are hidden from you.
Worse, their cognitive biases are hidden from you, and not only from you, but often from themselves.
IV. A Few Concluding Notes
Why Now?
I thought this capital raise would come after the July delivery numbers.
It feels rushed. As I said, I'm sure Goldman Sachs would have preferred to put a few weeks, at least, between the Buy recommendation on the research side and the follow-on offering involving the investment banking side.
What happened? I don't know. I've heard lots of speculation:
It was concern that Model 3 deposits would continue to erode;
Or worry that demand for Model S cars has gone soft;
Or anxiety that the California labor issue runs deeper than is reported;
Or indications that Model X demand has flatlined;
I anticipate there will be more speculation in the days ahead.
Right now, here's my vote for why this offering was launched now:
On Tuesday, the SEC issued new rules cracking down on non-GAAP reporting. Among other things, the rules serve notice that using non-GAAP financial measures to present revenue could be misleading.
This is going to be a magnitude 8 earthquake for a lot of firms. It's sure to put a serious crimp in the wild and wacky metrics that parade through Tesla's Shareholder Letters.
You may hate to hear it again, but…
The base version Model 3 will cost at least $45,000.
Tesla will be unable to deliver the Model 3 in 2017.
Don't say you weren't warned.
The cabbie who reads Motley Fool.
True Story: I took a cab ride home from dinner tonight (May 18). The cabbie was from India. He heard me tell my wife I intended to stay up late to write this article.
"Oh, Tesla," he said ruefully. "I bought it at $282." He then told me he also had bought GPRO (NASDAQ:GPRO) in its go-go days. He told me he read about them at The Motley Fool.
The cabbie was an immigrant from India who works 6 days a week, 12 hours a day, to scrape by.
So, please don't talk to me about the immorality of shorting a stock.
When the stock is a trap for ignorant, impressionable retail investors, who are fed six different nonsense non-GAAP metrics by Tesla, and bombarded with shameless pump pieces by the likes of Evan Niu, then I submit without apology that those shorting the stock are engaged in the noble enterprise of giving valuable information to the market.
About that picture of Montana Skeptic...
Someone who met me recently was disappointed to see I don't look like a mountain man. I explained that the fellow in my "icon" is Galileo Galilei.
I've been asked to promise that, if ever Phil LeBeau invites me to discuss automobiles or airplanes on CNBC, I dress like Galileo. Or, at least, like Father Guido Sarducci.
I'm taking that under advisement.
A Note About My Contributors
My thanks this time to Dogfellow and Investor.Gator at this site and td5221 and metalapocalyptica at the Yahoo Tesla message board.
And, of course, I enjoyed the usual great assistance from n0m0renancy and temagami over at the Yahoo board.
None of them is responsible for my errors, and none of them necessarily joins in all points of my analysis.
Disclosure: I am/we are short VIA LONG-DATED PUTS.
I wrote this article myself, and it expresses my own opinions. I am not receiving compensation for it (other than from Seeking Alpha). I have no business relationship with any company whose stock is mentioned in this article.