I'm going to get right to the heart of the subject matter as to why investors should avoid buying Apple (NASDAQ:AAPL) shares. There will be no "prioritization" of reasons to avoid buying shares of AAPL. While I believe Apple to be one of the strongest companies with regards to innovation, execution and products that have become ubiquitous in the world, I also believe the company has run up against a brick wall on all fronts.
Reason #1: Selling Pressure
The magnificent amount of selling pressure on AAPL has offset most any impact from buyers of shares. This selling pressure began prior to the release of Q2 2016 results. Upon the delivery of missing Q2 2016 expectations and lowered full-year guidance, that selling pressure exacerbated. Ultimately, sellers outweighed buyers over the last couple of weeks and found shares of AAPL briefly dipping below $90 a share. Some very well-known and widely respected investors and fund managers had been selling relatively large positions in shares of AAPL, including Carl Icahn and David Tepper. With such heavy selling pressure on shares of AAPL, due to much lowered FY16 guidance that anticipates declines in earnings and revenues, I believe shares will moderate lower over the next 90-180 days at least.
Reason #2: Flagship Product in Decline
As it pertains to Apple's hardware and product line-up, most every segment has found itself with declining sales as of Q2 2016 results and on a YOY basis. Furthermore, the company's flagship iPhone product has now exhibited its first ever sales decline. And it's not just that the iPhone units shipped and unit sales are declining, it is that the category as a whole is on the decline. Maybe this decline will be short-lived, but maybe not!
With the iPhone drawing the most significant sales and profits for Apple and sales for iPhones expected to decline YOY, I don't believe iPhone 7 can offer Apple and investors anything meaningful when it launches later this year. Sales for the iPhone may continue to decline beyond the iPhone 7, based on what might be Apple and its peers closing in on market saturation for smart phones. As such, I believe it is optimal to avoid buying AAPL shares. Here are some recent notes from Carolina Milanesi of Kanter Worldpanel ComTech to consider:
The user base isn't going to grow all that much for the foreseeable future.Smartphone ownership has reached peak levels in key markets worldwide, Carolina Milanesi, chief of research at Kantar Worldpanel ComTech, said in a report back inlate February. In North America, 65 percent of consumers own a smartphone. In Europe, that number jumps to 74 percent. In China, the figure rests at 72 percent. This translates to markets with fewer and fewer first-time buyers. In order for Apple to grow iPhone sales again, they need to not only advance the product into new regions and offer a less expensive handset, but they also need to grab market share from the competition…at least.
That last line from Carolina Milanesi is a critical or crucial claim regarding future growth for iPhone sales. Essentially, it doesn't matter how much improvement is put into the new iPhone 7 or the future iPhone 8. What she is outlining is that iterations will not prove to grow units shipped but rather lower prices, which likely mean lower gross profit and grabbing market share. For all the discussion centered on the iPhone 7 that is expected to only have slight improvements anyway, the discussion may prove to be a moot point as Apple needs a new pricing strategy, new regional distribution and added market share.
Reason #3: Lag in Innovation Cycle
Apple has received a great deal of praise for its ability to introduce innovative products over the last 10 years. The reality is that the company has been a great "follow on" producer of already introduced products and/or concepts. Apple didn't introduce the MP3 player, smartphone or tablet. But Apple certainly built better devices with more aesthetically appealing design and application features. What ultimately set Apple apart from its peers was the ability to converge technologies into singular platforms to produce a ubiquitous product like the iPhone.
The advancement of technology goes through boom cycles that then bring about a malaise in such advancement. The 80s brought about the computer, but it wasn't until the late 90s that the internet came into play. From that point came the cellular phone and in the turn of the century the smartphone. Beyond the smartphone though seems to lay a period of malaise that is developing and for which may take several years to bring about that next great technology.
The Apple Watch is not likely the form factor for the next ubiquitous technology if not for the form factor alone. In developing smartwatches, from Apple or its peers, it seems as if hardware manufactures ignored what has dispatched with the watch industry, the cell phone. By and large, people prefer to carry a cell phone than to wear a watch and the numbers speak for themselves. What these hardware manufacturers attempted to do was to say, "No, you don't want to get your data that way going forward and we don't need to implement new technologies or applications into the smartphone". Based on sell-through results from these products as tracked by NPD Group and other firms, the greatest sales of smartwatches has come from the manufacturers selling them into retail locations, but the retailers are finding it difficult to sell through to the consumer.
The results for most smartwatch manufacturers have been poor and worsening. Apple's poor results with the Apple Watch have been offered by various analysts and publications. The Apple Watch being the biggest contributor to Apple's sales in the "Other" category exhibited a 50% sequential decline in the latest quarterly results, even as the product had tens of thousands of expansionary retail doors to participate with. But these results should have been expected, given Apple's decision to lower the price of the Apple Watch amongst other reasons.
Beyond the Apple Watch, which will exhibit future iterations, even an iteration that will be untethered to the iPhone, it remains to be seen if Apple can innovate the next great "iThing". For now, the world might find itself in a period of innovation malaise.
Reason #4: VR Again?
As a lead-in to the next reason I would not be buying shares of AAPL I would like to offer an analyst note.
Oppenheimer's Uerkwitz, cutting his rating to "Perform" from "Outperform," writing that "we believe that weaker performance seen in this quarter is likely to recur until 2017's iPhone launch."

Investors are going to question the long-term investment prospects, he believes: As smartphones become a utility, we believe consumers need more than incremental improvements to upgrade. We expect Apple to make bold changes to support mobile VR. Fast growing VR content and its promise as a brand new user interface are too enticing for Apple to ignore. Recent acquisitions could position Apple to leapfrog its competition. Questioning Our Faith in Apple: We recognize the low valuation, the strong cash flow, the iron-clad balance sheet, and the recurring revenue opportunity from its active installed base. We like Apple as a company, but less so as an investment. We believe investors will question if the "best times have passed" or if "Apple can innovate no more.
As it was mentioned in the quoted analyst notes above, Apple may add some applications centered on mobile VR. It's been at least 30 years since I've been hearing that "VR is coming, VR is coming!" VR glasses were actually dreamed up, of course, by a science fiction writer, Stanley G. Weinbaum, who wrote a tale in 1934 about a headset that made the wearer feel that he was in a different world. Well VR is here and isn't amounting to much based on early sales and limitations on manufacturing and supply capabilities. Pricing for VR has also been an impediment for consumer adoption.
What VR likely offers is much akin to what 3D televisions offered to consumers in the past. As with Oculus Rift, techies became enthused about the immersion of 3D televisions as if we were all bound for a three-dimensional future. But then within a year or two the popularity for 3D televisions peaked and demand dropped precipitously. 3D television was not a new idea when it finally appeared in stores for consumers to purchase; it just finally had a big marketing push with more effective technology. With that more effective technology came a big price tag for what was better understood by consumers to be a novel experience and nothing more. 3D television didn't solve a consumer problem or evoke a game-changing need with regards to our television viewing experience. VR likely will never exhibit such needs either, but it is a cool experience once in a while that we choose to enjoy at theme parks and with a greater audience. The audience is something VR fails to achieve in terms of sensation.
But don't let my bearish sentiment dominate this narrative as to why VR has been slow to come and wanting for greater sales; let's read some bullish commentary from a recent article authored by Alpha Max titled " Apple Is Making iPhone 7 The Next Killer Device." The author touts Apple's new iPhone 7 as bringing Apple into the era of VR.
I expect that the upcoming iPhone 7 will be VR-ready driven by third-party hardware, which can drive significant demand for the product from outside. The basis of my expectation is investment firm Piper Jaffray's recent VR conference in which 13 VR hardware companies participated, as reported by Apple Insider.

One of the participants, named IonVR, said that the company could launch a VR HMD particularly for the iPhone 7. IonVR believes that iPhone 7 will offer proper VR experience to users "with the help of third-party hardware." IonVR has already developed such a device, which is available for preorder for $229. It has a proprietary optics technology called MotionSync, which can significantly reduce VR-associated motion sickness.

My Take on VR-Ready iPhone 7

VR has already gone mainstream. Therefore it's quite natural that iPhone users will want to use their iPhone 7 for watching VR content. With a host of iPhone-compatible VR HMDs coming to the market, I believe iPhone 7's demand will rise remarkably and iPhone 7 shipments will exceed all expectations.

According to Juniper Research, over 3 million VR devices will ship this year and the number could reach 30 million by 2020. Since iPhone 7 will be VR-ready, its adoption will rise meaningfully driven by fresh demand from industrial customers from several fields, including manufacturing, medicine and real estate. To learn more about the growth potential of VR in various industries, I'd recommend reading this article published in TechCrunch.
Pretty bullish stuff on Apple and its coming VR applicability, no? Unfortunately, this is the furthest from the real depiction of the issues that continually surround VR and consumer adoption. Additionally, in no way, shape or form has VR become mainstream. There's a big wow factor in trying out VR headsets, or reading reviews by people who have done so. But they have done so in trial situations, where people are demonstrating the equipment. This doesn't mean that the average person wants that experience several hours of VR a day every day of the week. We need to find a way to go beyond the wow in order to make VR a part of our daily lives. In short, VR does nothing that the average consumer desires to use it for on a reoccurring basis. Additionally, VR for all its immersion capabilities, forces us to put devices on our head. I would think Apple understands this is not what most people want to do as evidenced in the massively declining sales for Beats By Dr. Dre headsets that forced the company to move into around-the-ear and in-the-ear headphones as opposed to on-the-head headphones.
But then there are the actual sales forecasts that have been lowered and lowered yet again twice this year for VR products.
Superdata has lowered its expectations for virtual reality revenues in 2016 for the second time in as many months. The market intelligence firm today revised its 2016 global VR hardware and software forecast down 22 percent from $3.6 billion to $2.9 billion. Its projection at the beginning of the year had been $5.1 billion.

The revision came with the release of the firm's "Virtual Reality and the Next Killer App" report, which identified a number of reasons for the downgrade, among them recent production and fulfillment issues that have affected the Oculus Rift, the HTC Vive, and even the Samsung Gear VR. The report says about 13 million Americans intend to purchase a VR headset this year, but Superdata is only expecting shipments of 7.2 million.
This year, the first-ever Vision Summit was organized by Unity, which unveiled a tool that allows VR designers to create and manipulate virtual worlds while wearing headsets. Unity CEO John Riccitiello cautioned the 1,400 attendees at the Hollywood & Highland Center that 2016 will not be the year that VR sees mainstream adoption and that the technology has been "overhyped" by the media.
It seems like every single decade since the movie "Back To The Future," VR has made an attempt at coming to the market in a big, mainstream way. At best VR has developed a small gamer usage community, but splitting that community amongst 3-5 large players doesn't help large corporations' results like Facebook (NASDAQ:FB), Alphabet (NASDAQ:GOOG) (NASDAQ:GOOGL) or Apple. I'm afraid that once again, even with large corporations developing this hardware and software enabled device, the end result will be the same… another disappointment for VR. This is just another reason I don't believe buying AAPL shares at present levels is optimal for investors. Don't get me wrong, VR makes for great headlines and it always has, but the application of VR has never amounted to anything of significance. In total, it is difficult to surmise the next great hardware or software device coming from this current innovation cycle from Apple and I don't see anything in the VR world as developing such a compelling product.
Reason #5: Retail Woes Bring Fewer Orders
I've said it previously, "Apple is a hardware-centric company." Apple has clearly hit a peak in its business cycle, which is centered on selling hardware devices to consumers and new consumers are hard to come by. For this reason that is supported by Apple's 2016 lowered guidance, I think it better to look toward other investment vehicles that may not be so heavily levered to the consumer market. The consumer is very fickle and found wanting for greater spending… always. With consumer spending being what it has been over the last couple of years, discretionary spending has been hard-pressed for growth. Take a look at the following consumer spending trends related to retail sales.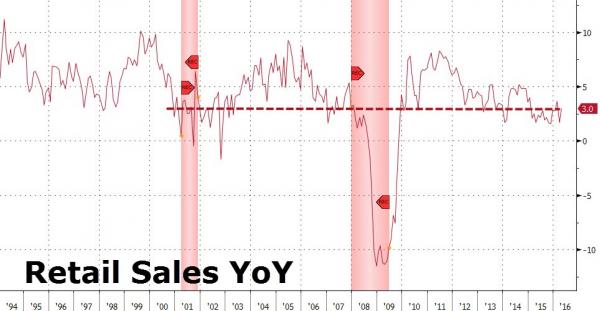 Apple, like any other hardware company needs consumer spending to grow, or at the very least show proliferating purchase intent toward its products. If consumption doesn't grow Apple needs to find new regional growth as noted earlier. With retail sales all over the map YTD and trending toward the low-end of the growth scale over the last couple of years, Apple and its peers have shown a similar trend in sales growth that may ultimately lead to further sales declines. I'm not sure if many have looked closely at the retail sales trends that led up to the 2009 crash and compared them with where we are in the retail sales cycle. Looking at the chart above, retail sales look ominously bearish mid-term without a significant change to consumption habits. Retail sales could impact Apple's sales and profitability even further.
Let's face it, the issue is not just Apple-centric, but also exhibited by Apple's distribution partners like the retailers that have posted dismal Q1 results and lowered guidance. Target (NYSE:TGT) is the latest to disappoint with its quarterly results and lowered Q2 2016 guidance. In short, the retailers may look to lighten their orders to Apple under the assumption that inventory levels need to be more closely monitored in order to lower cost of goods, logistics and other operating expenses for the balance of the year. All of this could impact Apple and shareholders through 2016 without a significant increase in overall consumption that has been tepid year-to-date. In short, shares of AAPL may not move all that much and find themselves range bound or as some call it "dead money."
The recent rally in AAPL might find itself some legs and shares of AAPL may soon touch $95 or $96 a share. As such, this might be the best opportunity to lighten ownership if so inclined.
Disclosure: I/we have no positions in any stocks mentioned, and no plans to initiate any positions within the next 72 hours.
I wrote this article myself, and it expresses my own opinions. I am not receiving compensation for it (other than from Seeking Alpha). I have no business relationship with any company whose stock is mentioned in this article.