Earlier this month, electronic health record provider Cerner (NASDAQ: CERN) announced its earnings results for Q1'16 that missed its sales estimates and reported flat bookings. This pushed the already beaten company's stock even lower: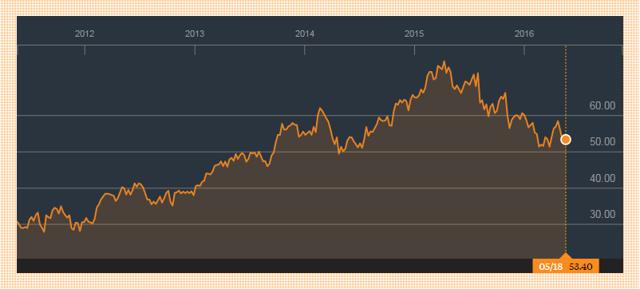 Source: Bloomberg
However, after reviewing EHR industry and writing two articles about athenahealth (NASDAQ: ATHN), I believe that Cerner stock is undervalued and currently represents bargain at this price.
The company has a solid revenue growth in the last few years. Unlike other providers, it makes money from its operations and its net income slowly increases year after year. Its cash to debt ratio is 0.85 and its borrowing shouldn't be a big concern if we compare it to other companies from the industry.

Source: gurufocus
Besides that, Cerner has a strong positioning in the EHR field. Over the years, it spent more than $4.9 billion on R&D, it has more than 2000 clinicians using its system and owns more than 350 patents. It's the largest standalone healthcare IT company in the world with more than 22 000 associates. Cerner has a diversified stream of revenues that includes system sales and other services like support and maintenance.
During the first quarter, Cerner signed a new contract with Department of Defense to replace its legacy health IT system in more than 55 hospitals and 350 clinics worldwide. And it's not the first agreement between the company and DoD. Last year, Cerner won the Defense Healthcare Management System Modernization project and became department's official EHR provider.
Besides that, Cerner supports Florida's Baptist Health organization that includes five hospitals in the area, and is currently helping it to expand the network to the Caribbean and Latin America markets. It also signed new health contract with UK's Wirral Health Partners and believes that global markets present a significant opportunity and will continue to expand its services oversees.
For Q2, Cerner expects to have revenues between $1.18 billion and $1.25 billion, which represents 8% growth from the previous year. And for the full-year the company expects to make $4.9 billion to $5.1 billion, which reflects 13% growth over 2015 at the midpoint.
At the same time, Cerner has ambitious picture for the future. As the healthcare industry will continue its growth and the demographic all around the globe will continue to rise, Cerner will be ready to use its resources to increase its presence to the new markets. Its long-term plan reflects double-digit growth through 2025: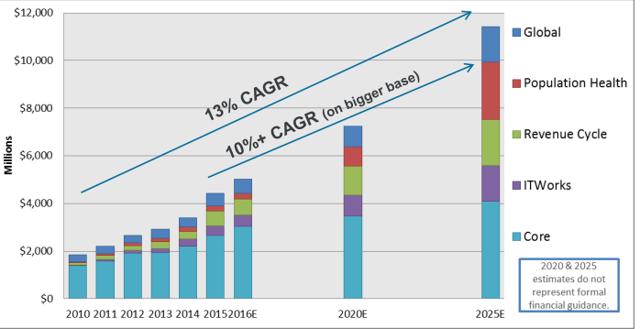 Source: Company's Presentation
Cerner will continue to expand its core business and provide more EHR services to federal government and private sector. But it also plans to increase the influence of its other programs like ITWorks or Population Health Management. Currently, they don't have a big impact on the balance sheet, but as we move forward, these programs will increase in value and help the company to continue to innovate in the healthcare field. And that's why I believe that Cerner is a good long-term bet and weak Q1 results won't reflect the bigger picture that I presented above.
Disclosure: I/we have no positions in any stocks mentioned, and no plans to initiate any positions within the next 72 hours.
I wrote this article myself, and it expresses my own opinions. I am not receiving compensation for it (other than from Seeking Alpha). I have no business relationship with any company whose stock is mentioned in this article.