In March, I wrote a bullish article about Chinese e-commerce giant JD.com (NASDAQ: JD) and its long-term perspectives. Unfortunately, in the last couple of months its stock price didn't perform very well and last week's earnings report pushed JD even lower. However, I still believe that company has a lot of potential in the long-term and the current price fluctuations won't reflect the bigger picture.
In the last few months, JD leadership warned investors that due to the slow growth of the Chinese economy the company might not meet its expectations. And that's exactly what happened in Q1. As you might've already known, consumption growth in China for the first quarter decelerated to 10.3% from 11.1% last year. This led to JD's lower gross merchandise volume of 55% in first quarter from 99% a year ago. But besides that, other metrics showed a positive dynamic and met its guidance.
For example, direct sales revenue was up 45% and annual active customer accounts increased to 169.1 million (+73% Y/Y). The company met its EPS projections and believes in sustainable long-term growth.
Also, during the quarter, JD made a number of restructurings and investments that increased its expenses, but will benefit investors for the years to come. In April, it merged its online-to-offline business JD Daojia with Dada Nexus Limited, which is the largest crowdsoursing platform in China. Its finance unit JD Finance managed to raise $1 billion during the quarter and is expected to self-fund its growth in 2016 and beyond. And last but not least, JD continues to slowly increase its investments in cloud computing and smart devices. Although, it doesn't have much impact on the balance sheet right now, the company believes that it's a long-term play in the field of IoT that will create additional shareholder value along the way.
Besides that, JD has more cash than debt, which makes it even more attractive investment: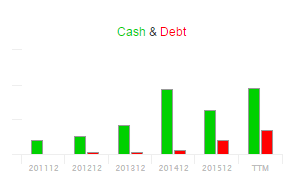 Source: gurufocus
For Q2, JD expects to have a revenue growth of 40% to 44% on a Y/Y basis, which reflects the slowing consumption growth of the Chinese economy. I believe that it can meet this conservative guidance and still bullish about the company.
A lot of other people also agree with my position. For example, last November, famous hedge fund manager Jim Chanos publicly criticized Alibaba (NYSE: BABA) for its accounting standards and instead recommended to open a long position in JD. Analysts from Wall Street also believe in the company and majority of them have "Buy" recommendations:

Source: NASDAQ
Disclosure: I am/we are long JD.
I wrote this article myself, and it expresses my own opinions. I am not receiving compensation for it (other than from Seeking Alpha). I have no business relationship with any company whose stock is mentioned in this article.