Just a couple of weeks ago we wrote about how we closed our long yen (NYSEARCA:FXY) position as we felt it had peaked against the US dollar (NYSEARCA:UUP). Well, it appears we were right as since then the USD/JPY pair has gone from ¥105 all the way back up ¥110. We believe this has much further to go, and believe there is a short JPY opportunity that could be presenting itself now.

The reason for this is the potential rate rise by the Fed at the next FOMC meeting in June. The minutes from April's FOMC meeting have indicated that the Federal Reserve is likely to raise interest rates in June if economic data points to stronger second-quarter growth and firming inflation and employment. While this is far from a forgone conclusion, at this point in time it is looking like it could be a go at long last.
We think the JPY would be far weaker against the USD had the most recent non-farm payrolls figure not underwhelmed. Economists had been expecting it to come in at 202k, however the actual reading was 160k. If this had come in on target then, following the recent inflation reading of 2.1%, we believe all the boxes would be ticked and a rate rise would happen in June. But because it was a miss, things are less certain.
So all eyes will be on the next non-farm payroll release on June 3. We expect a good reading here will result in the USD strengthening against all major currencies, including the JPY. It will then be down to June 15's FOMC meeting to do the rest. It has always been our opinion that the currency power rests with the Fed and the USD. By all accounts, the JPY should not be at the level it is at. But negative interest rates appear to be futile when a USD is at near zero interest rates.
But as soon as interest rates start to rise, we feel the USD will be the king of safe havens once again. Great news for those which are long with the UUP (Which we are), but not great for those that are long the JPY or maybe even gold.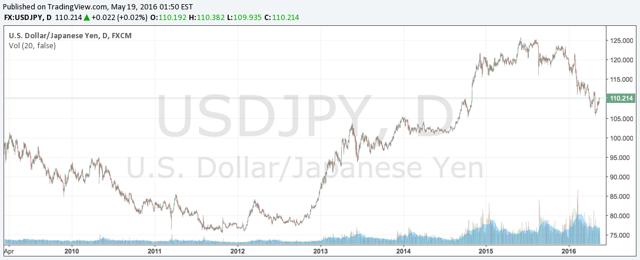 Source: DailyFX.com
If rates rise we expect the USD/JPY could jump to ¥125, implying a return of 13.6% from the current exchange rate. This would be our short term view. If the Fed continues to periodically lift rates and the Bank of Japan continues with its negative rates, then we can see the USD/JPY climbing to a 15-year high of ¥135. Which will make the Bank of Japan very happy and potentially assist its aspirations for inflation above 2% at long last.
This is how we see events unfolding, but the fact of the matter is that nobody can predict what will happen to the JPY when the Fed does eventually raise rates. We do worry about the future ramifications of the BoJ's use of NIRP, but time will tell what damage (if any) that it has done.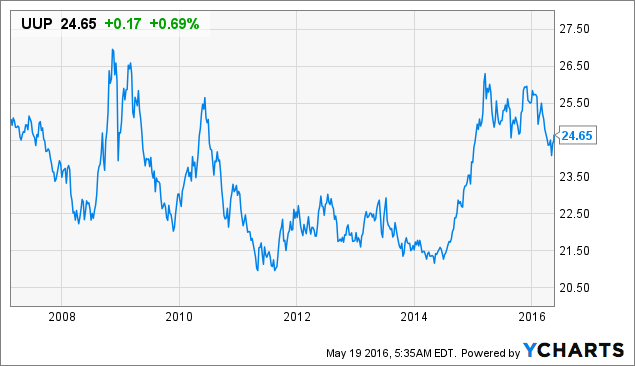 Right now our favorite trade is long the USD Index through the UUP ETF or futures contract. Considering the relative weakness of currencies around the world, when the USD strengthens through interest rate rises we expect UUP to eventually reach a 7-year high of $27.00. It could even go beyond this measure if NIRP and ZIRP are still being used by central banks around the world. This would be a return of 9.5% and a great trade in our eyes. If the Fed fails to raise rates in June it would most probably drop lower, but we expect it will climb back up the next time rate rises come back on the table.
As far as we are concerned the only thing that could stop a rate rise by the Fed in June is a poor non-farm payrolls reading at the start the month. The poor reading for April is the only box that hasn't been ticked. We expect that this will be the most anticipated non-farm payrolls reading in recent history, with the USD likely to rocket upon a good reading.
Right now we wouldn't bet against the USD with anything, and feel it is a low risk long trade that promises strong returns for those that choose to take it.
Disclosure: I am/we are long UUP.
I wrote this article myself, and it expresses my own opinions. I am not receiving compensation for it (other than from Seeking Alpha). I have no business relationship with any company whose stock is mentioned in this article.