Ball of confusion!
People moving out, people moving in. Why, because of the color of their skin.
Run, run, run but you sure can't hide. An eye for an eye, a tooth for a tooth.
Vote for me and I'll set you free. Rap on, brother, rap on.
Well, the only person talking about love thy brother is the preacher.
And it seems nobody's interested in learning but the teacher.
Segregation, determination, demonstration, integration, Aggravation, humiliation, obligation to our nation.
Ball of confusion. Oh yeah, that's what the world is today.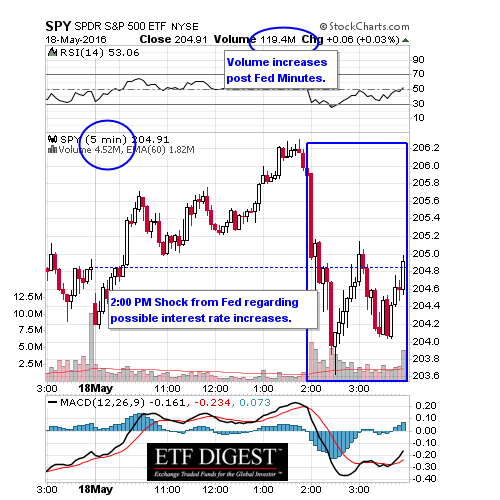 As relevant today as it was in 1970 and, apropos to the markets, it's by the Temptations... We were tempted to go long off the negative reaction to the Fed Minutes yesterday as the market tanked on the MSM interpretation that tightening was right around the corner but, as I said to our Members in our Live Webinar (replay will be posted this afternoon) but the US indexes looked too dicey so we chose the Nikkei (/NKD) Futures. As I commented back in our Chat Room at 3pm:
"We talked about fresh horses in the Webinar and now our lines are 17,450, 2,040, 4,325 and 1,100 so long the laggard once 2 are over and I like /NKD 16,700 too because the Dollar just popped back over 95 and it's not reflected yet."
The Nikkei topped out at 16,850 for a $750 per contract gain and we already locked in over $300 on our other Futures trades during the live Webinar so it was another $1,000 profit to add to our streak for our 2016 Webinar winners. We also still have a long play on Natural Gas (/NG) at the $2 line - expecting a nice run-up into inventories. /NG is an expensive contract and only needs to make $2.025 for another $1,000 winner. Remember - I can only tell you what the market is going to do and how to make money playing it - the rest is up to you!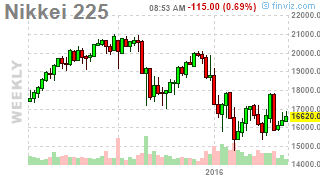 We jumped back in the /NKD trade (long)this morning at 16,600 as we do expect Kuroda to get permission to further weaken the Yen this week or next at the G7 meeting and that will make Japan's export economy very happy - for about a week - and then back to our regularly scheduled decline.
Also this morning, the markets were down along with yet another Egyptian Airplane and they don't know the cause yet but, of course, the market is in "sell first and ask questions later mode" so we're still watching those same Futures lines for signs of life as we now have two reasons to go higher: Either it's not terrorism and we can all be relieved (except for Airbus investors) or it is terrorism and that's yet another reason the Fed won't be tightening in June.
Despite what you are hearing from pretty much every single person on TV today, there is no way the Fed hikes in June. First of all, it's ahead of the Brexit vote and that could be a complete disaster to strengthen the Dollar 10 days ahead of the collapse of the Euro. Secondly, since the Fed had their meeting on April 27th, the data has gone significantly downhill and the Fed said they'd LIKE to raise rates - IFF the data supports it. It doesn't - QED.
You're welcome, by the way for the $1,000 per contract gain (and climbing) on our oil short from yesterday's morning post. My COMPLETELY FREE pre-market trade idea was:
Nonetheless, we liked betting oil(/CL) short at $49.20 in our Member Chat Room this morning along with a long position on natural gas (/NG), now $2.01 and we'll see how those go for the day - it would be cool but unlikely to win at both and we'll be taking quick oil gains off the table ahead of the 10:30 inventories and then we'll have to make a call after to see which way we think things will go but lower than $49 is my bet, either way.

Oil is, in fact, down to $47.10 now (falling fast) and that's a $2,000 gain from our morning start. The above chart is from a re-trade we took later in the day in our Live Member Chat Room.
Anyway, oil, as we know, is falling off a cliff because tomorrow is contract rollover day and, as I told you on Monday, they have to get rid of all those fake, Fake, FAKE June orders and pile up the fake, Fake, FAKE July orders so they can pretend there is demand next month to jack up the prices - despite record-high inventories that even built up this week. Last Friday, there were 239,000 FAKE open June orders at the NYMEX and, 3 days later, they have rolled 165,000 of them into longer months - extending and pretending the charade that costs global consumers over $1Tn per year in excess prices (see "Goldman's Global Oil Scam Passes the 50 Madoff Mark").
Click for
Chart
Current Session
Prior Day
Opt's
Open
High
Low
Last
Time
Set
Chg
Vol
Set
Op Int
Jun'16
47.87
48.12
47.17
47.19
04:49
May 19
-
-1.00
12869
48.19
74325
CallPut
Jul'16
48.45
48.67
47.66
47.69
04:49
May 19
-
-1.09
90620
48.78
527809
CallPut
Aug'16
48.87
49.09
48.05
48.08
04:49
May 19
-
-1.14
7904
49.22
139482
CallPut
Sep'16
49.20
49.41
48.38
48.42
04:49
May 19
-
-1.16
2125
49.58
122703
CallPut
Oct'16
49.71
49.71
48.71
48.71
04:49
May 19
-
-1.18
1046
49.89
65748
CallPut
Nov'16
49.83
49.83
49.03
49.10
04:49
May 19
-
-1.08
736
50.18
52858
CallPut
Dec'16
50.09
50.20
49.23
49.24
04:49
May 19
-
-1.17
3682
50.41
217845
CallPut
Jan'17
49.63
49.63
49.63
49.63
04:49
May 19
-
-0.94
304
50.57
38281
CallPut
Speaking of Goldman Sachs scams - did you see what they did with Tesla (NASDAQ:TSLA) last night? In the afternoon, GS puts an upgrade on TSLA with a price target of $250 and the stock popped 3.2% on the news but then, after hours, TSLA announces a $2Bn dilutive stock offering underwritten by, you guessed it - Goldman Sachs! See Zero Hedge's "How Is This Not Criminal: Goldman(NYSE:GS) Underwrites $2 Billion Tesla(TSLA) Stock Offering Hours After Upgrading Stock To A Buy." My prediction - no arrests will be made...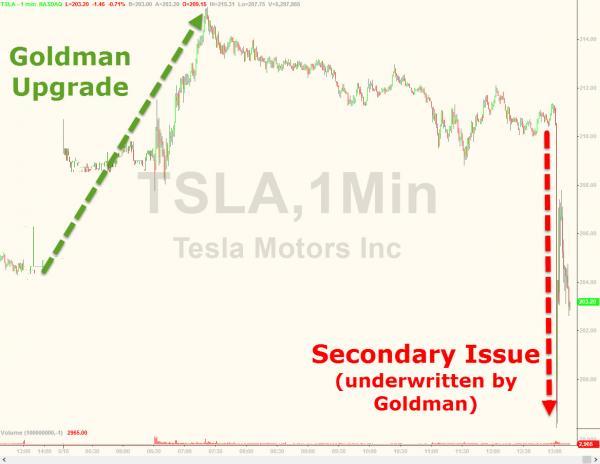 Even better, Tesla will NOT get all the money raised from selling 2M shares because 600,000 shares (1/3) are being sold by - you guessed it - Elon Musk, who will be cashing in about $120M that the company badly needs if they are ever going to come close to doing just half of the BS he says they are going to do. Don't worry about Elon running out of shares though, he just granted himself 5.5M more ($1.1Bn or about 5% of the company) through stock option exercises.
Face it, the markets are just a gigantic scam and you can have great fun playing it if you can accept that. This morning's Philadelphia Fed report was a disaster, coming in at -1.8 vs +3.5 expected by leading economorons and the Chicago Fed was also weak at 0.10 but, since March was -0.55, the headline reads (if you can believe it): "Economic Growth Picked Up in April." I don't make this stuff up to be funny - I wish I did!
All we can do is hope to survive all the nonsense.

Disclosure: I am/we are long EWJ, UNG, SPY, DIA, QQQ, AAPL.
I wrote this article myself, and it expresses my own opinions. I am not receiving compensation for it. I have no business relationship with any company whose stock is mentioned in this article.
Additional disclosure: Positions as indicated but subject to RAPIDLY change (currently mainly cash and an otherwise slightly bearish mix of long and short positions - see previous posts for other trade ideas). Positions mentioned here have been previously discussed at www.Philstockworld.com - a Membership site teaching winning stock, options & futures trading, portfolio management skills and income-producing strategies to investors like you.