Our thesis on Synthesis Energy (NASDAQ:SYMX) is the company is so desperate right now to keep its stock above $1 (and avoid NASDAQ delisting) that it's putting out puffed up PRs to excite retail investors. See our last article for the explanation of our thesis.
In this article, we're further explaining our thesis and analyzing the latest PR from SYMX and how ridiculous it is. Keep in mind, SYMX is a company that has never found any success with its syngas technology, yet it is expanding. That fact alone doesn't make sense.
SYMX is planning on building a hydrogen plant. That's in order to create hydrogen with its syngas technology. To be clear, syngas is coal gasification and has been around in industrial form since the 1940s, it's not new. Here is a history on coal gasification. To go through all that time and expense to build a coal gasification hydrogen plant is a silly endeavor. This would never be done in the US, and shouldn't be done in China either. The best way to produce hydrogen is from natural gas.
Natural gas is now the cheapest it has been in a long time, and that's also the case in China. Air Liquide is a big producer of hydrogen in China. Here it states they use a Steam Methane Reformer (SMR) in their China plant to create hydrogen. Steam reforming is taking natural gas and separating the carbon from the hydrogen to produce pure hydrogen. Praxair is also a leading industrial gas supplier for China and produces hydrogen from natural gas.
The bottom line, is that if SYMX technology was so great and superior to natural gas, it would be acquired by a Chinese energy firm. In fact, one of SYMX's joint ventures, Tianwo-SES, even sells equipment for the syngas technology all over Asia. But there's scarce interest in it, as shown in their revenues. See our last article for a table of their quarterly revenues over the past seven years. Plus, there is already a lot of coal gasification technology out there, like from GE, KBR, and other large firms.
Synthesis Energy Hydrogen Plant PR - Will It Even Come To Fruition?
SYMX latest PR states that SYMX is doing 3 hydrogen plant projects that will cost a total of $307M. The first project will cost $107M. The projects are split 51/49 ownership, 51% owned by CESI and 49% owned by SES which is a wholly owned subsidiary of SYMX. That means both parties will have to come up with roughly $55M each for the first project, and at least $150M each for all three projects. This is a large sum of money for a technology that has proven to be inefficient over the years. What intelligent investor would fund this project?
In the PR, the Chairman of CESI, Wang Wei, said that it will take about 10 months to gain approval. However, our research paints a bleak picture for China energy projects due to the government's anti-corruption campaign.
Here is an article describing how China's corruption crackdown is "slowing the economy".
This article describes how tough it is to get projects done in China right now. From the article:
"China's citizens are applauding the government's ongoing anti-corruption drive, but critics warn the crackdown - which has led to the arrest of at least 100 senior officials - is causing chaos as the world's second-largest economy tries to rebound."
A Shanghai news website called the Paper reported last year, for example, that certain government officials were "hiding from entrepreneurs," refusing to meet or dine with them. Some, it said, were "simply doing nothing at all" and refusing to sign off on projects. As a result, it added, some investors who had "got land and received funding … were unable to go ahead with their projects.
One Western businessman who has worked in Southwest China said: "Often the [local] governments are not very enthusiastic" to approve projects seen as potentially risky or "not obvious."
That last quote should really give SYMX investors pause. Its syngas hydrogen plant project is certainly "risky" and "not obvious".
The Chinese government's National Development and Reform Commission (NDRC), will need to approve SYMX's project. In the past, the local Chinese government could approve a project, but there was so much corruption paying off local officials to get permits, that the NDRC is cracking down. Now, all projects need to be approved by the NDRC. A Chinese analyst we consulted with told us there are many projects in the NDRC's pipeline. Therefore, SYMX's project will likely not get approved.
But let's give SYMX the benefit of the doubt and assume that the project does get approved in ten months or so. There's additional "commercial and technical steps and securing hydrogen sales contracts" required prior to financing and construction, stated SYMX's CEO, Delome Fair, in the PR. After all the preliminary steps are completed, then SYMX and CESI will have to raise the funds to build it. SYMX will have to raise about $55M from US investors. CESI will have to raise about that much from a Chinese government. What Chinese government would invest in this risky endeavor with a technology that rarely makes a profit? As explained in this article, local Chinese governments are restructuring their massive debt load and cutting risk. The following chart illustrates China's local government debt ballooning as a % of GDP.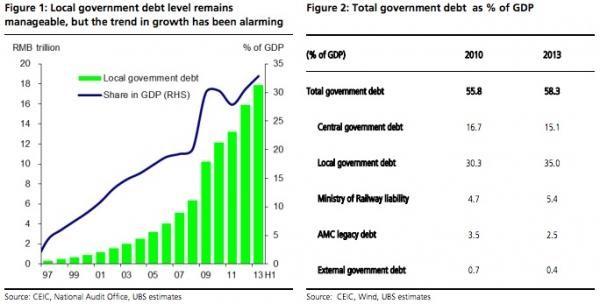 9
Furthermore, what US investors would fund this project? They can't dilute SYMX stock to get $55M, the market cap is barely above that.
But let's again give SYMX the benefit of the doubt, and assume they do raise the money for the first project. Then they build it which will likely take a couple years. Now they have a new coal gasification hydrogen plant that will likely be another money loser like their methanol plants. That will put shareholders even further under water.
Additional disclosure: White Diamond Research is not a registered financial advisor and does not purport to provide investment advice regarding decisions to buy, sell or hold any security. White Diamond Research currently holds a short interest in SYMX and during the past 12 months has shared fundamental and/or technical research with investors who hold a short position in the stock. White Diamond Research may choose to transact in securities of one or more companies mentioned within this article within the next 72 hours. Before making any decision to buy, sell or hold any security mentioned in this article, investors should consult with their financial adviser. White Diamond Research has relied upon publicly available information gathered from sources, which are believed to be reliable and has included links to various sources of information within this article. However, while the author believes these sources to be reliable, the author provides no guarantee either expressly or implied.
Editor's Note: This article covers one or more microcap stocks. Please be aware of the risks associated with these stocks.