The S&P 500 Index has been flirting with key support all week, leading many to speculate that a stock market crash could be in the cards near-term. However, based on fundamental factors, here's why I believe it is not in the cards this week.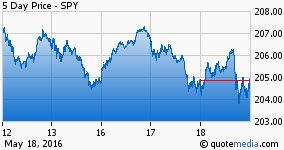 5-Day Chart of SPY at Seeking Alpha
I'm a fundamental equity analyst by trade and have no formal training in technical analysis, but it does not take a genius either to see that stocks have been flirting with a key support level all week. It's somewhere around the $204.42 area for the SPDR S&P 500 (NYSE: SPY). Perhaps you can see it more clearly via the longer term chart.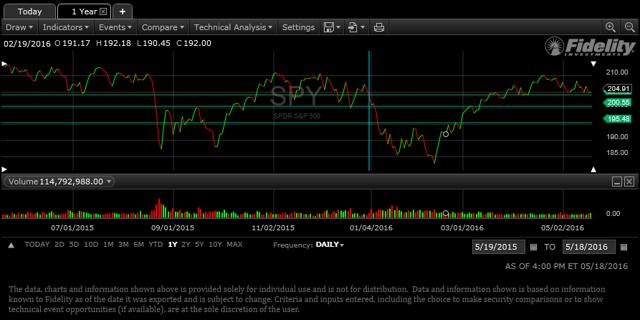 1-Year Chart of SPY at Fidelity
Stocks have had no true reason to break out of their range to new highs this year, but they have neither found reason to retest prior lows. Nevertheless, Wednesday's release of the last FOMC meeting minutes caused quite the stir for the unprepared yesterday. And yet, stocks did not break convincingly through the floor. I believe we could temporarily do that this morning but we should not crash clear through, and I expect equities will recover well near-term. Why is that?
First of all, we're still a month away from the next Fed meeting, which is more than enough time for data and/or events to stir up doubters with loud voices. There are already plenty of them. In fact, the majority of pundits have until now reflected the Fed Funds Futures view for June. As of just before the release of the FOMC minutes, Fed Funds Futures were only giving a June rate hike a 19% chance of occurring. That was up from a few weeks prior, but as of this morning that number was up to 30%. Take note that even at 30%, the popular opinion remains for a Fed on hold in June. This morning's possible terrorism event (EgyptAir crash) does not support an increase to this estimate either.
Another reason for stocks to refrain from retrenchment is the fact that economic data is improving in the good old USA. Last Friday's Retail Sales Report marked an important shift in trend for April, and perhaps is beginning to prove my negative feedback loop theory about the stock market impacting data in the first fourth of the year. Back in March I said that the stock market volatility in the first part of 2016 was enough to stall important economic activity, especially after the August market scare. I said that we should look to the spring for verification of my expectation, with the arrival of better data reflecting the true state of the U.S. economy and improving investor and consumer sentiment. In this kind of environment, it's hard for stocks to completely collapse, though volatility is in order.
Do not forget that a change to the Fed perspective supports some stocks, namely in the financial sector. The Financial Select Sector SPDR (NYSE: XLF) surged 1.8% Wednesday. The gain in financials pretty well offset the decline in other sectors of the market, with the SPDR S&P 500 closing about unchanged as a result. You can expect the deeply discounted financials to continue to draw capital investment, though from other sectors of the market.
| | |
| --- | --- |
| Security Sector | 05-18-16 |
| SPDR S&P 500 | +0.0% |
| SPDR Dow Jones (NYSE: DIA) | +0.0% |
| PowerShares QQQ (NASDAQ: QQQ) | +0.4% |
| iShares Russell 2000 (NYSE: IWM) | +0.5% |
| Vanguard Total Stock Market (NYSE: VTI) | -0.0% |
| Financial Select Sector SPDR | +1.8% |
| Technology Select Sector SPDR (NASDAQ: XLK) | +0.2% |
| Energy Select Sector SPDR (NYSE: XLE) | -1.0% |
| Health Care Select Sector SPDR (NYSE: XLV) | +0.4% |
| Consumer Discretionary Select Sector SPDR (NYSE: XLY) | -0.6% |
| Consumer Staples Select Sector SPDR (NYSE: XLP) | -1.2% |
| Utilities Select Sector SPDR (NYSE: XLU) | -1.9% |
| Materials Select Sector SPDR (NYSE: XLB) | -1.5% |
| Industrial Select Sector SPDR (NYSE: XLI) | -0.3% |
| iPath S&P 500 VIX ST Futures (NYSE: VXX) | -0.4% |
| SPDR Gold Trust (NYSE: GLD) | -1.7% |
| United States Oil (NYSE: USO) | -1.9% |
| PowerShares DB US Dollar Bullish (NYSE: UUP) | +0.7% |
Investing discernment takes a mix of art and science and I'm feeling in a zone these days after foreseeing oil's surge to $50 two weeks ago, calling gold's drop yesterday, and predicting the crash last August. I'm not a time traveler and certainly am far from perfect, but you might be interested to know that I'm not sensing a stock market crash here. Rather, I believe the market is looking for its next reason to recover.
This morning's EgyptAir crash does not help that cause though, especially if terrorism was behind it. It only supports even more dollar strength, which works against oil prices and you know how that plays for stocks. Take note, though, that barring a second plane crash near-term, I still think stocks will seek a reason to rise again, and oil with it.
Weekly Jobless Claims and Leading Economic Indicators might help some this morning. Jobless claims came in recovered from last week's concerning surge. Filings for unemployment insurance fell by 16K to 278K. Leading Economic Indicators is expected to show an increase of 0.4% for April, versus the 0.2% increase in March. And, look for a few Fed officials to remind the market that the Federal Reserve remains data dependent. I'm not betting on a market crash here, and am in fact long the financial sector of the market where capital should surge into now. For more of my regular analysis and commentary for markets follow my column here at Seeking Alpha.
Disclosure: I/we have no positions in any stocks mentioned, and no plans to initiate any positions within the next 72 hours.
I wrote this article myself, and it expresses my own opinions. I am not receiving compensation for it (other than from Seeking Alpha). I have no business relationship with any company whose stock is mentioned in this article.